Beddit Sleep Tracker Review
•
Disclosure: By clicking on the product links in this article, Mattress Nerd may receive a commission fee at no cost to you, the reader. Read full disclosure statement.
The Beddit Sleep Monitor is a sleep monitor that sits on top of your mattress and tracks an array of sleep data to give you a better understanding of your sleep routine. There's also a chance it can help you maintain a solid sleep schedule and even improve your sleep quality.
Here's everything you need to know about Apple's Beddit Sleep Monitor, including a full breakdown of the pros and cons. Looking to compare your options? You'll also find a list of eight other sleep trackers and how to make the most of your sleep monitor.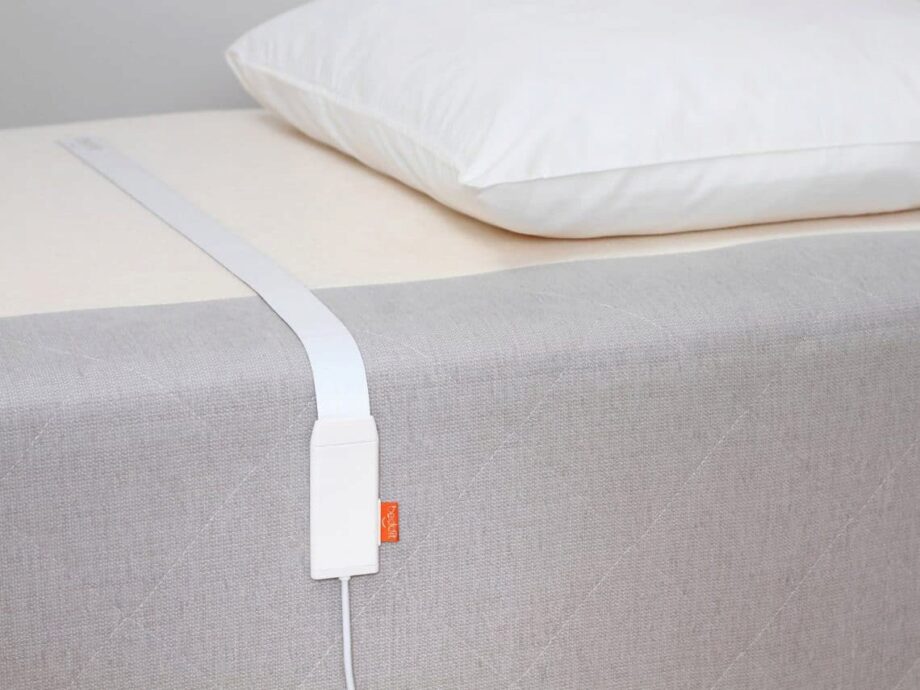 What is the Beddit Sleep Monitor?
The Beddit Sleep Monitor (Model 3.5) was designed with better sleep in mind. The system includes a thin monitor mat that's placed horizontally across your bed. Every night, the Beddit Monitor collects a variety of sleep-related data.
The data that's collected by the monitor gets sent to the Beddit app via Bluetooth. The app creates reports on your overall sleep quality. It also offers features to help keep your sleep goals on track.
Benefits of Apple's Beddit Sleep Monitor
Here's a rundown of Apple's Beddit Sleep Monitor's best benefits.
Comfortable design. The Beddit Sleep Monitor is very thin (2 mm to be exact). Most reviewers say they can't feel it while they sleep. It also has a soft protective layer, so it shouldn't irritate your skin.
Detailed sleep analysis. Beddit analyzes your sleep time, breathing, and heart rate. It even keeps tabs on your bedroom's humidity and temperature. This can give you a solid overview of your sleep habits.
Let's you set goals. You can set daily sleep time and bedtime goals. This might help keep your sleep schedule on track.
Provides detailed graphs. Beddit generates reports and graphs to help you analyze your 7-day, 30-day, and 90-day sleep trends.
Allows for app integration. The Beddit app works with Apple Watch and the iOS Health app. You can receive sleep notifications and reminders through your watch or phone.
Offers data storage. Your heart rate and sleep analysis data are stored on the Health app on your iPhone. This allows you to view your stats and watch them change over time.
Downsides of the Beddit Sleep Monitor
The Beddit Sleep Monitor and its compatible app have a lot of perks, but they're not perfect. Here are some of the potential downsides, according to reviewers.
Power options are limited. The sleep monitor must be plugged in to work. The monitor attaches to a USB cable that plugs into a wall outlet or other charging station. This can be annoying if your bed isn't close to an outlet.
Some report of reliability issue. Some reviewers say the monitor and app aren't always reliable. Folks claim this is due to Bluetooth connectivity issues. Others say sleep data isn't always available or updated.
Users wish it came with more updates. Users have noted a lack of software updates. Users also say the app can freeze or act glitchy at times.
Cost may be a consideration. A new Beddit Sleep Monitor starts at around $75. While some think this price is on point, others may prefer a more affordable product.
Other Sleep Monitor Options
If the Beddit Sleep Monitor doesn't feel like a good fit, you're still in luck. There are tons of high-quality gadgets and apps for all sleep styles and budgets. Here's a list of eight popular sleep monitors:
Tips For Making the Most of a Sleep Monitor
Sleep monitors can be a helpful resource, especially if you have a sleep condition like insomnia. Trackers can detect your sleep quality, including how much you're tossing and turning. Additionally, the data can teach you about your sleep patterns and provide more detailed information about your symptoms to your doctor.
Just rememeber, sleep monitors and apps only work if you use them. You might prefer a wearable monitor app if you travel a lot, or if you don't feel like sleeping on top of a monitor mat.
Takeaway
The Beddit Sleep Monitor can help you take charge of your sleep. The thin mat is very comfortable and the app is easy-to-use. Most folks enjoy the detailed data, which includes:
breathing
heart rate
sleep time
However, some have said the app is glitchy and doesn't update often. Others claim the monitor isn't worth the cost.
Also, keep in mind this monitor isn't for everyone. Some folks might prefer a wearable sleep monitor, such as an Apple Watch, Fitbit, or Garmin.
ARTICLES ON POLYPHASIC SLEEPING