Clocky Alarm on Wheels: the Pros and Cons
•
Disclosure: By clicking on the product links in this article, Mattress Nerd may receive a commission fee at no cost to you, the reader. Read full disclosure statement.
Have you ever looked at your alarm and thought, "Wow, I really wish you were R2D2?" (Who hasn't?!) Well, we have the perfect alarm clock for you!
Here's everything you need to know about Clocky, a robotic alarm clock that makes you play hide-and-seek. We also have a rundown of five other high-quality alarm clocks for all sleeping styles.
What is the Clocky Alarm on Wheels?
Clocky is a bedside clock that's part alarm and part robot. In addition to a mega loud alarm, Clocky works by rolling off your nightstand. It moves across the floor and hides until you find it. Does this sound annoying? Yup! But does it work? Probably, yes. Plus, it'll add some excitement to your morning routine.
Clocky is a great option for folks who have a hard time getting out of bed. It's battery powered and requires four AAA Lithium batteries.
Clocky also has customizable settings.You can snooze one time for up to 8 minutes. Or, opt to skip the snooze entirely.
Many reviewers claim the clock is easy to use. Another perk is that it works on either wood, linoleum, or carpeted floors. The main downside is that you can't control the alarm volume, which might be irritating to some.
Clocky is about $30 and comes in colors like black, teal, navy, chrome, pink, red, or white.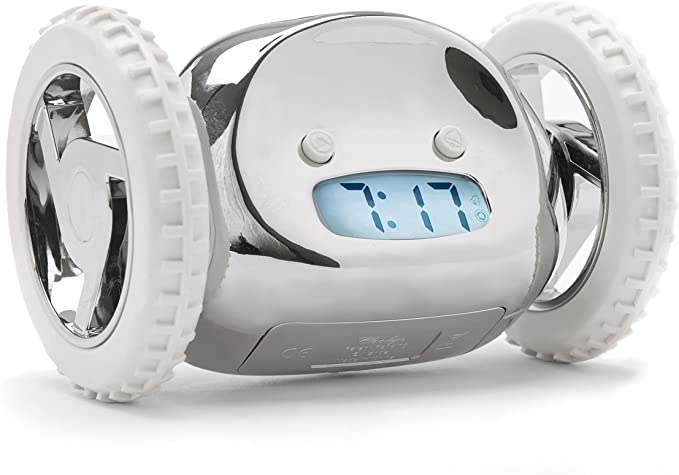 Benefits of Using an Alarm Clock
Here are some reasons why you should use a bedside alarm clock:
Schedule. Studies show that a consistent, fixed wake up call can have a positive effect on your overall health. Alarm clocks can help you get into a good groove.
Be on time. Running late can be super stressful. Alarm clocks help make sure you wake up on time.
No blue light. Smart devices like cell phones emit something called blue light, which can keep your mind alert. By using an actual alarm clock, you'll be less likely to doomscroll on TikTok after hours.
Long lifespan. Alarm clocks often have long battery lives. That means you don't have to worry about recharging them every night like you would a cell phone.
Peace of mind. You might sleep a bit easier knowing your alarm clock is there to wake up in the morning.
Other Helpful Alarm Clocks
If Clocky Alarm on Wheels doesn't feel like a good fit for you, here are five other highly-reviewed alarm clocks to try.
The Amazon Echo Show 5 boasts an ambient light sensor, tap-to-snooze function, and sunrise alarm setting. You can customize your alarm so you can wake up to whatever sounds or music you want.
But the coolest part? The Amazon Echo Show 5 is so much more than an alarm clock. You can use it to control compatible devices in your home. You can also make calls using a built-in camera and stream movies and shows.
Top-notch alarms don't have to break your budget. The KWANWA LED Digital Alarm Clock clocks in under $20, but still provides all bells and whistles (literally).
This affordable favorite has big digits, a built-in night light, and a repeating snooze function. You can also set multiple alarms making it a good option for folks who keep to a polyphasic sleep schedule.
Sunrise alarm clocks emit a bright light to help you wake up. The Jall Wake Up Light Sunrise Alarm Clock has 20 different brightness levels and multiple alarm settings.
You can pick between a series of soothing sounds like bird songs, soft music, or ocean waves to help you ease into the day. The alarm also has 16 volume levels so it's a solid choice for sound sleepers.
The Travelwey Digital Travel Alarm Clock is basic, portable, and reliable. Despite its lack of thrills, it has very good customer reviews. Most folks say it's a great bang for your buck and is perfect for an on-the-go lifestyle.
There's something to be said about this classic twin bell alarm clock. While lacking modern accoutrements (this baby is analogue), the Peakeep alarm is very loud and accurate. Bonus: It comes in black, green, pink, red, or white.
The main con is that it doesn't offer a snooze feature. Then again, this might motivate you to wake up right away.
Takeaway
Clocky Alarm on Wheels is an effective alarm with lots of spunk. In addition to loud alarm sounds, Clocky also jumps off your nightstand and rolls onto the ground. It will then play hide-and-seek until you find it and turn it off.
You can buy the Clocky Alarm on Wheels online.
Sources
Alkozei A, et al. (2016). Exposure to Blue Light Increases Subsequent Functional Activation of the Prefrontal Cortex During Performance of a Working Memory Task. https://www.ncbi.nlm.nih.gov/pmc/articles/PMC4989256/
Buysse S, et al. (2017). American Academy of Sleep Medicine New Guideline. aasm.org/resources/clinicalguidelines/040515.pdf
Weaver MD, et al. (2021). Adverse Impact of Polyphasic Sleep Patterns in Humans: Report of the National Sleep Foundation Sleep Timing and Variability Consensus Panel. https://www.sciencedirect.com/science/article/pii/S2352721821000309?via%3Dihub
ARTICLES ON POLYPHASIC SLEEPING