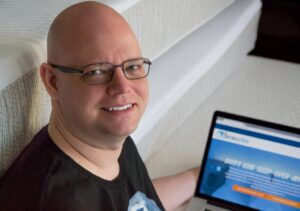 Hi, I'm Jack, owner and founder of The Mattress Nerd.
You may be wondering who I am and why I'm qualified to talk about mattresses, so here's a little background information.
I worked as a mattress salesman for 4 years as I was paying my way through college (where I earned a physics degree). At that time, I thought I would go on to get my Ph.D. in physics and be a professor (I really enjoyed being a tutor and a teaching assistant).
However, grad school just didn't work out for me, and I was unable to find a job in physics with just a Bachelor's, so I went back to continue selling mattresses for a few more years.
In all of my time (about 7 years in total) as a retail mattress salesman, I experienced two things that made me uncomfortable.
First, the general public was very underinformed when it came to buying a mattress. And this makes sense; people don't buy mattresses very often. It is not a skill they need to hone for their day to day lives.
Second, the mattress industry was aggressively exploiting this knowledge gap as hard as they could, in order to extract the most money out of their customers as they could get away with. I personally witnessed coworkers lying to customers about what was in a mattress, what names other stores sold the mattress under, and so on. I also saw mattress salesmen pushing overpriced mattresses with high commissions onto customers that didn't know enough to question what they were getting.
So, I started this site to help shrink that knowledge gap, to make it easier for customers to buy a mattress and to be more knowledgeable while doing so.
I have now been in the mattress industry for over 10 years. I have helped millions of people through my site, and look forward to helping you as well.
I focus on three major topics here on The Mattress Nerd:
If you have any specific questions for me, contact me through the form below. I also like getting comments on my posts. If anything I've written has helped you, leave a comment and let me know.