What's the Best Thread Count for Sheets?
•
Disclosure: By clicking on the product links in this article, Mattress Nerd may receive a commission fee at no cost to you, the reader. Read full disclosure statement.
Most people think that high thread count is synonymous with high quality, but you might be surprised to learn that thread count isn't the only factor to consider when looking for a comfortable, durable, and soft sheet set.
Choosing the right sheets for your bed should involve consideration of the fabric type, weave, color, pattern, and fit as well as the thread count. In our opinion, thread count isn't the most important factor, but understanding what it is, how it's calculated, and the ideal range for a great set of sheets is crucial when investing in a new set.
In this article, we're breaking down everything you need to know about thread counts to help you find the best sheets for your sleeping needs. This guide will help you make informed sheet-shopping decisions and avoid falling for any marketing gimmicks along the way.
What is Thread Count?
Thread count is a measure of fabric density. The specific thread count number a sheet set is assigned refers to the number of threads (vertical threads or horizontal threads) per square inch.
In general, higher-thread-count sheets feature thin yarns, so more material fits into one square inch of the fabric. The result is a smoother, denser feel that may also be more durable no matter how many times you wash them.
Fine yarns are difficult to deal with and weave with, which is why higher-thread-count products are typically more expensive. Alternatively, low-thread-count fabrics may be the result of products that are manufactured with thicker yarns. These products can wind up having a rough feel and may be prone to unraveling over time, hence the lower price tags.
How is Thread Count Determined?
Thread count is calculated by the addition of horizontal (or "weft") yarns and vertical (or "warp) yarns in just one square inch of fabric. The amount of yarn that fits into one square inch can indicate how the sheet feels, how dense it is, and how long the bedding will last.
It's important to understand that some manufacturers can inflate thread count by how they calculate it. If you see very high thread counts for a product that's relatively affordable, it could indicate that the manufacturer has added up the ply, or the individual threads that are twisted together to make each strand of yarn, instead of the stands of yarn themselves.
For example, a sateen sheet set that is constructed with yarns woven from two pieces of ply (multi-ply yarns) could be advertised as a 1,000 thread count instead of a 500 thread count. It's a little bit of tricky marketing that ultimately doesn't represent a higher-quality product.
Consider Quality over Quantity When Shopping
Now that you know some brands practically cram as many low-quality threads as possible into a square inch, you're probably wondering, "What is the right thread count?" The truth is that the quality of the yarn is essential in determining the quality of a sheet.
In general, high-quality yarns are made from raw materials. That's why Egyptian cotton is considered the world's most ideal source of yarn for bedding. This material is very fine, so it's twisted together for strength, which creates the high thread count Egyptian cotton sheets that the material is so well known for.
However, you can achieve a quality similar to that of high thread count Egyptian cotton with lower-quality yarns. The yarn will be thicker, so it will need to be woven a bit more tightly but not so dense that the fabric feels lumpy.
For example, you can have a 1,000-thread count sheet set made from Egyptian cotton and a 600-thread count percale cotton sheet set that are similar in quality because the yarns' thicknesses vary (fine Egyptian cotton fibers and dense cotton fibers, respectively).
Understanding Weave Types
Weave refers to how the threads are made into fabric. Each weave type has a different texture, density, and feel that can affect your sleeping experience. The optimal thread count range also varies for each weave type, as you saw in the previous section. Here are some of the most common weave types for bed sheets and linens.
Sateen Weave—A luxury weave, sateen weaves (or satin weaves) have a soft, lustrous feel that's also a bit shiny. The finished sheet drapes beautifully but is less durable than tighter weaves.
Percale Weave—This plain weave is tightly woven and has a smooth, breathable feel with no sheen. It's prone to wrinkling.
Microfiber Weave—This tight weave has a soft finish and is wrinkle-resistant. It can also be water-resistant and allergen-proof when woven extra tight.
Twill Weave—This diagonal weave has a signature aesthetic and has more texture to the touch and eye. It's more durable than other types.
Flannel Weave—This weave has a medium or heavyweight feel and is napped on one or both sides, which creates its fuzzy characteristic.
Jersey Weave—Jersey weaves have a t-shirt feel and are stretchy and soft to the touch, but they also rip easily.
FAQs
Are 600 or 800 thread sheets better?

It depends on your preferences. The higher the thread count, the softer (but more expensive) they tend to be. That said, companies will sometimes advertise a high thread count but will achieve this number by manipulating single pieces of yarn to equal multiple pieces. If you want to go with the higher thread count, make sure that each strand of yarn only accounts for one thread. 

If you want to stick with a lower thread count, you will likely save some money but your sheets might not be as durable as the 800 thread sheets. That said, they should be perfectly soft and will actually keep you cooler than the alternative. 
Is 1500 a good thread count?

Once you get past a thread count of 800 there is only so much that can be improved upon. We would say that you should be a bit dubious of any expensive sheets with a 1500 thread count, as you can likely get a product that is just as good for less money and a lower thread count. 
What does thread count affect?

When we talk about thread count we're generally talking about the softness of the sheets. The higher the thread count, the softer the sheets. However, thread count can also affect things like durability and temperature regulation, with higher thread counts being more durable and lower thread counts being more breathable. 
Takeaways for Sheet Shopping
Always consider the quality of the threads more important than the quantity.
Look for sheets with a thread count between 250 to 500 for percale, 300 to 600 for sateen and 300 to 400 for Egyptian cotton. If the thread count is higher, read about the quality of the brand's yarns, ensure they aren't manipulating the true thread count number and browse through reviews.
When shopping for high-thread-count products, consider shopping from retailers with products at a higher price point. This may help guarantee that the sheet has a true luxury quality.
Low-quality sheets are easier to print on and dye, so keep this in mind when evaluating a product's quality.
Some of Our Favorites
Brooklinen Luxe Core Sheet Set
Brooklinen Luxe Core Sheets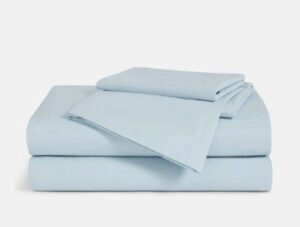 Our luxury pick, the Luxe Core Set includes one flat sheet, one fitted sheet, and two pillowcases, and it has a rich, buttery-smooth feel from the sateen weave. These sheets have a 480-thread count and a luminous finish.
Casper Sateen Sheets
Casper Sateen Sheets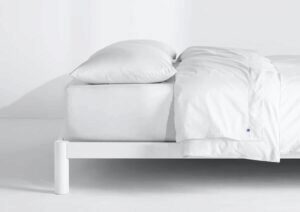 Mattress Nerd Score
4.60 / 5
Casper understands that a higher thread count doesn't necessarily mean better quality (their website explicitly says so), and these 100% organic cotton sheets in a sateen weave feel soft and get softer with every wash. The set comes with one flat and fitted sheet, two pillowcases, and a duvet cover.
Parachute Percale Sheet Set
Parachute Percale Sheet Set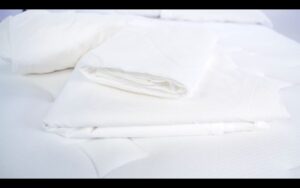 Percale sheets are perfect for summertime because they're breathable and have a nice, crisp finish. Made with 100% long-staple Egyptian cotton, these sheets are available in five neutral colors that can work for any bedroom. This set includes a fitted sheet and two pillowcases; you'll need to purchase the flat sheet separately.
For more of our top picks for sheets, check out our Best Bed Sheets Guide, which includes options available on Amazon.
While thread count matters when selecting new bedsheets, high-quality sheets don't have to be high-thread-count sheets. Armed with this knowledge, you should be able to pick a sheet set that works for your price point and preferences, without solely focusing on thread count.