Casper vs. Nectar Mattress Comparison
•
Disclosure: By clicking on the product links in this article, Mattress Nerd may receive a commission fee at no cost to you, the reader. Read full disclosure statement.
The Nectar mattress and the Casper Original mattress are both memory foam mattresses that rank among the most popular bed-in-a-box models on the market today.
In this mattress comparison, we're going to discuss everything you need to know about the Nectar and Casper Original mattresses to help you pick which one suits your needs and preferences the most.
All the mattresses in our reviews are tested firsthand in our sleep lab. If you're curious to see how we do it, read up on our testing methodology.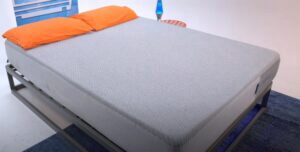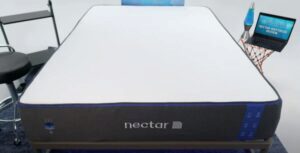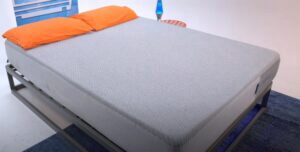 Product
Casper Original Mattress
Firmness
Medium-firm: 6/10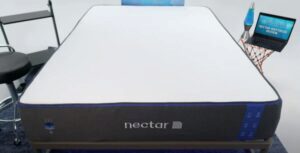 Firmness
Medium-firm: 6/10
Casper vs. Nectar Overview
Though both popular all-foam mattresses, the Caper and Nectar cater to various types of sleepers in different ways. Here's a brief overview of each mattress's strong points and who it's best suited for.
| | |
| --- | --- |
| Casper is best for… | Nectar is best for… |
| Lightweight and average-weight sleepers | Hot sleepers |
| Couples | Average-weight or heavyweight sleepers |
| Hot sleepers | Back sleepers |
Who Should Choose the Casper Mattress?
Lightweight and average-weight sleepers: The Casper is a great choice for those who need a softer-than-average firmness level to cradle their pressure points well.
Couples: Sleepers who wake up easily and need excellent motion isolation to keep movement trapped where it occurs will sleep soundly with the Casper.
Hot sleepers: If you want a cooling mattress, you'll appreciate the Casper Original's perforated AirScape foam.
Who Should Choose the Nectar Mattress?
Hot sleepers: The Nectar's gel memory foam layer dissipates heat and the cover is breathable.
Average-weight or heavyweight sleepers: The Nectar has plenty more support if you feel like you need more than what the Casper can offer.
Back sleepers: If you sleep on your back, you'll be comfy with Nectar's soft yet supportive sleep surface.
Casper vs. Nectar Mattress Video Comparison
Here are the most distinct similarities and differences between the Casper and Nectar mattresses.
Casper vs. Nectar: Top Similarities
Materials: Both are all-foam mattresses constructed with foam layers.
Price point: Both the Casper and Nectar mattresses have similar pricing.
Good for couples: Both offer excellent motion isolation, a common characteristic of the best mattresses for couples.
Thickness: The Casper and Nectar have the same height profiles (12").
Casper vs. Nectar: Top Differences
Feel: The Casper has a slightly softer feel than the Nectar.
Body type accommodation: The Nectar works for heavyweight sleepers, while the Casper does not.
Policies: The warranty and sleep trial lengths differ between the two mattresses.
Conforming ability: While the Casper conforms quite closely to the body, the Nectar conforms moderately to the body.
Casper vs. Nectar: Firmness & Feel Differences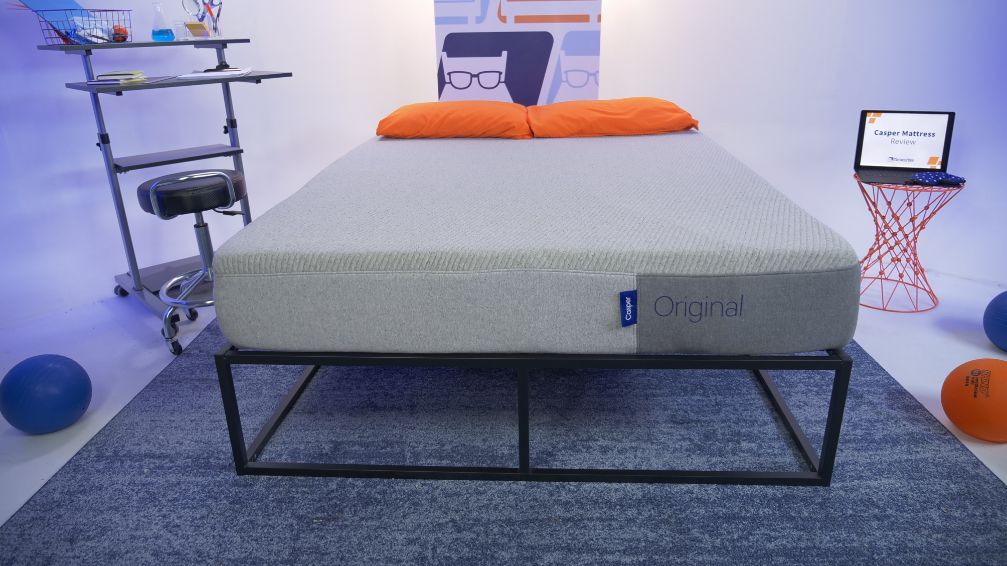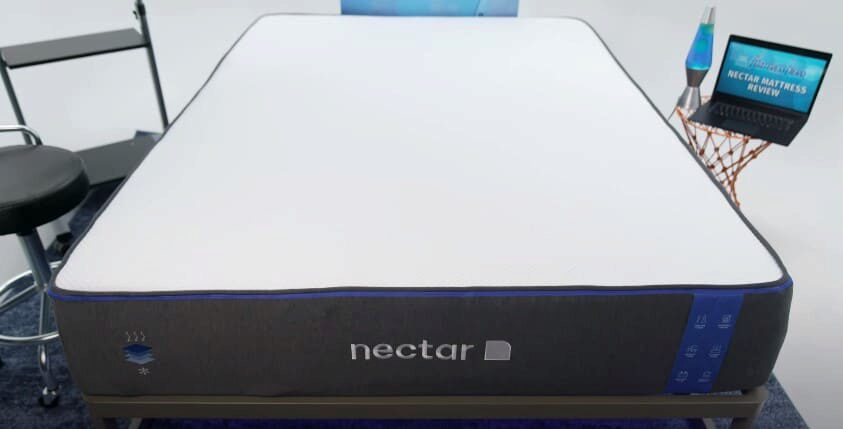 In this section, we take a look at how Casper and Nectar compare against each other in terms of firmness and feeling.
What's the Firmness Of the Casper & Nectar Mattresses?
When buying a mattress, one of the first things you should look at is the mattress's firmness level. Depending on your sleeping position and body type, your mattress's firmness level can make or break a good night's sleep. Here, we'll be using the firmness scale that goes from 1 to 10, with 1 being the softest and 10 being the firmest.
Both Casper and Nectar scored a 6 out of 10 on our firmness scale, which puts them in the medium to medium-firm category. Despite this, they have very different mattress feels.
What Do the Casper & Nectar Mattresses Feel Like?
The Casper mattress offers a balanced foam feel that falls somewhere between the contouring feel of memory foam and the bouncy, cushioning feel of polyfoam. When lying down, the Casper feels firm at first, but it gradually conforms to your body's natural curves. Despite being a foam mattress, we didn't have any trouble moving around on it.
The Nectar has a similarly balanced foam feel, but this time, the hugging sensation of memory foam is more prominent. But despite having memory foam layers, it's still very responsive and we had no trouble switching positions.
What's It Like to Sleep On the Casper & Nectar Mattresses?
Thanks to its dense polyfoam layer, we think the Casper Original is best suited to those who sleep on their back. The foam layers help evenly distribute body weight, preventing any pressure or discomfort build up in heavier areas. Despite being on the firmer side, the Casper also works well with side sleepers, but some may argue that it's a bit too firm. On the other hand, stomach sleepers may struggle a bit with proper hip support because of Casper's sinking foam layers. Heavier sleepers may also have issues with this and experience excessive sinking.
On the other hand, Nectar's soft and doughy memory foam layers are best suited for those who sleep on their side. But back sleepers will also have no trouble sleeping comfortably on Nectar's stable foam layers. Those who switch positions regularly will also appreciate how responsive the Nectar is, but for those weighing above 230 lbs, there may be better options than the Nectar.
The Casper vs. Nectar Mattresses By Body Type
Casper Performance By Body Type & Sleeping Position:
| | | | |
| --- | --- | --- | --- |
| Body Type: | BACK SLEEPERS | STOMACH SLEEPERS | SIDE SLEEPERS |
| Lightweight (< 130 lbs): | 5 | 3 | 4 |
| Average-weight (130–230 lbs): | 4 | 2 | 5 |
| Heavyweight (> 230 lbs): | 2 | 1 | 2 |
Nectar Performance By Body Type & Sleeping Position:
| | | | |
| --- | --- | --- | --- |
| Body Type: | BACK SLEEPERS | STOMACH SLEEPERS | SIDE SLEEPERS |
| Lightweight (< 130 lbs): | 4 | 4 | 5 |
| Average-weight (130–230 lbs): | 5 | 3 | 5 |
| Heavyweight (> 230 lbs): | 3 | 2 | 3 |
1 = Very poor, 2 = Not good, 3 = Fair, 4 = Good, 5 = Excellent
Average-Weight Sleepers (130–230 lbs)
Average weight back sleepers will sleep comfortably on both foam mattresses, but some may find more comfort and support in the thicker and slightly firmer Nectar mattress.
Both mattresses will also work well for average weight side sleepers, but some may prefer the softer Casper Original which does a great job of cradling pressure points.
For average weight stomach sleepers, the thicker Nectar mattress offers better hip support and elevation for good spinal alignment than the Casper Original.
Average weight combination sleepers will be happy with either mattress, but it depends on your dominant sleeping position. If you sleep more on your side, go for Casper; but if you sleep more on your stomach, pick Nectar.
Heavyweight Sleepers (> 230 lbs)
Heavyweight back sleepers will need much more back support to keep them from sinking, and the Nectar outperforms the Casper in this regard.
Of the two, the firmer Nectar can accommodate heavyweight side sleepers better. But for better support and cushion, we recommend firmer and more supportive options, like the ones on our best mattress for side sleepers list.
Heavyweight stomach sleepers will sleep better on the Nectar because of its thicker foam profile. However, some may find it too soft, so we recommend looking for firmer mattresses like our picks in the best mattress for stomach sleepers list.
When it comes to heavyweight combination sleepers, both mattresses struggle a bit. Heavier folks will experience excess sinking which may make it harder for them to move around.
Lightweight Sleepers (< 130 lbs)
Both the Casper and Nectar are great choices for lightweight back sleepers. It's just a matter of choosing which mattress feel you prefer.
Lightweight side sleepers will sleep more comfortably on the Casper Original and its softer yet still supportive foam layers.
The Nectar slightly excels over the Casper when it comes to providing hip support for lightweight stomach sleepers, but either mattress should be comfortable.
For lightweight combination sleepers, go for the Casper if you sleep more on your side and the Nectar if you're more of a stomach sleeper.
Differences In Mattress Construction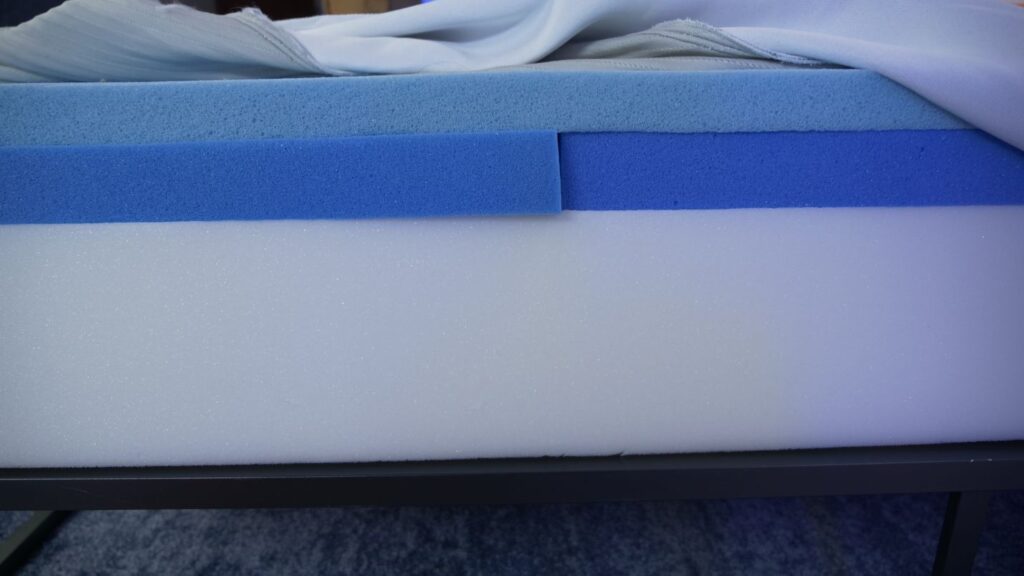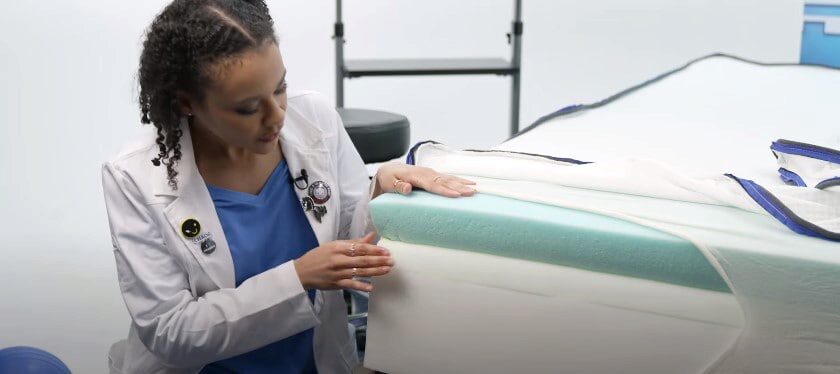 Both Casper and Nectar are popular foam mattresses, but they have distinct differences when it comes to mattress construction.
| | |
| --- | --- |
| Casper Mattress Materials | Nectar Mattress Materials |
| Polyester Blend Cover | Quilted Memory Foam Cover |
| 1.5" Airscape Perforated Polyfoam | 3" Gel-infused Memory Foam |
| 2" Memory Foam | 2" Adaptive Transition Foam |
| 7.5" High-Density Polyfoam | 7" Base Layer Foam |
Cover
The Casper Original has a soft polyester blend cover that's stretchy, breathable, and eco-friendly, being made from recycled bottles. The Nectar has a quilted memory foam cover that's also breathable and soft to the touch.
Comfort Layers
Casper's Airscape comfort system delivers optimum airflow and a generous cushion, thanks to its proprietary perforated polyfoam. Nectar's comfort layer is made from cooling gel-infused memory foam that helps neutralize excess body heat to keep you cool.
Support Layers
Both mattresses have similar base layers consisting of 7" high-density foam.
Casper vs. Nectar Pricing
| | | |
| --- | --- | --- |
| Size | Casper Prices | Nectar Prices |
| Twin | $1095.00 | $599.00 |
| Twin XL | $1145.00 | $769.00 |
| Full | $1233.00 | $899.00 |
| Queen | $1495.00 | $999.00 |
| King | $1945.00 | $1299.00 |
| California King | $1945.00 | $1299.00 |
For exclusive discounts on both beds see our Casper mattress coupons and Nectar mattress coupons.
Casper vs. Nectar Mattress Performance Ratings & Differences
Temperature
All-foam mattresses tend to sleep hotter than innerspring and hybrid beds because of their support foam cores, which aren't as breathable as pocketed coils. Solid-foam base layers don't promote as much airflow, but the Nectar and Casper offer relatively good temperature neutrality compared to other all-foam beds, with the Casper sleeping a little cooler than the Nectar.
If you are looking for a mattress that is cool to the touch, see our recommendations on the best mattress for hot sleepers.
Motion Transfer
Motion transfer is essential for couples who sleep in the same bed and those who wake easily in the middle of the night. Why? Well, nothing's worse than being awoken by a partner, pet or child climbing into bed at night. Because they are each made of foam, both of these beds offer minimal motion transfer and hardly make any noise while bearing weight. Beds with innersprings or hybrid beds with coils tend to be more likely to transfer motion.
For other mattresses that isolate motion, see the best mattress for couples.
Edge Support
"Edge support" is pretty self-explanatory: how much weight a mattress can support along its edges. Edge support is important for couples who want to spread out on the bed and sleep along the edges. Most memory foam mattresses tend to sink a bit along the perimeter. Both the Casper and the Nectar have significant sinkage when a sleeper sits along the edge, but each bed performs a bit better than other all-foam mattresses in this category.
Pressure Relief
Pressure relief is how closely a mattress can conform to areas of the body where pressure, pain, or discomfort typically occur. If you're searching for ultimate comfort, pressure relief is essential regardless of your weight, height, or preferred sleeping style.
If you enjoy the sensation of sleeping "in" a mattress, you may enjoy the Casper more than the Nectar. The Nectar conforms closely to the body, but the overall feel isn't quite as soft. Either mattress can be considered a good mattress for combination sleepers, because they each accommodate multiple sleeping positions.
Pain Relief
When pressure builds up in certain areas, those areas tend to develop pains and aches. That's why a mattress's pain-relieving ability is heavily dependent on how well it relieves pressure.
As mentioned above, the softer Casper Original offers better pain relief than the Nectar. Casper works best for side sleepers, but its Zoned Support system makes it a great choice for other sleeping positions as well.
The Nectar also offers good pain relief, but some may find it a bit firm, especially those who sleep on their sides and stomachs. We think Nectar works best when it comes to relieving back pain, but if you ask us, there are firmer and better options in our best mattresses for back pain.
Durability
Both beds are relatively new to the market, so their maximum longevity is still being determined. Still, you can expect both models to have an average lifespan of about seven years, which is standard for the mattress industry.
Durability is an essential factor to consider in all-foam beds, which are generally less durable than hybrid and innerspring mattresses because they lack a responsive coil support core. With any foam mattress, you may notice body impressions that form over time. We recommend rotating each of these mattresses every six months to avoid this.
Shipping, Returns, & Warranties
Casper
Casper offers free shipping across the contiguous U.S., with extra fees for deliveries to Alaska and Hawaii. They also offer a 100-sleep trial period, with free returns and a full refund. You'll also get a 10-year warranty with your mattress, which includes free repair or replacement in case of defects.
Nectar
Nectar gives free shipping across the contiguous U.S. They also provide a 365-day sleep trial, one of the longest trial periods in the industry. Nectar also gives a Lifetime Warranty, covering any workmanship or material defects within the first 10 years, with prorated repair and replacement costs thereafter.
More Mattresses to Consider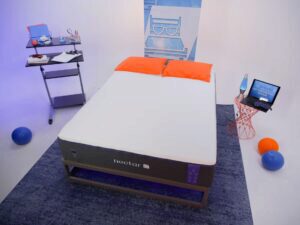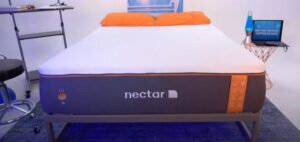 Nectar Premier Copper Mattress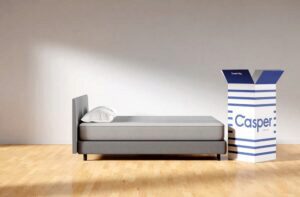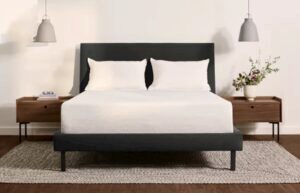 Casper Wave Hybrid Mattress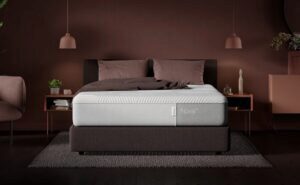 Casper Nova Hybrid Mattress
Haven't made a decision yet? Check out these other comparisons:
Our Final Take
The Casper and Nectar mattresses are both exceptionally designed and backed by responsive customer support and good customer policies. If you're lightweight and looking for extra cushioning in a mattress, check out the Casper Original. If you're heavyweight or average-weight and need a bit of extra firmness to help you feel completely comfortable, take a look at the Nectar.
Casper & Nectar FAQs
Which Nectar mattress is best?
It depends on your sleeping position, body type, and your budget. If you're a back or stomach sleeper, you can't go wrong with getting their flagship Nectar mattress. But if you sleep on your side and prefer something that's a bit more cooling, go for their Nectar Premium mattresses.
Is Casper high quality?
Casper is known for offering high-quality foam mattresses that cater to different sleeping positions and body profiles. Its mattresses are known for their balanced foam feel which can work with almost every type of sleeper.
Can I put a Casper mattress on a regular bed frame?
Yes, Casper mattresses are designed to work like a standard box spring, which means that you can directly put it on top of your existing bed frame. You also have the option of purchasing their Casper Foundation metal bed frame to go with your Casper mattress.