Nolah vs. Nectar Mattress Comparison
•
Disclosure: By clicking on the product links in this article, Mattress Nerd may receive a commission fee at no cost to you, the reader. Read full disclosure statement.
The Nectar and Nolah are both online mattresses that are made entirely of foam. The Nectar stacks two thick layers of memory foam above a dense polyfoam base. The Nolah Original is made with responsive AirFoam and breathable polyfoam layers.
If you're looking for a new mattress and having trouble picking between these two, don't worry. In this article, we'll be reviewing everything you need to know about the Nectar and Nolah mattresses so you can pick the right one for you.
We test all our mattresses firsthand. If you're wondering how we do you, check out our testing methodology.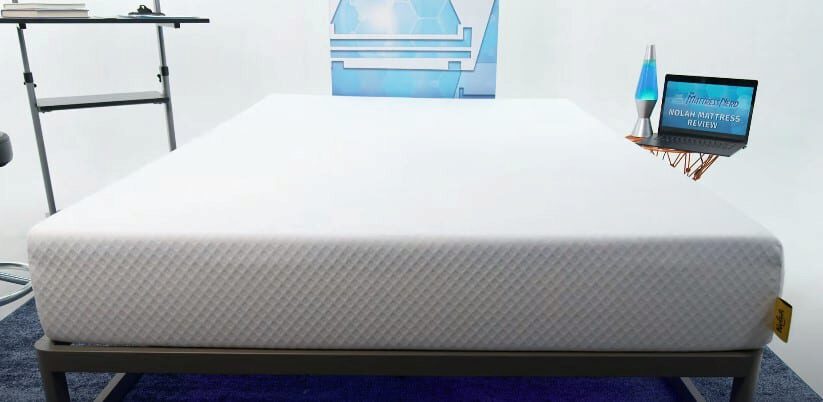 Nolah Original 10" Mattress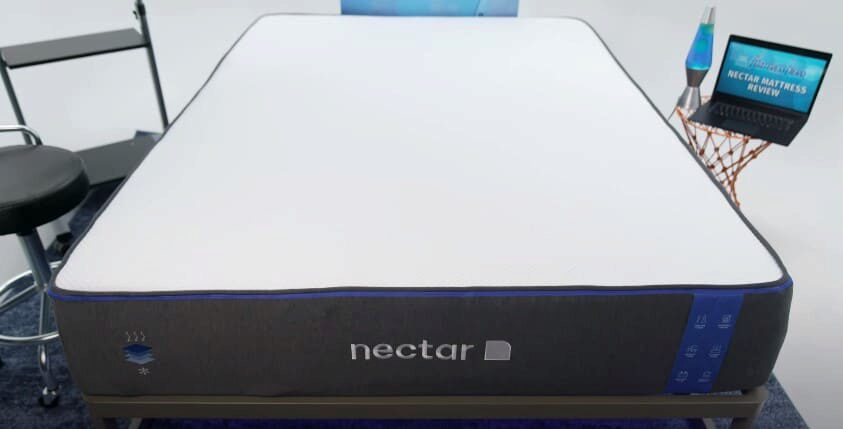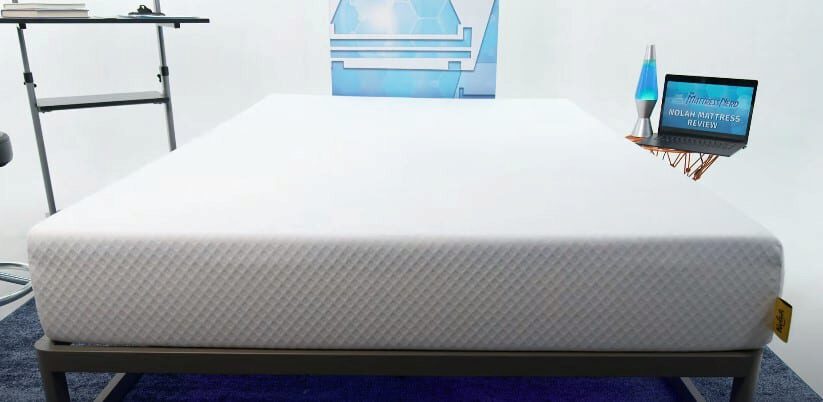 Product
Nolah Original 10" Mattress
Firmness
Medium-firm: 6.5/10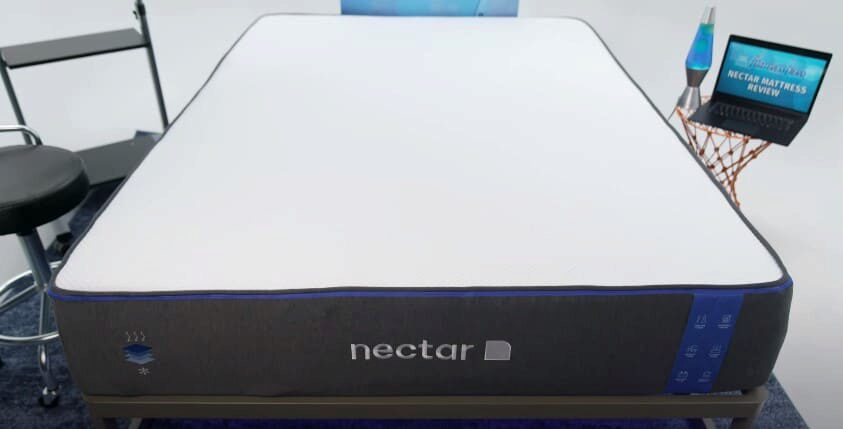 Firmness
Medium-firm: 6/10
Nectar vs. Nolah Overview
Both the Nectar and Nolah mattresses are some of the best mattresses for side sleepers, but they each excel in different areas. Here's an overview of each mattress's main points.
| | |
| --- | --- |
| Nectar is best for… | Nolah is best for… |
| Side sleepers | Couples |
| Lightweight back sleepers | Side sleepers |
| Average weight sleepers | Combination sleepers |
Who Should Choose the Nectar Mattress?
Side sleepers: Those who sleep on their sides will probably sleep comfortably on the Nectar mattress since it provides soft contouring near their shoulders and hips.
Lightweight back sleepers: Those under 130 lbs with a preference for softer mattresses will have a good night's sleep with Nectar.
Average-weight sleepers: Sleepers with body types under 230 lbs will get just the right amount of support from this all-foam mattress.
Who Should Choose the Nolah Mattress?
Couples: Have a partner who tosses and turns through the night? The Nolah offers excellent motion isolation so you don't have to worry about having your sleep disrupted.
Side sleepers: The Nolah offers the perfect blend of pressure relief and proper spinal support for side sleepers.
Combination sleepers: The Nolah has a responsive AirFoam layer that lets combination sleepers change positions easily without feeling stuck.
Nectar vs. Nolah: Top Similarities
Minimal motion transfer: The Nectar and Nolah mattresses both keep motion transfer to a minimum, so you experience fewer sleep disruptions from your partner's midnight movements.
Responsiveness: Both of these beds have a pretty quick response time to your changes in sleeping position.
Great pressure relief: The Nectar and Nolah are both pressure-relieving options for average-weight side sleepers.
Nectar vs. Nolah: Top Differences
Construction: The Nolah comfort layer is made of AirFoam, which is a proprietary polyfoam with a quick response time and breathable construction. The Nectar's comfort layers are 5" of memory foam that's dense and conforming. The Nolah is the better mattress for combination sleepers who need a responsive mattress to change positions.
Sleeping positions: The Nolah mattress does a better job of keeping back sleepers' spines in a healthy, neutral position, since its top foam layers aren't as squishy as Nectar's.
Breathability: Nolah AirFoam tends to sleep cooler than the memory foam in the Nectar mattress.
Nectar vs. Nolah: Firmness & Feel Differences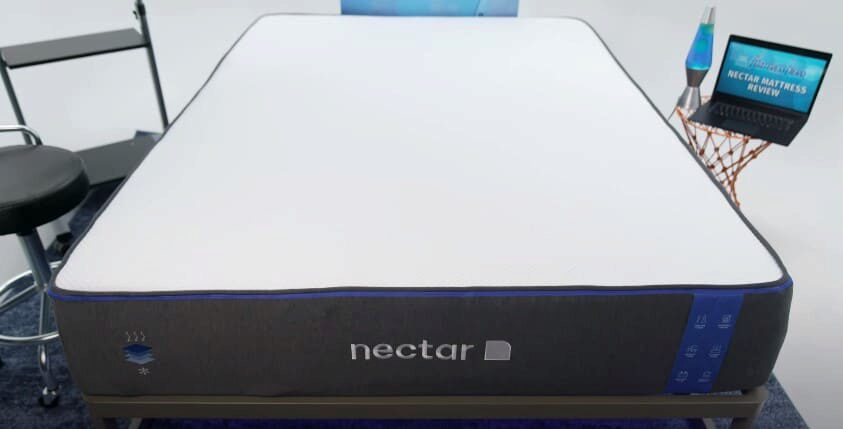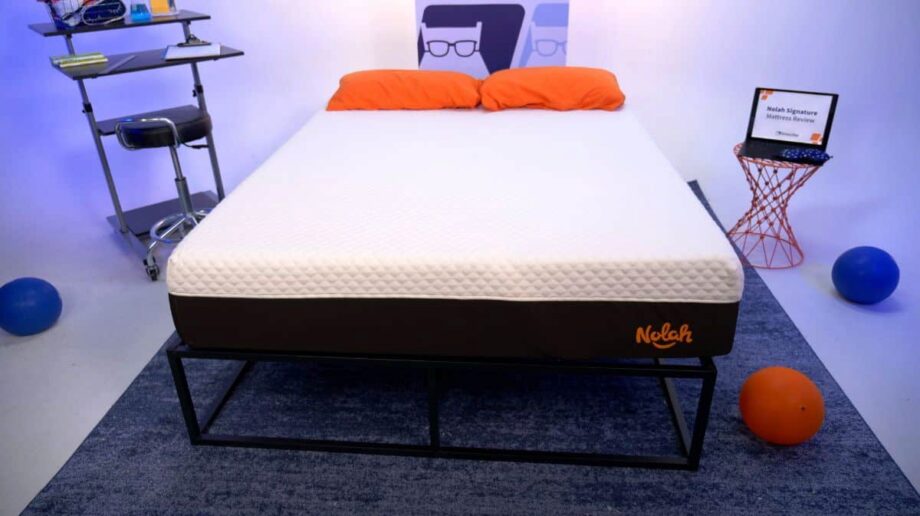 If you're wondering how it feels like to sleep on the Nectar and Nolah without buying them first, here's what we found out at the sleep lab:
What's the Firmness Of the Nectar & Nolah Mattresses?
The mattress firmness scale tells shoppers how far they can expect to sink into the top layers of a mattress. Here at Mattress Nerd, our scale ranges from 1–10, with one being feather-soft and 10 being ultra-firm. The Nectar and Nolah mattresses are both medium-firm, or 6/10 on the firmness scale. Go with Nolah if you like a more plush mattress feel and the Nectar if you want the doughy feel of traditional memory foam.
What Do the Nectar & Nolah Mattresses Feel Like?
The Nolah offers a very balanced foam feel. Despite being a foam mattress, we found the Nolah mattress to sleep cool, thanks to its breathable TENCEL cover and AirFoam layer. And even though we noticed a slight sink while lying down, we think that it responds very well to movement changes. It has a thick foam base that serves as its foundation and contributes to its medium-firm feel.
The Nectar also has a stable foam feel but provides a softer, more doughy feel than the Nolah. Its memory foam layers have that "hugging" sensation, but we didn't feel like we got "stuck" in the mattress. However, we feel like heavier folks may have trouble moving around on it, especially those who change positions a lot.
What's It Like to Sleep On the Nectar & Nolah Mattresses?
Nectar has that traditional doughy memory foam feel, which is suitable for most side sleepers under 230 lbs. Back sleepers should also be comfortable on the Nectar mattress since it can provide great spinal support and pressure relief to prevent any back pain. It's also very responsive so combination sleepers can move around with ease.
Nolah is softer than most foam mattresses, making it the ideal choice for most side sleepers. Since it's soft enough to be cushioning but firm enough to be supportive, we also think that back and stomach sleepers will probably sleep comfortably on it. When moving around, the Nolah poses no issues so we think that combination sleepers will really appreciate how responsive it is. Heavier folk, on the other hand, may find that it doesn't provide enough support to keep a neutral spine alignment, which may cause back pain.
The Nectar vs. Nolah Mattresses By Body Type
Nectar Performance By Body Type & Sleeping Position:
| | | | |
| --- | --- | --- | --- |
| Body Type: | BACK SLEEPERS | STOMACH SLEEPERS | SIDE SLEEPERS |
| Lightweight (< 130 lbs): | 4 | 3 | 5 |
| Average-weight (130–230 lbs): | 4 | 2 | 5 |
| Heavyweight (> 230 lbs): | 2 | 2 | 3 |
Nolah Performance By Body Type & Sleeping Position:
| | | | |
| --- | --- | --- | --- |
| Body Type: | BACK SLEEPERS | STOMACH SLEEPERS | SIDE SLEEPERS |
| Lightweight (< 130 lbs): | 5 | 4 | 5 |
| Average-weight (130–230 lbs): | 4 | 3 | 5 |
| Heavyweight (> 230 lbs): | 3 | 2 | 4 |
1 = Very poor, 2 = Not good, 3 = Fair, 4 = Good, 5 = Excellent
Average-Weight Sleepers (130–230 lbs)
Average weight back sleepers will have no issues with either mattress. Both mattresses provide great support for the back so you can keep your spine neutrally aligned.
Both mattresses are also highly recommended for average weight side sleepers. They both do a great job at contouring your body so that your hips and shoulders will stay aligned with your spine.
We don't really recommend either mattress for average weight stomach sleepers. We found both to be too soft, so you may experience sinking in the hip area which may cause your spine to go out of alignment.
Both the Nolah and Nectar are great options for average weight combination sleepers because of their inherent responsiveness.
Heavyweight Sleepers (> 230 lbs)
Heavyweight back sleepers will probably experience too much sinking in both mattresses. If you find yourself waking up with pain in your lumbar region, check out our best mattress for back pain list.
The majority of heavyweight side sleepers will probably experience some discomfort with both mattresses. You may experience some pressure build-up in joint areas because of excessive sinking.
Heavyweight stomach sleepers will probably find the Nolah and Nectar mattresses to be too soft. We recommend firmer mattresses to prevent your hips from being misaligned, like the ones in our list of best mattresses for stomach sleepers.
Though both are responsive foam mattresses, heavyweight combination sleepers may find themselves sinking in too much for comfort.
Lightweight Sleepers (< 130 lbs)
Both mattresses are excellent choices for lightweight back sleepers, so they only need to choose based on their preferences — the more balanced foam feel of the Nolah or the hugging memory foam of Nectar?
The Nolah and Nectar mattresses were practically made for lightweight side sleepers, so either mattress will sleep comfortably.
Lightweight stomach sleepers will also sleep well on either mattress, but the Nolah outperforms the Nectar because of its denser foam nature.
Similarly, lightweight combination sleepers only need to choose based on preference because both mattresses are great at adapting to movement changes.
Differences In Mattress Construction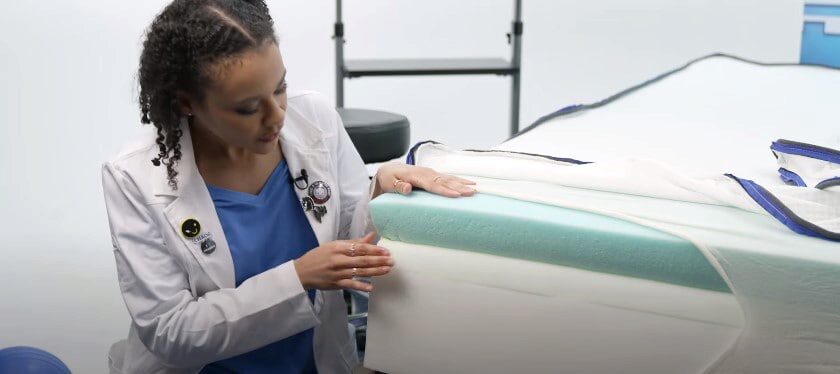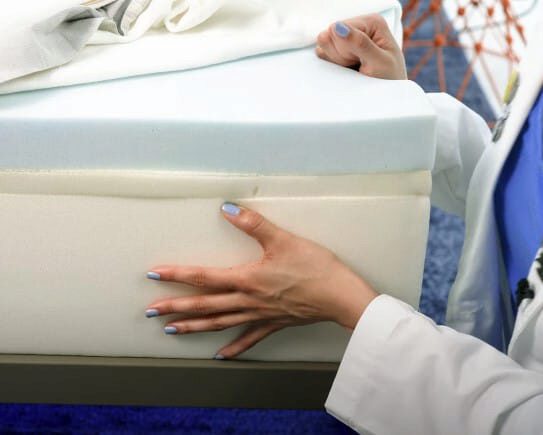 Both are foam mattresses and are made up of 3 layers. However, the Nectar mattress is thicker at 12" than the 10" Nolah. Here's a closer look at how each mattress layer performs.
| | |
| --- | --- |
| Nectar Mattress Materials | Nolah Mattress Materials |
| Quilted Memory Foam Cover | TENCEL Mattress Cover |
| 3" Gel-infused Memory Foam | 2" AirFoam |
| 2" Adaptive Transition Foam | 1" High-Resilience Foam |
| 7" Base Layer Foam | 7" High-Density Base Foam |
Cover
Nectar has a plush top cover that's soft to the touch and sleepers cool. Similarly, Nolah's cover is made from sustainable TENCEL fabric which is popular for its breathability and ability to wick away body heat.
Comfort Layers
The Nectar has a gel-infused memory foam layer that neutralizes excess body heat to keep you cool. Nolah has a patented AirFoam layer that contains air pockets for cool airflow and pressure relief.
Support Layers
Both mattresses have 7" thick base foam layers.
Nectar vs. Nolah Pricing
| | | |
| --- | --- | --- |
| Size | Nectar Prices | Nolah Prices |
| Twin | $599.00 | $699.00 |
| Twin XL | $769.00 | $899.00 |
| Full | $899.00 | $999.00 |
| Queen | $999.00 | $1149.00 |
| King | $1299.00 | $1349.00 |
| California King | $1299.00 | $1349.00 |
For exclusive discounts on both beds see our Nectar mattress coupons and Nolah mattress coupons.
Nectar vs. Nolah Mattress Performance Ratings & Differences
Temperature
On the whole, foam mattresses tend to trap body heat more than hybrid or innerspring mattresses. That's because coils allow more airflow through the mattress than dense foam. Memory foam is the warmest foam since it's made with viscoelastic chemicals that are more likely to retain body heat. Predictably, the Nolah mattress sleeps a little cooler than the Nectar and is a better mattress for hot sleepers.
Motion Transfer
All-foam mattresses, like the Nectar and Nolah, tend to do a good job of trapping motion where it starts. Think of those tests where a person jumps on one end of the bed while a tall glass of wine stays upright on the other. The glass would probably tip on an innerspring mattress. That's because visco elastic foam doesn't allow motion transfer as easily as connected springs.
The Nectar and Nolah mattresses both performed really well in our motion isolation tests, so they're both a great mattress for couples or anyone who may be joined by a pet or child throughout the night.
Edge Support
Edge support usually isn't the first feature shoppers ask about when looking for their next mattress, but it's really important for anyone who likes to sleep or sit near the edge of the bed. Mattresses with good edge support prevent someone from slipping or sliding off the side of their mattress.
The Nectar keeps you well supported on the edges of the bed, especially considering that it's an all-foam mattress without the benefit of supportive steel coils. The density of the Nectar is probably what helps it do a good job of keeping the edges from dipping under pressure. On the other hand, the Nolah performed notably poor in this category, so the Nectar is better for those who like to sit or sleep along the edges of their mattress.
For couples looking to maximize their mattress surface, see the best mattress for sex or for those who need sturdy edge support, see the best mattress for seniors.
Pressure Relief
Pressure point relief is especially important for side sleepers and those with bone or joint pain. This category gauges how well the top layers of a mattress cushion curvier parts of the body like the shoulders and hips. Typically, soft, medium, and medium-firm mattresses provide the best pressure relief for side sleepers who regularly lie directly on those joints.
The Nectar and Nolah mattresses are both medium-firm, but the soft, conforming memory foam layers on top of the Nectar provide a bit more pressure relief. However, neither mattress is the best mattress for stomach sleepers who need less contouring and more support to hold the body up.
Pain Relief
If you experience pain in your hip or shoulder areas, both mattresses are great choices. However, based on the pressure maps we produced, there's a noticeable pressure build-up around the hip area for both mattresses, so heavier folks should talk caution.
That said, for those with back pain, we recommend the Nolah over the Nectar. It does a better job of relieving pressure off the lower back area, whereas the Nectar may be too soft and sinking.
Durability
Mattress durability addresses how long you can expect your mattress to last. Most mattresses perform like new for seven to 10 years, but all-foam mattresses fall at the shorter end of that range. Foam just isn't as durable as latex or steel coils.
Even though pricing is a little higher for the Nectar, it's more durable than the Nolah. Whichever brand you choose, both come with a Lifetime warranty, so you're covered for the long haul. If you're looking for a mattress that may last longer than foam, check out the best hybrid mattresses.
Shipping, Returns, & Warranties
Nectar
Nectar has free shipping across the contiguous U.S. Each mattress has a whopping 365-day sleep trial, one of the longest trial periods in the industry. Nectar also offers a Nectar Forever warranty that covers any workmanship or material defects within the first 10 years and prorated repair or replacement costs thereafter.
Nolah
Each Nolah mattress comes with free shipping (across the contiguous U.S.) and a 120-day sleep trial, where you can only get a free return and full refund after 30 nights. You'll also get a Nolah Lifetime warranty that provides complete coverage for 15 years and prorated repair costs after.
Other Models Available
This mattress is no longer available for purchase. To help you find your next mattress, check out our list of the best mattresses available on the market now.
Our Final Take
Nectar and Nolah are both all-foam mattresses that are moderately priced. They both support average-size sleepers and accommodate a range of sleeping positions thanks to a balanced medium-firm feel.
We recommend the Nectar mattress for those who like the close, conforming feel of memory foam, as well as side sleepers and lightweight back sleepers. If you're an average-size back sleeper or petite stomach sleeper, the Nolah is the better mattress for you since the top layers of foam don't sink as deep into the mattress. The Nolah is also preferable for hot sleepers, since it doesn't hold onto as much body heat as the Nectar.
Haven't made a decision yet? Check out these other comparisons:
Nectar & Nolah FAQs
How Firm is a Nolah Mattress?
According to our firmness scale (1 being the softest and 10 being the firmest), the Nolah mattress gets a score of 6/10, which places it under the medium-firm category.
What Are The Cons of a Nectar Mattress?
Some Nectar mattress owners noted that they found the mattress a bit too plush for their needs. Some also expressed disappointment at how limited their 356-day sleep trial was. There were also some complaints about shipping delays and customer service.
Is a Nectar Mattress Worth The Price?
The Nectar mattress falls on the pricier side of foam mattresses, but it's a brand known for its price value. If you prefer the hugging feel of memory foam, we highly recommend the Nectar mattress.