Nolah vs. Leesa Mattress Comparison
•
Disclosure: By clicking on the product links in this article, Mattress Nerd may receive a commission fee at no cost to you, the reader. Read full disclosure statement.
The Leesa mattress is a popular, medium-firm, all-foam mattress with a proprietary foam top layer and a memory foam feel. The Nolah Original mattress is also an all-foam bed with proprietary foam, but its top layers have a slightly softer feel.
If you're having trouble choosing between Leesa and Nolah, you're in luck. In this article, we'll be taking apart (figuratively and literally) both the Leesa and Nolah mattresses to see how they compare against each other. For an in-depth look at how we test our mattresses, you can read our testing methodology.

Leesa Original Hybrid Mattress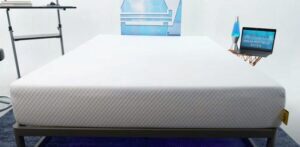 Nolah Original 10" Mattress

Product
Leesa Original Hybrid Mattress
Firmness
Medium-firm: 6/10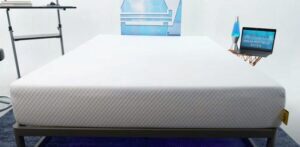 Product
Nolah Original 10" Mattress
Firmness
Medium-firm: 6/10
Leesa vs. Nolah Overview
The good news is that you'll get a comfortable mattress no matter which brand you choose. But each mattress performs differently depending on your body type and sleeping position.
| | |
| --- | --- |
| Leesa is best for… | Nolah is best for… |
| Couples | Side sleepers |
| Hot sleepers | Combination sleepers |
| Back sleepers | Those with back pain |
Who Should Choose the Leesa Mattress?
Couples: If you have a partner who likes to toss and turn in their sleep (or maybe that's you), you'll be happy to know that Leesa manages to stay quiet and does a great job of isolating movement.
Hot sleepers: Though a foam mattress, the Leesa is excellent at wicking away body heat and keeps you cool through the night.
Back sleepers: If you're a back sleeper who prefers a more sink-in mattress feel, Leesa should be a good choice. It's soft enough to let you sink in but still provides enough support for your lumbar region.
Who Should Choose the Nolah Mattress?
Side sleepers: Side sleepers will love the Nolah Original's pressure-relieving properties that don't compromise on proper spinal support.
Combination sleepers: The Nolah mattress is a responsive foam mattress, so combination sleepers will have no problems moving around at night.
Those with back pain: Nolah is soft on pressure points and supportive of the lumbar region, upper back, and neck — ideal for those who wake up with achy joints.
Leesa vs. Nolah: Top Similarities
Minimal motion transfer: Both the Leesa and Nolah mattresses do an excellent job of minimizing motion transfer.
Excellent responsiveness: These mattresses are very responsive, meaning they quickly adjust when you change positions during the night—both great mattresses for combination sleepers.
Mid-range prices: Leesa and Nolah are both priced in our mid-range category, so they aren't budget buys, but they also aren't luxury mattresses.
Leesa vs. Nolah: Top Differences
Firmness: The Leesa isn't a 100 percent memory foam mattress, but the memory foam transition layer gives it a firmer, more conforming feel than the soft AirFoam on top of the Nolah mattress.
Sleeping positions: The Nolah and Leesa both measure around 6–6.5/10 on the firmness scale, but we think the Nolah is the best mattress for side sleepers and lightweight back sleepers, and the Leesa is better for average-sized back sleepers and petite stomach sleepers.
Breathability: Leesa's breathable cover and top layer do a better job of keeping body heat moving away from your body and out of the mattress.
Leesa vs. Nolah: Firmness & Feel Differences
After testing these mattresses out in our sleep lab, here's what we found out about each mattress's firmness and feel.
What's the Firmness Of the Leesa & Nolah Mattresses?
Here at Mattress Nerd, we rate mattress firmness on a scale from 1–10, with 1 being the softest and 10 being the firmest. Generally, side sleepers prefer softer mattresses, stomach sleepers need firmer mattresses and back sleepers range somewhere in the middle.
Both the Leesa and Nolah mattresses are medium-firm, which is considered the "universal firmness" because it balances cushioning and support. The Leesa feels a bit firmer, so while it supports the lower back and hips, it may not provide enough pressure relief for side sleepers. The Nolah mattress is a better choice for side sleepers, but it may not be firm enough to keep stomach sleepers' spines aligned.
What Do the Leesa & Nolah Mattresses Feel Like?
The Leesa mattress has a balanced foam feel that's somewhere in the middle of conforming and bouncy. This is because its top foam layer has a noticeable bounce to it that responds quickly to movement. It sleeps comfortably hugging and contouring but doesn't have that sinking feeling that most foam mattresses have.
The Nolah has a more dense and conforming feel and less of the hugging foam sensation. Because of this, it offers great pressure relief and adequate support and cushion. Still, we think it has a balanced foam feel, similar to Leesa.
What's It Like to Sleep On the Leesa & Nolah Mattresses?
We think that the Nolah is best suited for side sleepers because of its softer foam feel. Back and stomach sleepers will also sleep comfortably since it provides great support for the back, shoulders, and hips. Because of its adaptive AirFoam technology, the Nolah mattress is also a good choice for combination sleepers, especially those who change positions a lot. Those weighing over 230 lbs should take caution, though, as we predict that the Nolah may have trouble maintaining a neutral spine alignment under heavier load.
The Leesa mattress delivers ample support for back sleepers' spine and neck, so it's an easy recommendation. Those who sleep on their stomachs will also sleep comfortably on the Leesa as we found that it does a good job of elevating your hips and keeping them aligned with your back. We also recommend the Leesa to some side sleepers and combination sleepers because of its excellent motion isolation and contouring features, but those who weigh heavier than 230 lbs may feel like they sink in too much and may have trouble shifting positions.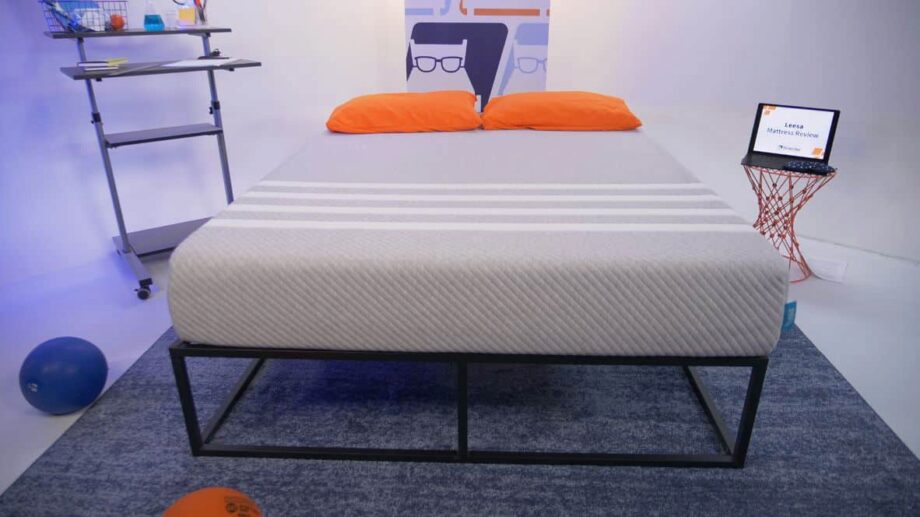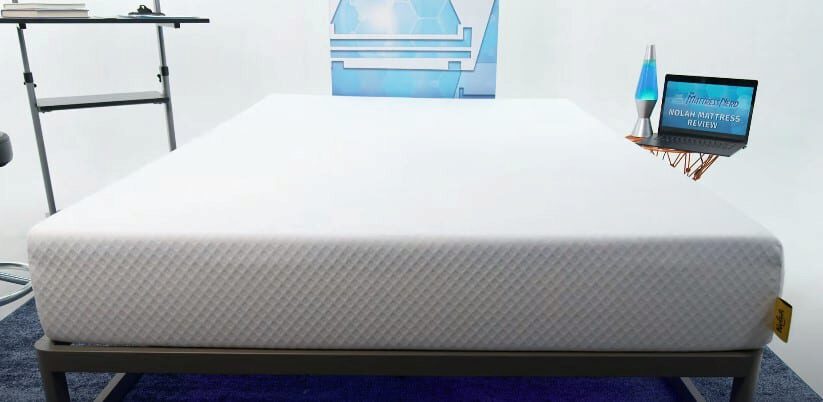 The Leesa vs. Nolah Mattresses By Body Type
Leesa Performance By Body Type & Sleeping Position:
| | | | |
| --- | --- | --- | --- |
| Body Type: | BACK SLEEPERS | STOMACH SLEEPERS | SIDE SLEEPERS |
| Lightweight (< 130 lbs): | 5 | 4 | 4 |
| Average-weight (130–230 lbs): | 5 | 3 | 3 |
| Heavyweight (> 230 lbs): | 2 | 1 | 2 |
Nolah Performance By Body Type & Sleeping Position:
| | | | |
| --- | --- | --- | --- |
| Body Type: | BACK SLEEPERS | STOMACH SLEEPERS | SIDE SLEEPERS |
| Lightweight (< 130 lbs): | 5 | 4 | 5 |
| Average-weight (130–230 lbs): | 4 | 3 | 5 |
| Heavyweight (> 230 lbs): | 3 | 2 | 4 |
1 = Very poor, 2 = Not good, 3 = Fair, 4 = Good, 5 = Excellent
Average-Weight Sleepers (130–230 lbs)
Both mattresses have a medium-firm feel that provides more than enough support and cushion for average weight back sleepers.
Average weight side sleepers will also have no problems sleeping on either mattress, but the slightly softer Nolah may be the better pick for its extra cushion for your joints.
For average weight stomach sleepers, we recommend the Leesa more because it's firmer and has more hip support than the Nolah.
Average combination sleepers will be happy with either mattress since both offer fantastic motion transfer and responsiveness.
Heavyweight Sleepers (> 230 lbs)
We don't recommend either mattress for heavyweight back sleepers, but the Leesa mattress may work well for some because of its firmer nature. Still, we recommend firmer options for heavier back sleepers, like the ones in our best mattress for back sleepers list.
The Nolah Original is specifically built for side sleepers, but some heavyweight side sleepers may find it lacking in proper back support. There's no doubt that Nolah beats Leesa in this aspect, though.
Similarly, heavyweight stomach sleepers will probably be more comfortable on the firmer Leesa, while some may find that it doesn't offer enough support.
Although the Nolah and Leesa are very responsive foam mattresses, some heavyweight combination sleepers will feel like they sink in too much and thus, have a harder time tossing and turning at night.
Lightweight Sleepers (< 130 lbs)
Lightweight back sleepers will definitely be happy with either choice, but there's no doubt that the Leesa mattress takes the win for this round. It's at the ideal level of firmness that's both very comfortable and supportive for back sleepers.
The Nolah mattress gives overall better support and cushion to lightweight side sleepers. The Leesa also performs well, but we found the Nolah to be softer and comfier, especially on the hips and shoulders.
Being the firmer of the two, the Leesa should be what most lightweight stomach sleepers. With Leesa, there will be less sinking in the hip area, giving more support for your spine.
Lightweight combination sleepers will have the easiest time choosing since both are great responsive foam mattresses. It's just a matter of choosing between the softer (Nolah) or firmer (Leesa) feel.
Differences In Mattress Construction
The Nolah and Leesa mattresses have a lot in common in terms of construction — both are all-foam mattresses, have three foam layers, and are 10" thick. However, they have distinct foam layers that function differently when it comes to sleep.
| | |
| --- | --- |
| Leesa Mattress Materials | Nolah Mattress Materials |
| Soft Twill Cover | TENCEL Mattress Cover |
| 2" LSA200 Foam Layer | 2" AirFoam |
| 2" Memory Foam Recovery Layer | 1" High-Resilience Foam |
| 6" High-Density Base Foam | 7" High-Density Base Foam |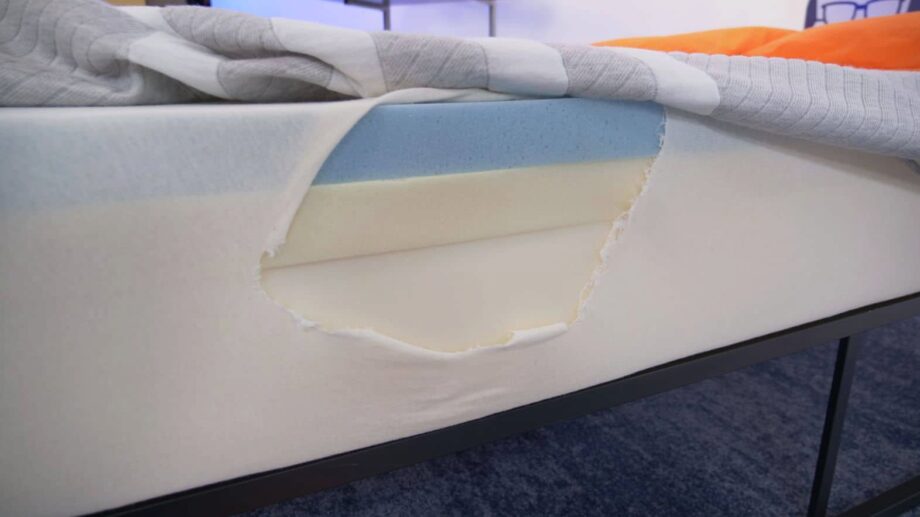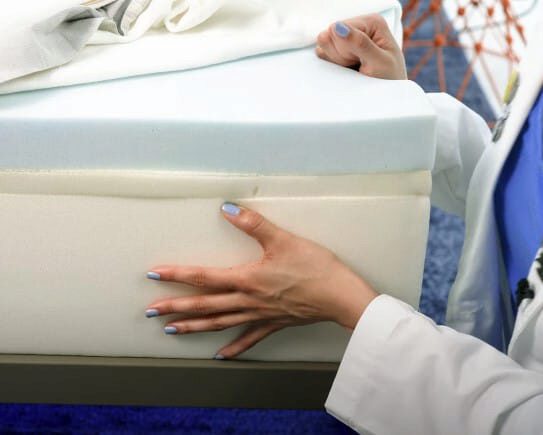 Cover
Nolah's cover is made from TENCEL fabric, a sustainable fabric that's sourced from plants. It's known for being soft, breathable, and cool to the touch. Leesa's cover is made from durable twill fabric, which feels soft and smooth.
Comfort Layers
Both mattresses use proprietary foam layers. Nolah uses adaptive AirFoam layers that contain air pockets for providing cool airflow and pressure relief, while Leesa uses their patented LSA200 foam that sleeps cool and responds quickly to movement.
Support Layers
Both mattresses use a high-density base foam layer for foundation, but the Nolah Original is slightly thicker than the Leesa by 1″.
Leesa vs. Nolah Pricing
| | | |
| --- | --- | --- |
| Size | Leesa Prices | Nolah Prices |
| Twin | $1049.00 | $999.00 |
| Twin XL | $999.00 | $899.00 |
| Full | $1199.00 | $999.00 |
| Queen | $1299.00 | $1149.00 |
| King | $1599.00 | $1349.00 |
| California King | $1599.00 | $1349.00 |
For exclusive discounts on both beds see our Leesa mattress coupons and Nolah mattress coupons.
Leesa vs. Nolah Mattress Performance Ratings & Differences
Temperature
Waking up drenched in sweat can feel like a nightmare, which is why a lot of shoppers opt for foam alternatives or mattresses with coil layers. Nolah and Leesa both address the issue of temperature by creating breathable foams that don't trap body heat. They sleep unusually cool for all-foam beds, especially the Leesa—making them some of the best mattresses for hot sleepers.
Motion Transfer
Motion isolation is an especially important consideration for couples who are light sleepers: after all, nobody likes to get woken up by a partner's movement reverberating throughout the mattress. Avoiding motion transfer is not as important for those who sleep alone, but it's nice if you anticipate any midnight visits from pets or children. All-foam mattresses typically do a great job of trapping motion at its source, which is true for both of these mattresses. For similar options, see our picks for the best mattress for couples.
Edge Support
Edge support is often overlooked by mattress shoppers, but it's a helpful perk if you need to maximize your mattress surface area or like to sit on the edge of the bed to get ready in the morning.
The Leesa is a tad bit firmer than the Nolah, so it supports a little more weight near the edges, but you probably won't slide off the sides of either of these beds. If you have a heavier body type, a hybrid mattress will do a better job of supporting your weight on the edge of the bed.
Pressure Relief
Pressure relief is about more than simply the softness of a mattress. A top layer that cushions your pressure points, but doesn't hug the inverted curves of your body, will still allow too much stress on your shoulders and hips. Both of these mattresses evenly distribute your body weight, but the softer firmness level of the Nolah provides a little more cushioning power than the Leesa. If your current mattress is not delivering enough pressure relief, see our picks for the best mattress for back pain.
Pain Relief
Nolah and Leesa both got high scores when it came to pain relief for the neck and back. This is due to Nolah's responsive AirFoam layer and Leesa's contouring memory foam. For body types under 230 lbs, you'll probably encounter no issues with either mattress, no matter your sleeping position. According to our pressure maps, some sleepers with shoulder or hip pain may experience experience discomfort in both mattresses as we noticed pressure build up in those areas.
Durability
Nolah says that AirFoam has a durability rating 300 percent higher than memory foam, but is that true? While we can't say for sure, we do think that both mattresses will last you at least seven to 10 years. The Leesa is firmer, so we estimate it will last closer to the decade mark, while the Nolah will likely fall on the shorter end of the spectrum.
Shipping, Returns, & Warranties
Leesa
Leesa offers free shipping to 50 U.S. states, with white glove delivery as an option for an extra fee of $150. They give you a 100-day sleep trial where you can apply for a free return and full refund after 30 nights. You'll also get a 10-year warranty that covers full replacements for any defects unrelated to the usual wear and tear.
Nolah
Nolah has free shipping across the contiguous 48 U.S. states. They also offer a 120-day sleep trial with free returns and a full refund (but only after 30 days). Each mattress comes with a Nolah Lifetime warranty that provides complete coverage for 15 years and prorated repair costs after.
Other Models Available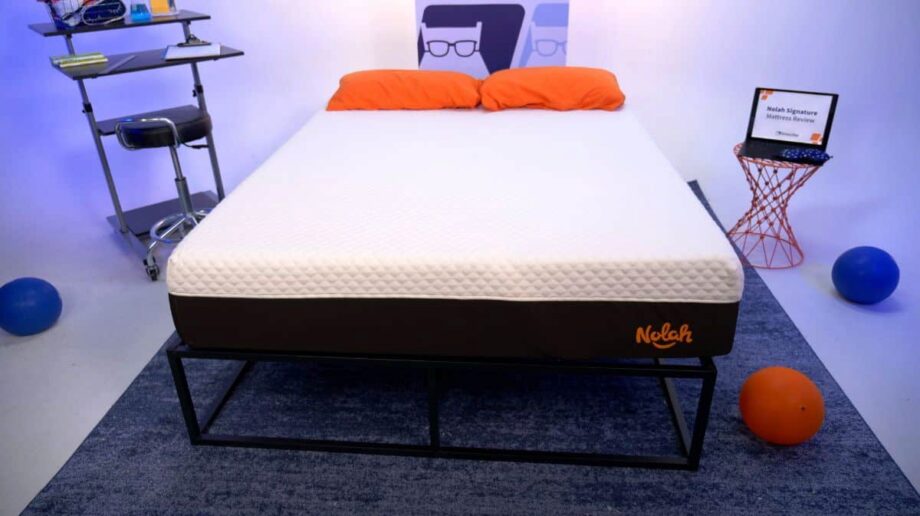 Nolah Signature 12" Mattress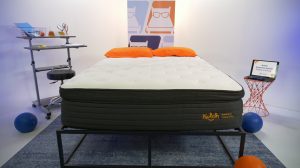 Nolah Evolution Hybrid Mattress
Multiple firmness options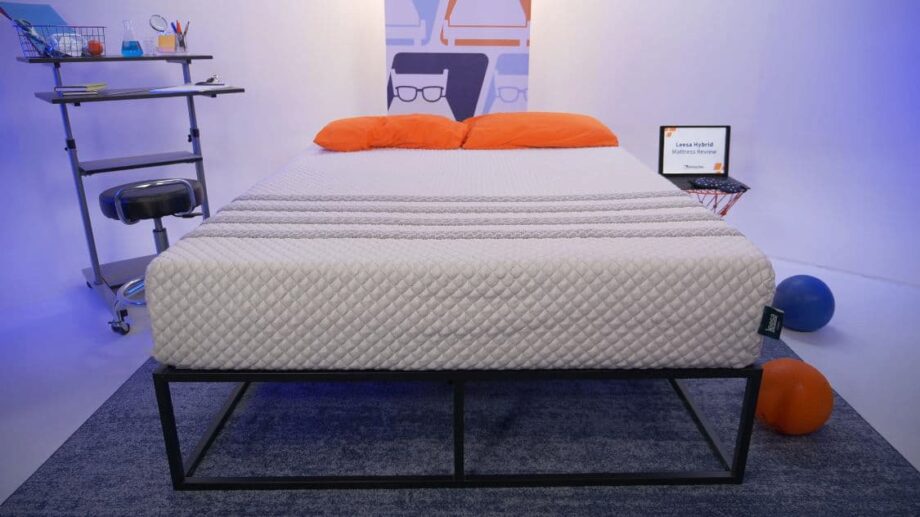 Leesa Sapira Hybrid Mattress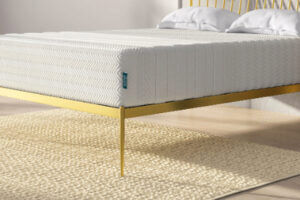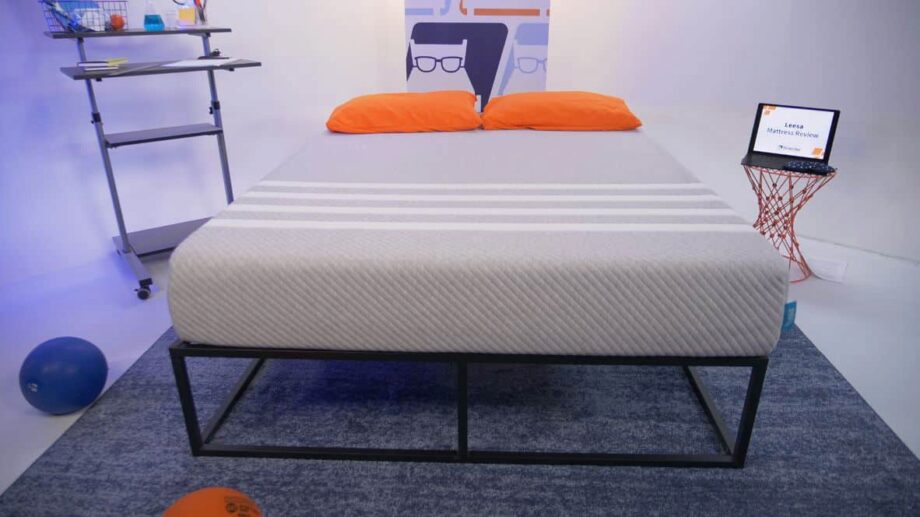 Our Final Take
The Leesa and Nolah mattresses are similar across a lot of categories: they each include an all-foam construction, mid-range pricing, responsive top layers, and breathable foam layers. However, they feel different enough to distinguish between the two.
Though each mattress is technically medium-firm, the Leesa is firmer, so we recommend it to back sleepers, heavier side sleepers, and very petite stomach sleepers. The Nolah's softer top layers better suit the average side sleeper and petite back sleepers. We favor the Leesa for hot sleepers and couples, since it's a bit more breathable and the medium-firmness accommodates a broader range of sleeping positions.
Haven't made a decision yet? Check out these other comparisons:
Leesa & Nolah FAQs
How Long Does a Leesa Mattress Last?
Being a bed-in-a-box foam mattress, the Leesa will probably last you about seven years, with proper care and maintenance, of course. According to Leesa, however, they design their mattresses to last 8 to 10 years.
Is Leesa Mattress Good For Back Pain?
Yes. According to our sleep lab tests, the Leesa mattress is a great option for those suffering with back pain. It falls on the ideal firmness level for those with back pain. Its memory foam layer also offers excellent cushioning and contouring for a neutral spine alignment.
How Firm is a Nolah Mattress?
The Nolah Original is a medium-firm mattress that scores a 6.5/10 (1 being the softest and 10 being the firmest) on our firmness scale. This firmness level is good for cradling pressure points on the hips and shoulders.