GhostBed vs. Leesa Mattress Comparison
•
Disclosure: By clicking on the product links in this article, Mattress Nerd may receive a commission fee at no cost to you, the reader. Read full disclosure statement.
Using our Ghostbed vs. Leesa mattress comparison, you can make an informed decision between these two popular bed-in-a-box mattresses. Discover their similarities and differences, their price points and policies, and who is—and isn't—a good fit for each. See what others are saying about our testing methodology.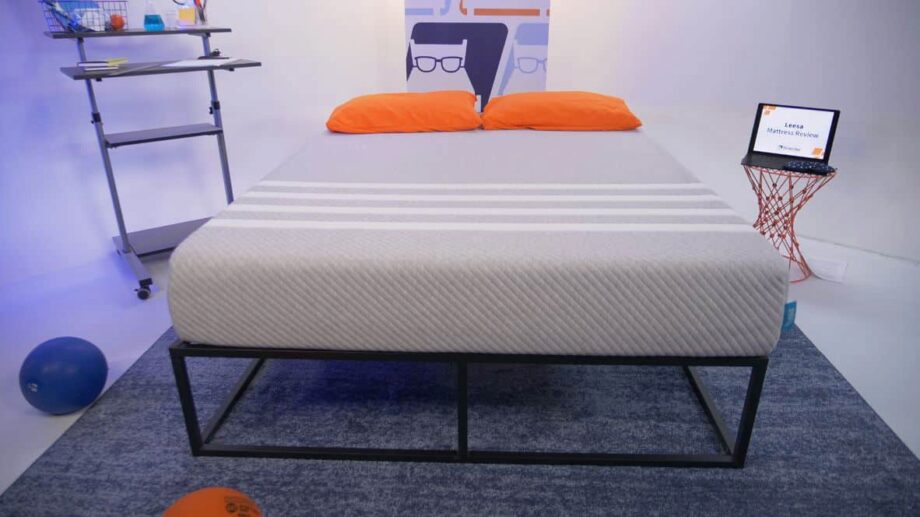 Product
GhostBed Mattress
Firmness
Medium-firm: 6/10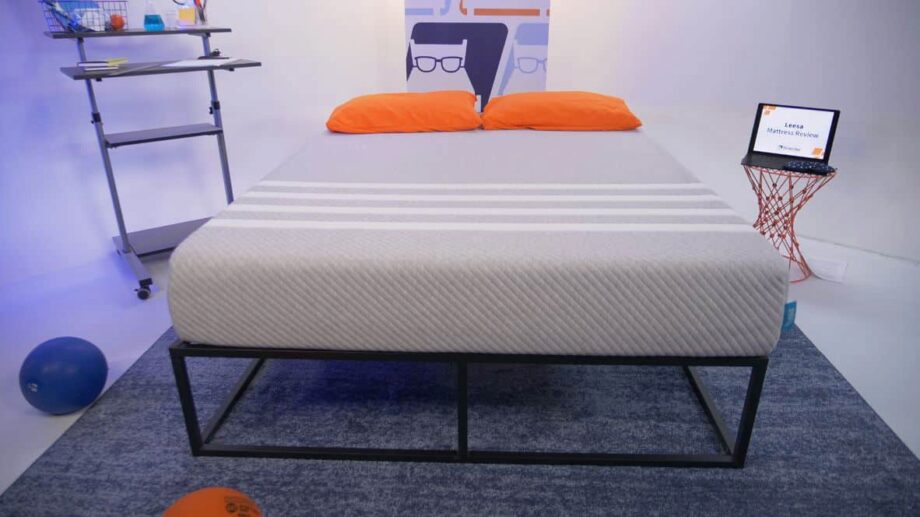 Product
Leesa Original Mattress
Firmness
Medium-soft: 5.5/10
Ghostbed vs. Leesa Overview
Leesa is a fan-favorite memory foam mattress with a dough-like cradling feel. The Ghostbed is an all-foam bed that marries the responsiveness and support of latex foam with the contouring cushioning of memory foam.
| | |
| --- | --- |
| Ghostbed is best for… | Leesa is best for… |
| People who sleep hot | Side and back sleepers |
| Stomach and back sleepers | Memory foam fans |
| Combination sleepers | Light sleepers who share the bed |
Who Should Choose the Ghostbed Mattress?
People who sleep hot: The Ghostbed is one of the best all-foam mattresses for hot sleepers. Air quickly sweeps through the aerated latex layer of the mattress, keeping excess body heat from pooling around the body at night.
Stomach and back sleepers: The Ghostbed's latex top layer delivers a more balanced and supportive feeling than most foams, with light contouring that properly supports most back and stomach sleepers.
Combination sleepers: The Ghostbed has superb responsiveness, which means it quickly responds to movement. Combination sleepers—those who tend to toss and turn a lot at night—will likely want a bed that promotes easy movement.
Who Should Choose the Leesa Mattress?
Side and back sleepers: The Leesa's soft top layer cushions the hips and shoulders in side sleepers, while its medium-firm firmness setting and memory foam support provide outstanding spinal alignment for back sleepers.
Memory foam fans: The Leesa cradles the body, so you'll tend to sleep "in" the surface of the mattress rather than "on" the mattress. This pressure-relieving hug is what many people love about memory foam mattresses.
Light sleepers who share the bed: If you share your mattress with a partner or child and either of you wakes easily to movement, Leesa's superior motion isolation can help you both sleep soundly without waking each other up at night.
Ghostbed vs. Leesa: Top Similarities
Level of support: Both the Leesa and Ghostbed are all-foam mattresses. Because neither uses durable innerspring cores, these beds tend to work best for lightweight and average-weight sleepers, rather than heavier body types.
Good for couples: Both of these beds are well suited for couples, but for different reasons. The Leesa absorbs motion better than most beds, while the Ghostbed minimizes heat retention and has a bouncy surface that's great for sex.
Memory foam contouring: The middle layer of each bed is made from memory foam, which contours closely to the body. However, we think the Leesa hugs the body more deeply than the Ghostbed does.
Ghostbed vs. Leesa: Top Differences
Construction: While both beds have a second layer of memory foam and a durable high-density foam base layer, the top layers of each bed are different. The Leesa has a plush polyfoam layer and the Ghostbed has a responsive latex layer.
Heat retention: The Ghostbed's aerated latex top layer facilitates ample airflow. It offers more breathability than the Leesa's polyfoam comfort layer, making the Ghostbed a better fit for most hot sleepers.
Pressure relief: Leesa's comfort layer gives more readily than Ghostbed's comfort layer, delivering superior cushioning for pressure points. Side sleepers and people with joint pain typically sleep best on pressure-relieving mattresses.
Sleeping positions: Despite similar firmnesses, different materials in the top layer make the Leesa better for side sleepers and the Ghostbed better for stomach sleepers. Both beds provide an excellent sleeping surface for back sleepers.
Ghostbed vs. Leesa: Firmness & Feel Differences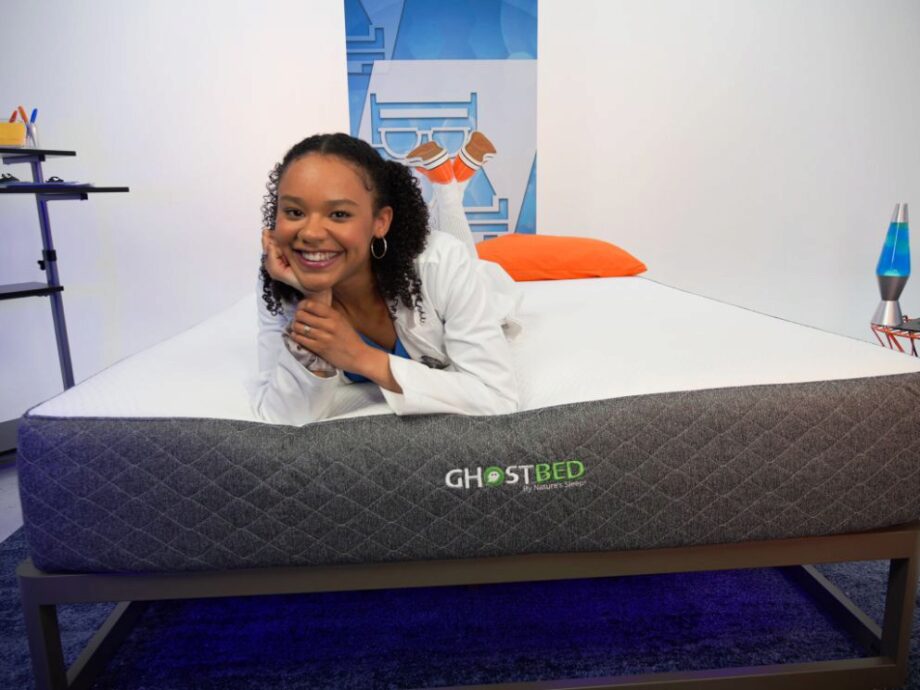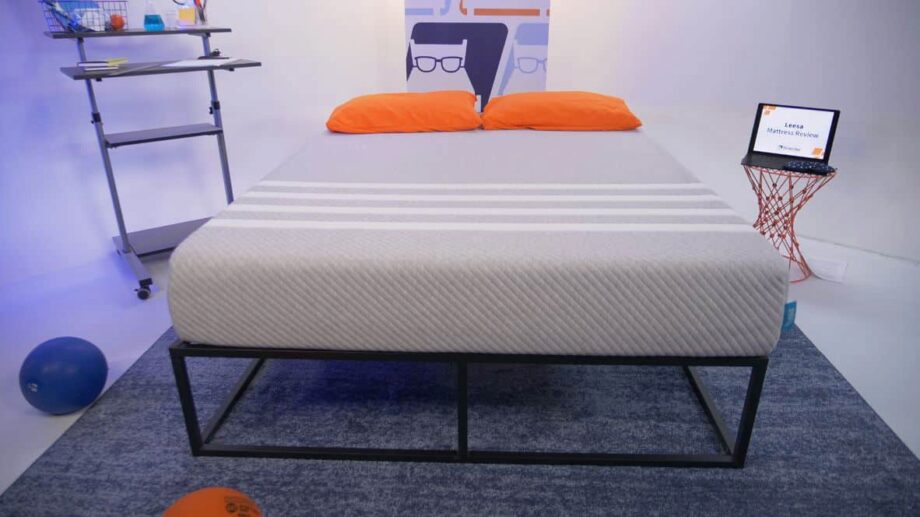 Know more about the firmness and feel of Ghostbed vs. Leesa in this section.
What's the Firmness Of the Ghostbed & Leesa Mattresses?
The Leesa and Ghostbed mattresses are both medium-firm mattresses. Majority of sleepers will find the medium-firmness a great mix of comfort and support, especially for average-weight back sleepers. The Ghostbed, however, is a bit more supportive while the Leesa boasts superior pressure relief.
What Do the Ghostbed & Leesa Mattresses Feel Like?
The construction of Leesa's polyfoam offers a soft, hugging feel that you might expect from a memory foam mattress. On the other hand, the Ghostbed's latex foam is perfect for those who prefer a bouncier and more supportive surface. Both the Leesa and Ghostbed are designed with cooling layers, making them a great option for hot sleepers.
What's It Like to Sleep On the Ghostbed & Leesa Mattresses?
While both mattresses provide restful sleep, we recommend the Leesa for the following sleeper types: back sleepers, average-weight side sleepers, and lightweight stomach sleepers. Meanwhile, we recommend the Ghostbed for hot sleepers, back pain sufferers, lightweight back sleepers, and stomach sleepers.
The Ghostbed vs. Leesa Mattresses By Body Type
Ghostbed Performance By Body Type & Sleeping Position:
| | | | |
| --- | --- | --- | --- |
| Body Type: | BACK SLEEPERS | STOMACH SLEEPERS | SIDE SLEEPERS |
| Lightweight (< 130 lbs): | 4 | 4 | 2 |
| Average-weight (130–230 lbs): | 4 | 4 | 3 |
| Heavyweight (> 230 lbs): | 2 | 3 | 2 |
Leesa Performance By Body Type & Sleeping Position:
| | | | |
| --- | --- | --- | --- |
| Body Type: | BACK SLEEPERS | STOMACH SLEEPERS | SIDE SLEEPERS |
| Lightweight (< 130 lbs): | 5 | 4 | 4 |
| Average-weight (130–230 lbs): | 5 | 3 | 3 |
| Heavyweight (> 230 lbs): | 2 | 1 | 2 |
1 = Very poor, 2 = Not good, 3 = Fair, 4 = Good, 5 = Excellent
Average-Weight Sleepers (130–230 lbs)
The Ghostbed mattress provides the right balance of comfort and support for average-weight back sleepers. Similar to the Ghostbed, the Leesa mattress is an excellent choice for average-weight combination sleepers, providing ample spine alignment and minimal motion transfer.
Heavyweight Sleepers (> 230 lbs)
Heavyweight stomach sleepers may not find the Leesa mattress comfortable since a firmer mattress will be needed to keep their hips elevated. Similarly, the Ghostbed's all-foam construction can lead to side sleepers sinking too deeply. For other options, check out the best mattress for side sleepers.
Lightweight Sleepers (< 130 lbs)
For lightweight back sleepers, the Leesa's memory foam provides enough support for spine alignment and comfortably contours the body for side sleepers. Likewise, the Ghostbed is firm enough to keep light-weight stomach sleepers' spines aligned without sinking into the mattress.
Differences In Mattress Construction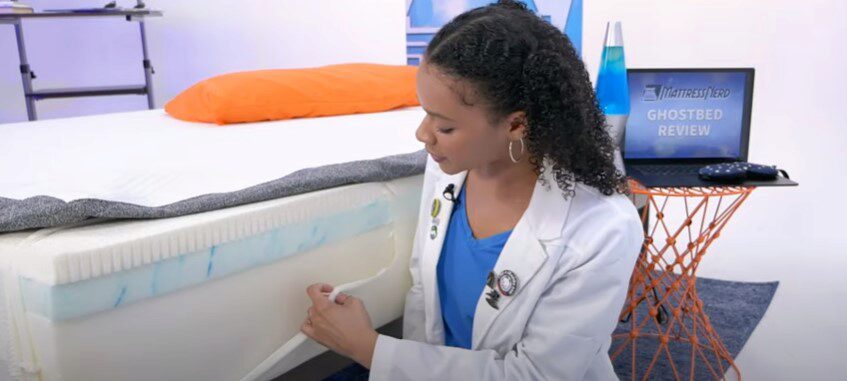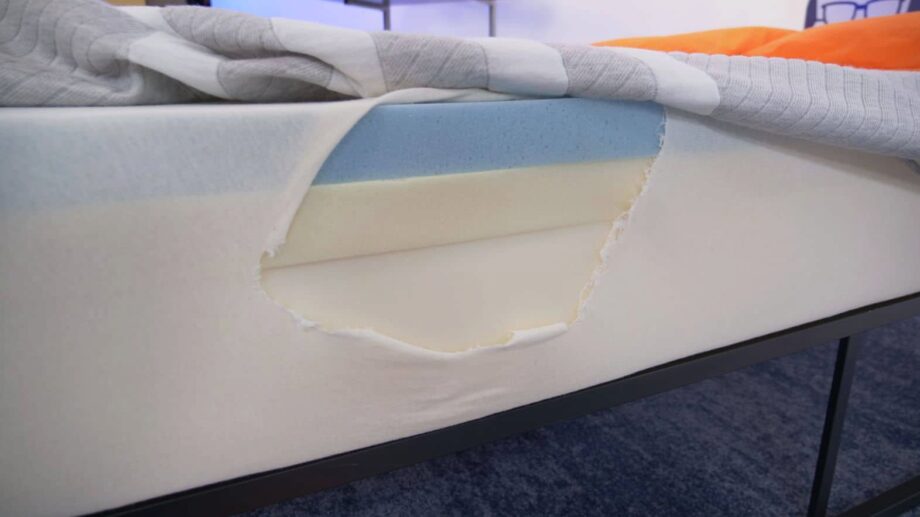 The Ghostbed and Leesa are all-foam mattresses that are "11" and "10" thick, respectively. Find out the different layers they are built within this section.
| | |
| --- | --- |
| Ghostbed Mattress Materials | Leesa Mattress Materials |
| Viscose and Polyester Blend Cover | Polyester and Lycra Blend Cover |
| Aerated Latex Foam | Plush Polyfoam |
| Gel Memory Foam | Memory Foam |
| High-Density Support Foam | High-Density Foam Base |
| "11" | "10" |
Cover
The Leesa and Ghostbed both use Polyester with a blend as their top layer. The Leesa uses a Polyester and Lycra blend, while the Ghostbed uses Polyester with a Viscose blend.
Comfort Layers
The comfort layer of the Leesa uses memory foam that hugs the body without too much sinkage. The Ghostbed's comfort layer, on the other hand, uses aerated latex foam that minimizes heat retention and brings a responsive feel to the mattress.
Support Layers
Leesa's High-Density Foam Base does an exceptional job of isolating motion. The Ghostbed's support layer is built with dense polyfoam that adds durability and limits motion transfer.
Ghostbed vs. Leesa Pricing
| | | |
| --- | --- | --- |
| Size | Ghostbed Prices | Leesa Prices |
| Twin | $945.00 | $849.00 |
| Twin XL | $1095.00 | $899.00 |
| Full | $1295.00 | $1099.00 |
| Queen | $1395.00 | $1199.00 |
| King | $1695.00 | $1399.00 |
| California King | $1720.00 | $1399.00 |
For exclusive discounts on both beds see our Ghostbed mattress coupons and Leesa mattress coupons.
Ghostbed vs. Leesa Mattress Performance Ratings & Differences
The Ghostbed 4.7/5
Ghostbed is a medium-firm, affordable latex mattress that suits most sleepers. Featuring cooling gels and excellent responsiveness, this mattress is a great catch-all option.
The Leesa 3.2/5
The Leesa mattress adapts to all sleep positions and most body types. With its cooling foam and additional layers that both hug and support you, it's no wonder customers love sleeping on their Leesa.
Temperature
The Ghostbed's top two layers—latex and gel-infused memory foam—facilitate cool sleep. Hole-punched latex along the surface minimizes trapped body heat while cooling memory foam moves heat away from the body. This construction makes the Ghostbed one of the coolest all-foam beds that we've seen. The Leesa does not sleep as cool as the Ghostbed, although it should be comfortable enough for temperature-neutral sleepers.
Motion Transfer
The dense, multi-layered foam construction in the Leesa significantly cuts down on motion transfer, making it a good pick for couples. The Ghostbed isolates motion reasonably well, but not quite as well as the Leesa. This is because the latex in the top layer of the Ghostbed offers more responsiveness and bounce when pressure is applied.
Edge Support
The Ghostbed wins in this category thanks to its top latex layer. The Leesa offers decent edge support, but it tends to sink when you sit along the edges. If you want a bed with better edge support, consider the Ghostbed. Innerspring and hybrid mattresses also tend to provide impressive support around the perimeter.
Pressure Relief
All-foam beds with thick comfort layers provide great pressure relief because they carefully cradle sleepers' joints and curves. The Leesa's comfort layers are thicker than the Ghostbed, and the Leesa's top layer is a bit softer than the Ghostbed. As a result, Leesa provides superior pressure relief, a quality typically important to side sleepers and lightweight folks.
Pain Relief
The contouring layer of memory foam in Leesa should help prevent pain in key pressure points like hips and low back, particularly for lightweight to average-weight side sleepers. There's enough give in the foam to cradle the body, so you avoid feeling like you're pressing down on your back, thighs, and hips. The Ghostbed earned only average scores for pressure relief, so it's not the best option for those with joint pain or arthritis, particularly if you sleep on your sides. However, the supportive feel of the foams helps to keep your spine aligned, which is key when looking for a mattress for back pain.
Durability
Thanks to the durable latex top layer, the Ghostbed is likely to resist sagging, body impressions, and softening for longer than the Leesa. On average, we believe the Leesa should last around seven years and the Ghostbed could last up to 10 years.
Shipping, Returns, & Warranties
Ghostbed
Ghostbed provides free and fast shipping to customers living in the continental U.S., with packages arriving in three to five business days. Ghostbed offers a 101-day sleep trial and requires a 30-day waiting period. The Ghostbed comes with a 20-year prorated warranty—a more generous one than that of the average online mattress company.
Leesa
The Leesa offers free shipping to all 50 states, with most beds arriving in three to 10 business days. Every new mattress comes with a 100-night sleep trial and a 10-year warranty. You may return your Leesa only after a 30-day adjustment period, which gives your body a chance to get accustomed to the new feel. During the 100-night trial, Leesa offers full refunds.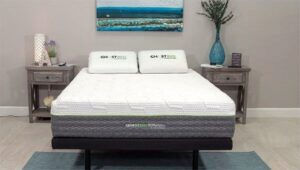 GhostBed 3D Matrix Mattress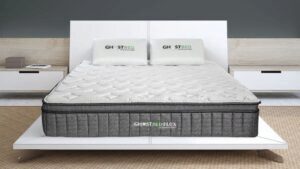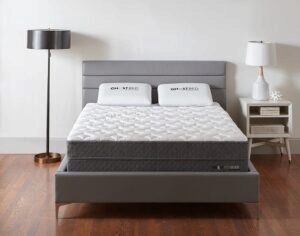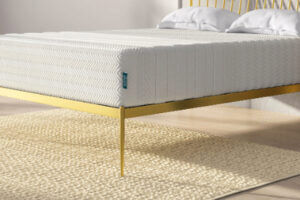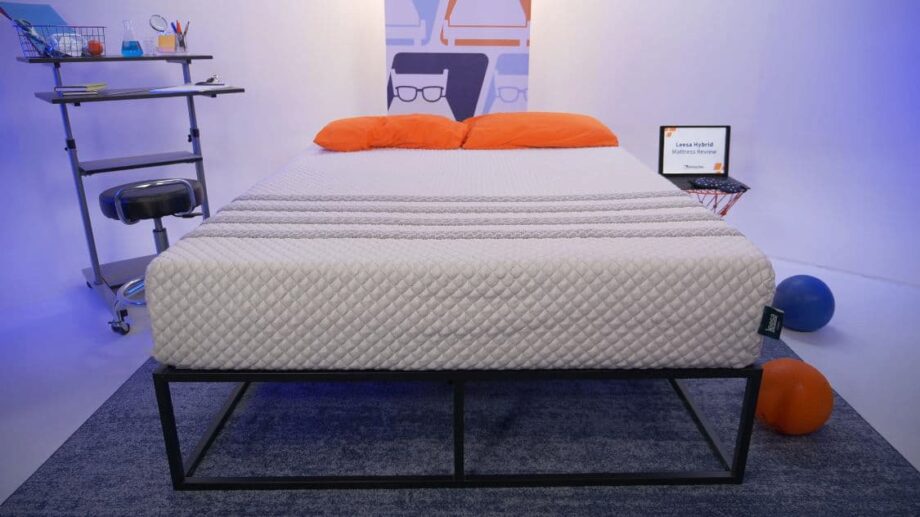 Leesa Sapira Hybrid Mattress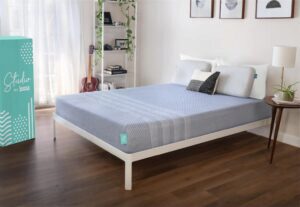 Haven't made a decision yet? Check out these other comparisons:
The Leesa's deep cradle brings superior pressure relief that suits side sleepers and people with joint pain. It better isolates motion, helping sensitive sleepers sleep soundly with their partner, pet, or child. The GhostBed sleeps cooler and is easier to move around on. It's a touch more supportive than the Leesa, making it better for stomach and back sleepers with back pain.
Ghostbed & Leesa FAQs
How long does it take to break in a Ghostbed?
Your new Ghostbed is delivered as a bed-in-a-box. After unboxing, it takes around 30 days to get used to the feel of a new mattress and break it in. In this 30-day period, the Ghostbed will expand to its full size, air out, and adjust to your bedroom's temperature.
How long is a Leesa mattress supposed to last?
The Leesa is an all-foam mattress made with high-quality materials. Its price point is cheaper than the Ghostbed.It is your average bed-in-a-box foam mattress that falls on a 3 out of 5 on our performance scale, so it'll last you about seven to eight years.
Do Leesa mattresses sleep hot?
Since the Leesa is an all-foam mattress, it does not sleep as cool as innerspring beds that promote better airflow. When we tested it, there was no cooling sensation, but we also didn't feel heat building up. With that, the Leesa should be comfortable enough for temperature-neutral sleepers.