Purple vs. Leesa Mattress Comparison
•
Disclosure: By clicking on the product links in this article, Mattress Nerd may receive a commission fee at no cost to you, the reader. Read full disclosure statement.
While Leesa and Purple are both popular bed-in-a-box mattress brands, they're quite different in a lot of ways. The Leesa is a memory foam mattress that offers a "hugging" feel, while the Purple is a hybrid mattress that's known for its unique gel top layer.
If you're on the hunt for a new mattress and can't decide between the two, don't worry. In this mattress comparison, we'll be guiding you through everything you need to know about both mattresses and help you pick which one caters to your needs and preferences the most.
We do firsthand testing for every mattress that passes through our sleep lab. If you're curious to know how we do it, you can read up on our testing methodology.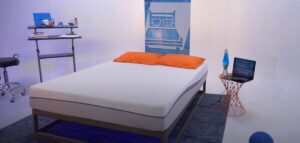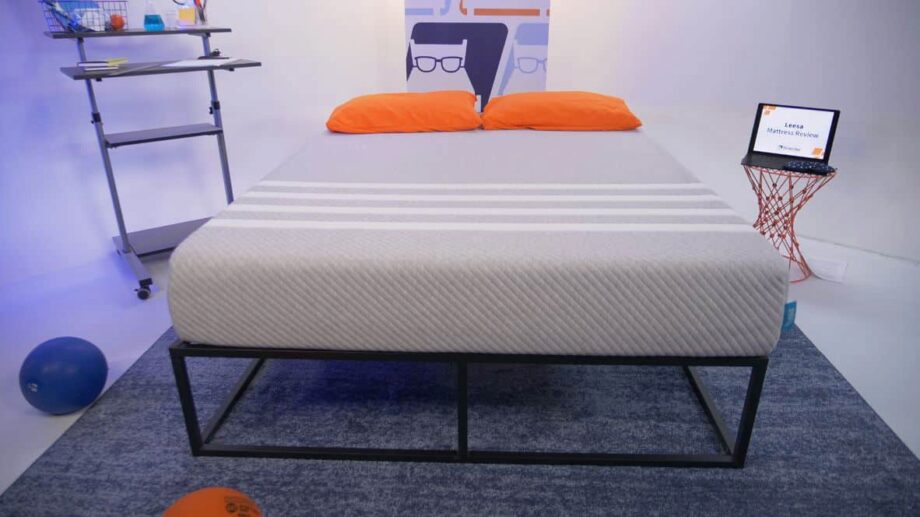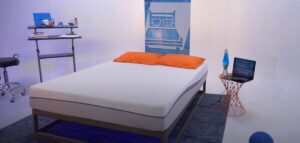 Firmness
Medium-firm: 6.5/10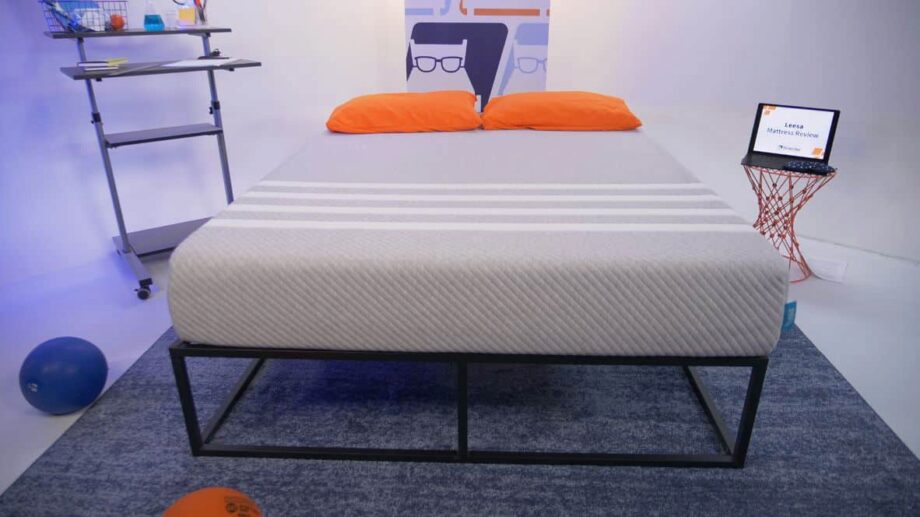 Product
Leesa Original Mattress
Firmness
Medium-soft: 5.5/10
Leesa vs. Purple Overview
Purple and Leesa are two fan-favorite online mattresses. Thanks to differences in the comfort system of these beds, they're likely to appeal to different customers. Here's an overview of each mattress's strong points.
| | |
| --- | --- |
| Leesa is best for… | Purple is best for… |
| All sleeping positions | Back and side sleepers |
| Foam mattress lovers | Hot sleepers |
| Combination sleepers | People with back pain |
Who Should Choose the Leesa Mattress?
Who Should Choose the Purple Mattress?
Here are all of the notable similarities and differences between the Leesa and Purple.
Leesa vs. Purple: Top Similarities
Leesa vs. Purple: Top Differences
Leesa vs. Purple: Firmness & Feel Differences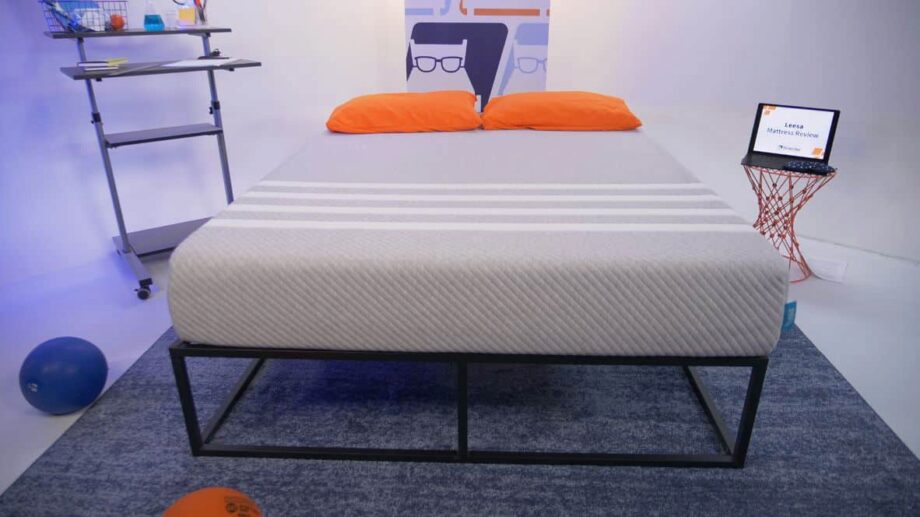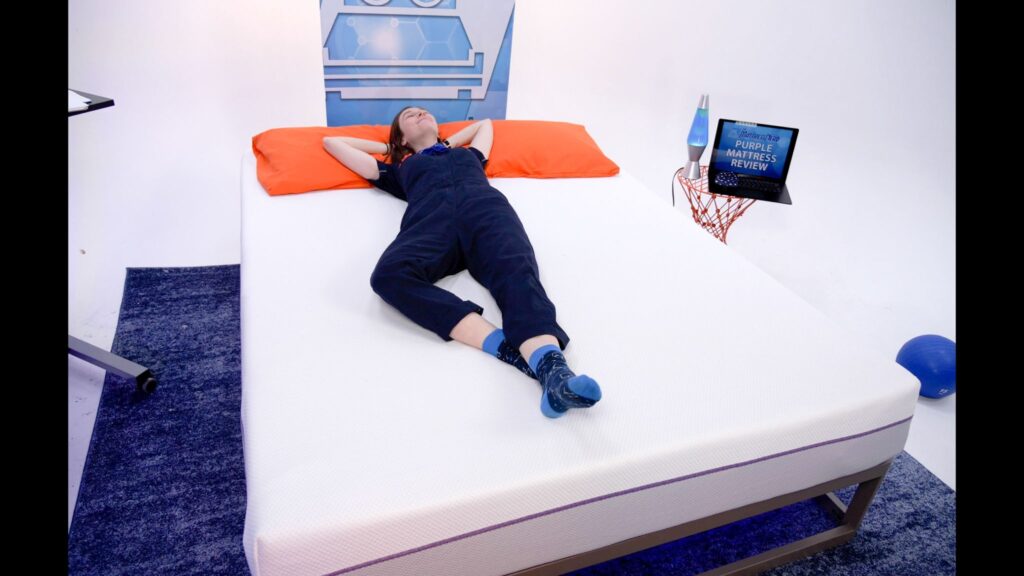 After lots of napping and testing in the sleep lab, here's what the Nerds have to say about the Leesa and Purple's firmness and feel.
What's the Firmness Of the Leesa & Purple Mattresses?
Before you go out to buy a new mattress, it's important to know the firmness level you should look for as it greatly affects the quality of your sleep. For this part, we'll be referring to the industry-standard firmness scale. This firmness scale goes from 1 to 10, with 1 being the softest and 10 being the firmest.
We gave the Leesa mattress a score of 5.5/10 and the Purple a 6.5/10, which puts them both at medium to medium-firm levels.
What Do the Leesa & Purple Mattresses Feel Like?
Despite having similar firmness levels, the Leesa and Purple feel distinctly different.
The Leesa has a distinct foam mattress feel, lightly hugging the body for a feel that's closer to sleeping "in" than "on" the surface. We think it provides a good balance between conforming and bouncy, thanks to its responsive foam layer.
Purple's Smart Grid makes you feel like you're floating on the surface, enjoying a weightless sleeping experience. This gel top layer also contributes to its responsiveness and provides a cooling feel because of the grid-like structure that promotes airflow.
What's It Like to Sleep On the Leesa & Purple Mattresses?
While Leesa can accommodate different sleeping positions very well, we think it's best suited for back sleepers because of the ample spine support and cushion it provides. It also provides great motion isolation and body contouring, making it a good choice for side and combination sleepers as well. Some stomach sleepers will also sleep comfortably on the Leesa, but depending on the body type, some may feel like it's too soft.
The original Purple is a great choice for both lightweight and average-weight sleepers because of its supportive gel layer. This gives it the ability to provide ample support for a neutral spine alignment and at the same time conform well to your body's natural curves. However, its comfort layer is a bit thin, so heavier sleepers will likely feel like they sink in too much.
The Leesa vs. Purple Mattresses By Body Type
Leesa Performance By Body Type & Sleeping Position:
| | | | |
| --- | --- | --- | --- |
| Body Type: | BACK SLEEPERS | STOMACH SLEEPERS | SIDE SLEEPERS |
| Lightweight (< 130 lbs): | 5 | 4 | 4 |
| Average-weight (130–230 lbs): | 5 | 2 | 3 |
| Heavyweight (> 230 lbs): | 2 | 1 | 2 |
Purple Performance By Body Type & Sleeping Position:
| | | | |
| --- | --- | --- | --- |
| Body Type: | BACK SLEEPERS | STOMACH SLEEPERS | SIDE SLEEPERS |
| Lightweight (< 130 lbs): | 5 | 3 | 4 |
| Average-weight (130–230 lbs): | 5 | 2 | 3 |
| Heavyweight (> 230 lbs): | 3 | 1 | 3 |
1 = Very poor, 2 = Not good, 3 = Fair, 4 = Good, 5 = Excellent
Average-Weight Sleepers (130–230 lbs)
Since both are medium-firm mattresses, average weight back sleepers will sleep comfortably on either mattress because they'll receive more than enough back support.
Average weight side sleepers will also probably sleep well on both mattresses. Both will provide just enough support and cushion for side sleepers, but some may prefer the softer Leesa more.
We can't recommend either mattress for average weight stomach sleepers, though. Both are too soft to provide adequate hip support and elevation.
Average weight combination sleepers will enjoy sleeping on either mattress since both respond very well to changing positions and are fairly easy to move around on.
Heavyweight Sleepers (> 230 lbs)
Heavyweight back sleepers will probably find themselves sinking in too much on either mattress. However, Purple handles this much better than Leesa because of its firmer nature.
We also don't recommend either mattress for heavyweight side sleepers because there's just not enough support for the hips and shoulders to achieve a good spinal alignment.
Both the Leesa and Purple aren't suited for heavyweight stomach sleepers. Instead, we recommend you look for a firmer and more supportive mattress, like the options in our best mattress for stomach sleepers list.
Heavyweight combination sleepers will likely have trouble moving around in both mattresses, so we don't really recommend either. They both have thin comfort layers that won't be able to accommodate heavier folks very well.
Lightweight Sleepers (< 130 lbs)
Lightweight back sleepers will be happy with either mattress, as both the Leesa and Purple offer ample back support and cushion.
Both mattresses have great pressure-relieving and body-contouring properties, making them fantastic choices for lightweight side sleepers.
Both mattresses can accommodate lightweight stomach sleepers well, but the Leesa does it a bit better because of its firm and supportive memory foam layers.
Lightweight combination sleepers will have no issues with either mattress since both are soft, supportive, and responsive.
Differences In Mattress Construction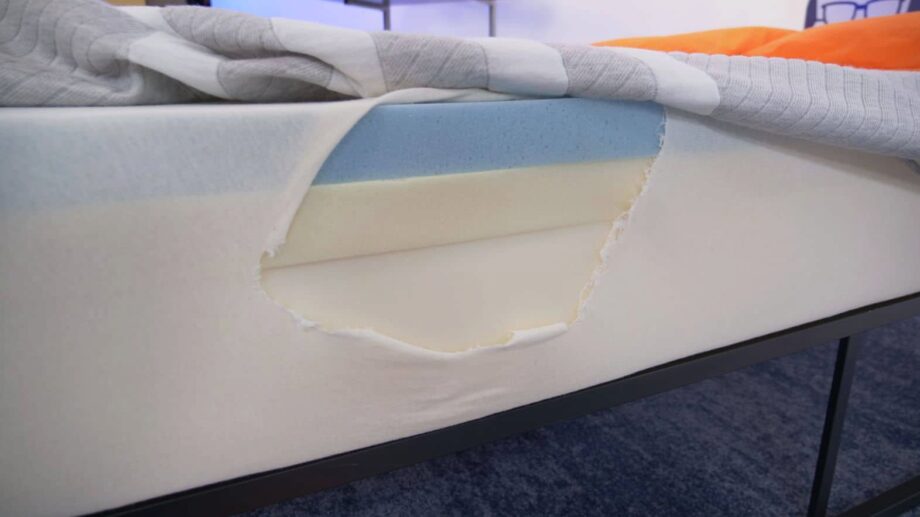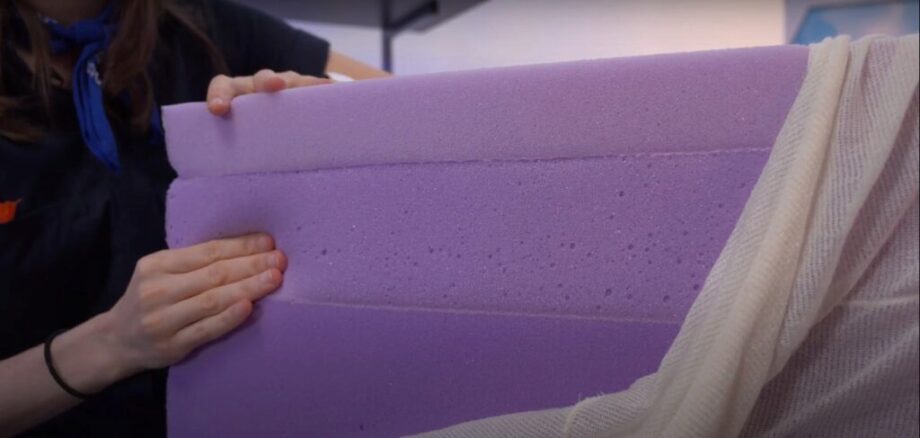 The two mattresses have very construction. The Leesa is a 10" all-foam mattress, while the Purple stands 9.5" thick and is made from gel and foam layers. Here's an in-depth look at how each mattress is constructed.
| | |
| --- | --- |
| Leesa Mattress Materials | Purple Mattress Materials |
| Soft Twill Cover | Viscose, Polyester, & Lycra Blend Cover |
| 2" LSA200 Foam Layer | 2" Purple Smart Grid |
| 2" Memory Foam Recovery Layer | 3.5" Soft Polyfoam Transition Layer |
| 6" High-Density Base Foam | 4" High-Density Polyfoam Base + Non-Slip Bottom Cover |
Cover
The Leesa cover is made from soft twill fabric that feels smooth to the touch yet durable. Purple has a polyester, viscose, and Lycra blend cover that boasts temperature-regulating capabilities.
Comfort Layers
Leesa's comfort layer is made from their trademark LSA200 foam which is known for its cooling features and responsiveness. The Purple's patented Smart Grid layer is made from a Hyper-Elastic polymer gel material that provides pressure relief and support.
Support Layers
Both mattresses have thick and dense foam base layers, but the Leesa is thicker at 6" vs. Purple's 4".
Leesa vs. Purple Pricing
| | | |
| --- | --- | --- |
| Size | Leesa Prices | Purple Prices |
| Twin | $849.00 | $799.00 |
| Twin XL | $899.00 | $999.00 |
| Full | $1099.00 | $1199.00 |
| Queen | $1199.00 | $1399.00 |
| King | $1399.00 | $1799.00 |
| California King | $1399.00 | $1799.00 |
For exclusive discounts on both beds see our Leesa mattress coupons and Purple mattress coupons.
Leesa vs. Purple Mattress Performance Ratings & Differences
Temperature
The Leesa's mixed-foam construction hugs the body and can trap heat, making this mattress not as suitable for hot sleepers as the Purple. However, the breathability of the rest of the mattress's construction means better temperature neutrality than most other all-foam beds. The Purple mattress's proprietary Smart Comfort Grid allows airflow along the surface, making it one of the best mattresses for hot sleepers.
Motion Transfer
For couples—especially light sleepers—who share a bed, motion transfer can ruin a good night's sleep. The Leesa and the Purple were both designed to minimize motion transfer, so both are decent options for people who sleep with a partner, child or furry family member.
The Leesa just slightly outperforms the Purple in this category, so if you're a super light sleeper, the Leesa may be the one for you. For other mattresses that isolate motion, see the best mattress for couples.
Edge Support
Certain people need a mattress with solid edges. Folks who rely upon the edges to safely enter and exit the bed, such as elderly people with body pain, are safest on a mattress with good edge support. Another group of people for whom sturdy edge matters are couples sharing a queen-size or smaller mattress. On smaller beds, couples need every inch of space so that everyone can have room to move around and sleep soundly.
Both Leesa and Purple have the right type of edges for couples who need to spread out. However, neither mattress boasts a reinforced perimeter or durable innerspring coils, two things that you'll find in the beds with the sturdiest edges. If you rely on solid edge support to help you get into bed, you may be better off considering a hybrid or innerspring mattress.
Pressure Relief
The Leesa mattress conforms closely to sleepers' bodies, cushions pressure points for excellent pressure relief for lightweight sleepers, and good pressure relief for average-weight sleepers. The Purple mattress, too, evenly distributes body weight. While back sleepers are likely to experience excellent pressure relief on either mattress, lighter side sleepers may experience more give and less pressure on the Purple.
If you are waking up in pain, see the best mattress for back pain.
Pain Relief
A mattress's pain-relieving ability is heavily tied to its ability to relieve pressure. The more build-up of pressure there is, the more it's likely to cause back pain.
Both mattresses score well in terms of pain relief, especially when it comes to those experiencing back pain. This is thanks to Leesa's conforming memory foam layers and Purple's responsive Smart Grid top layer.
Those with side pains may also find some comfort in either mattress, but according to our pressure maps, both showed pressure build-up around the hips region after some time. So if you're looking for a mattress that can accommodate your side pains, we recommend looking for softer yet more supportive ones, like the ones in our best mattresses for side sleepers list.
Durability
According to previous mattress reviews, the Leesa is designed to last between six to eight years, putting it on the same level of durability as other mixed-foam mattresses in the same category. The Purple mattress may outlast the Leesa by a few years because the Purple Grid top layer is more resistant to body indentations than the Leesa's soft foam comfort layer.
Shipping, Returns, & Warranties
Leesa
Leesa provides free shipping to 50 U.S. states, with white glove delivery as an option for an extra fee of $150. They also offer a 100-day sleep trial where you can apply for a free return and full refund after 30 nights. Each mattress comes with a 10-year warranty that covers full replacements for any defects not caused by daily wear and tear.
Purple
Purple offers free shipping across the contiguous U.S. and paid shipping for orders to Alaska, Hawaii, and Canada. Each mattress also comes with a 100-day sleep trial and a 10-year warranty which covers material and workmanship defects.
More Mattresses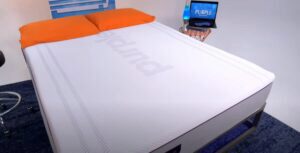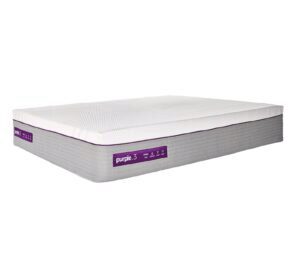 Purple Hybrid Premier Mattress
Multiple firmness options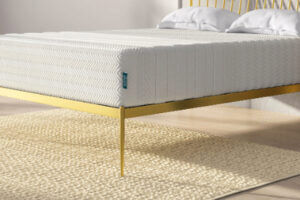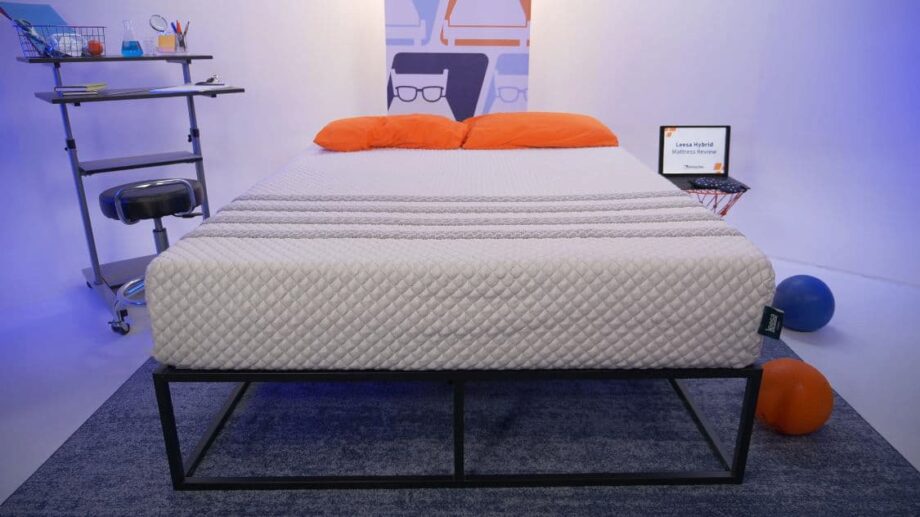 Leesa Sapira Hybrid Mattress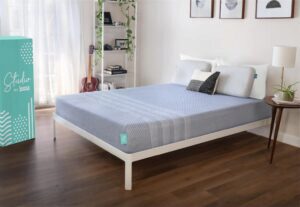 Haven't made a decision yet? Check out these other comparisons:
| | |
| --- | --- |
| Purple Comparisons | Leesa Comparisons |
| | |
Hot sleepers and lightweight side sleepers are likely to prefer the unique construction of the Purple mattress. But if you like being hugged by your mattress, or if you spend most of your time stomach sleeping, the Leesa all-foam mattress is a better option.
Leesa & Purple FAQs
How much should I pay for a Purple mattress?
Purple has an extensive range of mattress sizes to choose from. Depending on the mattress size you want, you can spend around $799 for a Twin size or $1799 for a California King.
How long does a Leesa mattress last?
The Leesa should last you around seven years, similar to other popular bed-in-a-box mattresses. However, this depends on the daily wear and tear it goes through. If you want to prolong your mattress's lifespan, make sure to practice proper mattress care and upkeep regularly.
Is the Leesa mattress good for back pain?
Yes, the Leesa has firm memory foam layers that offer excellent support and cushion for your back. It's important to maintain a healthy neutral spine alignment, and based on our tests, the Leesa is a good match for back sleepers who want to prioritize pressure relief.