Bear vs. Purple Mattress Comparison
•
Disclosure: By clicking on the product links in this article, Mattress Nerd may receive a commission fee at no cost to you, the reader. Read full disclosure statement.
The Purple mattress has a unique feel thanks to a gel top layer that's stretchy and flexible, while the Bear is a firmer-than-average memory foam mattress designed to expedite muscle recovery in athletes and active folks.
Having trouble choosing between the two? Don't worry. By the end of this mattress comparison, you'll have a clear idea of which mattress fits your needs and preferences the most.
We test all of the mattresses we review firsthand in our sleep lab. If you want to know our process, check out our testing methodology.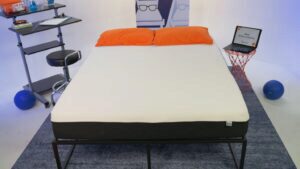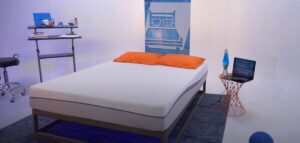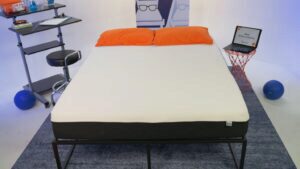 Firmness
Medium-firm: 7/10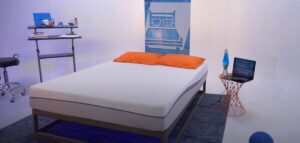 Firmness
Medium-firm: 6.5/10
Bear vs. Purple Overview
The Bear and Purple are popular mattress choices for a reason, and that's because they each cater to different types of sleepers. Here's a brief overview of each mattress's best points, as well as who we recommend it to the most.
| | |
| --- | --- |
| Bear is best for… | Purple is best for… |
| Athletes and active people | Hot sleepers |
| People with back pain | Elderly people |
| Back and stomach sleepers | Side and back sleepers |
| Hot sleepers who like foam beds | People who share the bed |
Who Should Choose the Bear Mattress?
Athletes and active people: The Bear mattress is designed to speed muscle recovery. For all you science geeks out there, Celliant technology in the mattress converts body heat to infrared energy. When directed back toward the body, that energy helps boost oxygen levels in your muscles, which speeds up healing and recovery.
People with back pain: The Bear mattress may help relieve back pain thanks to its ability to support recovery. Additionally, this bed does an outstanding job supporting a healthy spine, which can ease pain caused by insufficient support.
Back and stomach sleepers: The Bear's layers of foam create a medium-firm feel that gently cushions the body without sacrificing support. The balance between support and cushioning makes it a great mattress for back sleepers and stomach sleepers.
Hot sleepers who like foam beds: Memory foam mattresses have a conforming feel and great pressure relief, but they often sleep hot. The Bear memory foam bed combats excess heat retention through the cooling fabric, cooling gel, and breathable open-cell foam.
Who Should Choose the Purple Mattress?
Hot sleepers: The Purple mattress has the coolest comfort layer that we've seen on a predominantly foam bed. Unlike other mattresses that use either memory foam or polyfoam, the Purple mattress has a breathable gel grid that doesn't store body heat. This makes it an excellent bed for people who tend to wake up hot and sweaty. 
Elderly people: The Purple Grid evenly distributes body weight, creating a floating sensation with nearly zero pressure at areas like the hips and shoulders. For older people with joint pain, this weightless feeling can help with pain relief. 
Side and back sleepers: The Purple Grid supports excellent spinal alignment for both side and back sleepers who weigh less than 230 lbs. Healthy alignment can mean deeper sleep and fewer aches and pains come morning.   
People who share the bed: The Purple mattress has the two things that we look for in a mattress for couples: comfortable edges and good motion isolation properties. That means you can spread out and move around without waking your bedmate.
Here are the top similarities and differences between the Bear and Purple mattresses.
Bear vs. Purple: Top Similarities
Best for People Under 230 lbs: Both mattresses have relatively thin comfort layers and average support, so they're not the best mattresses for heavy people. The lack of coils in these beds also makes them better for lightweight and average-weight sleepers.
Responsive Feel: Even though neither mattress has innerspring coils, the surfaces of each quickly adapt to movements so you shouldn't feel stuck. Good responsiveness is important if you toss and turn a lot.
Bear vs. Purple: Top Differences
Construction: The Bear is a memory foam mattress made from layers of contouring memory foam and responsive polyfoam. The Purple pairs supportive polyfoam with their proprietary Purple Grid top layer.
Feel: The Bear mattress has a firmer memory foam feel with slight body contouring and gentle cushioning. The Purple Grid offers a cooling, floating sensation that evenly distributes weight on the mattress.
Sleeping positions: While both mattresses do a good job supporting back sleepers, side sleepers are better off on the Purple, and stomach sleepers will fare better on the Bear.
Cooling: The Purple Grid doesn't retain body heat. Also, more generous airflow along the surface of the Purple mattress makes it sleep noticeably cooler than the Bear—although both beds sleep cooler than your average foam mattress.
Bear vs. Purple: Firmness & Feel Differences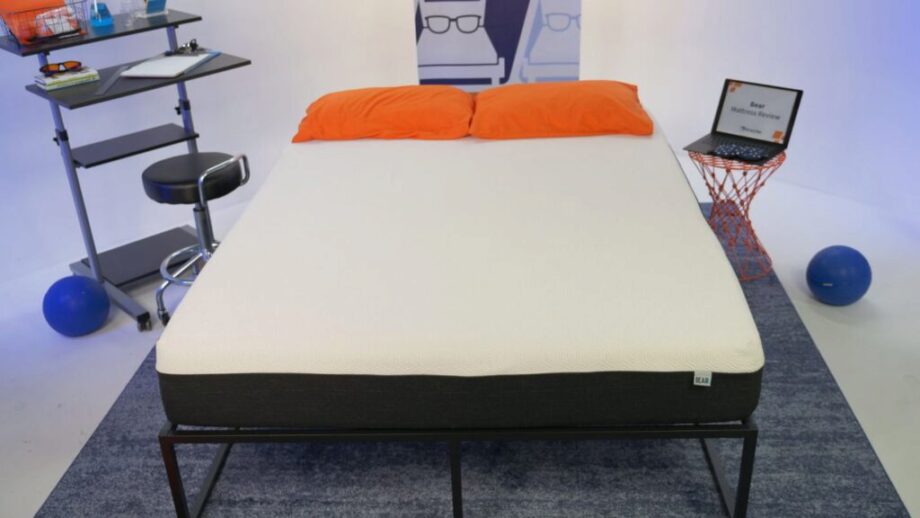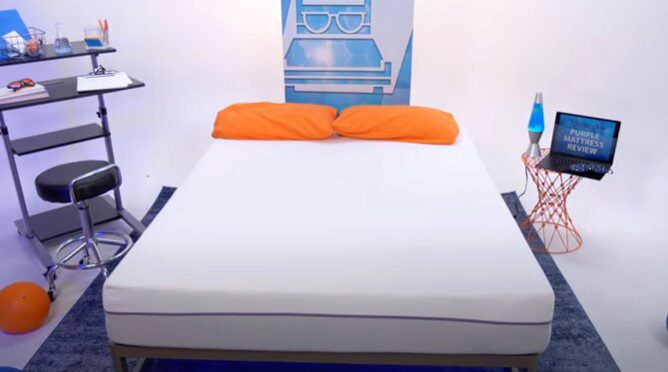 In this section, we'll talk about how the Bear and Purple compare when it comes to mattress firmness and feel.
What's the Firmness Of the Bear & Purple Mattresses?
When buying a mattress, one of the first things you should consider is the firmness level. Depending on your sleeping position and body type, a mattress's firmness level can make or break a good night's sleep. Every mattress can be rated on a firmness scale of 1–10, where 1 is the softest and 10 is the firmest.
The Purple mattress falls at a 6.5/10, and the Bear ranks at a 7/10, putting both beds in the medium-firm category.
What Do the Bear & Purple Mattresses Feel Like?
Despite similar firmness levels, the way these beds feel is quite different.
The Bear mattress has an all-foam mattress feel, with very slight contouring around the body and minimal sinkage. The Purple has a unique feel that some people describe as "floating." The gel grid top layer evenly distributes body weight without the hugging feel of foam. Both beds have thin comfort layers and average support, so they're best for people who weigh less than 230 lbs.
What's It Like to Sleep On the Bear & Purple Mattresses?
They also both do a good job of supporting back sleepers. The Bear is better for stomach sleepers because it's slightly firmer than the Purple. The Purple Grid tends to sink in just a bit too far at the hips for stomach sleepers. The Purple's surface does a much better job cushioning the pressure points of side sleepers than the Bear. If you change positions during the night frequently, check out our recommendations for the best mattress for combination sleepers.
The Bear vs. Purple Mattresses By Body Type
Bear Performance By Body Type & Sleeping Position:
| | | | |
| --- | --- | --- | --- |
| Body Type: | BACK SLEEPERS | STOMACH SLEEPERS | SIDE SLEEPERS |
| Lightweight (< 130 lbs): | 5 | 5 | 2 |
| Average-weight (130–230 lbs): | 5 | 4 | 3 |
| Heavyweight (> 230 lbs): | 3 | 2 | 3 |
Purple Performance By Body Type & Sleeping Position:
| | | | |
| --- | --- | --- | --- |
| Body Type: | BACK SLEEPERS | STOMACH SLEEPERS | SIDE SLEEPERS |
| Lightweight (< 130 lbs): | 5 | 3 | 4 |
| Average-weight (130–230 lbs): | 5 | 2 | 4 |
| Heavyweight (> 230 lbs): | 3 | 1 | 4 |
1 = Very poor, 2 = Not good, 3 = Fair, 4 = Good, 5 = Excellent
Average-Weight Sleepers (130–230 lbs)
Average weight back sleepers will have a good night's sleep on both the Bear and Purple. Both mattresses provide excellent back support for a healthy spine alignment.
For average weight side sleepers, you may find a bit more comfort and support from Purple's gel top layer. Bear's firmer memory foam layers may feel too firm for comfort.
Average weight stomach sleepers need firm support for the hip area to prevent it from sinking and misaligning with the spine. Luckily, the firmer Bear mattress provides just enough support and elevation.
If you're an average weight combination sleeper, you need to consider what your dominant sleeping position is. Both are responsive mattresses, but if you sleep more on your side, choose Purple; likewise, if you sleep on your stomach, the Bear is better.
Heavyweight Sleepers (> 230 lbs)
Both mattresses may be good enough for some heavyweight back sleepers, but for overall better spinal support, we recommend the Bear over the Purple.
Heavyweight side sleepers will probably sleep more comfortably on Purple's supportive yet conforming Smart Grid layer. Some may find the Bear's foam layers too firm.
Both mattresses struggle when it comes to accommodating heavyweight stomach sleepers, so we can't recommend either. You will need firmer and more supportive options, like our picks in our best mattresses for stomach sleepers list.
Heavyweight combination sleepers will likely experience excess sinking in some areas, depending on your sleeping position. If you're dominantly a stomach sleeper, go for the Bear, but if you sleep on your side, the Purple should be your choice.
Lightweight Sleepers (< 130 lbs)
Both mattresses do a fantastic job accommodating lightweight back sleepers, so it's only a matter of preference. If you prefer the traditional memory foam feel, choose Bear. Otherwise, Purple's a great choice as well.
We think lightweight side sleepers will prefer the conforming and contouring gel layer of Purple over Bear's firm memory foam.
Lightweight stomach sleepers will sleep better on the Bear since its foam layers offer better support for the hips and prevent unwanted pressure build-up.
Lightweight combination sleepers will be happy with either mattress, so you just need to choose which mattress feel you prefer.
Differences In Mattress Construction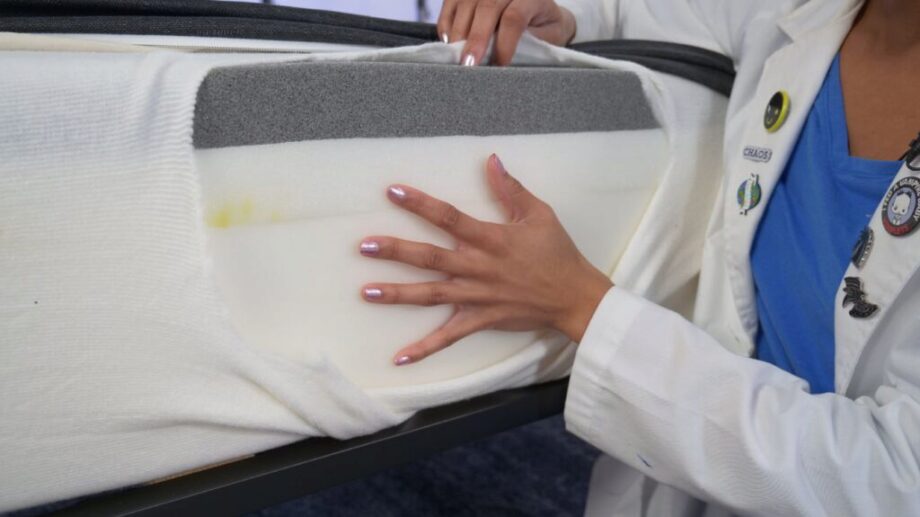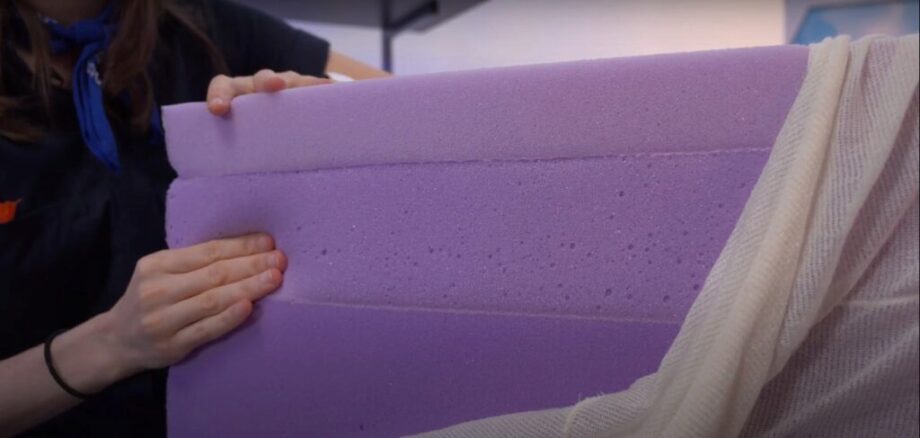 The Bear is a 10″ all-foam mattress, while the Purple is a hybrid foam mattress that's slightly thinner at 9.5″ thickness. Here's a closer look at how each mattress is constructed.
Bear Mattress Materials
Purple Mattress Materials
Breathable Celliant Cover
Viscose, Polyester, & Lycra Blend Cover
2" Graphite-Gel Memory Foam
2" Purple Smart Grid
2" Responsive Transition Foam
3.5" Soft Polyfoam Transition Layer
6" High-Density Support Foam
4" High-Density Polyfoam Base
+ Non-Slip Bottom Cover
Cover
Bear uses its proprietary Cellient cover, which they claim to help in muscle recovery and improve blood flow in the body. Purple's cover is made from SoftFlex, a blend of polyester, viscose, and Lycra that offers softness, flexibility, and temperature-regulating properties.
Comfort Layers
Bear's comfort layer is made from graphite gel-infused memory foam that helps keep you cool by absorbing excess body heat. Purple uses its patented Smart Grid layer, a Hyper-Elastic polymer gel material that offers great pressure relief and support.
Support Layers
Both mattresses have thick support foam layers, but the Bear's is slightly thicker at 6" while the Purple is only 4".
Bear vs. Purple Pricing
| | | |
| --- | --- | --- |
| Size | Bear Prices | Purple Prices |
| Twin | $786.00 | $799.00 |
| Twin XL | $849.00 | $999.00 |
| Full | $911.00 | $1199.00 |
| Queen | $998.00 | $1399.00 |
| King | $1305.00 | $1799.00 |
| California King | $1305.00 | $1799.00 |
For exclusive discounts on both beds see our Bear mattress coupons and Purple mattress coupons.
Bear vs. Purple Mattress Performance Ratings & Differences
Temperature
The Purple and Bear mattresses are good picks for hot sleepers who don't want to sleep on an innerspring mattress. The Purple Grid is one of the coolest comfort layers around, with generous airflow that wicks away excess body heat for a comfortable and dry night's sleep. The Bear is one of the cooler memory foam mattresses on our radar, thanks to breathable, graphite- and gel-infused foam. Still, it sleeps just a tad warmer than the Purple.
If you struggle with overheating at night, consider one of the best cooling mattresses.
Motion Transfer
When someone gets in or out of bed, or whenever they change sleep positions, the movement can travel across the mattress and interrupt the sleep of an unsuspecting partner. That's why you want a mattress with excellent motion isolation if you sleep with a partner, child, or furry family member.
The Purple mattress does a decent job of limiting motion transfer, so people who share the bed are less likely to wake up at their partner's every movement. The Bear allows quite a bit of movement for a high-density memory foam mattress. That means the Purple is the better option for couples concerned about motion disruptions. For even better motion-isolating options, consider the best mattresses for couples.
Edge Support
Sturdy edges allow people to sleep along a mattress without rolling off. They also create a solid surface for sitting and make it easier to get in and out of bed. While both the Purple and Bear mattresses have edges that are comfortable to lie along, neither are particularly sturdy for sitting. They simply don't have the support that innerspring coils could offer.
Pressure Relief
Pressure relief can be a tricky performance feature to grasp because a mattress with excellent pressure relief isn't always the most comfortable. For example, the Bear mattress did really well in our pressure relief test, but we wouldn't consider it to be the best mattress for side sleepers because it's on the firmer side.
The Purple mattress also provides excellent pressure relief, and it's a good choice for side sleepers. Why? The Purple's unique comfort layer buckles at the shoulders and hips for a weightless, pressure-relieving sensation and slightly softer feel.
Pain Relief
If you've ever woken up and immediately felt sore, there's a good chance your mattress is to blame. A mattress's ability to relieve pain falls heavily on its ability to alleviate pressure.
If you're experiencing back pain, then both mattresses will suit your needs. The Bear's memory foam layers and the Purple's Smart Grid layer do a great job of evenly distributing your body weight so that there's minimal pressure build-up. This, of course, depends on your body weight.
But if you're experiencing neck, hip, or shoulder pain, you're probably better off with the Purple mattress. We think the Bear is too firm and may even exacerbate the pain.
Durability
Both the Purple and Bear mattresses are fairly durable, especially compared to beds without innerspring coils. Because of the thick foam in each mattress, we expect both beds to remain comfortable and in good condition for at least seven years. The Purple Grid in the top layer of the Purple mattress is incredibly slow to break down, so we think the Purple is the more durable of the two.
Shipping, Returns, & Warranties
Bear
Bear provides free shipping in the contiguous U.S., along with a 120-day sleep trial. They'll also provide you with a Lifetime warranty that covers material and design defects but only under certain conditions.
Purple
Purple offers free shipping across the contiguous U.S., with extra fees for orders going to Alaska, Hawaii, and Canada. They also offer a 100-day sleep trial and a 10-year warranty for each mattress, which covers material and workmanship defects.
More Mattresses to Consider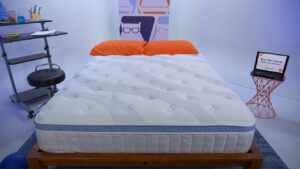 Bear Star Hybrid Mattress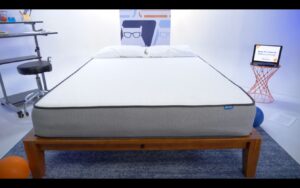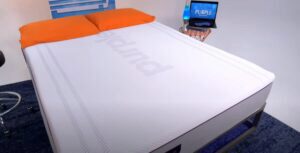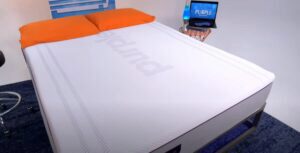 Still Looking? Be sure to read some of our other popular mattress comparisons:
Our Final Take
The Bear and Purple are both medium-firm mattresses that provide good pressure relief and suit back sleepers under 230 lbs, but otherwise are quite different. The Purple mattress features a cooling construction that's better for hot sleepers. It's also a touch softer, which is better for side sleepers.
The Bear is our pick for stomach sleepers under 230 lbs. It also has more affordable pricing (a Queen size Bear mattress costs $995 compared with $1,299 for a Queen size Purple mattress). Both brands offer 100-night sleep trials and free returns.
Bear & Purple FAQs
What Are The Cons of a Purple Mattress?
The Purple mattress is a fantastic mattress option, but it's not without faults. Among the complaints we've seen, the most prominent ones are that some owners experienced early mattress sagging and poor customer service.
How Long Are Purple Mattresses Supposed to Last?
Expect your Purple mattress to last you around five to ten years. This depends on the daily wear and tear it experiences. If you want to make the most of your mattress, make sure to do regular proper care and maintenance on your mattress.
How Long Will a Bear Mattress Last?
Similar to other foam mattresses, you can expect your Bear mattress to last you around seven years, with proper care and management. To maximize your mattress's lifespan, make sure to choose an appropriate bed frame for it, as well as practice regular care and maintenance.