The Nerd's Take: The original Purple pillow is made with the same stretchy, supportive Hyper-Elastic Polymer Smart Comfort Grid as the Purple mattress. We think back sleepers will love it, larger stomach sleepers will like it, and side sleepers will need to add the included boosters to make it more comfortable.
Who It's Good For
Back sleepers

Average to heavyweight stomach sleepers

Hot sleepers

Those with neck pain
Who It's Not Good For
Side sleepers (unless they add the boosters for height)

Those who prefer the feel of a traditional down or memory foam pillow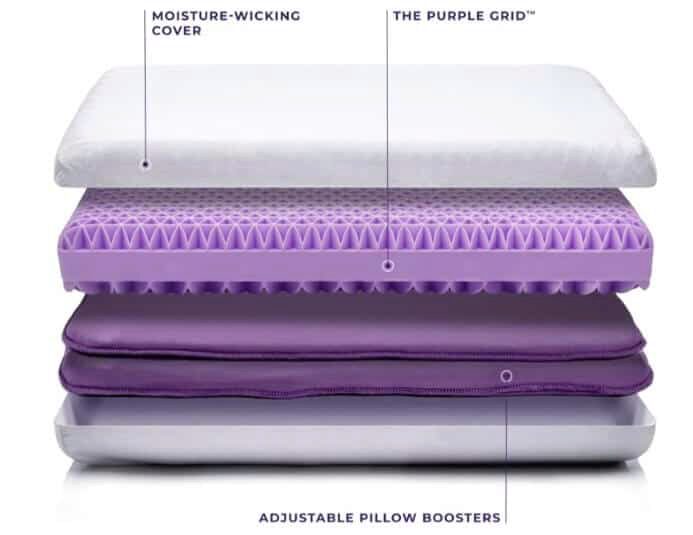 Purple Pillow Video Review
Check out our video review of the Purple Pillow for a closer look at how it performs.
A Look Inside
The original Purple pillow has a simple construction divided into three parts: a single slab of the Purple Grid, a removable pillow cover with a zipper, and two removable foam boosters.
The grid is made from Hyper-Elastic Polymer material molded into hundreds of tiny, conjoined triangles. The Purple Grid feels similar to those elastic toys you'd get from an arcade coin machine as a kid—but formed into a large block and lightly coated in a layer of non-toxic powder to keep it from sticking together. In your hands, expect a stretchy and impressionable feel. Standing alone, the pillow is 3" tall and compresses about 0.5" under pressure.
Hyper-Elastic Polymer is hypoallergenic, CertiPUR-US certified, and Clean Air GOLD certified, so the chances of you noticing an off-gassing odor are slim. The materials are also food grade, so you can feel safe sharing your pillow with your kiddos. The brand even makes a Kid's Purple pillow.
The cover is made of a polyester, nylon, and spandex mesh. It feels similar to an athletic jersey. This textile blend enhances the pillow's breathability, softness, and moisture-wicking properties.
The original Purple pillow comes with two foam boosters that add height to the pillow, if desired. You get a 1" and a 0.5" thick booster. Both are made of polyfoam wrapped in a polyester cover. To add the boosters, just unzip the pillow cover and slide them underneath the Purple Grid.
Mattress Nerd Pillow Scores
We rate each of these pillow performance categories on a scale of 1–5, with 5 being the best. Specifically, we cover pillow temperature, adjustability, quality, ease of care, customer experience, and how well it keeps your neck and head aligned.
Cooling: 5/5
The layout of the Purple Grid works in tandem with the breathable pillow cover to make an all-around cool pillow, which is great news for hot sleepers. Any body heat that comes off of you throughout the night would not get trapped within the grid or any of the other materials that make up this pillow. I didn't notice any heat retention on the Purple pillow after multiple uses.
Related: Check out the best cooling mattress reviews for beds to match.
Alignment: 5/5
The grid relaxes under the pressure of your head, but stays supportive under the curve of your neck, which keeps your head in alignment with your neck. Most side sleepers will need the boosters to keep their neck in line with the rest of their spine.
Adjustability: 4/5
The pillow boosters allow you to adjust this pillow to your desired height. Remove them both for a flat option—best for back and stomach sleepers—or add them for a loftier height, ideal for side sleepers.
However, this pillow is not very flexible. So if you like to fold or adjust your pillow to a particular position, the grid is too dense and large to do so. That's why we docked one point in this category.
Quality of Materials: 5/5
The Purple Grid is hypoallergenic, CertiPUR-US certified, and Clean Air GOLD certified, so it's safe for young children and those with allergy concerns. Hyper-Elastic Polymer is proven to be more durable than other pillow materials, like foam or polyester fill. The cover is also made with durable materials and is machine washable.
Care: 5/5
You can clean the entire Purple Pillow, which is great for those with allergy concerns or just general upkeep. That being said, each component of this pillow has to be cared for differently.
Cover:

Machine wash the cover with similar colors in cold water and tumble dry on low heat.

Purple Grid:

Remove the grid from the cover and hand wash it with warm water and gentle soap, then let it air dry.

Pillow Boosters:

Spot clean the foam boosters using a gentle detergent, and toss them in the dryer on low heat.
Customer Experience: 5/5
Purple offers a 100-night sleep trial (industry standard), a 1-year warranty for both the pillow and the boosters, and free shipping to the contiguous U.S. If you place an order from Alaska or Hawaii, you'll be charged a prorated fee based on the overall price of your purchase.
Purple also allows you to reach their customer service through an online chat feature on their website, by phone seven days a week, or by visiting a Purple showroom.
Total Score: 4.8/5
Side Sleeping
The Purple pillow on its own is not the best pillow for side sleepers. For most of these folks, a 3" height is not lofty enough to keep the head supported in line with the neck and spine. The average side sleepers will notice that their head tilts down on this pillow, which puts a lot of pressure on their shoulders. Unless you're a very petite side sleeper, you'll want to use the boosters, and even then, you may just need a taller pillow (we typically recommend one that's 5" or taller for side sleepers).
Back Sleeping
The Purple pillow offers an ideal loft range for back sleepers of all body types. The grid relaxes under the pressure of your head but stays supportive under the curve of your neck, which keeps your head in alignment with your neck and spine. If you like the floating feel of the Purple Grid, then we think you'll get a good night's sleep on this pillow.
See More: Best Pillows for Back Sleepers
Stomach Sleeping
Stomach sleepers can also keep their spine aligned on the Purple pillow, though 3" may be too lofty for those with smaller, more petite body types, particularly since the grid material doesn't compress very much. The pillow is designed to be firmer near the edges, so you'll probably need to sleep in the center of the pillow to get enough pressure relief. Bottom line: if you have an average to heavyweight body type and you can handle the 3" loft, I think you'll enjoy this option.
For better options, see the best pillows for stomach sleepers.
Combination Sleepers
Combination sleepers will benefit from this pillow's super-fast response time. The Purple Grid enables you to move from position to position easily without needing to rearrange or re-fluff the pillow core. Plus, the pillow stays flat everywhere except where you rest your head, so you don't need to worry about your head rolling from one side or the other as you rest. For more options, check out the best pillow for combination sleepers.
And if you aren't sure if the Purple pillow is what you need, take a look at our Best Pillow Guide.
| | | |
| --- | --- | --- |
| Score for Side Sleepers | Score for Stomach Sleepers | Score for Back Sleepers |
| 3/5 | 3/5 | 5/5 |
Pros/Cons
Pros
Great for hot sleepers:

The open structure of the Purple Grid allows for tons of airflow. Additionally, the pillow cover is breathable and helps push body heat away from the sleeper. The result is a temperature-neutral pillow that shouldn't cause you to overheat.

Responsive:

The Hyper-Elastic Polymer Grid adjusts its surface shape in response to movement in real-time. That way, you don't need to re-mold your pillow every time you change sleeping positions. You also don't need to worry about ever fluffing this pillow.

Durable:

Just like the Purple mattress, the Purple pillow is made to last way longer than memory foam, down feathers, and polyfoam. Purple even claims that it will never go flat or deteri

orate.

Conforming:

This pillow may have a lower loft than some ultra-plush pillows, but it's anything but flat. The polymer grid compresses easily under your head and conforms to the curve of your neck.
Cons
Big, bulky, and heavy:

This pillow weighs 11.7 lbs, so while it could stand in for your aerobic weights, it can't easily be folded or manipulated.

Price:

The Purple pillow is priced to match its luxury feel, and it might not be best for shoppers on a tight budget.

Not lofty enough for side sleepers:

Unless you have a petite body type, this pillow may be too flat and firm to be comfortable on your side.
Sizing, Pricing, and Policies
Dimensions
Price
Standard

24″ x 16″ x 3″

$109

Purple Pillow Boosters

24″ x 16″ x 1″

24″ x 16″ x 0.5″

Included with Purple Pillow purchase
Check out our Purple Coupons page for more information on Purple deals and promotions.
Shipping
Purple ships their sleep accessories for free to the continental U.S. You can expect the pillow to be delivered within two weeks, and you don't need to be home to sign for the package. Shipping to Alaska or Hawaii incurs an extra shipping fee, so keep that in mind if you're not living on the mainland.
Sleep Trial
The Purple pillow comes with a 100-night trial period. This is your opportunity to try out the pillow on your own bed. Keep in mind, it can take up to 30 days for your body to adjust to a new pillow, and Purple requires you to keep the pillow for at least 21 days (an industry-standard "break-in period") before initiating a return.
If you're not a fan of the Purple pillow, you can request a free return and get a full refund. Just let the folks at Purple know, and they'll send you a prepaid return shipping label. All you need to do is pop the pillow in a box or shipping bag, stick on the label, and drop it off at a shipping center.
Note: If you bought your pillow from a retailer other than Purple.com, you'll need to ask about their trial period and return policy.
Warranty Coverage
Your Purple pillow is protected by a 1-year warranty, as long as you're the original owner. If you think your pillow has a workmanship or material defect, you may be eligible for a replacement pillow or repairs. The Purple pillow warranty applies to the pillow, pillowcase, and boosters. Make sure you have your original proof of purchase when you contact Purple to make a claim.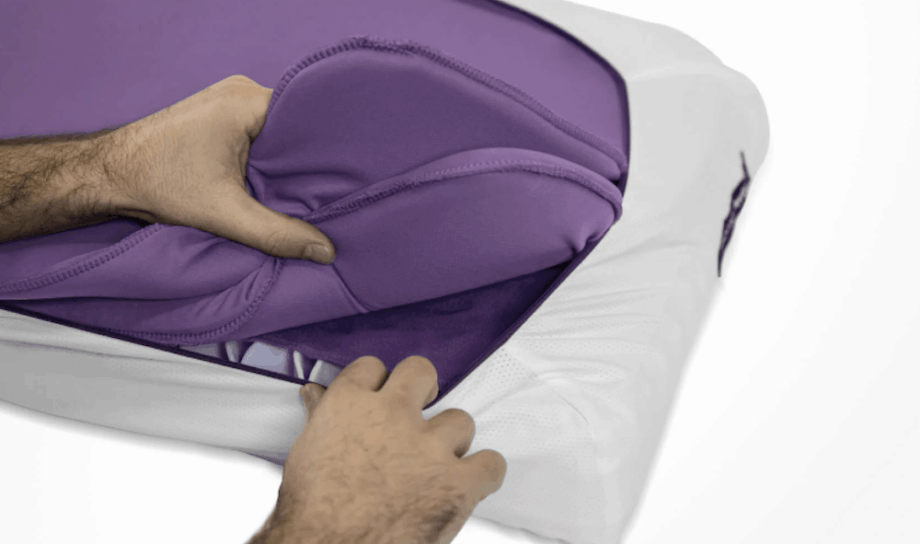 FAQs
Are Purple pillows any good?
The Purple Cloud and Purple TwinCloud pillows are cushioning options for those who want a more traditional pillow feel. The original Purple pillow is for those who want the full benefit of the Grid, and the Harmony pillow is a blend of traditional materials and the Purple Grid.
What Purple pillow is the best?
That depends on what kind of pillow youu2019re looking for. The original Purple pillow is ideal for fans of the Purple mattress who don''t mind diverging from a standard pillow feel. It features more of the Purple Grid than any of the other four Purple pillow options.nnThe Purple Cloud Pillow looks and feels like a fluffy, traditional pillow. Instead of the Purple Grid, it has a down-alternative made of ultra-fine gel fibers that donu2019t clump or flatten. The Purple Harmony Pillow features a thin layer of the Purple Grid and cushioning Talalay latex foam.u00a0
Does the Purple pillow have toxic materials?
Nou2014all of the foams used in Purple pillows are CertiPUR-US certified for low emissions and non-toxic chemicals. The Hyper-Elastic Polymer used to make the Purple Grid is hypoallergenic and non-toxic. The Grid is coated in a non-toxic powder that prevents the polymer triangles from sticking together.
Should You Buy It?
The Purple pillow is one of the most unique pillows available. The Hyper-Elastic Polymer grid is responsive, pressure-relieving, and breathable. It also provides a lot of neck support. As an added bonus, the moisture-wicking cover is removable and machine-washable. We favor this pillow for hot sleepers, those with neck pain, back sleepers, and larger stomach sleepers.
If you're not sure whether the Purple pillow's unique construction is for you, give it a try at a brick-and-mortar Purple retail partner or test it out for over three months during the 100-night sleep trial. Regardless of whether you love it or return it, you can say you've tried one of the most innovative pillows on the market!
JUMP TO
Who It's Good For
Who It's Not Good For
Purple Pillow Video Review
A Look Inside
Mattress Nerd Pillow Scores
Pros/Cons
Sizing, Pricing, and Policies
FAQs
Should You Buy It?