Purple vs. Nectar Mattress Comparison
•
Disclosure: By clicking on the product links in this article, Mattress Nerd may receive a commission fee at no cost to you, the reader. Read full disclosure statement.
The Nectar mattress is a much softer memory foam bed than the Purple Original mattress. The Nectar is ideal for lightweight and average-weight side sleepers. While the Purple mattress includes a waffle-like proprietary grid as a comfort layer, the Nectar is a more traditional memory foam mattress.
So, how is a person to choose between these two great brands? Thankfully, we'll learn all that and more in this mattress comparison.
Want to know how we test and review the mattresses? Here's a link to our testing methodology.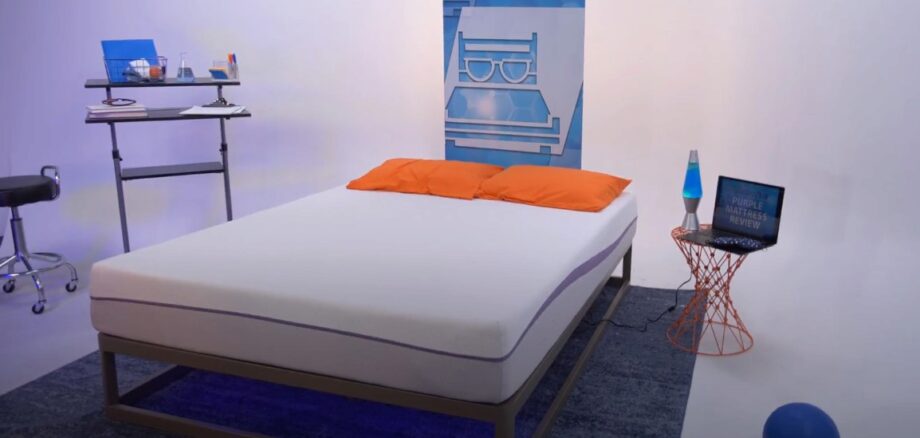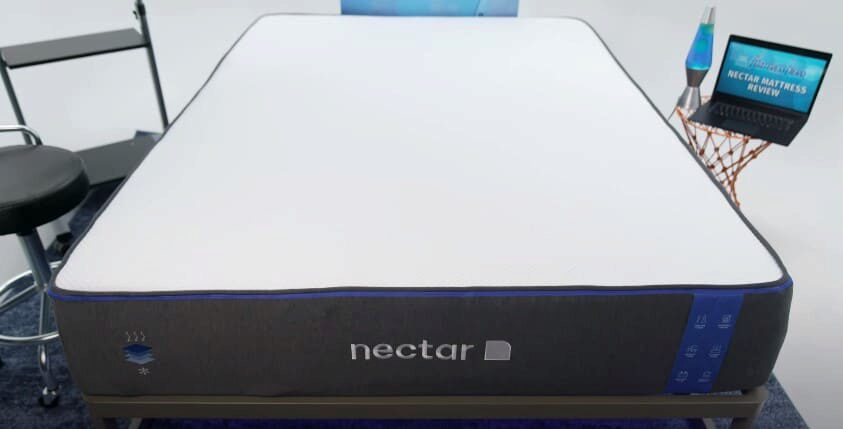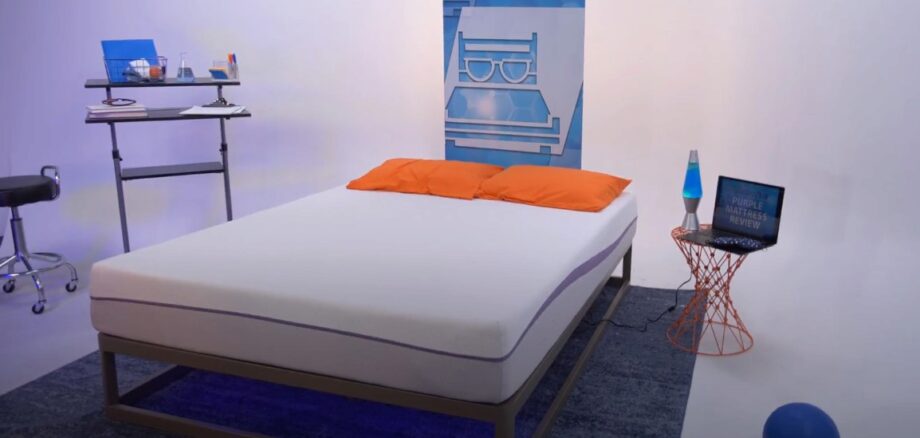 Firmness
Medium-firm: 6.5/10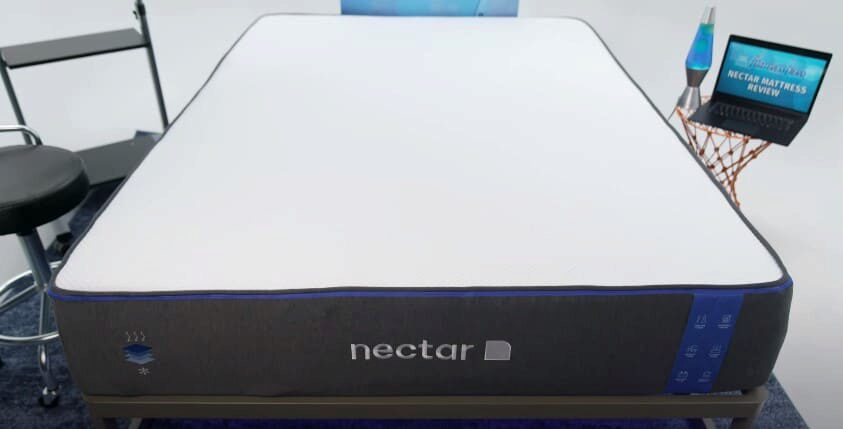 Firmness
Medium-firm: 6.5/10
Purple vs. Nectar Overview
The Nectar Original is a softer mattress with a classic memory foam feel, while the original Purple mattress features a more bouncy, responsive feel, thanks to its Purple Grid.
| | |
| --- | --- |
| Purple is best for… | Nectar is best for… |
| Firm bed lovers | Side sleepers |
| Average-weight and heavyweight sleepers | Couples |
| Hot sleepers | People with chronic pain |
Who Should Choose the Purple Mattress?
Firm bed lovers: The Purple conforms more closely to the joints while keeping the body supported atop the bed's comfort layer.
Average-weight and heavyweight sleepers: The Purple can give the proper support needed by sleepers weighing above 130 lbs. Check out our other choices for the best mattresses for heavy people here.
Hot sleepers: Thanks to its Smart Grid layer, the Purple sleeps cools and provides breathable layers.
Who Should Choose the Nectar Mattress?
Side sleepers: Those who sleep on their side will enjoy a softer mattress, like Nectar, that moderately cradles the joints and allows them to sleep "in" the bed rather than sleeping "on" it.
Couples: The Nectar mattress does a great job of isolating motion at the source and reduces disturbances.
People with chronic pain: Those seeking pressure relief in their back, neck or hips will likely find it in the Nectar mattress. For more pain-relief options, check out our list of the best mattresses for hip pain.
Purple vs. Nectar Mattress Video Comparison
In this review video, resident Mattress Nerds Loren and Adrianne compare the Purple and Nectar mattresses against each other to see how each fare when it comes to sleep performance. They also take a look at the top similarities and differences between the two mattresses.
Purple vs. Nectar: Top Similarities
Materials: Both the Nectar and the Purple are memory foam mattresses that isolate motion well and are good options for couples.
Breathability: Both mattresses work to cool sleepers through a breathable top layer.
Pressure relief: Both mattresses offer pressure relief in the second layer of adaptive memory foam with contouring capabilities.
Purple vs. Nectar: Top Differences
Memory foam: While both mattresses have a memory foam construction, the Purple Grid comfort layer has a unique feel and is patented with the Purple brand.
Firmness and feel: The differences in firmness levels create very different feels. The Nectar will have the traditional sinking memory foam feel, while the Purple will have more of a bouncy, responsive feel.
Policies: The Purple has a 10-year warranty and 100-day sleep trials, while the Nectar has a Lifetime Warranty and a longer 365-day sleep trial.
Purple vs. Nectar: Firmness & Feel Differences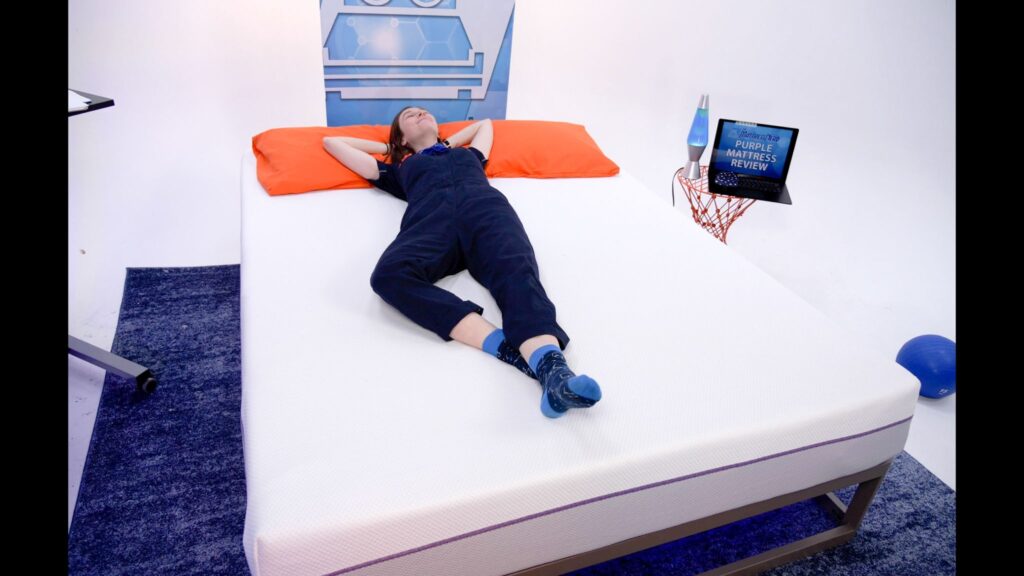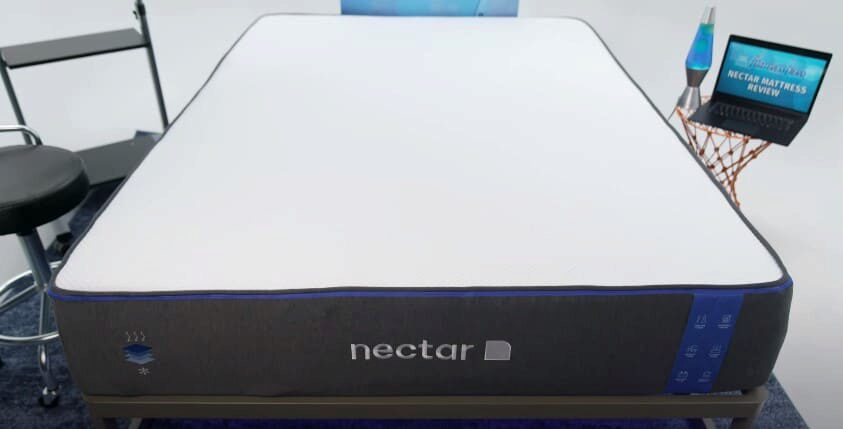 In this section, we'll go through the differences in the firmness and feel of the Purple and Nectar mattresses.
What's the Firmness Of the Purple & Nectar Mattresses?
At Mattress Nerd we rate mattresses on a firmness scale of 1 to 10, with one being the softest and 10 the firmest.
The Purple's grid structure and more supportive base make it feel more responsive than the Nectar, at a 7/10 firmness level. The Nectar's traditional sinking feel and cradling found in memory foam make it closer to a 6/10. Both mattresses can be considered medium-firm, but the overall feel of the smart comfort grid and the memory foam differ.
What Do the Purple & Nectar Mattresses Feel Like?
The original Purple mattress feels squishy yet responsive feel. This is mostly due to its gel Smart Grid layer, which easily compresses under pressure. This layer also helps the mattress sleep cool because of the hollow grid-like structure underneath that promotes airflow.
The Nectar has a balanced foam feel that feels soft and doughy, thanks to its memory foam layers. And like other memory foam mattresses, it provides that "hugging" sensation, but this time, without the feeling of getting "stuck" in the mattress. In fact, we found it very responsive to movement, but some heavier folks may have trouble moving around on it because of excess sinkage.
What's It Like to Sleep On the Purple & Nectar Mattresses?
Purple does a fantastic job of accommodating different sleeping positions for sleepers weighing 230 lbs and below. It has stable foam layers to support a healthy spinal alignment for stomach sleepers, while the Smart Grid layer conforms and cushions the hips, necks, and shoulders for side sleepers. It's also very responsive, making it a great choice for combination sleepers who move around a lot. However, it doesn't hold up well under heavier pressures, so some heavier folks may find the mattress uncomfortable at times.
Since the Nectar has that signature doughy memory foam feel, it's best suited for side sleepers because of its inherent conforming ability. For back sleepers, Nectar's sturdy memory foam provides great support and pressure relief. Despite having an all-foam construction, it's very responsive to movement, which is good news for combination sleepers. However, like the Purple, some heavier sleepers may experience excess sinking.
The Purple vs. Nectar Mattresses By Body Type
Purple Performance By Body Type & Sleeping Position:
| | | | |
| --- | --- | --- | --- |
| Body Type: | BACK SLEEPERS | STOMACH SLEEPERS | SIDE SLEEPERS |
| Lightweight (< 130 lbs): | 5 | 3 | 4 |
| Average-weight (130–230 lbs): | 5 | 2 | 3 |
| Heavyweight (> 230 lbs): | 3 | 1 | 3 |
Nectar Performance By Body Type & Sleeping Position:
| | | | |
| --- | --- | --- | --- |
| Body Type: | BACK SLEEPERS | STOMACH SLEEPERS | SIDE SLEEPERS |
| Lightweight (< 130 lbs): | 4 | 3 | 5 |
| Average-weight (130–230 lbs): | 4 | 2 | 5 |
| Heavyweight (> 230 lbs): | 2 | 2 | 3 |
1 = Very poor, 2 = Not good, 3 = Fair, 4 = Good, 5 = Excellent
Average-Weight Sleepers (130–230 lbs)
Average weight back sleepers will both sleep comfortably on the Purple and Nolah. However, some may find more comfort in the firmer Purple.
For average weight side sleepers, the softer Nectar is the better option, as some may find the Purple a bit too firm.
While both mattresses may work for some average weight stomach sleepers, the majority may want to look for something firmer that can provide enough support for the hips. For better options, check out our best mattresses for stomach sleepers list.
Average weight combination sleepers will enjoy both mattresses' responsive layers, so it's only a matter of choosing which mattress feel you prefer more.
Heavyweight Sleepers (> 230 lbs)
Heavyweight back sleepers will sleep better on the firmer Purple mattress than the Nectar. Heavier folks will likely experience excessive sinking in the latter, which may lead to back pain.
Both mattresses had the same score when it came to accommodating heavyweight side sleepers, so we can recommend either. Some side sleepers will find that either mattress is firm enough to be supportive but also soft enough to provide cushion.
On the other hand, both mattresses lack the proper hip support needed for heavyweight stomach sleepers, so we recommend you look for firmer mattress options.
The Purple and Nectar may work for some heavyweight combination sleepers, but if you sleep more on your stomach, we recommend firmer mattresses, like the ones in the best mattresses for combination sleepers.
Lightweight Sleepers (< 130 lbs)
The Purple mattress is the better option for lightweight back sleepers because of its supportive yet responsive Smart Grid layer.
If you're a lightweight side sleeper, you will appreciate the conforming and contouring memory foam layers of the Nectar more.
Lightweight stomach sleepers will probably have the same experience on either mattress since both mattresses will probably provide enough hip support and cushion for a good night's sleep.
Because of Purple's Smart Grid layer and Nectar's responsive memory foam, lightweight combination sleepers will have no trouble choosing from both mattresses.
Differences In Mattress Construction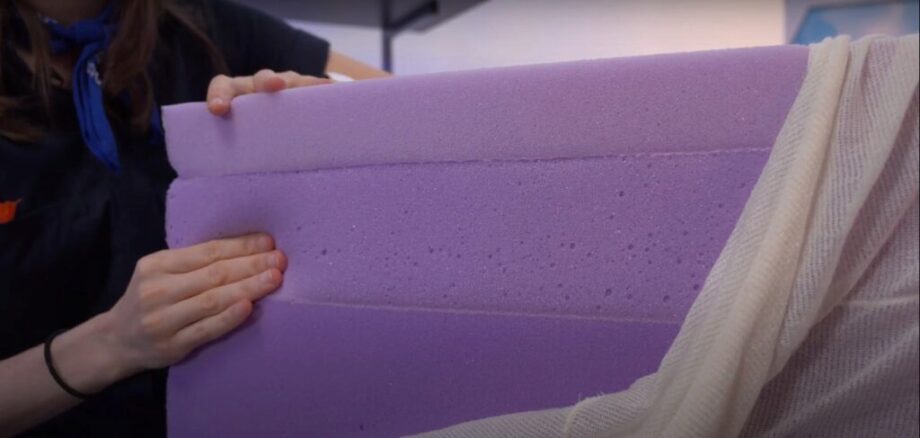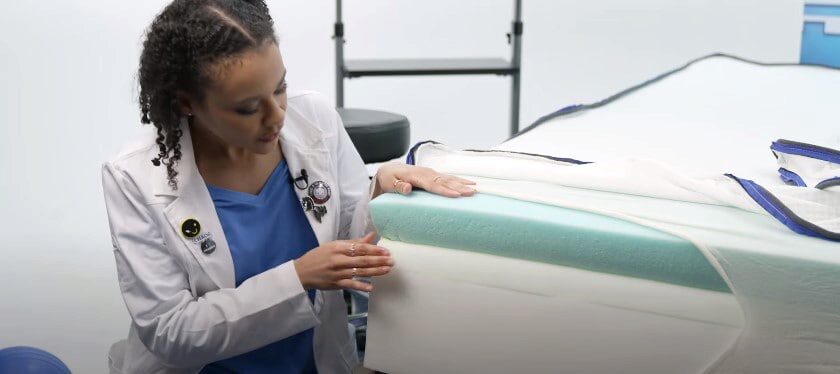 The original Purple is a 9.5″ hybrid foam mattress, while the Nectar is a 12" all-foam mattress. Here's how they differ in terms of construction.
Purple Mattress Materials
Nectar Mattress Materials
Viscose, Polyester, & Lycra Blend Cover
Quilted Memory Foam Cover
2" Purple Smart Grid
3" Gel-infused Memory Foam
3.5" Soft Polyfoam Transition Layer
2" Adaptive Transition Foam
4" High-Density Polyfoam Base
+ Non-Slip Bottom Cover
7" Base Layer Foam
Cover
Purple has a polyester, viscose, and Lycra blend cover that's soft, flexible, and offers temperature-regulating properties. The Nectar has a plush quilted memory foam cover that's soft and sleeps cool.
Comfort Layers
Purple has the patented Smart Grid layer which is made from a Hyper-Elastic polymer gel material that provides great pressure relief and support. Nectar's comfort layer is made from gel-infused memory foam that's designed to neutralize excess body heat and keep the sleeper cool.
Support Layers
Both mattresses have thick and dense foam base layers, but the Nectar is much thicker at 7" compared to Purple's 4".
Purple vs. Nectar Pricing
| | | |
| --- | --- | --- |
| Size | Purple Prices | Nectar Prices |
| Twin | $799.00 | $599.00 |
| Twin XL | $999.00 | $769.00 |
| Full | $1199.00 | $899.00 |
| Queen | $1399.00 | $999.00 |
| King | $1799.00 | $1299.00 |
| California King | $1799.00 | $1299.00 |
For exclusive discounts on both beds see our Purple mattress coupons and Nectar mattress coupons.
Purple vs. Nectar Mattress Performance Ratings & Differences
Temperature
If you sleep hot or live in a warm climate, it's essential to find a bed that's breathable and will help you achieve a cool night's sleep. As an all-foam mattress, the Nectar will trap some heat throughout the night, but it is slightly cooler than other memory foam mattresses. Its gel memory foam upper layer works to combat heat entrapment in the dense memory foam layers.
Alternatively, the Purple's Comfort Grid helps it sleep much cooler than other all-foam models, promoting steady airflow to keep the surface temperature neutral at worst and actively cool at best. Of the two, the Purple mattress is the top choice for hot sleepers.
For a complete list of beds that won't cause you to overheat, check out our list of the best cooling mattresses.
Motion Transfer
Motion transfer is an important quality to consider if you sleep with a partner, pet, or child. If you wake easily to movement or noise throughout the night, a bed with great motion isolation will be essential to achieve a great night's sleep.
Both the Nectar and the Purple beds have minimal motion transfer and produce minimal noise, though we think the Nectar is slightly superior in this category due to the double-layer foam comfort portion of the mattress.
The memory foam layers of each of these mattresses will absorb motion between partners better than traditional hybrid mattresses. To read more about the differences in mattress construction, check out our Memory Foam vs. Hybrid article.
Edge Support
If you have trouble getting in and out of bed or are concerned with a mattress's durability, edge support is something to consider. Edge support is the degree to which the perimeter of a mattress supports body weight.
While memory foam mattresses may absorb motion better, they often lack the reinforced edge support of coils present in hybrid mattresses. Both the Purple and Nectar show significant sinkage when the edges of the bed are compressed. While neither is the best mattress for edge support, that shouldn't matter much to sleepers who lie in the middle of their bed.
Pressure Relief
Pressure relief is important for all sleep positions and depends on a sleeper's body weight. The Purple Comfort Grid provides pressure point relief for most sleepers who are lightweight or average-weight and sleep on their sides or backs.
As for the Nectar, pressure relief is one of its primary strengths. Its two memory foam comfort layers absorb and cradle the body, conforming to different areas and distributing weight evenly. All in all, the Nectar outpaces Purple slightly in this area, but it will come down to preference. If you like the feeling of sleeping "in" a bed, you may prefer the Nectar. If you like the feeling of sleeping "on" a bed, we suggest the Purple.
Pain Relief
If you experience pain in your back or joints immediately after waking up, there's a big chance your mattress is the reason. A mattress's pain-relieving feature is heavily tied to its ability to relieve pressure. The less pressure build-up there is, the less chance of experiencing body pain.
In terms of pain relief, the Nectar slightly outperforms the Purple. Still, it'll depend on your dominant sleeping position and body type.
Generally, lightweight and average weight sleepers will find enough pain relief with both mattresses, especially if you sleep on your back. Both mattresses' comfort systems do a great job of distributing body weight evenly to prevent pressure build-up. Side sleepers will also sleep relatively well, but those who weigh on the heavier side may feel like they sink too much, which is not ideal if you're dealing with body pain.
Durability
A new mattress is an investment, so it's key to ensure your purchase will last at least several years. Both Purple and Resident (Nectar's brand) are relatively young companies, but customer reviews and the quality of the mattresses' construction indicate that they will last roughly seven to eight years, which is average in the mattress industry. As always, rotating all-foam mattresses every three to six months is recommended to prevent body impressions from forming.
Shipping, Returns, & Warranties
Purple
Purple provides free shipping across the contiguous U.S., with extra fees for orders going to Alaska, Hawaii, and Canada. Purple also offers a 100-day sleep trial and a 10-year warranty for each mattress, which covers material and workmanship defects.
Nectar
Nectar provides free shipping across the contiguous U.S. Each mattress has a 365-day sleep trial, one of the longest trial periods in the industry. Nectar also gives a Lifetime Warranty that covers any workmanship or material defects within the first 10 years, with prorated repair and replacement costs thereafter.
More Mattresses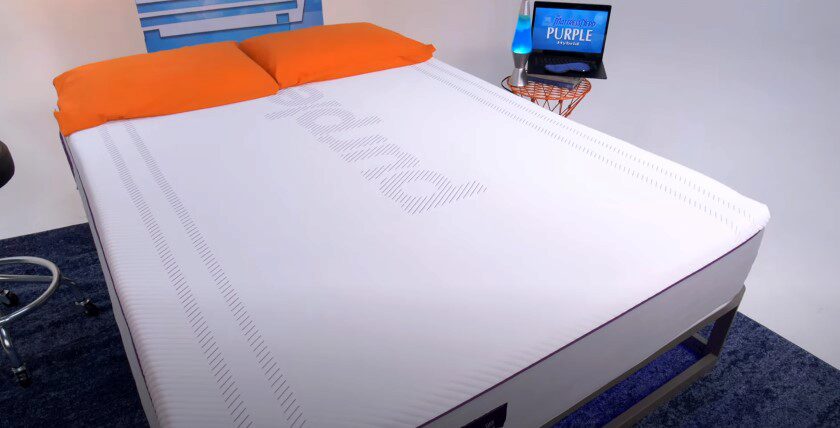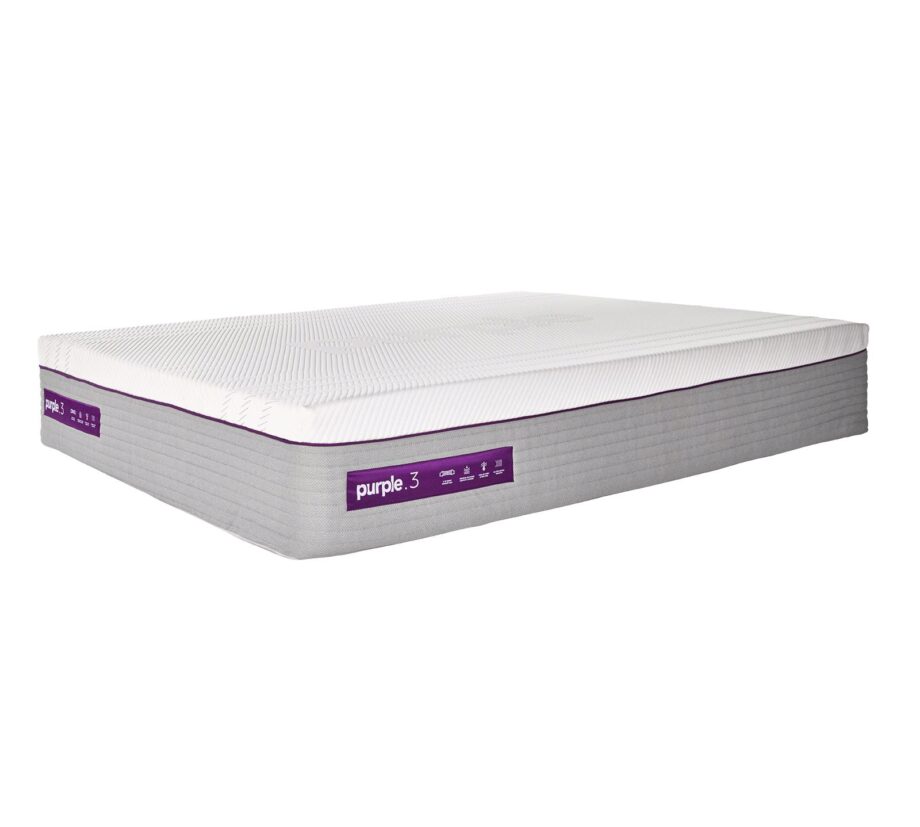 Purple Hybrid Premier Mattress
Multiple firmness options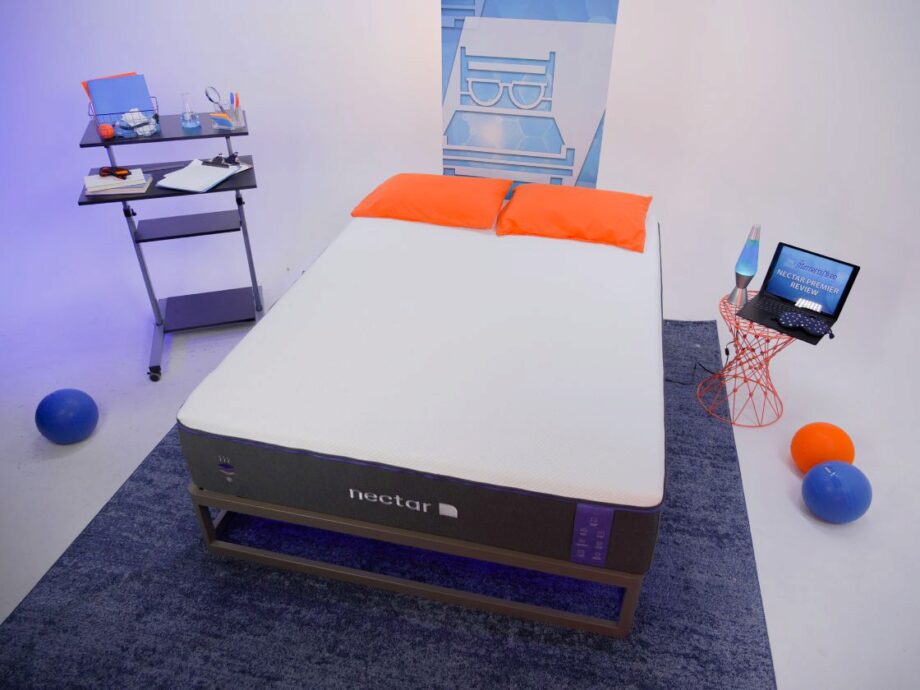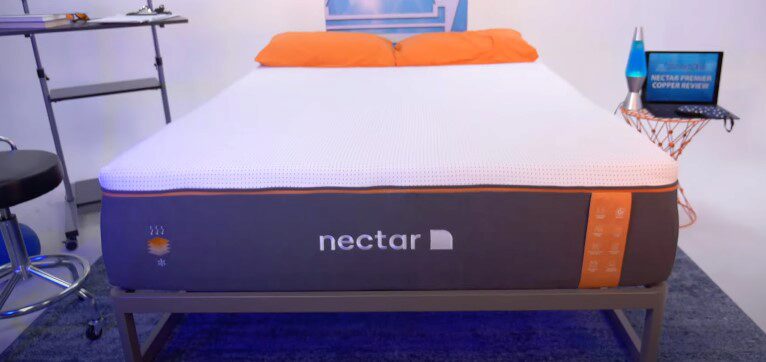 Nectar Premier Copper Mattress
Haven't made a decision yet? Check out these other comparisons:
Our Final Take
The Nectar Original and Purple Original are both excellent, moderately priced, mixed-foam mattresses that work well for a variety of sleepers with different preferences. The beds vary relatively little in price, so the mattress that's best for you will mostly come down to your desired firmness level, need for temperature regulation and primary sleeping position.
If you enjoy the traditional, cradling feel of memory foam, we think you'll love the Nectar. If you want a mattress with more responsiveness and enjoy sleeping "on" your mattress rather than sinking "in" it, we recommend the Purple Original.
Purple & Nectar FAQs
What are the cons of a Purple mattress?
While the Purple mattress is an overall great hybrid mattress, there are still some complaints about it. The most prominent one we've heard from customers and owners is that the Purple mattress experienced early sagging and indentations. There were also complaints about poor customer service.
What are the cons of a Nectar mattress?
The Nectar is a fantastic choice for those who prefer medium-feel mattresses. However, we've heard some complaints, such as poor customer service and shipping delays. Heavier sleepers also reported that they sank too much in Nectar mattresses, unable to get enough support and pressure relief for a good night's sleep.
Are Nectar mattresses worth the price?
Yes, the Nectar mattress is a great all-foam mattress that provides a great balance of contouring and support. Furthermore, if you're a hot sleeper or like the feel of traditional memory foam, we think Nectar mattresses are definitely worth the price.