Lull vs. Purple Mattress Comparison
•
Disclosure: By clicking on the product links in this article, Mattress Nerd may receive a commission fee at no cost to you, the reader. Read full disclosure statement.
The Lull Mattress is a simple design with layers of memory foam, while the Purple uses foam and a squishy grid layer. The Purple will feel unique and pressure-relieving, and the Lull will feel like a traditional memory foam that you may be used to, if you currently have a foam mattress.
In this mattress comparison, we'll go into detail about these mattresses, putting them side by side so you can decide which will work best for you. Want to know how we test and review our mattresses? Read up on our testing methodology.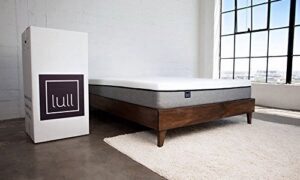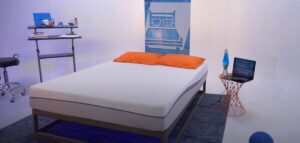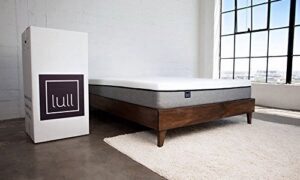 Firmness
Medium-firm: 7/10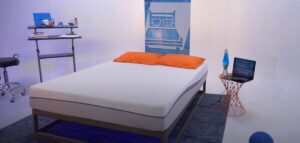 Firmness
Medium-firm: 6.5/10
Purple vs. Lull Overview
Both the Purple and Lull mattresses are great mattress choices, each catering to different types of sleepers. In this part, we highlight each mattress's best points and who we recommend them to the most.
| | |
| --- | --- |
| Purple is best for… | Lull is best for… |
| People looking for a unique feel | Budget shoppers |
| Hot sleepers | Couples |
| Back sleepers | Foam lovers |
Who Should Choose the Purple Mattress?
People looking for a unique feel: The Purple's Smart Grid layer has a unique gel-like layer that offers this "floating" sensation that's both supportive and conforming.
Hot sleepers: The Smart Grid layer features a grid-like structure that promotes great airflow to keep you cool throughout the night.
Back sleepers: Purple provides good back support and cushion, allowing back sleepers a good night's rest.
Who Should Choose the Lull Mattress?
Budget shoppers: Those searching for an affordable foam mattress will be happy to know that a Queen falls under $1,000 with their frequent sales and promotions.
Couples: Couples and those who co-sleep will enjoy the motion isolation Lull provides.
Foam lovers: If you want a balanced foam feel instead of the bounce of a traditional innerspring or hybrid mattress, the Lull is a great pick. 
In this section, we go through the most distinct similarities and differences between Purple and Lull.
Purple vs. Lull: Top Similarities
Firmness: Both mattresses share a medium-firm firmness setting, but this similarity may be lost to shoppers due to how different the mattresses feel.
Policies: Both beds share a 10-year warranty and a 100-night sleep trial. Each ship for free in the contiguous U.S.
Back sleepers: Both beds contour and add support to the lower back, which is something back sleepers need to be comfortable.
Purple vs. Lull: Top Differences
Feel: The Lull mattress has a crowd-pleasing, soft, neutral foam feel. Most sleepers will find that it isn't too soft or too firm for their preferences. The Purple's feel is very unique thanks to the top layer of the Hyper-Elastic Polymer grid, which makes you feel as if you're floating. The Purple feels soft and firm at the same time, and sleepers tend to either love or hate its feel.
Price: Lull comes in at a lower price than Purple, and Lull often marks down its items significantly while we've noticed that Purple does not run quite as many promotions or sales.
Temperature: As an all-foam bed, the Lull may trap a little heat, and it definitely won't provide active cooling for the body. The Purple, on the other hand, excels in breathability and airflow thanks to the grid design of the top layer. If you want to sleep cool, we recommend the Purple.
Responsiveness: The Purple Grid makes the mattress more responsive than the Lull, and it has a noticeable bounce that makes it the better mattress for combination sleepers. It also works well for couples looking for a great mattress for sex.
Purple vs. Lull: Firmness & Feel Differences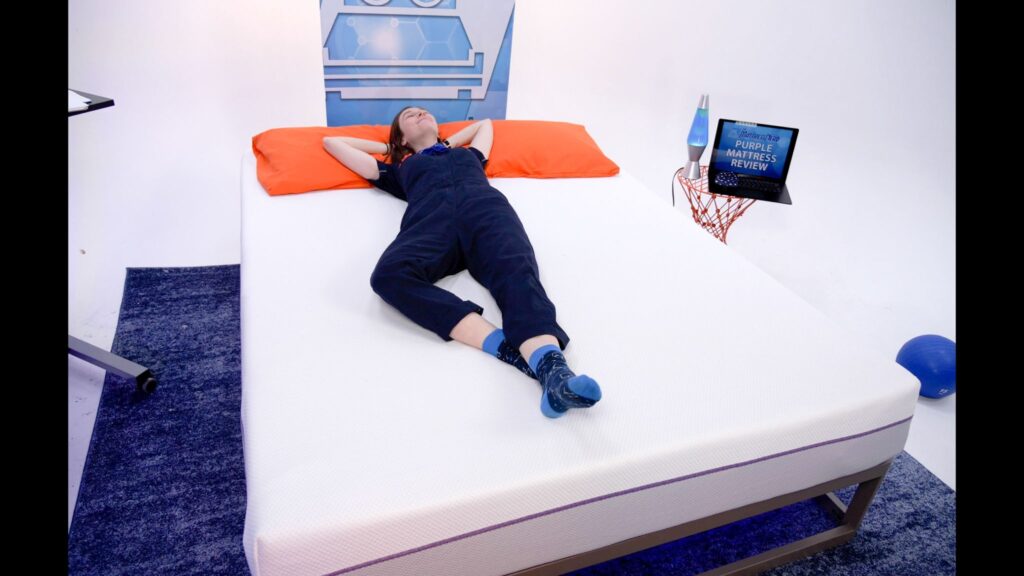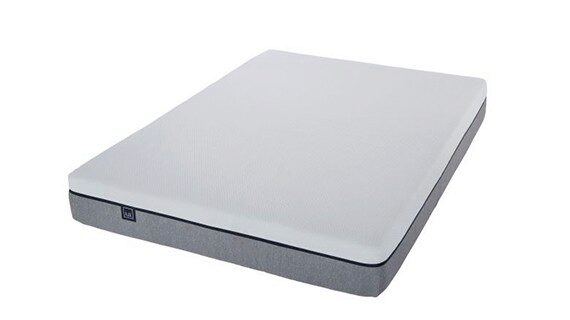 Check out how the Purple and Lull compare against each other when it comes to mattress firmness level and feel.
What's the Firmness Of the Purple & Lull Mattresses?
A mattress's firmness level refers to where it falls on a scale of 1–10, with 1 being very soft and 10 being very firm. It's important to understand the firmness level that you prefer and that works best for your body type and sleeping position, and having this in mind, while mattress shopping can greatly narrow the overwhelming number of choices that many mattress shoppers face.
Both the Purple and Lull are medium-firm mattresses, with the Lull being slightly firmer than the Purple. The Purple scores a 6.5/10, while the Lull gets 7/10.
What Do the Purple & Lull Mattresses Feel Like?
It's also important to consider a mattress's feel, as two beds that share a similar firmness level, like the Purple and the Lull, can feel very different to the touch.
Since both mattresses fall into the medium-firm category, they can appeal to a wide variety of sleepers. They're firm enough to support most sleeping positions yet soft enough to accommodate sleepers who like a plush feel.
However, Purple has a unique sleeping surface that's both responsive and conforming. If you like "floating" on the mattress, get the Purple. But if you find comfort in the familiar foam feel, the Lull can more than accommodate you.
What's It Like to Sleep On the Purple & Lull Mattresses?
Both beds support sleepers in the lightweight to average-weight categories in all sleeping positions, so the firmness and feel that work best for you will ultimately come down to preference.
Back sleepers will get great back support on both mattresses, so picking either falls mostly on preference. Similarly, combination sleepers will be comfortable on both mattresses, but some may prefer the responsive feel of the Smart Grid layer. Side sleepers will appreciate the Purple's conforming gel top layer more, while stomach sleepers will probably find more support and comfort with Lull's foam layers. Lastly, the Purple sleeps very coolly because of its Smart Grid layer, while the Lull may run a bit hot, especially for heavier body types.
The Purple vs. Lull Mattresses By Body Type
Purple Performance By Body Type & Sleeping Position:
| | | | |
| --- | --- | --- | --- |
| Body Type: | BACK SLEEPERS | STOMACH SLEEPERS | SIDE SLEEPERS |
| Lightweight (< 130 lbs): | 5 | 3 | 4 |
| Average-weight (130–230 lbs): | 5 | 2 | 3 |
| Heavyweight (> 230 lbs): | 3 | 1 | 3 |
Lull Performance By Body Type & Sleeping Position:
| | | | |
| --- | --- | --- | --- |
| Body Type: | BACK SLEEPERS | STOMACH SLEEPERS | SIDE SLEEPERS |
| Lightweight (< 130 lbs): | 5 | 4 | 3 |
| Average-weight (130–230 lbs): | 5 | 3 | 5 |
| Heavyweight (> 230 lbs): | 3 | 2 | 4 |
1 = Very poor, 2 = Not good, 3 = Fair, 4 = Good, 5 = Excellent
Average-Weight Sleepers (130–230 lbs)
Average weight back sleepers get the best of both worlds because both mattresses can provide ample back support and cushion.
Despite being the firmer of the two, the Lull provides the perfect mix of comfort and support that most average weight side sleepers will appreciate.
The majority of average weight stomach sleepers will probably find the firmer foam layers of Lull more comfy, since they can provide enough support to keep the hips elevated and aligned with the spine.
Both mattresses are responsive enough to accommodate average weight combination sleepers, but we have to give extra points to Purple because of its responsive yet conforming Smart Grid layer.
Heavyweight Sleepers (> 230 lbs)
While both mattresses can accommodate most heavyweight back sleepers, some may still experience excess sinking. However, Lull may fare a bit better because of its firmer nature.
Heavyweight side sleepers will need extra support on their hips and shoulders to prevent them from sinking too much into the mattress. In this case, Lull's firm foam layers may be the better option.
For heavyweight stomach sleepers, the Lull mattress can provide just enough hip support to keep them from misaligning with the spine. However, the heavier you are, the more support you'll need. For better options, check out our list.
Heavyweight combination sleepers that toss and turn in bed may fare better on the Lull than the Purple, as the Purple's thin comfort layer may not be able to provide enough support.
Lightweight Sleepers (< 130 lbs)
Both mattresses can provide more than enough support and comfort for lightweight back sleepers, so choosing falls mostly on preference.
Lightweight side sleepers will likely appreciate the conforming and cushioning gel layer of Purple more, as the Lull may be too firm for some.
In contrast, lightweight stomach sleepers will sleep more comfortably on the soft yet supportive Lull foam layers.
Lightweight combination sleepers will have no issues with either mattress, since both have responsive yet supportive comfort systems.
Differences In Mattress Construction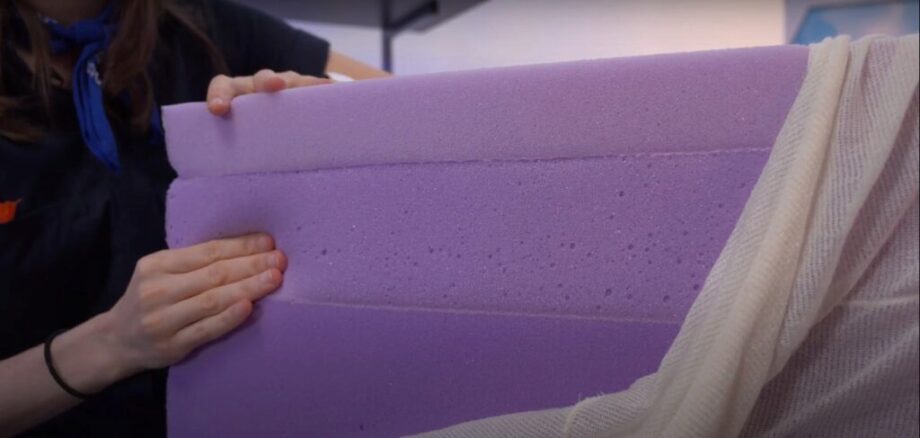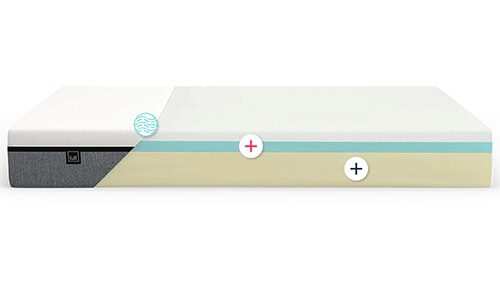 Lull is a 10" all-foam mattress, while Purple is a 9.5" hybrid-foam mattress. Each is made up of three distinct layers that have different functions and features. Here's a closer look at their mattress construction.
Purple Mattress Materials
Lull Mattress Materials
Viscose, Polyester, & Lycra Blend Cover
Polyester & Rayon Blend Cover
2" Purple Smart Grid
1.5" Gel-infused Memory Foam
3.5" Soft Polyfoam Transition Layer
1.5" Polyfoam-Latex Blend
4" High-Density Polyfoam Base
+ Non-Slip Bottom Cover
7" High-Density Polyfoam
Cover
Purple's SoftFlex cover is made from a polyester, viscose, and Lycra blend that offers softness, flexibility, and temperature-regulating properties. Lull's cover is made of a polyester and rayon blend that's both soft and breathable.
Comfort Layers
Purple's proprietary Smart Grid comfort system is made of a Hyper-Elastic polymer gel material that offers great pressure relief and support. Lull's comfort layer consists of gel-infused memory foam that promotes cooling by absorbing and distributing body heat.
Support Layers
Both mattresses use a high-density polyfoam base layer, but the Lull has a much thicker 7" layer than Purple's 4" support layer.
Purple vs. Lull Pricing
| | | |
| --- | --- | --- |
| Size | Purple Prices | Lull Prices |
| Twin | $799.00 | $899.00 |
| Twin XL | $999.00 | $999.00 |
| Full | $1199.00 | $1099.00 |
| Queen | $1399.00 | $1199.00 |
| King | $1799.00 | $1499.00 |
| California King | $1799.00 | $1499.00 |
For exclusive discounts on both beds see our Purple mattress coupons and Lull mattress coupons.
Purple vs. Lull Mattress Performance Ratings & Differences
Temperature
Those who tend to sleep hot can suffer from night sweats, discomfort, and poor sleep. The Lull sleeps temperature-neutral, which is on par with other well-made foam beds on the market.
If you sleep hot and are looking for a cool night's sleep, however, we can't recommend the Purple enough. The top layer of hyper-elastic polymer has an open, grid-like structure that lets air flow beneath you as you sleep. This is great for warm climates and individuals who tend to sleep hot. For similar options, see the best mattresses for hot sleepers.
Motion Transfer
Motion transfer or motion isolation is an important consideration for couples and individuals who sleep with a pet or a child. Put simply, motion isolation refers to how little motion transfer is felt throughout the mattress when pressure is applied or removed. The less movement is felt, the better the bed's motion isolation.
Motion isolation varies from mattress to mattress, but some mattress styles tend to excel in this performance category more than others due to the characteristics of their materials. All-foam beds, for example, absorb motion better than hybrid mattresses, which feature coils and tend to naturally have more bounce.
Both the Lull isolates motion very well, making it appealing for those who are easily disturbed by the motions of a partner, pet, or child throughout the night. On the other hand, the bouncy responsive Purple grid doesn't lead to very good motion isolation. For more options like Lull, see the best mattresses for couples.
Edge Support
Edge support is how much a mattress sinks at its edges when pressure is applied. In general, all-foam beds tend to have poor edge support while innerspring and hybrid mattresses perform better in this category.
Edge support should be a priority in your mattress shopping journey if you tend to sleep on the edges of a mattress, like to sit on your bed for an extended period (for instance, to tie your shoes or check emails), or have trouble getting in and out of the bed. The Lull and the Purple have less-than-stellar edge support, but this doesn't mean the companies ignored this quality; it's somewhat par for the course with all-foam mattresses.
Pressure Relief
A bed's pressure relief refers to how well it alleviates aches and pains that arise from pressure points or that already exist due to an individual's lifestyle or health condition. All sleeping positions have pressure points.
The Lull does a nice job relieving pressure in all three sleeping positions thanks to the dual comfort layers that provide a nice hug. The Purple has great spinal alignment, which prevents back pain, through the Purple grid for back and side sleepers. However, we did see some pressure issues on side sleepers' hips and shoulders on the Purple. For more mattresses dedicated to pressure relief, check out our picks on the best mattress for side sleepers.
Pain Relief
A mattress's ability to alleviate any pain depends most on the comfort layers of the mattress and their ability to relieve pressure. When there's pressure build-up in certain areas, those areas will likely experience pain.
The Lull mattress scores high in pain relief for different sleeping positions, especially for back sleepers. Back and stomach sleepers may also sleep well on the Purple, but if you have a heavier body type, you may experience some pressure build-up. Side sleepers, especially those on the heavier side, will need a mattress that's conforming and supportive, and we found the Purple to be a bit lacking in that category.
If you are waking up in pain, see the best mattresses for back pain.
Durability
The average mattress lifespan is seven years. Even though neither the Purple nor the Lull is outrageously expensive, it's important to make sure your investment will last you for a long time. Durability is correlated with edge support and sagging, and one thing can lead to another in a poorly constructed mattress.
The Purple and the Lull both feature quality materials, and we haven't seen any customer reviews about below-average longevity for either of these mattresses.
Shipping, Returns, & Warranties
Purple
Purple provides free shipping across the contiguous U.S., with extra fees for orders going to Alaska, Hawaii, and Canada. Purple also offers a 100-day sleep trial and a 10-year warranty for each mattress, which covers material and workmanship defects.
Lull
Each Lull mattress comes with free shipping across the contiguous U.S. They also offer a 100-day sleep trial with full refunds. Each mattress also comes with a 10-year warranty, which is standard for most online mattress brands.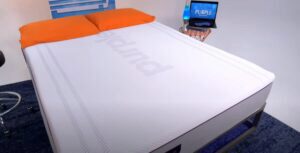 Purple Hybrid Mattress
Medium-firm: 7/10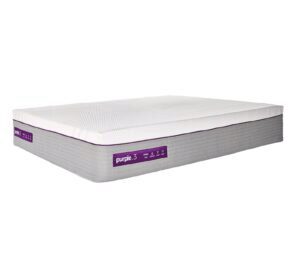 Purple Hybrid Premier Mattress
Multiple firmness options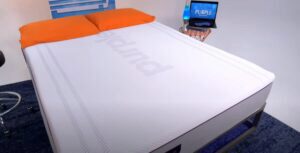 Product
Purple Hybrid Mattress
Firmness
Medium-firm: 7/10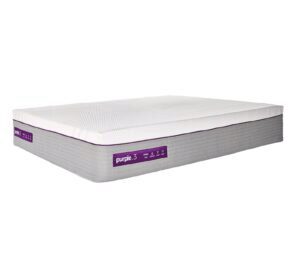 Product
Purple Hybrid Premier Mattress
Firmness
Multiple firmness options
Haven't made a decision yet? Check out these other comparisons:
| | |
| --- | --- |
| Lull Comparisons | Purple Comparisons |
| | |
There's no clear winner when the Lull and the Purple are put head to head, as each bed has unique qualities and areas where it may fall short for some folks. Both are quality mattresses for the price and share similar policies, firmness levels, and retail price points, so the right mattress for you will come down to feel.
We recommend the Purple mattress for shoppers who like the idea of floating on the mattress and who sleep hot. If you're playing it safe and want a neutral foam bed that's going to provide some contouring in any sleeping position, opt for the Lull. If you've been looking into the Purple and the Lull while considering a new mattress, we hope this mattress comparison was helpful as you make your decision.
Purple & Lull FAQs
What Are The Cons of a Purple Mattress?
Purple is a popular mattress brand for many reasons. However, it's not without faults. Some of the common customer complaints we've read are about early mattress sagging and indentations, as well as poor customer service.
How Long Does a Lull Mattress Last?
Like other foam mattresses, expect your Lull to last you around five to seven years, depending on how much daily stress and wear and tear it goes through. To make the most of your mattress, make sure to do regular cleaning and maintenance.
Can You Put a Lull Mattress on a Box Spring?
Yes, Lull mattresses can be used on any platform or box spring. Furthermore, Lull suggests you use a breathable foundation that promotes airflow to prevent any mold growth.