Best Pillows for Side Sleepers
For a side sleeper, choosing the wrong pillow could mean neck pain and sleepless nights. Here's our guide to choose a perfect side sleeper pillow.
It's estimated that roughly 70 percent of adults sleep on their sides. Even considering how common this sleeping position is, finding the right pillow for side sleepers can prove tiresome. While back sleepers and stomach sleepers can get by on low-loft or thin pillows, side sleeping requires a specific amount of support to avoid neck pain and discomfort. The ideal side sleeper pillow will fill the gap between your ear and shoulder, which will encourage spinal alignment.
Medium-loft and high-loft bed pillows tend to do the best job at this, but there are other factors you should take into account when choosing a side sleeping pillow, including your weight, shoulder width, and personal preferences.
To make the search for the perfect pillow a little easier on you, we've rounded up the best pillows for side sleepers in 2022. Below you'll find our top picks (and why) at a variety of price points. We've also included a buyer's guide at the bottom of the article with tips on how to choose the best side sleeper pillow for your body type. And if you're looking for a new mattress while you're at it, here's our top mattress picks for side sleepers.
Disclosure: By clicking on the product links in this article, Mattress Nerd may receive a commission fee at no cost to you, the reader. Read full disclosure statement.
Best Pillows for Side Sleepers
Watch Our Review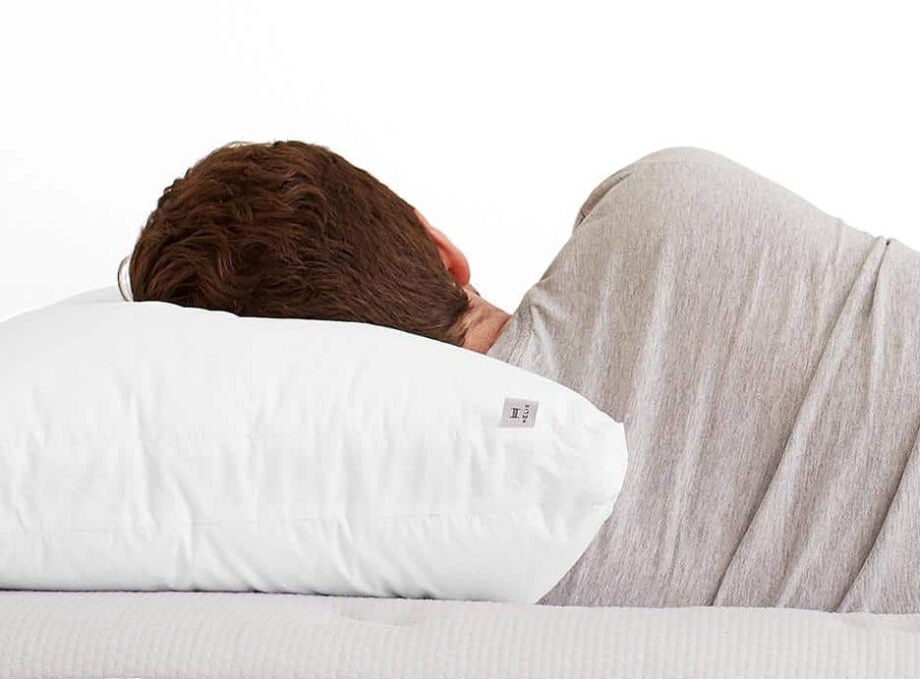 Editor's Pick
Our Editor's Pick, the Helix Pillow, has a removable support insert layer so you can adjust the height and firmness for the perfect fit. It's made with a breathable, 100 percent cotton cover and gel microfiber fill to keep you from overheating at night.
Reason to Buy: With the Helix Adjustable Pillow, side sleepers don't have to choose between a plush or firm pillow—they can simply adjust the feel to their liking. That being said, Helix recommends the firm option if you sleep on your side, as reducing the loft too much could throw the spine out of alignment and create shoulder pressure.
The Helix brand is also known for some of the best customizable mattresses. The microfiber fill offers the same plush, luxurious feel of a down pillow but is hypoallergenic, so it won't trigger allergies. The pillow's gel-infusion properties, combined with the cotton cover, will dissipate heat for people who sleep hot. To boot, the Helix has an easy-to-clean machine washable cover. It also comes with a 100-night sleep trial, free shipping, and a one-year warranty. The Helix is available in Standard and King sizes for under $100.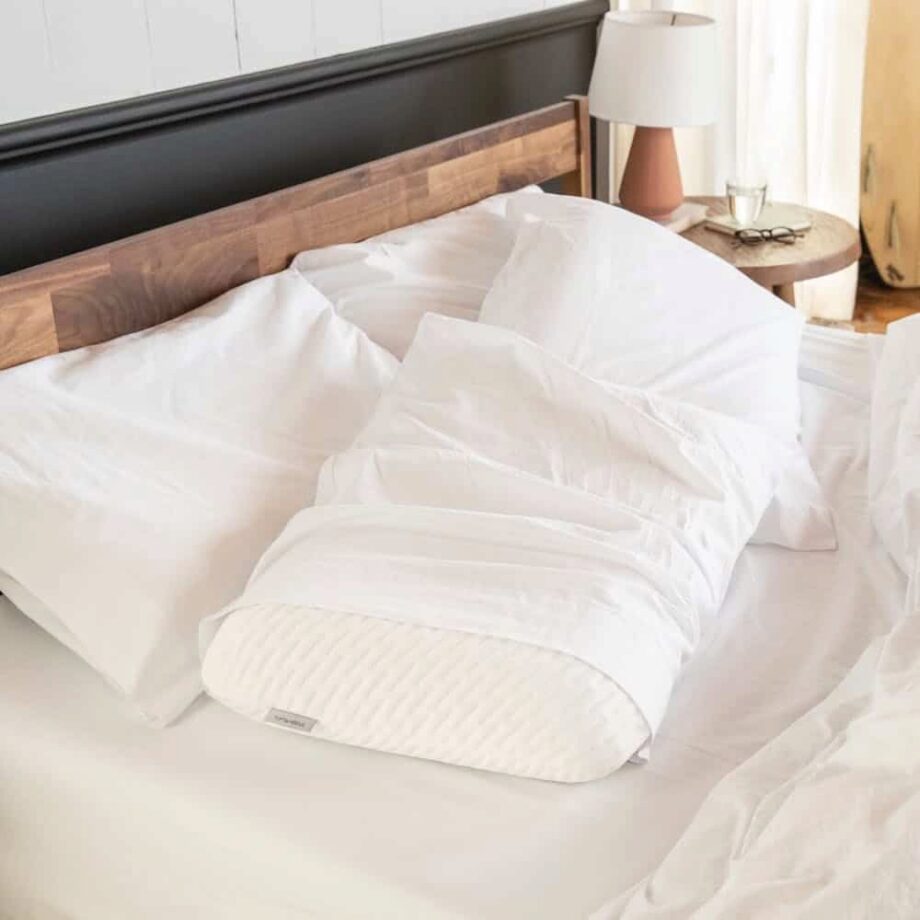 Best Pillow for Side & Back Sleepers
The T&N Pillow features the company's proprietary Adaptive Foam, which combines the contouring of memory foam with bounce and support. The foam has open cell technology, heat-wicking graphite, and cooling gel to help you sleep cool.
Reason to Buy: This pillow sets itself apart with its proprietary T&N foam construction, which, while resembling memory foam, won't lose its support or shape over time. It's one of the only memory-foam-like pillows that's appropriate for side sleepers of all sizes, and it has multiple design details to promote temperature neutrality.
The pillow is moldable, so it will contour to your neck in the side sleeping position—but you'll never have to fluff it. The pillow is also hypoallergenic and eco-friendly, and the softcover is machine washable. If you are looking for an all-natural sleep, see the best organic mattresses. The T&N pillow is available in Standard and King sizes, and it comes with free shipping, a 100-night sleep trial (30 nights if ordered on Amazon.com) and a three-year limited warranty.
Best Pillow for Side Sleepers with Neck Pain
The first thing you'll notice about the Pillow Cube is its unique design—as the name suggests, this pillow is a cube. That's because it was designed specifically for side sleepers who may have experienced neck discomfort due to the traditional pillow shape.
Reason to Buy: If you sleep on your side you may have noticed that many traditional pillows are too thin or too thick and that when your head lies on it your neck rests at an awkward and uncomfortable angle. The Pillow Cube solves this problem by fitting snugly in the gap between your shoulders and head when you sleep on your side.
The original Pillow Cube is 12" x 12" and comes in both 5" and 6" loft. If you're interested in the Pillow Cube but prefer a more traditional build, you can opt for the PillowCube Pro, which is 12" x 24" and comes in 4", 5", and 6" lofts. Regardless of what you choose, this pillow can significantly improve your quality of side sleeping.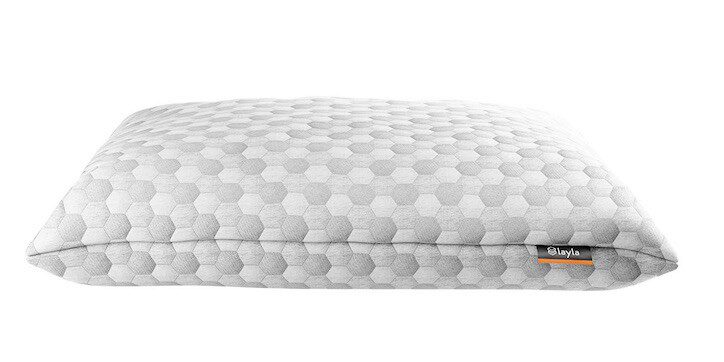 Best Cooling Pillow for Side Sleepers
The Layla Pillow is composed of all natural, silky Kapok fibers and includes shredded memory foam for a feel that's not only supportive but also plush. The Layla Pillow also has an adjustable fill level and cooling copper fibers that allows for a cooling sleep to suit side sleepers.
Reason to Buy: No matter how soft a pillow's cover or how perfect its loft, if it sleeps hot, chances are a healthy sleep pattern won't be achievable. Layla incorporates their open-cell foam and natural Kapok yarns, which helps to facilitate more airflow than an average foam pillow. Not only is the interior fluffy and breathable, the Layla Pillow cover is composed of a breathable fabric and has temperature-regulating copper fibers woven in.
Additionally, the Layla Pillow has a convenient zipper enclosure that will allow you to adjust the loft to better fit your side sleeping needs. The cloud-like feel and all night support make this high-quality pillow an excellent option for side sleepers who tend to also sleep hot. The Layla Pillow comes in a Queen and King size and prices starting at $99.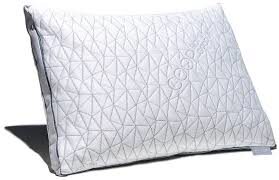 Best Memory Foam Pillow for Side Sleepers
This pillow has a Medium Soft feel and contains shredded, gel-infused memory foam and microfiber. It sleeps cooler than most memory foam options and can be adjusted.
Reason to Buy: If you enjoy the conforming feel of memory foam around your head and neck, the Coop Home Goods Pillow is a good option to prevent pressure points from developing. While the original design may work for lightweight side sleepers, average-weight and heavyweight sleepers may want to add extra fill to the pillow to achieve a loft that's supportive enough; Coop Home Goods sells extra fill in bulk.
The highlight of this pick is its breathability. Most memory foam pillows retain heat, but the shredded foam mixture and cooling polyester and bamboo cover in this pillow's design prevent that from becoming an issue. This pillow is backed by a 100-night sleep trial and comes with a five-year warranty. For similar options, see the best memory foam pillows.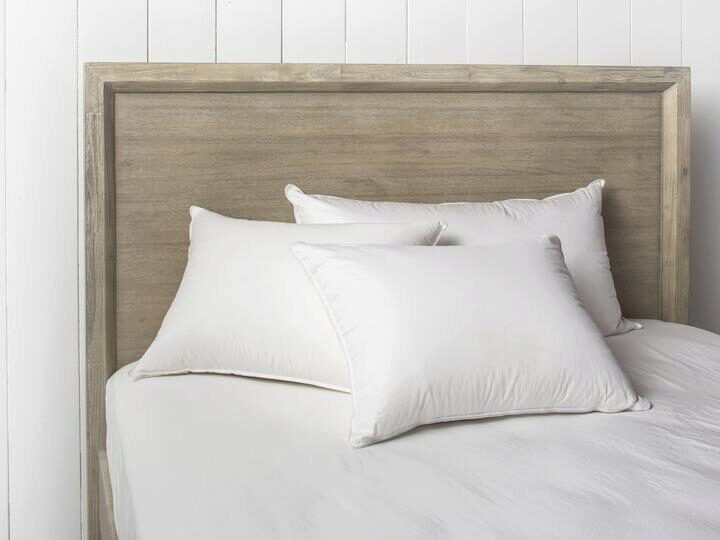 Best Firm Pillow for Side Sleepers
The Parachute Pillow features a blend of ethically sourced European down and feathers in a smooth cotton-sateen cover. Designed with a 3.5″ gusset to take the strain off your neck, it has a medium-density that marries support and comfort for side sleepers.
Reason to Buy: Down fill is easy to love, with its close conforming and luxurious feel. However, side sleepers who want a down pillow need to find an option with firmness and shape that's designed to support the neck while allowing the shoulders to rest—a down pillow that's too soft could result in neck and shoulder tension.
The Parachute Down Pillow combines the comfort of white down with the support of a thicker-than-average gusset, double-stitched piping seams, and a medium-density feel. You'll experience the same neck support in the center of the pillow as you will toward its edges, thanks to the rectangular 3D design. The shell is breathable, and the entire pillow can be machine washed. A luxury option, the Parachute Pillow comes in Standard and King sizes, costs $125 for Standard size, and comes with a three-year warranty. If you are unsure which pillow size is right for you, see our pillow size guide.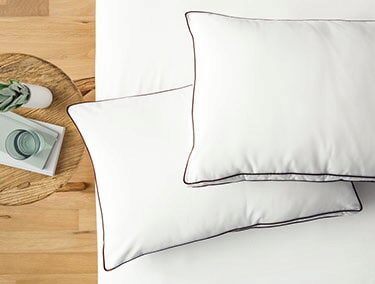 Best Latex Pillow for Side Sleepers
The Saatva Pillow features a Talalay latex core and down alternative fill, and has an innovative three layer design and medium firmness level. Its loft is adjustable, meaning that side sleepers of any size can customize it to their liking.
Reason to Buy: Latex is more supportive and resilient than other pillow fill styles, which makes it a popular option for shoppers looking for durability and shape retention. The interior of the Saatva Pillow contains shredded Talalay latex, and the outer layer is filled with down alternative. You'll have the option to adjust the pillow so that the loft can measure anywhere between 2"–8" thick.
The temperature-neutral inner lining on the pillow helps it sleep cool, as does the organic cotton cover. This breathable, moisture-wicking cover can be removed for machine washing, and, as with most Saatva products, this pillow lasts longer than average. The Saatva pillow is available in Queen and King sizes, and comes with free shipping and a 45-night sleep trial. Check out the Saatva Classic mattress review for more details on the brand.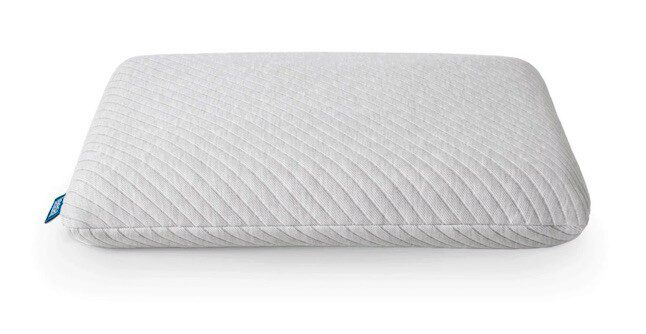 Best Durable Pillow for Side Sleepers
Made with one solid piece of memory foam, the Leesa pillow is a durable, conforming option for side sleepers seeking something high-quality. Made with CertiPUR-US certified performance foam, the Leesa Pillow's longevity is sure to impress you.
Reason to Buy: The 5" loft of the Leesa pillow works very well for most side sleepers, as it allows your head and neck to rest in a properly aligned position. On top of that, if you enjoy the conforming nature of memory foam, then the Leesa pillow will likely appeal to you.
Made with the previously mentioned CertiPUR-US certified performance foam and a polyester-lycra blend breathable cover, the quality of materials in the Leesa Pillow were quite apparent in our testing process. The dense, contouring foam feels like it'll maintain its integrity for a long time. So, if you're looking for a pillow to support your side sleeping for the foreseeable future you should consider the Leesa, which starts at $79 and comes with a 3-year warranty.
Best Adjustable Pillow for Side Sleepers
The right pillow height for your particular brand of side sleeping largely depends on how broad your shoulders are. The Nolah Squishy Pillow has adjustable poly-fiber and memory foam filling, so you can modify the loft of this product to accommodate your needs.
Reason to Buy: Aside from the adjustability, the Nolah Squishy has quite a few other things going for it. The separate pieces of memory foam filling allow for better breathability and cooling than one solid piece of foam might, and the foam used in it's construction is OEKO-TEX and CertiPUR-US certified, meaning it is free of harmful chemicals.
The Nolah Squishy Pillow only comes in packs of two and costs $198. This makes it a great option for couples. Even if only one of you sleeps on your side, this pillow also works well for stomach and back sleepers. Plus, each pillow pack comes with a 2-year warranty.
What Pillow Types are Best for Side Sleepers?
The type of pillow isn't the primary concern for side sleepers, but rather the support and loft. The ideal side sleeper pillow will have a high loft (roughly 4" thick) to keep the head and neck in a neutral position. A firmer feel in the pillow can also prevent the head and neck from sinking. The larger and broader-shouldered you are, the higher loft you'll require to fill the space between your ear and neck.
That being said, all pillow styles can be a good fit for side sleepers, so the right type will come down to your personal preferences.
Memory Foam
Memory foam pillows can be filled with large chunks of shredded memory foam or a solid block of the material. A solid memory foam pillow with the right loft and firmness level can best support your head if you don't toss and turn. A shredded memory foam pillow is usually adjustable, meaning you can add and remove fill to create a loft that suits your body perfectly even as you move around. Here's our selection of best memory foam pillows.
Latex
Latex is an increasingly popular pillow fill because it's comfortable yet resilient, and it sleeps cooler than memory foam. Some latex pillows are adjustable, but most have a solid block of latex at their core. They conform closely and alleviate some pressure, and they'll feel a little bouncier to the touch. If you're interested in a latex pillow, take a look at our best latex pillows roundup.
Down
Down is a luxury pillow fill made from the plumage of geese and ducks. It's very soft and lightweight, so side sleepers will need a down pillow with a very dense fill in order to find support on this type. Keep in mind that down is soft and comfortable, but it requires some fluffing and is usually more expensive.
Down Alternative
If you like the feel of down but can't foot the bill, a down alternative offers a similar lightweight body and often comes without the allergy risk of down. Similar to down, down alternative pillows require fluffing, may not hold their shape well, and will need to have a high-density fill to support side sleepers' necks.
To learn more, check out our article comparing down vs. down alternative pillows.
What Else to Look for in A Pillow for Side Sleepers
Loft
As we mentioned, the ideal loft for a side sleeper's pillow is now less than 4″. If your pillow is any thinner than it can position your head at an unhealthy angle. Whether or not you need something with a higher lost than 4″ depends on the width of your shoulders. Remember, you want a pillow that will fit snugly into the gap between your shoulder and your head so that your spine maintains alignment.
Firmness
We recommend that side sleepers seek out a firm pillow. Something on the softer side will allow your head to sink too far into it, thereby compressing the loft and potentially throwing your spine out of alignment.
Pressure Relief
While we do suggest a firm pillow you want to make sure you don't purchase something too firm. You still want enough pressure relief so that you feel nice and cushioned as you drift off to sleep and don't wake up with a sore ear.
How to Properly Sleep on Your Side
Your Mattress Matters
Just like you need a pillow that supports your sleeping position, having the right mattress can make sleeping on your side much more comfortable. Look for something on the soft to medium-firm end of the mattress firmness scale; this will ensure that your hips and shoulders sink comfortably into the mattress when you're on your side.
For more information, head over to our article on the best mattress for side sleepers.
Keep Your Spine Aligned
In order to prevent or reduce back pain, it's important to make sure your spine remains aligned to its natural curve as you sleep. When sleeping on your side, your hips can rotate to either side, thus throwing your spine out of whack.
If you believe this may be happening to you, try sleeping with a pillow between your knees. This will help keep your legs directly on top of one another, your hips squared, and your spine aligned. For more tips, take a look at our steps on how to properly sleep on your side.
Sleep on Your Left Side
Believe it or not, sleeping on your left side can actually be healthier than sleeping on your right. Sleeping on your left side can help with breathing, digestion, heartburn, and more! For a deeper dive, take a look at our article, "What is the Best Side to Sleep On?"
FAQs
Are there great pillows for side sleepers available on Amazon?
Yes, dozens of pillows that are appropriate for side sleepers are available on Amazon.com. Examples from this list include the Wamsutta, the Coop Home Goods, and the Tuft & Needle pillows.
What type of pillow should a side sleeper use?
Side sleepers should opt for pillows with a high loft and medium-firm or firm feel. A dense fill thatu2019s also comfortable will allow the shoulders to relax and the neck to be supported, leading to pressure relief that makes it easier to fall asleep.
What is the best pillow for a side sleeper with neck pain?
If you're experiencing neck pain in the side sleeping position, your current pillow may be to blame. By purchasing a new pillow that encourages proper neck alignment, you may notice that your pain subsides. If pain continues with a proper side sleeping pillow, consider transitioning to back sleeping, which is the healthiest sleeping position according to doctors.
Conclusion
No matter if you prefer memory foam, latex, or down, we hope this selection of side sleeper pillows leads you to the perfect pillow for your preferences. Just keep that neck-to-ear space in mind when choosing loft and firmness, and you should be well on your way. To learn more about pillows and which might be right for you, check out our Best Pillows Guide.
JUMP TO
Watch Our Review
What Pillow Types are Best for Side Sleepers?
What Else to Look for in A Pillow for Side Sleepers
How to Properly Sleep on Your Side
FAQs
Conclusion