Lagoon Otter Pillow Review
The Lagoon Otter Pillow is an adjustable fill pillow made to keep hot sleepers cool and help relieve neck pain.
•
Disclosure: By clicking on the product links in this article, Mattress Nerd may receive a commission fee at no cost to you, the reader. Read full disclosure statement.
The Nerd's Take: The Lagoon Otter pillow is one of eight pillows offered by the Minnesota-based pillow company, Lagoon Sleep. The Otter, marketed as a "cooling and supportive" pillow, is an adjustable fill model made with gel-infused memory foam and microfibers. Hot sleepers and those with neck pain may find it to be their perfect match.
Who It's Good For
Hot Sleepers
Those who experience neck pain
Those who want an adjustable fill pillow
Who It's Not Good For
Stomach sleepers, who require a low loft pillow and would need to remove a lot of the fill
Budget shoppers, considering this pillow is over $100
A Look Inside
The Lagoon Otter pillow is an adjustable fill pillow that features an outer cover, inner lining, and inner chamber filled with shredded memory foam. Users can unzip the pillow's cover and liner to adjust the inner fill by removing from it or adding to it.
Adjustable Fill
The Lagoon Otter pillow has a fully adjustable design, which means you can add or remove from its inner fill to customize the height and overall firmness of your pillow. I'm a personal fan of adjustable fill pillows because they allow you to cater the feel to your go-to sleeping position or preferred firmness— which if you're going to pay over $100 for a pillow, makes your investment worth the price. The fill itself is 80 percent CertiPUR-US gel-infused shredded memory foam blended with 20 percent microfibers (down alternative fibers).
Cooling Shredded Memory Foam
Speaking of fill, the Otter pillow is stuffed with gel-infused shredded memory foam. The foam is also CertiPUR-US foam, a safety standard that ensures the foam is free of harmful chemicals. The gel-infusion helps prevent the biggest issue with memory foam— heat retention. Both the shredded construction and gel-infused material helps maintain airflow, while also providing that pressure relief that memory foam is notorious for.
Ultra-Soft Cover
The cover is made of a blend of bamboo and polyester (38 percent bamboo, 62 percent polyester). Bamboo is known for being a soft, silky, and naturally cool material. You can sleep right up against the cover, or add a pillowcase of your own.
The Otter pillow is offered in both queen and king sizes.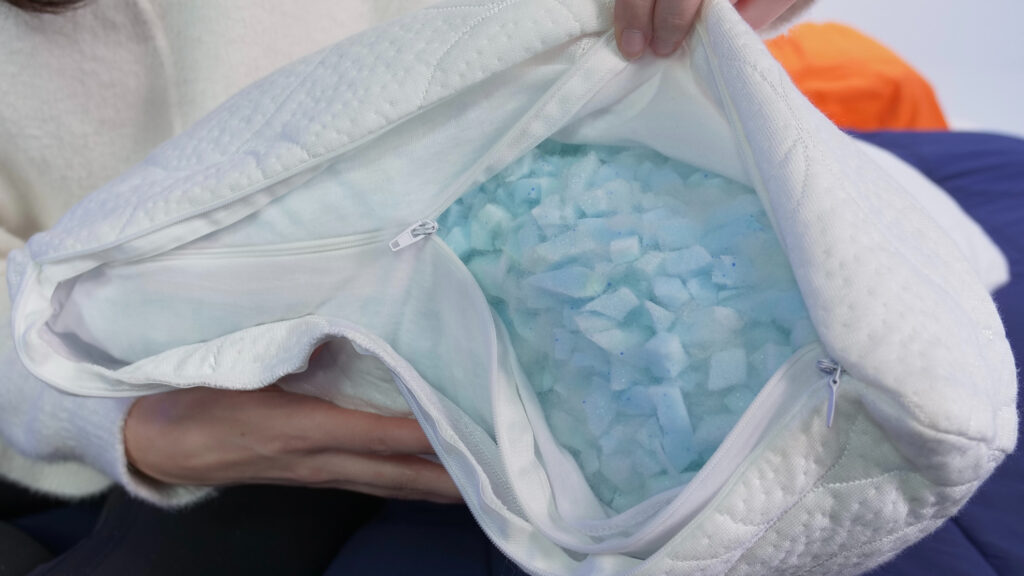 Mattress Nerd Pillow Scores
At Mattress Nerd, we run products through our performance testing process. We personally use the product, test its cooling features, adjustability, whether or not it promotes proper spinal alignment, overall quality, and more. We take into consideration all body types and sleeping positions, since what works for one of our testers, may be different than what works for you.
The Otter pillow is advertised as a cooling pillow. From my experience, I would say that claim definitely holds up. It actually earned our top spot on our Best Cooling Pillows Roundup.
Cooling: 5/5
The Otter pillow is advertised as a cooling pillow. From my experience, I would say that claim definitely holds up. It actually earned our top spot on our Best Cooling Pillows Roundup. 
Overall, I think it's a great option for hot sleepers for two reasons: the shredded fill construction and the gel-infused foam. The shredded fill encourages airflow and prevents body heat from getting trapped inside like you would experience from a solid block of foam. And that gel-infusion plays a part in subsiding any heat retention. I also noticed the cover felt slightly cool to the touch, which check out considering there's bamboo in the material blend, which is naturally cooling. However, I didn't find the cover to stay cool over prolonged use.
Alignment: 4/5
It's important your pillow helps you maintain the natural curvature of your spine while sleeping. This encourages proper breathing and ultimately avoids any neck or back pain from developing over time.
The Otter pillow has a medium firmness when fully stuffed. This is perfect for side sleepers who need a medium-firm, lofty pillow to support their head and neck. Back sleepers will want to remove a bit of fill to lower the loft and soften the firmness. Doing so will help maintain proper spinal alignment and avoid neck strain.
Stomach sleepers, on the other hand, would need to remove a considerable amount of fill to lower the loft enough to be soft and flat— both crucial for stomach sleepers to achieve healthy spinal alignment.
Overall, if you're a back or side sleeper, or a combination of both, the Otter pillow will be a great option for maintaining spinal alignment. But, if you primarily sleep on your stomach, I wouldn't say the Otter pillow would be your best option for maintaining spinal alignment unless you removed a lot of fill. And for the price, you may want to look for a better fit on our Best Pillows for Stomach Sleepers page.
Adjustability: 5/5
Easily adjustable so you can customize the feel and height to your preferences.You can easily shape the pillow, fold it, mold it, etc. The adjustable pillow gets a perfect score for adjustability!
Fully stuffed, the Lagoon Otter pillow has a very high loft. I'd say that high of a loft would really only work for side sleepers or heavyweight back sleepers who are going to make more of an impression on the surface. However, for back or stomach sleepers, it's likely you'll have to remove a bit of fill to lower the loft enough to be comfortable.
Quality of Materials: 4.5/5
The Lagoon Otter pillow is definitely a high-quality choice. Not only does it look and feel luxurious, but the Otter pillow is also filled with CertiPUR-US certified foam, which means it's free of any and all harmful chemicals so you can rest assured you're sleeping against a safe and healthy foam material. The cover of the pillow is also hypoallergenic, which I always appreciate since I myself have to buy hypoallergenic products. It's another added measure of care and consideration that Lagoon has implemented in their products.
Care: 5/5
The Otter pillow is fully machine washable. However, the components have different care instructions.
For the cover, machine wash in cold water on a delicate cycle. Tumble dry on a low heat setting.
As for the inner pillow, you can both spot clean and machine wash it. For small stains, Lagoon suggests simply spot cleaning. However, for a deeper clean, make sure the zipper is fully zipped and wash the entire inner chamber in cold water on a delicate cycle. Tumble dry on a low heat.
If you do fully clean the inner fill, Lagoon says to not wash more than one time a year.
To maintain the plushness of your pillow, throw your pillow in the dryer and run it on low heat for 10 to 15 minutes.
Customer Experience: 5/5
When you visit Lagoon's website, they offer a super helpful pillow quiz. You'll be prompted to answer seven preference questions and get matched with the right Lagoon pillow for you out of their eight models.
As for policies, Lagoon Sleep offers a 100-night sleep trial period as well as a 5-year limited warranty for their pillows. They ship for free within the 48 contiguous states in the U.S. within three to five business days. A standard shipping fee will be added to orders for Alaska, Hawaii, and Canada. While their trial period is the industry standard, the 5-year warranty is much longer than the standard 1-year, which I always attest to the company's quality assurance.
Lagoon's warranty covers manufacturing defects and damage from correct use.
If you want to return your pillow within that 100 day period, visit lagoonsleep.com/returns. Lagoon offers a prepaid return label for easy, free returns.
Another nice feature of Lagoon's policies is your ability to exchange your pillow. So, if you try the Otter, but decide it's not for you within 30 days of receiving your pillow, you can initiate an exchange by contacting the company at help@lagoonsleep.com and let them know which model you'd like to swap your original pillow out for.
Total Score: 4.75/5
Side Sleeping
The Otter is a great side sleeper pillow! As a side/back combination sleeper, I really enjoyed sleeping on it because of its high loft and impressionable give. Fully stuffed, its medium to medium-firm feel can accommodate average to heavyweight side sleepers, but more petite side sleepers may want to remove some fill and lower the loft.
Back Sleeping
The Otter is also a great back sleeper pillow. I would suggest removing a bit of fill, regardless of body type, to lower the loft so your spine stays in healthy alignment. But regardless, I experienced nice pressure relief and support around my neck.
Stomach Sleeping
While this pillow would work for some stomach sleepers, you'd need to remove a good amount of fill to get the loft low enough to maintain proper spinal alignment and avoid neck strain. But, that's the best feature of this pillow—the personalization! However, for the price, it may not be worth it if you have to remove a considerable amount of its contents.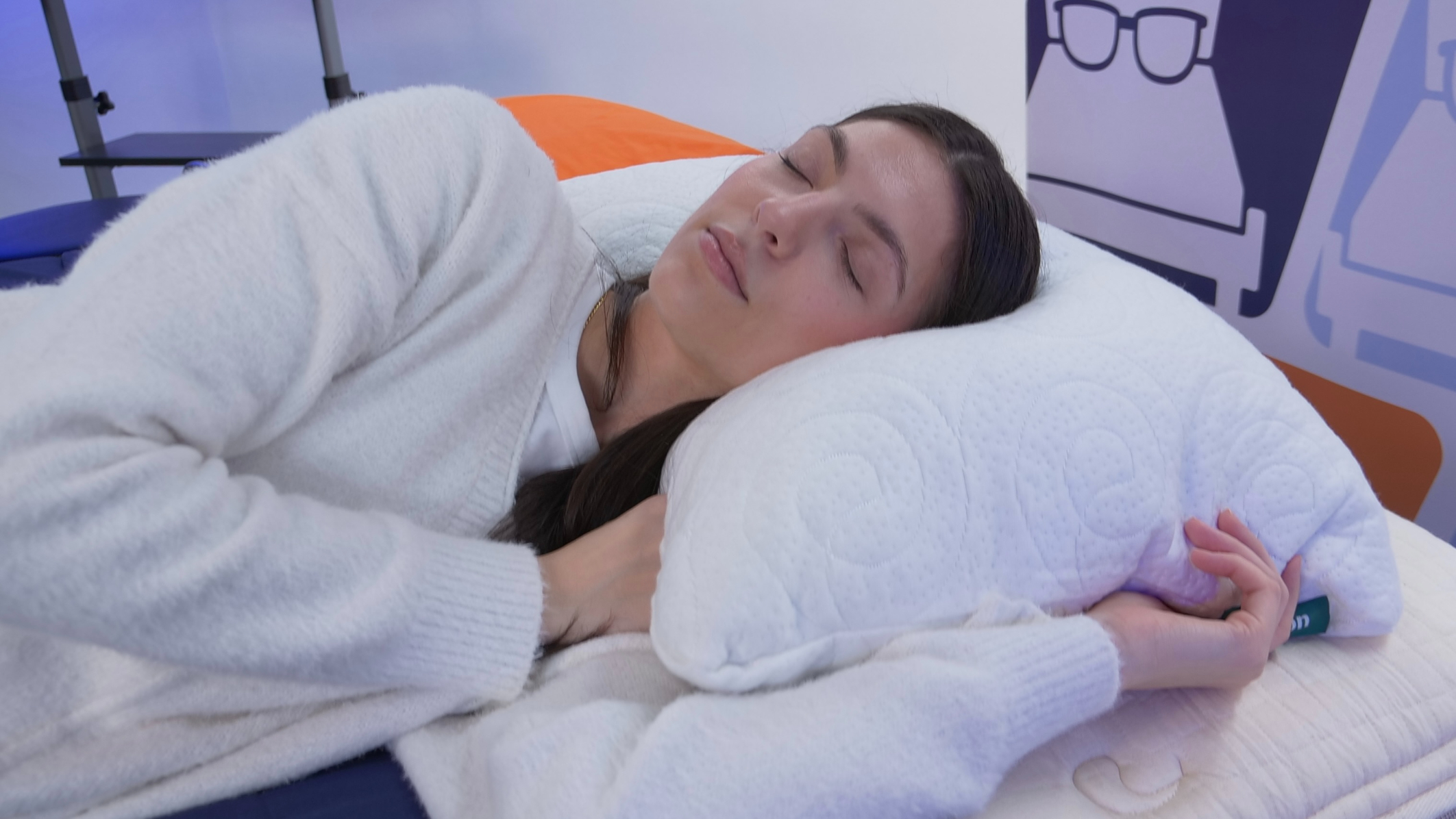 | | | |
| --- | --- | --- |
| Score for Side Sleepers | Score for Stomach Sleepers | Score for Back Sleepers |
| 5/5 | 3.5/5 | 4.5/5 |
Pros/Cons
Pros
Adjustable fill: An adjustable fill pillow is great for personalization. You can easily change the feel and height of the Otter pillow to suit your needs and comfort.
Works for hot sleepers: The gel-infused foam and shredded construction promotes airflow and prevents body heat retention for those who sleep notoriously hot.
Great pressure relief for neck pain: Memory foam is known for its pressure relieving capabilities. So, if you experience neck pain, this pillow will be a great option for supporting your head and neck.
Cons
Not the best option for stomach sleepers: Although this pillow could work for stomach sleepers, there are better options that come with a soft feel and low loft. For the price of the Otter pillow, it may not be worth it to buy the entire thing just to remove half of its contents.
Pricey: The Otter pillow retails for over $100.
Sizing, Pricing, and Policies
| | | |
| --- | --- | --- |
| Size | Dimensions | Price |
| Queen | 20″ x 30″ | $119.99 |
| King | 20″ x 36″ | $139.99 |
Shipping
The Lagoon Otter pillow ships for free within the contiguous United States. Customers looking to ship to Alaska, Canada, or Hawaii will be charged an additional shipping fee.
Trial Period and Warranty
Lagoon offers a 100-night sleep trial period for its pillows, as well as a 5-year limited warranty.
FAQs about the Lagoon Otter Pillow
Does Lagoon Sleep ship internationally?

No; according to Lagoon's website, the company only ships within the U.S.
Which Lagoon pillow is best? 

Lagoon offers eight pillow models. Each pillow has been designed with a specific type of sleeper in mind. We wouldn't say one is "best" considering each is very different. Here's a general rundown of each model and what they're known for:

The Otter Pillow– Cooling & Supportive
The Fox Pillow*– Soft & Supportive
The Chinchilla Pillow– Ultra Soft
The Meerkat Pillow– Hybrid Construction & Foam Core
The Hippo Pillow– Cooling & Firm
The Lemur Pillow– Eco-Friendly Bamboo & Recycled Microfibers
The Puffin Pillow– Medium-Soft & Down Alternative
The Koala Pillow– Organic 100% Australian Wool

* = Best Selling Model
Is the Lagoon Otter pillow hypoallergenic?

The cover on the Otter pillow is hypoallergenic. So if you are an allergy sufferer, like me, that's a great feature.
The Nerd's Final Take
Overall, the Lagoon Otter pillow is a great choice for anyone looking to invest in a high-quality, personalized pillow. We've reviewed similar adjustable fill models, like the Layla Kapok pillow, or the Coop Sleep Goods Original pillow. However, what stands out about the Otter is its compatibility with both hot sleepers and those who experience neck pain. The gel-infused memory foam balances the needs of both groups— which is great since traditional memory foam tends to trap body heat. I also think the quiz feature on Lagoon's website is super helpful in guiding you towards a pillow that works well for you, even if it's not the Otter pillow.
I would recommend trying out the Lagoon Otter pillow, especially if you haven't tried an adjustable fill model before. The level of customization is ideal for healthy and comfortable sleeping.
| | |
| --- | --- |
| Performance Factor | Out of 5 |
| Cooling | 5 |
| Alignment | 4 |
| Adjustability | 5 |
| Quality of Materials | 4.5 |
| Care | 5 |
| Customer Experience | 5 |
| Total Nerd Score | 4.75 |