Nolah Squishy Pillow Review
•
Disclosure: By clicking on the product links in this article, Mattress Nerd may receive a commission fee at no cost to you, the reader. Read full disclosure statement.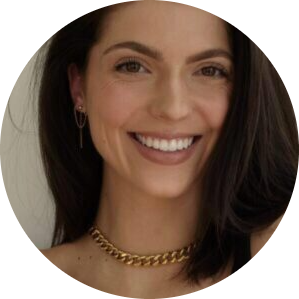 Methodology
Here at Mattress Nerd, we've tested hundreds of pillows to bring you unbiased, expert reviews of the top brands. Learn more.
In This Article
We'll share our experience testing the Nolah Squishy pillow. We recently updated this article with our improved testing.
The Mattress Nerd's Take: The Nolah Squishy pillow is just as huggable as it sounds. It comes overstuffed with gel memory foam and poly-fiber fill, and can be adjusted to match your preferred feel and loft level. We recommend it to everyone except for down lovers, combination sleepers, and those with budget constraints. It even earned our top spot on both our best pillows and best pillows for side sleepers roundups!
Who It's Good For
Strict

side sleepers

Strict

back sleepers

Couples (since the Nolah Squishy pillow is sold as a two-pack)
Who It's Not Good For
Stomach sleepers

—instead, consider the

TEMPUR-Cloud pillow,

which has a lower loft that better suits stomach sleeping

Combination sleepers

—instead, consider the Coop Home Goods pillow, which is springy and also has an

adjustable

fill level

Budget shoppers—instead, the Miracle Bamboo pillow also has the softness of bamboo-derived fibers for one-eighth of the price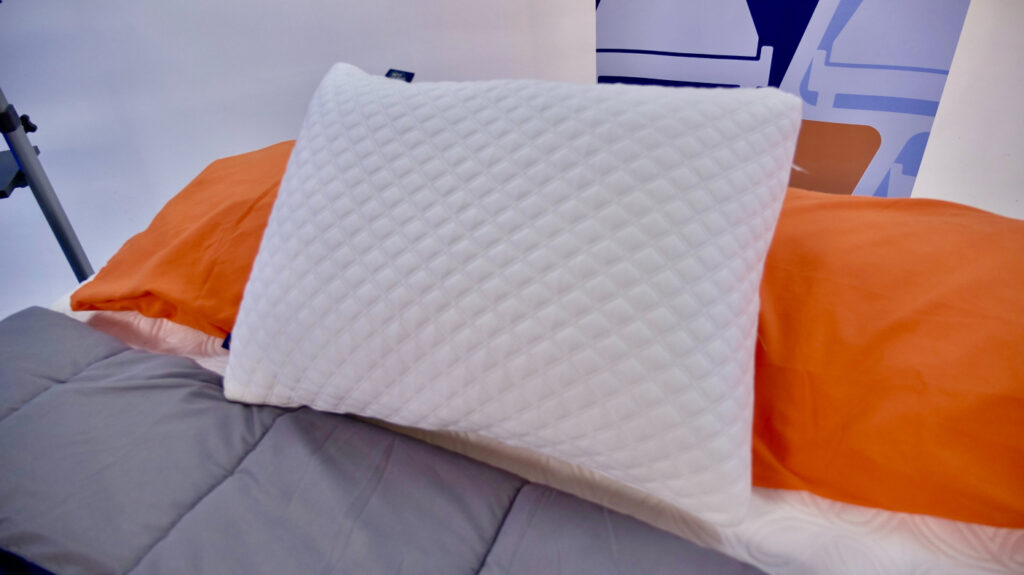 Video Review
Don't feel like reading? Join me as I talk through who the Nolah Squishy pillow is good for and who it's not so good for.
A Look Inside
The Nolah Squishy pillow has an outer pillowcase and an inner pillow liner. The outer pillowcase can be used on its own and is removable and machine washable. I enjoyed using this pillow without an additional pillowcase because it's really soft and smooth—it has a feel like the plush lining of your favorite sweats.
The pillowcase material is made from 65 percent polyester—a durable synthetic material—and 35 percent viscose from bamboo—which is known for its plush softness and moisture-wicking properties. The fabric is quilted in a diamond pattern for added texture and breathability.
The inner lining is more like a padded pocket. Unlike the thin nylon-like liners we normally see holding pillow fill, this inner chamber is made from a thin layer of memory foam. It gives the pillow a more uniform feel—so you don't feel the individual pieces of fill like you do with other shredded memory foam pillows.
Lastly, the fill at the core of the pillow is made up of 85 percent cube-shaped memory foam pieces and 15 percent poly-fiber strands. The cubes of memory foam are embedded with tiny, cooling gel beads. The wisps of poly-fiber are fine and silky, and fill in the space between the memory foam pieces.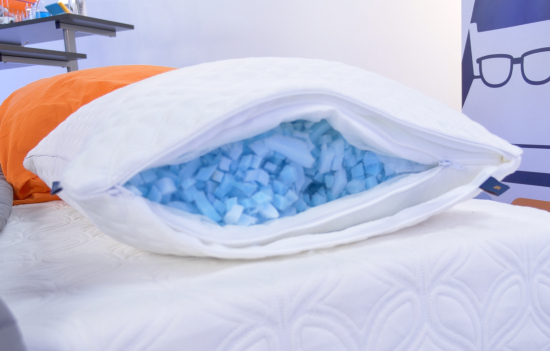 Mattress Nerd Pillow Scores
Whenever we bring a new pillow into our testing lab, we take a close look at a few key factors. Our goal? Help you get a clear idea of whether or not it's the right pillow for you. We consider the pillow's temperature, how well it keeps your neck aligned, whether or not it's customizable, the quality of materials used, the ease of care, and customer experience.
Cooling: 4/5
The Nolah Squishy pillow didn't absorb as much body heat as we expected for a memory foam pillow, probably because of the breathable pillowcase and good airflow through the pieces of fill.
There's a chance it will retain some heat in a warm room or for those particularly prone to overheating at night; otherwise, it's a good temperature-neutral option for the average person.
Related: Best Cooling Pillows
Alignment: 4.5/5
You're probably aware that your neck has a natural curve, and when you kink the muscles in your neck, it can cause some serious pain. To avoid neck or back pain, you need a pillow that provides neck support and cradles the weight of your head.
Your sleeping position and body type (for example, the breadth of your shoulders) determine the best pillow shape and firmness for you. Side sleepers need more loft to keep pressure off their shoulders, while back and stomach sleepers need a lower loft to prevent their neck from arching out of alignment.
The Nolah Squishy pillow can work for all sleeping positions because you can customize the fill level. Back and stomach sleepers will want to remove some of the fill, but it should work for most side sleepers right out of the box.
The half-point deduction comes from the lack of a gusset around the edges of the pillow, which helps to keep the pillow more level and the fill more evenly distributed.
Adjustability: 5/5
The Nolah Squishy is an adjustable pillow, meaning you can add or remove fill until the feel matches your comfort level. Both the pillowcase and inner lining have zippers along the side that enable you to easily access the fill.
The pillow comes overstuffed, and it's pretty heavy. If you were in a pillow fight, the heft of the Squishy would put some power in your swing. But because the memory foam fill is so dense, it takes some effort to change positions.
You've got to press pretty hard on top of the pillow to compress it. For reference, we measured the pillow at 7" tall with all the fill, and after applying weight comparable to the human head, the center of the pillow had only sunk to 5". This means the Nolah Squishy is great for support and pressure relief, but not for those who like to fold or bunch their pillow (down pillows are better for that).
I personally love how moldable the pillow is; for example, I like more loft under my neck than my head, and I was able to adjust the fill so it was denser under my neck and thinner under my head. It kept that shape pretty well if I stayed in one position.
Quality of Materials: 4.5/5
Nolah certifies the foam used in their pillows and foam beds for low emissions and the absence of harmful chemicals. Specifically, they are OEKO-TEX certified and CertiPUR-US certified. You may notice a temporary off-gassing odor after unboxing the pillows, but it's non-toxic.
Additionally, polyester and bamboo-derived fibers are more durable than your standard cotton cover. The only reason we took off a half point is that we'd like to see more recycled or eco-friendly materials in the pillow construction.
Care: 3.5/5
The outer pillowcase is machine washable and dryer safe, but the inner compartment and fill are not. To remove the pillowcase for cleaning, just unzip the cover and pull it away from the pillow core.
Our score in the "care" category would be higher if the whole pillow could be machine washed and dried. Since it's not, keep liquids away from the materials inside the pillowcase.
You can use a pillow protector, but that could interfere with the breathability of the pillow. If you're concerned about messes, we recommend using an additional pillowcase over the one that comes on the pillow.
Customer Experience: 4.5/5
We've had positive experiences with the Nolah customer service team. They're available over web chat, phone, or email for longer hours than most online companies, and they were able to answer almost all of our questions—even offering to email us the next day with an answer.
The Squishy comes with a 120-night sleep trial that's 20 nights longer than the industry average. It's also protected by a two-year warranty, which is a whole year longer than most pillow warranties. Still, we've seen even longer pillow warranties, which is why we docked a half-point on the total customer experience score.
Total Score: 4.3/5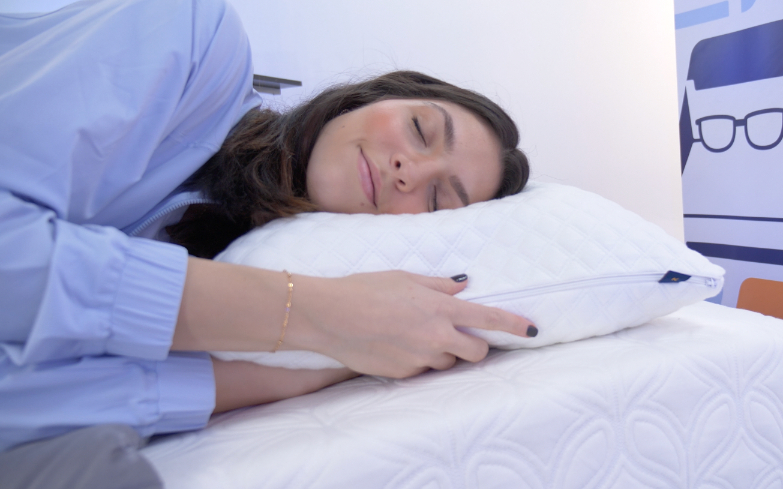 Side Sleeping
As a side sleeper, I love a good lofty pillow. The Nolah Squishy is just what I look for when cozying up on my side. The high loft level keeps my shoulders from feeling strained, and the dense fill prevents my head from sinking too low into the pillow. My neck feels hugged by the pillow, and I love being able to mold the pillow's shape to my needs.
My only caution is that side sleepers with especially broad shoulders may need an even loftier pillow. The Nolah Squishy doesn't come with extra fill, and to our knowledge, Nolah doesn't sell extra bags. Those with bigger bodies may want to opt for a pillow built especially for their body type. For more lofty options, check out our full roundup of the best pillows for side sleepers.
Back Sleeping
I also spend a fair amount of time on my back (the healthiest sleeping position for your spine, according to chiropractors). The Nolah Squishy is great for back sleepers, though they'll probably want to remove some of the fill to prevent their head from dipping down toward their chest.
I do wish there was less taper at the edges of the pillow, but the shape can be molded to create a little nest for your head to rest (don't mind the rhyming; we're hyped on caffeine over here).
Stomach Sleeping
The Nolah Squishy pillow can technically work for stomach sleepers, but these folks will need to remove quite a bit of fill. There are better value options out there for stomach sleepers, so they don't need to bag up half of their pillow to get the right fit. Check out the best pillows for stomach sleepers to see these options.
| | | |
| --- | --- | --- |
| Score for Side Sleepers | Score for Stomach Sleepers | Score for Back Sleepers |
| 5/5 | 4/5 | 5/5 |
Pros/Cons
Pros
Works for All Sleeping Positions:

The

adjustable

fill level enables you to add or remove fill until it reaches the right height to keep your neck and head aligned.

Pressure Relief:

The

memory foam

cubes that make up the bulk of the pillow are dense enough to keep your head and neck stable while providing excellent

cushioning

and

contouring

around your

pressure points

.

Moldable: The conforming foam fill can be loosely molded to fit the curves of your neck and head. This capability can improve your spinal alignment and help prevent neck pain.
Cons
Not Easy to Change Positions:

The

high-density foam

in the Nolah Squishy pillow lacks

responsiveness

and requires more effort to compress, making it difficult for

combo sleepers

to change positions.

Only Offered in a Two-Pack:

The vast majority of pillows that we review are sold individually, but the Nolah Squishy is only offered in sets of two. That means solo sleepers will be paying for twice as much pillow as they probably need.

Not a Good Value for Stomach Sleepers: After pulling out enough fill to get the Squishy pillow to a low enough loft for stomach sleeping, you've basically cut the value of the pillow in half.
Sizing, Pricing, and Policies
| | | |
| --- | --- | --- |
| Size | Dimensions | Price |
| Queen size (two-pack) | 18" x 24" | $198 |
Looking for the best prices on Nolah sleep products? Check out our Nolah Mattress Coupons page for the latest discounts and free gifts (i.e. free pillows, mattress protectors, and sheets) included with your new mattress.
Shipping
The Nolah Squishy pillow ships for free via FedEx in the USA. It comes compressed and rolled in a box—similar to bed-in-a-box mattresses.
Trial Period/Returns/Warranty
It includes a 120-night trial period with a generous return policy: returns are free and include a full refund. Keep in mind, you need to wait until the 30-day "break-in period" is over before submitting a return request. The break-in period gives your body time to adjust to the new pillow.
The Squishy is also protected by a two-year warranty that covers material defects or issues that arise from poor manufacturing. The warranty only applies to the original owner and becomes void once ownership has changed or the pillow is damaged.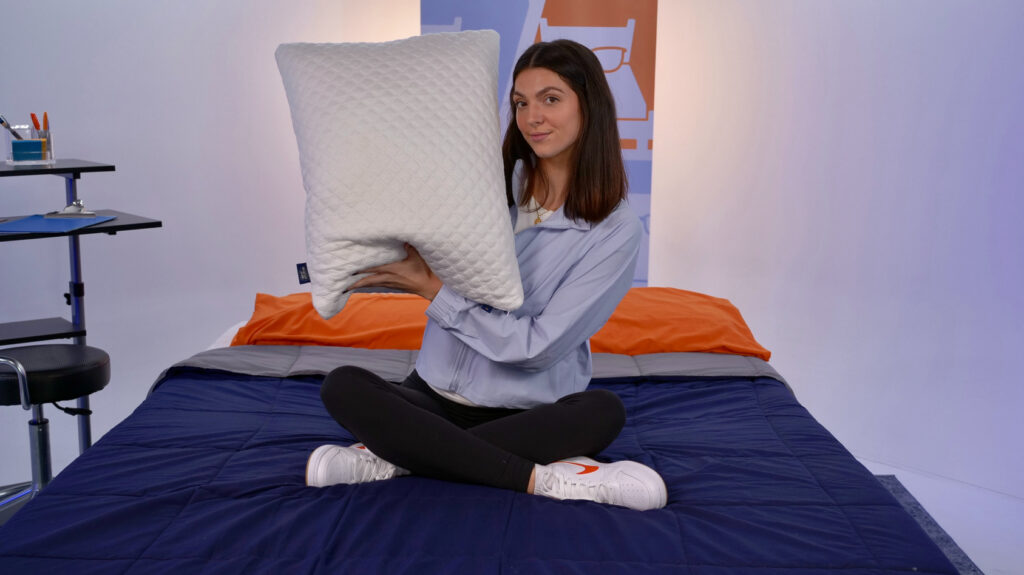 Nolah Squishy Pillow FAQs
Which Nolah pillow is the softest?

Of the three pillows offered by Nolah— the Nolah AirFiber pillow is the softest. It's filled with a light, airy down-alternative that can easily be folded or manipulated to the right position for you. Down alternative pillows are known for their plush, luxurious feel, and the AirFiber is no exception.
Is Nolah AirFoam in Nolah pillows?

AirFoam is Nolah's proprietary high-resilience foam layer that's designed to be extra durable, pressure-relieving, and temperature-regulating. The version in the Nolah AirFiber pillow is softer than the version used as a comfort layer in the Nolah original 10" mattress, the Nolah Signature 12" mattress, and the Nolah Evolution 15" mattress.
What is the best-rated pillow available?

Even with all of our tried-and-true testing methods, we have to admit: comfort preferences are subjective. Even pillows with five-star ratings won't be right for some sleepers. So, we've rounded up some of the best pillows for different kinds of sleepers, on our Best Pillow Guide.
Should You Buy It?
In short, I would buy this pillow—as long as I had someone to share the second pillow with. As a single person, that $198 price point is a stretch.
The combination of the quilted cover, padded liner, and dense fill kept my head and neck much more supported than some of the cheaper polyester fill pillows on the market. At the same time, it was more pressure-relieving than some of the solid foam pillows I've tried.
Combine those qualities with an adjustable fill level, washable pillowcase, and safety certifications, and you've got a great investment in your sleep health as long as you're willing to go double-or-nothing.