TEMPUR-Cloud Pillow Review
The Mattress Nerd's Take: The Tempur-Cloud, Tempur-Pedic's best selling pillow, is designed to be an ultra-soft pillow that's made from a block of memory foam. The pressure relief from memory foam can help neck pain, but it might not be tall enough to support the neck of side sleepers. Stomach and back sleepers should feel right at home on this low-loft pillow.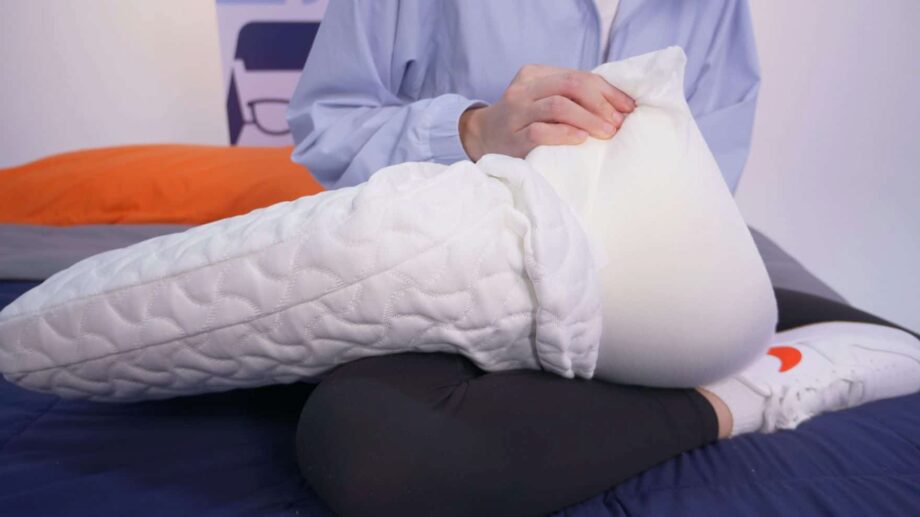 Who It's Good For
Who It's Good For
Back sleepers

Stomach sleepers

Those with neck pain
Who It's Not Good For
Tempur-Cloud Video Review
Want a closer look at the Tempur-Cloud? Watch our video review to see it in action.
A Look Inside
The whole Tempur-Cloud pillow is really only made from two main materials: the memory foam core and the polyester cover.
Memory Foam Core
Tempur-Pedic's patented memory foam has that traditional, contouring, memory foam feel to it. It's very impressionable and slow to respond. When you lie down, the foam will shape to your head, giving you that ultra cradling, engulfing feeling. That means it'll be great for pressure relief if you tend to experience any neck pain, or just like getting your head hugged by your pillow! It's also very malleable, so you can easily form it into whatever shape feels best for you.
Polyester Cover
The quilted 100% polyester knit cover is breathable, removable and machine washable for easy upkeep.
Mattress Nerd Pillow Scores
At Mattress Nerd, we are dedicated to giving you unbiased and honest opinions on the products we review. We compare every product against the following categories and rate them on a scale from 1–5, with 5 being the best.
Cooling: 3/5
The memory foam insert of the Tempur-Cloud has no ventilation or added cooling features, so it can get a bit stuffy over prolonged use. This is typical of memory foam, the material is known for trapping heat. However, I'd anticipate this only being an issue if you're a notoriously hot sleeper. I'm not, and I thought this pillow was pretty temperature neutral, overall.
For the price, I'd like to see Tempur-Pedic incorporate phase change material, or cooling gel, into the Tempur-Cloud pillow since it's the brand's most popular pillow, and those types of cooling features are so heavilyy sought after. The polyester cover is breathable, but not enough to make a big difference.
Two other Tempur-Pedic options that have better cooling features are the Tempur-Cloud Breeze Dual Cooling Pillow and the Tempur-Cloud Adjustable.
Alignment: 4/5
The Tempur-Cloud is a great pillow for achieving proper spinal alignment— especially if you're a stomach or back sleeper. The loft is low enough that both of these positions can sleep comfortably, while their necks and spines stay in a straight line. However, I can only say the same for side sleepers who are on the petite side. Average to heavyweight side sleepers may not find the height tall enough to support their head and neck, while still leaving enough room for the shoulders to comfortably lie. For that, I deducted from the overall score.
Adjustability: 4/5
The overall firmness and feel of the Tempur-Cloud cannot be adjusted, but it does bend and fold very well. You'd easily be able to manipulate and form this pillow into a shape that is comfortable for you. That may be to fold it for added loft, or roll it up to take on the go.
For the most adjustable model from Tempur-Pedic, check out the Tempur-Cloud Adjustable, which comes with removable, shredded memory foam fill.
Quality of Materials: 5/5
Tempur-Pedic is one of the most popular mattress and bedding brands for good reason— their products are amazing. With the Tempur-Cloud, you get a 100% polyester knit cover, the company's patented memory foam block, and a 5 year warranty.
Since we so often see the warranty being an indicator of a pillow's lifespan, I think that speaks even more to the quality of this pillow because Tempur-Pedic backs it for so long— versus other pillow brands that don't put warranties on their pillows whatsoever.
Care: 4.5/5
The Tempur-Cloud comes with a removable, machine washable cover. You can dry it on low or let it air dry.
While the cover can be washed, the memory foam core cannot, or you could risk damaging the material.
Customer Experience: 3.5/5
Tempur-Pedic customer service can be reached in three ways:
Through an online chat feature on their website

By a representative via phone

In person at one of their brick and mortar locations throughout the United States.
Something to note before buying is the company's return//exchange policy. Tempur-Pedic does not offer returns, exchanges or trial periods for their pillows. The only way the company allows this type of request is if there was a defect or damage to the pillow upon delivery.
Total Score: 4/5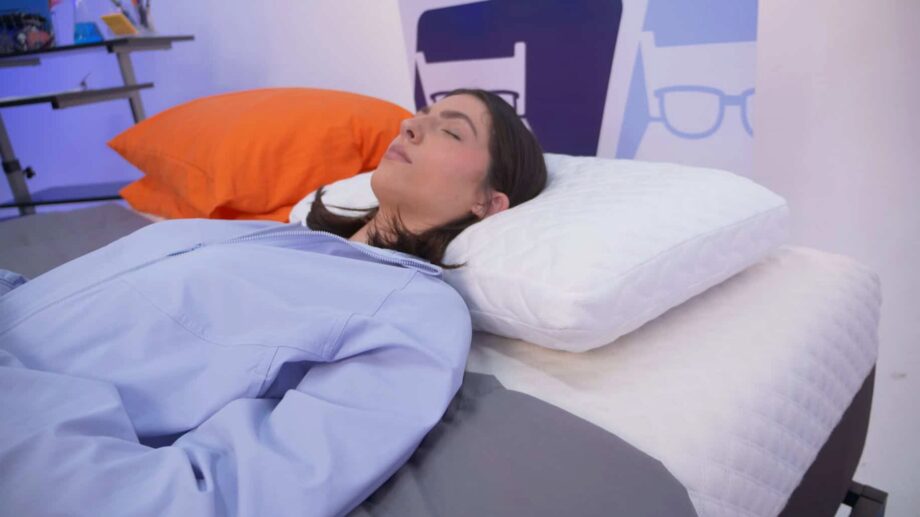 Side Sleeping
Side sleepers, I think this pillow will only be comfortable for your position if you are on the more petite side. Anyone with normal to broad shoulders won't get the necessary loft from this pillow to comfortably rest their shoulders without some serious cramming. Side sleepers need a taller pillow in general that can support their head, while leaving room for their shoulders, and keeping the spine in proper neutral alignment.
Back Sleeping
Back sleepers, I think you will really enjoy this pillow. It has the perfect low profile for you to fit into a comfortable neutral spine position while you sleep. The impressionable foam will keep your neck and head properly supported, while still slightly sinking into the surface for a conforming feel.
Stomach Sleeping
And stomach sleepers, I think you'll love this option too. The memory foam allows for the "perfect sink" into the surface so that your face will comfortably form as you apply more pressure. The loft is also low enough that you won't experience any discomfort from your neck or back when you wake up. This is so important for your sleeping position because if you have a pillow that is too high, your neck will get contorted and you will be out of proper alignment.
Check out the best pillows for stomach sleepers to see these options.
| | | |
| --- | --- | --- |
| Score for Side Sleepers | Score for Stomach Sleepers | Score for Back Sleepers |
| 3.5/5 | 5/5 | 5/5 |
Pros/Cons
Pros
Easy upkeep:

The cover is removable and machine washable, making it a great choice for anyone with hypoallergenic concerns!

Great pressure relief:

This pillow has an extra soft memory foam feel, that'll be great for relieving aches and pains.

Inexpensive Tempur-Pedic option:

The Tempur-Cloud is one of the cheaper full size models the company offers.
Cons
Could get too hot for hot sleepers:

The foam has no ventilation or cooling features, so it could get a bit stuffy over prolonged use.

Tempur-Pedic doesn't offer any trial periods/returns/exchanges:

The company does not allow you to return, exchange or try out your pillow. It's essentially a final sale product unless there is a defect or damage upon delivery.

Not the best option for side sleepers:

May not be lofty enough for average to heavyweight side sleepers.
Sizing, Pricing, and Policies
| | | |
| --- | --- | --- |
| Size | Dimensions | Price |
| Standard (one size) | 33.5 x 16 x 6.5 | $89 |
Shipping
Tempur-Pedic offers complimentary free shipping on their pillows through UPS ground shipping. According to Tempur-Pedic's website, you should typically receive your products within 5-7 business days within the contiguous US. The company doesn't ship to P.O. Boxes.
If you are shipping to Alaska, Hawaii, Puerto Rico and other US Territories, Tempur-Pedic offers standard shipping for $25 per order.
Sleep Trial
Tempur-Pedic does not offer sleep trials for their pillows.
Returns/Exchanges
Tempur-Pedic does not offer returns or exchanges on their pillows. They only allow returns if the item is damaged when delivered or if there is a product defect.
Warranty Coverage
Tempur-Pedic pillows are covered under a 5-year limited warranty. In the event you need to use your warranty, you'll have to file a claim, which would have required you to register your product first. You can do that here. To file a claim, you'll need the following information:
Purchase receipt or a bank statement showing the purchase

Product law tag

Photos of the product

Product in full view without bedding

Close up view of the defective area

Purchase receipt

Law tag
FAQs
What size is Tempur-Cloud pillow?
The Tempur-Cloud only comes in one size. It''ll fit all standard or Queen sized pillowcases.
Do you need to put a pillowcase on your Tempur-Cloud?
Well, thatu2019s up to you. Personally, I like all my pillows to look cohesive with matching pillowcases. But, if thatu2019s not your style, the Tempur-Cloud comes with a removable, machine washable cover that can be slept directly on if thatu2019s what you prefer!
How long should this pillow last?
Since the warranty is for 5 years, thatu2019s usually a good indicator of the pillowu2019s lifespan, but with proper care you should be able to use it for longer.
The Nerd's Final Take
Overall, this top-of-the-line memory foam pillow offers great pressure relief to help ease pain, and its soft feel and low profile are perfect for back and stomach sleepers. However, for those same reasons, the Tempur-Cloud pillow might not be a great fit for side sleepers, and because memory foam can sleep hot, it might not be a good idea for hot sleepers either. The "best" pillow is different for everyone, but if you like a plush, memory foam pillow that feels luxurious but is still easy to take care of, then this could definitely be the best pillow for you.
JUMP TO
Who It's Good For
Tempur-Cloud Video Review
A Look Inside
Mattress Nerd Pillow Scores
Pros/Cons
Sizing, Pricing, and Policies
FAQs
The Nerd's Final Take