Tempur-Cloud Adjustable Pillow Review
The Mattress Nerd's Take: This unique Tempur-Pedic pillow comes with an adjustable, shredded memory foam fill that can be added to or removed, to cater to your own personalized loft and feel preferences—meaning it'll work for all sleeping positions and body types. The Tempur-Cloud Adjustable is also one of the more affordable pillow options that the popular company offers, making it an all around value buy.
Who It's Good For
All sleeping positions
Hot sleepers
Individuals who prefer a fluffy, down pillow feel
Who It's Not Good For
Video Review
Don't feel like reading? Watch me break down the Tempur-Cloud Adjustable Pillow.
Look Inside
Cover: The Tempur-Cloud Adjustable comes with a hypoallergenic, 100 percent polyester knit cover. It is removable and machine washer safe. You can dry it on cool or let it air dry.
Tempur-Blend shredded memory foam fill: The fill of this pillow is shredded up tiny pieces of memory foam protected within a thin casing. The shredded foam can be added to or removed, so you can easily manipulate the height and feel of the pillow to your liking. The Tempur-Cloud Adjustable comes with a more "hot sleeper" friendly construction, versus a traditional memory foam block, because it'll be less likely to retain body heat overnight.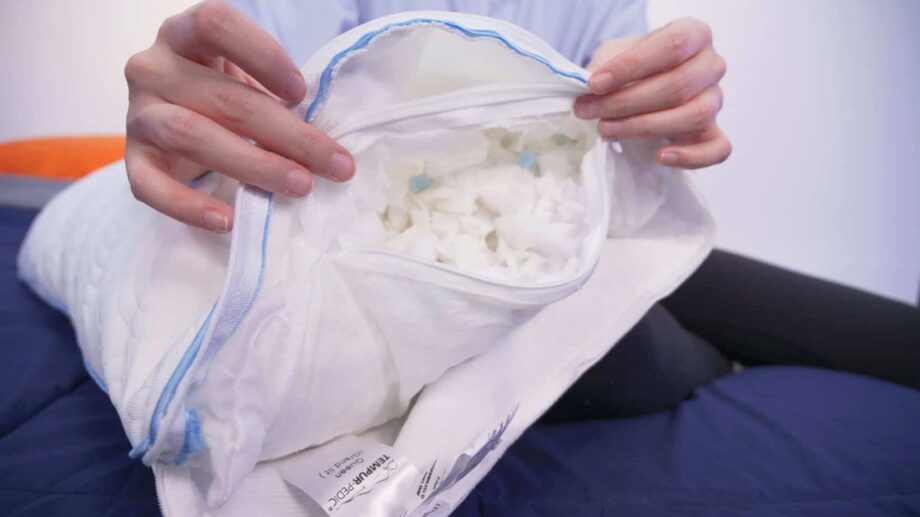 Mattress Nerd Pillow Scores
At Mattress Nerd, we are dedicated to giving you unbiased and honest opinions on the products we review. We compare every product against the following categories and rate them on a scale from 1–5, with 5 being the best.
Cooling: 4/5
This will naturally be a more cool pillow than other Tempur-Pedic models since the inside fill of the Cloud Adjustable is shredded up. This allows for airflow throughout and prevents any body heat from being trapped inside the materials.
However, there are no "advanced" cooling features like phase change material or gel foam. For the price, I wish Tempur-Pedic put more focus into cooling features since that's such a popular need.
But—personally—I didn't experience any issues with overheating when I tried out the Tempur-Cloud Adjustable for myself. However, I usually don't sleep very hot, so this is typically not an issue for me.
Alignment: 5/5
Since you can get this pillow to the perfect loft for your body type and sleeping position by adjusting the fill, the Tempur-Cloud Adjustable makes achieving perfect spinal alignment easy. For reference, stomach and back sleepers need a flatter surface, so that may mean removing some fill or keeping it as is. As for side sleepers, depending on your body type, you can leave the pillow as is or add fill to get the loft high enough to fill the gap between your neck and shoulders comfortably.
Adjustability: 5/5
Naturally, the pillow with "adjustable" in the name gets a perfect score for this category. The shredded memory foam fill can be removed or added, allowing for personalized comfort depending on your sleeping preferences. This pillow is a great value buy that allows you to customize the pillow's feel and loft to perfectly match what feels best for you, wherever you're sleeping.
Quality of Materials: 5/5
Tempur-Pedic is a splurge worthy company for good reason. You get what you pay for. With the Tempur-Cloud Adjustable, the 100 percent polyester knit cover and patented shredded memory foam fill are durable materials and will last you for years, backed by the company's 5 year warranty.
Care: 4.5/5
The Tempur-Symphony comes with a removable, machine washable cover. Machine wash on cold and let air dry.
But, the shredded memory foam core cannot be washed or you could potentially damage the material.
Customer Experience: 3.5/5
You can reach Tempur-Pedic customer service through an online chat feature on their website, representatives via phone, or in person at a showroom throughout the United States.
An important policy to note is that Tempur-Pedic does not offer returns, exchanges or trial periods for their pillows. The only way the company allows this type of request is if there was a defect or damage to the pillow upon delivery.
Total Score: 4.5/5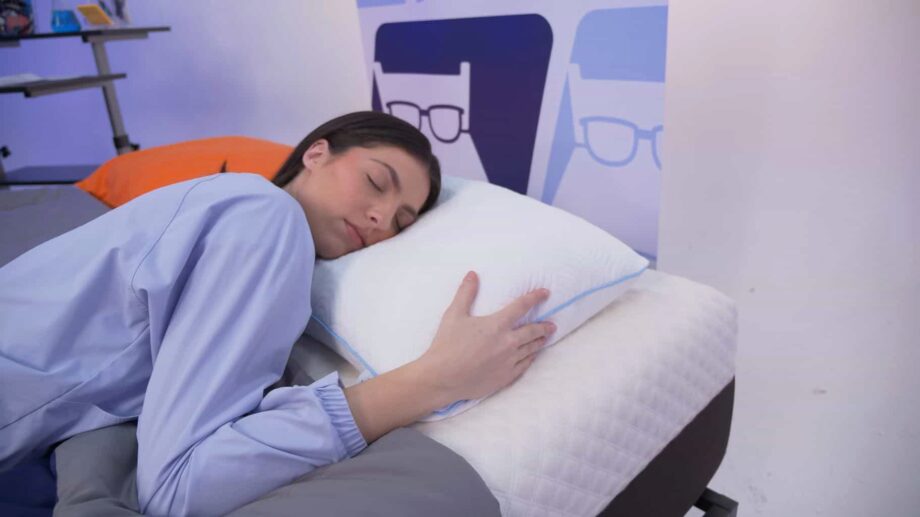 Side Sleeping
Side sleepers, this pillow is a great option for you. Thanks to the adjustable fill, and how easy it is to fluff up this pillow, the loft will be high enough to comfortably suit your sleeping position. I'm on the taller side at almost six feet, so I just fluffed up the existing fill to the middle section, and it was high enough loft for me and my shoulders to feel supported.
Back Sleeping
Back sleepers, the Tempur-Cloud Adjustable will also work for you! Your head will sink just the right amount into the center of the surface while staying propped up and leaving enough room to support your neck and shoulders. Like I said earlier, once you get this pillow, you'll be able to decide whether or not to remove the fill by testing out the loft and seeing what is most comfortable for your body type.
Stomach Sleeping
Stomach sleepers, join the fun because this pillow will also work for you. You should be able to leave the fill as is and just flatten all the fill out to achieve a low enough surface for your sleeping position. However, if you are on the more petite side, you may also benefit from removing some fill for an extra flat feel.
| | | |
| --- | --- | --- |
| Score for Side Sleepers | Score for Stomach Sleepers | Score for Back Sleepers |
| 5/5 | 5/5 | 5/5 |
Pros/Cons
Pros
Works for all sleeping positions–

Since you can adjust the shredded fill, this pillow can work for virtually everyone.

One of Tempur-Pedic's more breathable options–

Thanks to the shredded foam, this pillow has the ability to allow for more airflow than other Tempur-Pedic pillow models. So if you tend to sleep hot but you're interested in this company, this is a great option.

Affordable Tempur-Pedic option–

This pillow retails for around 70 bucks, which is great considering the company has other pillows that retail for over $200.
Cons
No advanced cooling features–

This pillow doesn't have any extra cooling features, which for the price, I wish it did.

Only comes in one size

–If you're like me and you sleep on a king size bed, it's always nice to have king sized pillows to match. Unfortunately, the Tempur-Cloud Adjustable only comes in a Standard/Queen size.

No returns or exchanges–

Tempur-Pedic does not offer returns, exchanges, or a trial period for their pillows. So it's a financial commitment. Once you buy it, you can't return it and get your money back.
Sizing, Pricing, and Policies
| | | |
| --- | --- | --- |
| Size | Dimensions | Price |
| Standard | 25.2″ x 15.6″ x 5.4″ | $69 |
Want the best price for Tempur-Pedic products? Check out our Tempur-Pedic coupons.
Shipping
Tempur-Pedic offers complimentary free shipping for their pillows. Products ship via UPS ground shipping, and according to Tempur-Pedic, should typically arrive within five to seven business days within the contiguous US. The company is unable to ship items to a P.O. Box.
If you are shipping to Alaska, Hawaii, Puerto Rico and other US Territories, Tempur-Pedic offers standard shipping for $25 per order.
Sleep Trial
The company does not offer a trial period for their pillows since it is a personal use item.
Returns/Exchanges
Tempur-Pedic does not offer returns or exchanges on their pillows. They only allow returns if the item is damaged when delivered or if there is a product defect.
Warranty Coverage
Tempur-Pedic pillows are covered under a 5-year limited warranty. In order to ensure the smoothest warranty claim process, the company suggests registering your product, once you receive it, on their website here. Within that five year span of the warranty, if your pillow needs to be replaced, you can file a claim. To file a claim, you'll need the following information:
Purchase receipt or a bank statement showing the purchase

Product law tag

Photos of the product

Product in full view without bedding

Close up view of the defective area

Purchase receipt

Law tag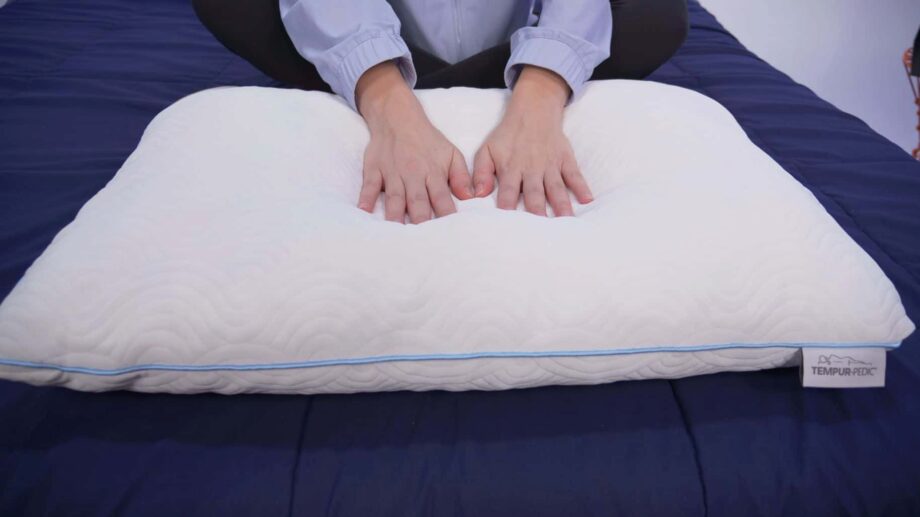 FAQs
What is the difference between the Tempur-Cloud and the Tempur-Cloud Adjustable?
The Tempur-Cloud is another model that the company offers. You can learn more about the Tempur-Cloud in our written review. The only difference between the two is the Cloud has a solid block of memory foam as the insert, versus the Adjustable has shredded memory foam that you can add to or remove to customize to your preferences.
What are the benefits of this pillow?
I'd say the biggest perk is how customizable you can make the loft, which is a fancy pillow term for height. You can add to or remove from the shredded memory foam inside the pillow's case to adjust the height to what feels most comfortable. The more personalized your pillow is, the better it will be able to support your body shape, weight and sleeping position properly— leading to healthy spinal alignment.
Other benefits include:
a machine washable cover
shredded memory foam full construction that allows for airflow
a 5-year warranty
ability to adapt to all sleeping positions
How much does the Tempur-Cloud Adjustable cost?
This pillow retails for $69. It is the cheapest full size pillow that the company sells.
The Nerd's Final Take
Personally, if I was set on a Tempur-Pedic pillow, this is the one I would buy. I love that you can adjust the loft so easily and manipulate the pillow into any shape you want. This is also the only model the company offers that has a down feather, fluffy feeling—which is what I prefer. Plus, it's the most affordable full size pillow out of all the Tempur-Pedic models.
So, if you've been eyeing Tempur-Pedic products, but don't want to break the bank, or you want a versatile pillow that works for multiple sleeping positions, the Tempur-Cloud Adjustable will be your best bet at leveling up your pillow game.
JUMP TO
Who It's Good For
Who It's Not Good For
Video Review
Look Inside
Mattress Nerd Pillow Scores
Pros/Cons
Sizing, Pricing, and Policies
FAQs
The Nerd's Final Take