Tempur-Pedic Mattress Topper Review
The Mattress Nerd's Take: Calling all memory foam lovers! Meet the Tempur-Adapt mattress topper from Tempur-Pedic. It's 3 inches of doughy, impressionable patented memory foam, designed to enhance or improve the original comfort level of virtually any mattress, no matter how firm or soft. The proprietary TEMPUR material is also created with a unique formula that allows it to respond to your body weight, shape and temperature, so that you get a truly personalized sleep experience. The breathable topper promotes airflow and pushes cool air toward your body while dissipating body heat. The Tempur-Adapt topper was formerly named the "Tempur-Topper Supreme".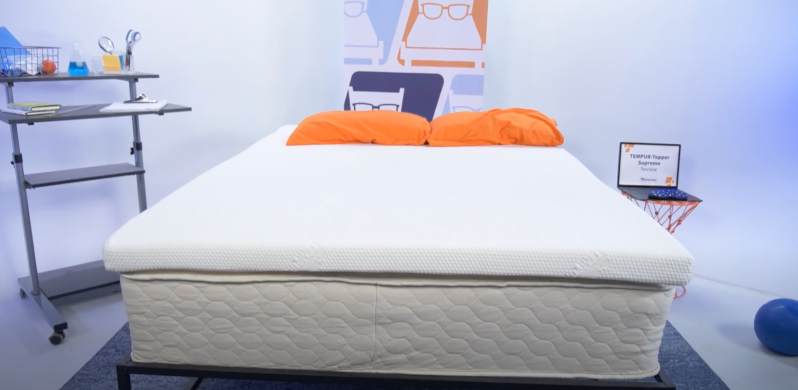 Tempur-Adapt Mattress Topper Video Review
Watch our video review below to get a closer look at the Tempur-Adapt mattress topper!
What Makes the Tempur-Adapt Mattress Topper Stand Out
Pros
The Tempur-Adapt Topper

is 3 inches thick, which is enough to significantly change the feel of your mattress.

The mattress

topper's

removable cover is washable in cold water. It is also highly resistant to

dust mites

, mold,

allergens

and other potentially harmful substances.

The mattress topper comes with a

10-year

limited warranty

.

It's versatile and will work with virtually any type of mattress. The topper can even be used while camping and in recreational vehicles.

The Tempur-Adapt Topper

is on the higher end of the firmness scale, meaning that it will deliver optimum spinal alignment and

pressure relief

.
Cons
While this mattress topper does score higher on the firmness scale, it's still a plush, soft memory foam topper. Thus, some stomach sleepers might find that their hips sink too deeply into the topper, pushing their spine out of alignment.
Most all memory foam traps heat, and this topper is no different. Those sleepers who tend to sleep hot may want to choose another option.
If you feel "stuck" in a memory foam mattress, this TempurPedic topper might not be the best choice for you.
What is the Tempur-Adapt Mattress Topper Made Of?
Proprietary TEMPUR Material
The Tempur-Adapt Topper is made with proprietary TEMPUR foam material that is engineered to respond to each person's unique shape, weight and body temperature, while also constantly adapting to support your overall sleep personality.
Durable Polyester/Cotton Blend Cover
The Tempur-Adapt Topper features a removable and washable cover, which is also mold, allergen and dust mite dander resistant. The canvas-like material on the bottom gives the topper some traction, so it won't move around as much on top of the mattress. The textured material is beneficial because the topper does not have elastic straps to attach to the mattress; it simply lies on top.
If you're a hot sleeper and you're worried about getting too warm on this option, you can upgrade your Tempur-Adapt Topper to a cooling topper for an additional $60!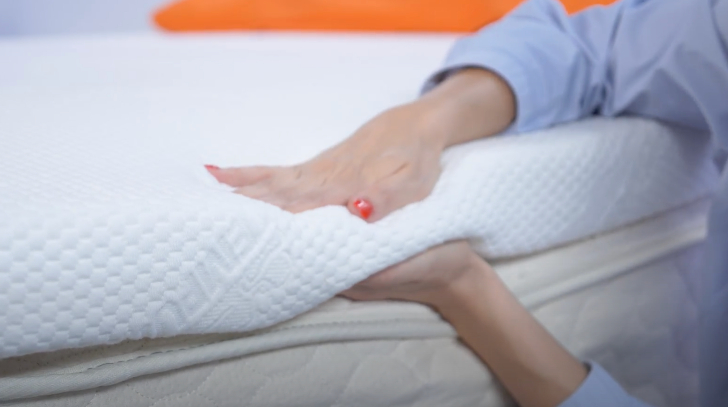 What does the Tempur-Adapt Mattress Topper Feel Like?
The TEMPUR material cradles and conforms to your body in any position. Its relatively high level of firmness delivers comfort and support, no matter if you're a back sleeper, stomach sleeper, side sleeper or combination sleeper. Another benefit of the TEMPUR material is that it can provide pressure-point relief and mitigate back pain. It adapts to your body's curves, and the amount of support it delivers is evenly distributed across the entire surface. The heavier areas of your body, such as your shoulders and hips, will dip further into the topper, while the lighter areas don't sink as much. This allows for spinal alignment with an even amount of pressure on all of your pressure points.
The Tempur-Adapt Topper is regarded as a firm mattress topper, but its TEMPUR material composition is meant to accommodate your body in any position. No matter if you sleep on your stomach, back, side or all of the above, you'll enjoy some degree of spinal alignment and pressure-point relief. Combination sleepers—those who change positions during the night—can also reap the benefits of the TEMPUR-Topper's exceptional motion isolation.
Finally, the TEMPUR material is recognized for its ability to soften and reduce motion transfer. For couples who share a bed, motion transfer can be bothersome, and getting in and out of bed or changing positions can disturb you or your partner's rest. With the added motion stabilization provided by 3 inches of foam in the Tempur-Adapt Topper, you can be comfy when sharing a bed.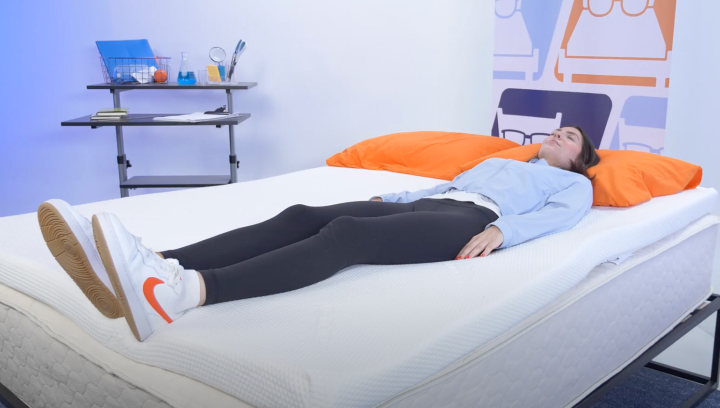 Tempur-Adapt Mattress Topper Pricing and Specs
Size
Dimensions
Height
Price

Twin Size

74" x 38"

3"

$319

Twin XL

Size

80" x 38"

3"

$319

Full Size

75" x 54"

3"

$369

Queen Size

80" x 60"

3"

$419

King Size

80" x 76"

3"

$469

California King Size

84" x 72"

3"

$469
Tempur-Pedic Policies
Shipping
Receive complimentary shipping on all Tempur-Pedic accessories. The company ships any number of items UPS ground shipping for free, with items typically arriving in 5–7 business days to locations in the contiguous U.S.
Sleep Trial
While Tempur-Pedic features a 90-day trial period for its mattresses, its website does not indicate the same trial for mattress toppers. The company accepts returns only if the item is damaged at delivery or if there is a product defect.
Warranty Coverage
The Tempur-Adapt Topper comes with a 10-year limited warranty. This warranty covers any physical flaw in the product that causes the material to split or crack despite normal usage and proper handling. It also includes deterioration of the cell structure of the material that causes the product to not return to its original shape.
Tempur-Adapt Topper FAQs
What is the odor that comes with a new mattress, and how long does it last?
TEMPUR material usually has a slight odor due to the manufacturing process. This smell is harmless, and itu2019s usually gone before the product reaches you. However, if you still notice a lingering odor with your new mattress topper, customers report that itu2019s usually gone within a week or two.
Do Tempur-Pedic mattress toppers need to be flipped?
Tempur-pedic designs its mattress toppers in a way that they do not require flipping or rotating. In fact, the products are manufactured to be slept on in a specific direction in order to achieve maximum comfort.
Does Tempur-Pedic offer special mattress protection products?
You have the option of purchasing a mattress protector to help provide a barrier against liquid spills. This protector traps liquids so that they do not cause stains on the mattress, and it also offers protection against dust mites, allergens and bacteria.
See tempurpedic.com for more FAQs.
The Nerd's Final Take
Tempur-Pedic is one of the pioneers of the memory foam mattress. If you're a budget shopper, their price points might be a little high for you, so why not try their mattress topper instead? It has the same soft, slow-moving feel of the mattress at a fraction of the cost.
Comfort-wise, the Tempur-Adapt topper is best for back sleepers and especially side sleepers, as the topper relieves pressure at the hips and shoulders while keeping the spine in alignment. If you're primarily a stomach sleeper, this is a soft memory foam material, so you might find your hips sinking too far down, placing too much pressure on the lower back.
For couples, the Tempur-Adapt topper is a great option because it delivers big on motion isolation, meaning you won't disturb each other changing positions or getting out of bed in the night. (Another plus, this mattress topper does not emit too much of an off-gassing odor. It also has a machine-washable cover.)
But for those who feel "stuck" sleeping on memory foam, or those who tend to sleep hot, this mattress topper might not be the best choice, because overall it is the original, classic memory foam that's soft and can trap heat.
JUMP TO
Tempur-Adapt Mattress Topper Video Review
What Makes the Tempur-Adapt Mattress Topper Stand Out
What is the Tempur-Adapt Mattress Topper Made Of?
What does the Tempur-Adapt Mattress Topper Feel Like?
Tempur-Adapt Mattress Topper Pricing and Specs
Tempur-Pedic Policies
Tempur-Adapt Topper FAQs
The Nerd's Final Take