Allswell Mattress Topper Review
•
Disclosure: By clicking on the product links in this article, Mattress Nerd may receive a commission fee at no cost to you, the reader. Read full disclosure statement.
The Mattress Nerd's Take: All three Allswell mattress toppers can make a significant difference to the feel of your mattress. If you prefer a firm mattress or if you dislike the "hugging" feeling of memory foam, then these foam toppers may not be for you. But if you're looking for a softer feel or some added pressure relief for side sleepers, then they might be exactly what you're looking for.
Mattress toppers are a great way to make a firm mattress sleep a little bit softer, and they can even help you get a few more years out of an aging mattress. Allswell makes three different memory foam mattress toppers, and each one has its own thickness and key materials.
Find out what makes these toppers different, why they're better than other mattress toppers, and where they might fall short. We cover it all in this comprehensive review.
Allswell 2" Mattress Topper Infused with Graphite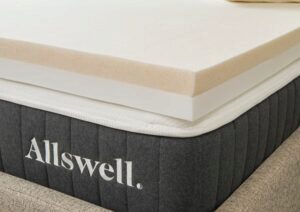 What Makes the Allswell Mattress Toppers Stand Out?
Pros
CertiPUR-US Certified
Each of the Allswell memory foam mattress toppers are made from CertiPUR-US certified foam, meaning it meets rigorous emission and performance standards. This is good for the environment, but it's also good for you. CertiPUR-US certification ensures that the foam releases very small amounts of volatile organic compounds (VOCs). In small amounts, these chemicals are harmless for humans and pets, but in larger amounts they can cause headaches, stomachaches and other health issues.
Antimicrobial
The 2" and 4" toppers are both made with a copper gel infusion, which is beneficial because copper has natural antimicrobial properties. If you tend to wake up with a stuffy nose, your mattress may have slowly absorbed all kinds of bacteria and allergens over the years, but with these Allswell mattress toppers, you can wake up with clear sinuses.
Cooling Properties
No matter which Allswell memory foam topper you choose, 2", 3" or 4", they are all made with various cooling properties. The 3" and 4" toppers come with Allswell's proprietary Coolflow moisture-wicking foam. The copper gel in the 2" and 4" toppers is also great for keeping your body cool, in addition to repelling microbes. Finally, the 2" and 3" toppers are infused with cooling graphite, which also helps you sleep cool all night long.
Cons
All Memory Foam
Although they offer three options, all of Allswell's mattress toppers are made from memory foam, which limits the scope of different comfort levels. Some folks don't like the contouring of memory foam because they feel that the foam sinks them into the mattress in an uncomfortable way. If you're one of those people, then none of the Allswell toppers are going to be the perfect fit for you.
Limited Pressure Relief
One of the best qualities of mattress toppers is how they can add pressure relief to an overly firm mattress, but only one of the Allswell toppers is designed with pressure relief in mind. The 2" topper is crafted from Energex foam, which is specifically designed to absorb and distribute pressure buildup to prevent back and neck pain. However, the 3" and 4" toppers are not made with this foam.
Added Height
The final drawback to the Allswell mattress toppers is that they add extra height to your mattress, which could create a problem for your fitted sheet. This is an issue with all mattress toppers, because the added height makes the fitted sheet slip off the edges.
What are the Allswell Mattress Toppers Made Of?
Pressure Relieving Energex Foam:

The 2" topper comes with a single layer of Energex foam, which is designed for pressure relief. This foam is also infused with copper and graphite.
Moisture Wicking Coolflow Foam:

The 3" and 4" toppers are made with Coolflow foam, which is a great option for hot sleepers who usually avoid memory foam because it's known for sleeping hot. The Coolflow foam is more breathable and cooler than normal memory foam.
Open Cell Memory Foam:
The 4" topper features a dual layer design, meaning both layers are made from open cell memory foam. Copper gel infuses the top layer, and Coolflow foam permeates the bottom layer.
What do the Allswell Toppers Feel Like?
Each Allswell mattress topper feels a bit different, so let's take a look at each one individually.
2″ Energex Memory Foam Mattress Topper Infused with Graphite
This topper is the thinnest, which means it has the least give. It will add softness to your mattress, but it won't make it excessively soft. Made of copper, the topper boasts antimicrobial and pain-relieving qualities. It is also the only one made with Energex foam, which helps relieve pressure from pressure points like the hips and shoulders. With the added graphite, this topper also sleeps very cool.
3" Memory Foam Mattress Topper Infused with Graphite
This topper has an extra inch of comfy memory foam, so it offers more plush comfort than the 2" topper. It doesn't contain copper and it isn't designed to relieve pressure. Still, the 3" topper does consist of graphite to help keep you cool throughout the night.
4" Memory Foam Mattress Topper Infused with Copper Gel
This topper is the thickest and offers the most luxe comfort. It is the only Allswell topper with a dual-layer design, which provides a plush feel with the support you need to sleep comfortably. The bottom layer is Coolflow foam to help you sleep cool all night long, and the top layer is copper-infused, which can help reduce back pain.
Allswell Mattress Topper Pricing and Specs
| | | | | | |
| --- | --- | --- | --- | --- | --- |
| | Twin XL Size | Twin Size | Full Size | Queen Size | King Size |
| 2" Topper | | $68 | $85 | $98 | $125 |
| 3" Topper | $89 | $79 | $95 | $109 | $135 |
| 4" Topper | | $99 | $125 | $135 | $155 |
Allswell Policies
Shipping
Allswell ships their toppers in a box for free to the contiguous United States, and they ship to Hawaii and Alaska for an additional $50 shipping fee. Your topper should arrive three to nine business days after you place the order. Expedited shipping is available to the contiguous United States for two-day delivery with an additional $18 charge.
Sleep Trial
If you want to try one of the Allswell toppers, but you're not completely sure if it's going to be right for you, Allswell offers a 30-day trial period. If you decide that the topper isn't working, you can return it for a refund as long as it is in the original condition and includes all the original packaging and tags.
Warranty Coverage
Unfortunately, Allswell does not cover their mattress toppers with a warranty.
Allswell Mattress Topper FAQs
Do I need a mattress topper or a new mattress?
Before buying your mattress topper to extend the life of your old mattress, itu2019s important to consider the possibility of simply buying a new mattress. A topper adds a comfort layer that can give your bed more of a memory foam feel, but if your mattress has some serious sagging, then a topper canu2019t fix that. It will just make your mattress feel like sagging memory foam.
What is the difference between a mattress topper, a mattress pad and a mattress protector?
A mattress topper is a thick piece of fabric meant to add considerable comfort, while a mattress pad is a thinner fabric that is largely meant to make your mattress a little softer. A mattress protector is a completely different product that doesnu2019t change the comfort level at all; it protects the mattress from spills and stains.
The Nerd's Final Take
Overall, the Allswell mattress toppers are great for hot sleepers who want a memory foam feel from their mattress. If you're a side sleeper, we recommend the 2" topper made with pressure relieving foam. If you have allergies and want an antimicrobial mattress, then go for the 2" or 4" topper. If your mattress is much too firm, then the 4" dual layer is the best mattress topper to soften things up.