Types of Pillow Stuffing
•
Disclosure: By clicking on the product links in this article, Mattress Nerd may receive a commission fee at no cost to you, the reader. Read full disclosure statement.
Buying a pillow isn't as easy as it sounds. In fact, your pillow purchase should take into consideration factors such as price, cover material, breathability, loft, fill, and much more. Pillow stuffing is similar to mattress styles – for instance, hybrid, memory foam and innerspring mattresses – in that it's one of the most influential factors in how a pillow feels, who it's appropriate for and how much it costs. In this article, you'll learn about the different types of pillow stuffings available, who each is best for, and how to choose the right pillow stuffing for your body type and personal preferences. We also share our picks for the best pillows sold today.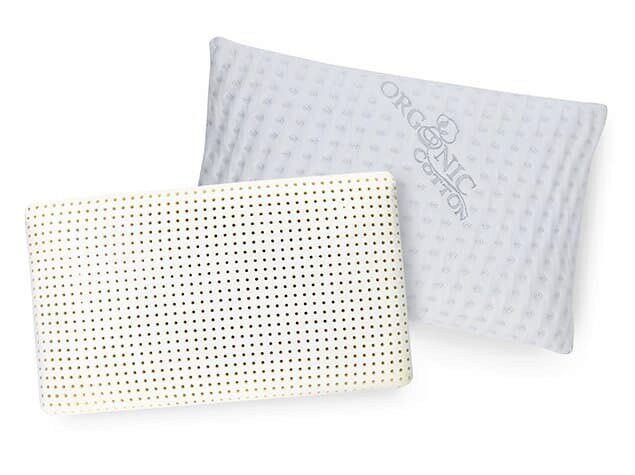 The material a pillow is stuffed with directly affects how it feels, how much it costs and how it influences your health. Here are the most common types of pillow stuffing and the pros and cons of each.
Polyester Fiberfill
Polyester stuffing, or poly-fil, consists of small, curled polyester fibers that are man-made. Sometimes referred to as down alternative, they're designed to mimic the soft, lightweight qualities of down fill. This fill is among the most affordable stuffing types and can be used indoors and outdoors. Polyester pillows are also lightweight and easy-to-clean, but they flatten and lose their shape relatively quickly.
Pros:
More affordable than other types, including genuine down pillows.

Suitable for people who experience allergies when exposed to true genuine down.

Among the most affordable pillow stuffing types.
Cons:
Have poor durability and flatten or lose their shape with type.

Filling clumps easily, requiring frequent adjustments to achieve a comfortable loft.

Retains heat, so you may sleep warm.
Memory Foam
Memory foam pillows are either filled with shredded memory foam or have a solid block of memory foam inside that's shaped for comfort. Made with polyurethane and other components, memory foam is notorious for its sinking, viscous feel that conforms to a sleeper's head and then returns to its original shape within a few seconds. However, it's also known for emitting a strong odor, the off-gassing smell can be enough to make shoppers with sensitive noses want to avoid it altogether.
Pros:
Malleable, viscous feel for great pressure relief.

Does not clump like polyester fiberfill.

Supportive enough for sleepers of all styles, weights, and body types.
Cons:
May have off-gassing and a strong chemical odor.

Shredded memory foam retains heat, though not as much solid memory foam blocks.

High price point compared to other pillow fill types.
Down Feather
A down pillow is filled with the plumage of ducks and geese. Sometimes confused with a feather pillow, down pillows must have at least 75% down fill and no more than 25% feather fill. This high-quality pillow fill is among the most expensive pillow fills sold today, and pillows of this type filled with pure, white goose down sell for $200 or more.
Pros:
Exceptionally lightweight and malleable beneath a sleeper's head, which improves overall comfort.

Absorbs less body heat than other types,

helping sleepers stay temperature neutral

regardless of the season.

Above-average lifespan, which may help some shoppers justify the investment.

Down fill has a signature soft, cuddly, malleable, and luxurious feel that is reminiscent of a luxury hotel.
Cons:
One of the most expensive pillow fills available today.

The structure of the down requires pillows filled with it to be fluffed on a regular basis.

Down may cause an allergic reaction for some sleepers.

May not be supportive enough for

heavyweight sleepers

.
Buckwheat Hulls
Buckwheat hulls are a pillow stuffing type made from the outer shell of buckwheat kernels. When used as a pillow filling, five to ten pounds of buckwheat hulls typically fill each pillow. Buckwheat hulls are known for sleeping cool and conforming to the head of the sleeper. They provide a nice combination of firmness and malleability, which makes them a nice fit for most sleeping styles and good pillows for combination sleepers.
Pros:
Longer-than-average lifespan.

Airflow between the shells promotes breathability.

One of the most supportive pillow fill types for the head and neck.
Cons:
You may hear a rustling noise when shifting positions on the pillow.

Are heavy and difficult to move, weighing up to ten pounds for a standard pillow.

Buckwheat hulls don't collapse much under pressure, so they may feel too firm for some.
Cotton
100% cotton fabric is a readily available, breathable and comfortable filling that can be found in organic and raw varieties or mixed with shredded polyester. Cotton is soft to the touch, making it easy to work with, and it's also naturally hypoallergenic. It's a little more firm than polyfill, making it a good choice for people who want a middle-of-the-road price point with more durability.
Pros:
When

all-natural and organic

, it's free of potentially harmful materials found in synthetic foam pillows.

Naturally breathable, helping sleepers stay cool.

Naturally hypoallergenic.

Universally comfortable feel that people find it easy to sleep on.
Cons:
Fibers of cotton may clump together over time.

The filling may need to be replaced more frequently than other types.

Can work for all sleeper types, but it's best for side sleepers.
Kapok
Otherwise known as Ceiba Pentandra, Kapok is a tree found in Mexico that produces flowers with a cotton-like, fluffy feel. As a natural fiber, Kapok fill is 100% natural and organic, making it a great choice for people with allergies or who are sensitive to smells.
Pros:
Free of potentially toxic materials.

Eco-friendly.

The soft texture mimics the feel of foam and down pillows
Cons:
Not as widely available as other filling types.

Very flammable.

Quickly develops lumps and is not as malleable as foam or polyfill.
The right pillow plays an essential role in your overall sleep quality. Even if you're not purchasing bed pillows and are looking for a pillow or DIY pillow fill for bean bag chairs, a pouf, or throw pillows, material composition is one of the most important considerations to ensure you choose the right one.
What is Your Budget?
Whether you're purchasing pillow fill for a DIY home decor project (stuffing pillows on your own) or simply educating yourself about the best new pillows out there, it can be helpful to understand that pillow fill is very closely tied to pillow price.
Polyester and down alternative-filled pillows tend to be the most affordable. Buckwheat pillows, memory foam pillows, and latex pillows have a moderate price point, and organic pillows and authentic down pillows tend to be the most expensive options.
What Type of Pillow are You Purchasing or Refilling?
Are you purchasing a throw pillow? A new pillow for your bedroom? Refilling your sofa cushions? The type of pillow you're working with will have an impact on the fill that's right for you.
Unless you suffer from allergies, most throw pillows should be filled with a mix of down and feathers. This creates an accommodating, fluffy texture and feels better than a foam insert. Outdoor cushions should be filled with a weather-proof filling and covered in outdoor-friendly upholstery. Finally, your sleeping pillow fill should be determined by your personal preferences: for instance, your sleeping position, budget, and how you'd like to wash your pillow. Learn more about bed pillows in our Best Pillows Guide.
How Much Stuffing Do You Need?
If you're refilling a pillow or creating a DIY pillow at home, the most significant choice you'll make is the material you want. Next, you'll need to decide how much stuffing you need. Stuffing is usually sold by the pound, but some options are sold by the gram. Choose your stuffing amount based on how many pillows you plan to fill or refill.
Whether you're purchasing a new pillow or breathing new life into one you've had for years, understanding the types of pillow stuffing available is essential to choosing the right pillow for your bed, living room or patio. By considering the best material for your budget, personal preferences, and the function of the pillow, you're more likely to choose the best pillow stuffing for the project.