Disclosure: This site receives a payment from Saatva when you purchase a product using any links to that company in this article
Saatva is one of the first direct-to-consumer online mattress companies. The Saatva mattress is a little different from the other "mattress-in-a-box" companies out there, because this one doesn't come in a box at all. It's a regular innerspring mattress delivered to your door by delivery professionals.
---
The short version: The Saatva is a solidly-made innerspring mattress with more of an old-school feel. If you like the way high-end, luxury mattresses used to feel 20 years ago, the Saatva is a great choice.
The Luxury Firm version (which is their middle firmness) is quite firm, so if you like a firm mattress, go with that one.
Get the Firm if you like a very firm mattress.
Otherwise, get the plush. If you want a very soft mattress, the plush might not be soft enough.
---
Continue below for the rest of the article, where I will examine in more detail the construction of the mattress, how the mattress feels, the warranty, return policy, and price.
Construction
Saatva is a more traditional innerspring mattress. The construction reminds me of old-school luxury mattresses. Whereas most innerspring and hybrid mattresses today use individually wrapped coils in the support system, Saatva uses a heavy duty "Bonnell" coil system, which was much more popular 15 years ago. This leads to a fairly rigid support, meaning most of the "contour" in the mattress comes from the top layers.
Above the support coils, there is a second layer of coils which are more designed for comfort and the ability to contour to your body. They're smaller individually wrapped coils. Some other brands would call these "microcoils," but Saatva doesn't use that terminology. Above that are foam comfort layers.
The Saatva uses "eco-friendly" foams, but it's not purely organic or anything. The cotton in the cover is organic, and Saatva doesn't use any formaldehyde when processing their foams, so if that's important to you, you can rest easy. If you're looking for something purely organic, this isn't it. (In car terms, you're not buying an electric car, but at least you're buying a hybrid).
All firmness options also come in a height option. You can get the mattress in either a 14.5 inch height or 11.5 inch height. The difference is in the support coil system height. The 11.5 inch height is easier to get in and out of in most cases, and only the 11.5 inch version can be used on an adjustable base, so I'd recommend that one as the "standard" option. Only get the 14.5 inch version if you want an extra-tall mattress that won't be on an adjustable base.
How it feels
Saatva sent me one of their "Luxury Firm" mattresses to try out, so I can only comment directly on how that one feels. That is the most common firmness anyway.
The Luxury Firm felt surprisingly firm. It didn't contour to my body much at all. This is likely because the coil system is much more rigid than I'm used to in most modern mattresses, but if you like an "old-school" feel to your mattress (especially if it's an older luxury mattress with some padding), you'll be right at home. The top layer contours a bit, and then you are at an obvious "floor" as far as how far it goes down.
Since I only slept on it for a couple nights, the foams didn't really break in much, but since part of their comfort layer is another coil system, it shouldn't break in that much. The comfort layers don't contain as much foam as you'll get in many pillowtop mattresses these days.
So, if you like a firmer mattress, the Luxury Firm is likely going to be firm enough.
Even though I haven't tried it, I suspect that their Firm version (not luxury firm, the one even firmer) will be firm enough for most people that like a firm mattress. That said, it'll still have some padding, so I wouldn't expect it to feel like the floor.
I also haven't tried their Plush version, but if you like mattresses even a little on the softer side, that's probably the way I'd go. Saatva seems to have taken an "old school" approach to how they describe firmness. By that I mean in the past 10-20 years or so, mattresses have been getting softer. Something that might have been considered "plush" back then might be a "luxury firm" these days.
With that in mind, if you like a really soft mattress, I'd be skeptical about even the Plush version of the Saatva.
On the other hand, Saatva does have a free trial period, which brings me to the next topic.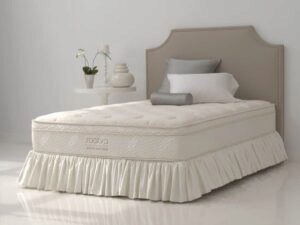 Warranty and Returns
Saatva comes with both a 120 day free trial and a 15 year warranty.
The 120 day trial is pretty straightforward. If you don't like the mattress, you can return it for a full refund of the price of the mattress. They come out and pick it up at no cost.
The warranty is 15 years, broken up into two parts. For the first 2 years, if the mattress is defective, they give you a new one for free. In years 3-15, if something goes wrong with the mattress, they'll repair the mattress for a $99 delivery charge each way (so a total of $198). If the mattress is sagging, the sag has to be at least 1 inch deep for it to count. (Small indents are not  a warranty issue, and are completely normal for mattresses). This is actually a stronger threshold than most innerspring mattresses. The big name brands require the sag to be 1.5 inches deep (and the warranties are usually 10 years rather than 15), so Saatva has a stronger warranty than average.
Despite the 15 year warranty, I wouldn't expect it to remain comfortable for the entire 15 years. That said, the materials they use are pretty strong, so I'd expect a good 10 years of use out of the mattress.
Price
Saatva is roughly the same price as a lot of other direct-to-consumer mattresses, which is a lot less than comparable big name innerspring mattresses. For a similar Stearns and Foster or Beautyrest Black, you're looking at roughly twice the price.
The mattress ranges from $599 in a twin to $1399 for a king, with the queen being $999.
Saatva also has the option to buy some accessories, like a boxspring (or adjustable base if you'd prefer) and a metal frame.
The boxspring is $250 in a queen, which is a pretty standard price for a boxspring. The adjustable base is much more expensive ($1400 in a queen), but really completes the luxury experience. You can raise the head up, feet up, and it has a massage feature. And the price is on-par with other adjustable bases. See my article on adjustable bases for more information.
Delivery
Unlike most other direct-to-consumer mattress companies, Saatva has white-glove delivery for free where delivery professionals will come in and set up your mattress. Most of their competitors will just ship a box via FedEx or UPS and have you set it up. Saatva handles all of the setup for you.
Conclusion
Saatva is a great mattress if you like an older style of luxury mattress. Newer innerspring mattresses use individually wrapped coils in the support and thicker layers of foam on the top layer, and many new mattresses don't use springs at all. The Saatva builds their mattresses in a way that was more common 15 years ago.
So if you don't like how the new mattresses feel, and want a more "classic" luxury mattress, the Saatva is great value for your money.
Disclosure: This site receives a payment from Saatva when you purchase a product using any links to that company in this article
Related Articles
Should you buy a mattress online or in store?