Saatva Organic Sateen Sheets Review
•
Disclosure: By clicking on the product links in this article, Mattress Nerd may receive a commission fee at no cost to you, the reader. Read full disclosure statement.
Who It's Good For
Hot sleepers
Luxury Shoppers
Organic Product Lovers
Those who want silky, buttery sheets
Who It's Not Good For
Budget Shoppers
Those looking for sheets with a lot of color/pattern options
Fans of traditional percale cotton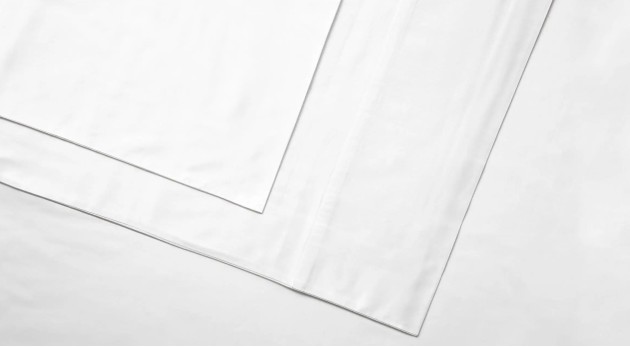 Feel
When I initially unboxed the Saatva Organic Sateen Sheets, they felt a bit stiff— but overall soft. It's always good measure to wash sheets before use to get a true judgment of their feel. So I popped these into the washing machine, and noticed a major improvement to their softness after that.
The sateen weave is what makes them feel buttery soft and luxurious. This type of weave is made by using one-yarn-over, three-yarn-under weave structure. The result? A thicker, silky-soft feel.
Once I put them on my bed, they felt cool to the touch and stayed temperature-neutral throughout the night— meaning I was never too hot or too cold.
Materials and Construction: What's It Made of?
The Saatva Organic Sateen Sheets are made with 100% organic, long-staple cotton. They're high-quality and are GOTS certified, which means they pass rigorous textile testing standards for ethical, organic sourcing.
In a set, you'll get one flat sheet, one fitted sheet, and two pillowcases.
The sheets have a 300 thread count, which refers to the number of threads woven into a square inch of fabric. A thread count that low indicates these sheets will be lightweight and breathable. Higher thread counts have the tendency to trap body heat more easily.
Lastly, these sheets also come with deep pockets that'll fit a thick mattress up to 16".
Mattress Nerd Sheets Scores
At Mattress Nerd, we test products over a range of criteria like quality, comfort, coolness, and company policies—all on a scale of one to five, with five being the best!
Temperature Control: 4.5/5
Overall, these sheets are soft, cool and comfortable. They're made with 300 thread count 100% organic cotton, which is great for not trapping body heat. The higher the thread count, the warmer the fabric becomes. Anything between 200 and 400 thread count will work for hot sleepers, making the Saatva Sateen Sheets temperature-neutral. 
When I was testing them, I noticed they were soft to the touch and kept me cool.
For more bedding options for hot sleepers, check out our Best Cooling Sheets page. 
Customizability: 4/5
When it comes to options, the Saatva Sateen Sheets come in three color and nine size options. The color options are white, ivory, and grey, while the sizes range from twin all the way up to king upper-flex. I wish Saatva offered more colors, but the three colors featured are classic and will go with a majority of room styles and color palettes.

Comfort: 5/5
The sateen weave is the key to comfort with these sheets. Like I explained in the materials and construction section, this type of weave, versus percale weave, makes the fabric silky and sheen. They feel like luxurious, fancy hotel sheets. Perfect score for the perfect feel!
Quality of Fabric: 5/5
I'm very impressed with the quality of these sheets. Saatva is known for their luxury products, and their sheets are no exception. They're made with 100% organic, long-staple cotton. They have a 300 thread count, which is perfect for keeping things cool and soft at the same time.
The sateen weave of the long organic cotton fibers are silky-soft, yet durable, and will get more broken in with each wash.
I also appreciate the deep pockets, which will fit thick mattresses or bed's with toppers on up to 16" high.
Lastly, these sheets are GOTS (Global Organic Textile Standard) certified and made with Fair Trade Cotton.
Care: 5/5
To wash your Saatva Sateen Sheets, machine wash in cold water on a gentle cycle. Do not bleach. You can then tumble dry them on low. Saatva says they intentionally made their bedding larger than needed to accommodate for natural shrinkage after the initial wash.
Customer Experience: 4/5
Saatva offers free shipping within the contiguous United States, as well as a 45-night sleep trial, and a 1-year limited warranty.
A limited warranty means only manufacturing defeats will be covered, not typical wear and tear.
You can contact Saatva customer service by phone (855) 913-5311, email at info@saatva.com , or through a chat feature on their website.
Total Score: 4.6/5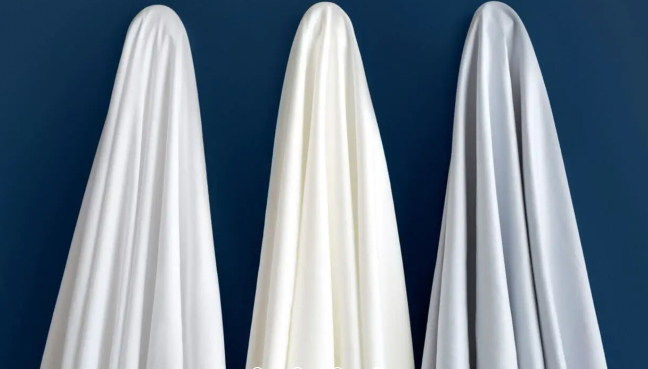 Pros/Cons
Pros
Easy upkeep: You can machine wash and dry these sheets, making them easy to maintain. This is a testament to the quality of materials and how durable they are. The better you maintain your sheets, the longer they will last!
Hotel-like, luxurious feel: The Saatva Sateen Sheets will have you feeling like you have a permanent stay in a five-star hotel room. You're getting what you pay for with these, and they live up to the hype!
Eco-friendly: These sheets are organic, free of harmful chemicals, and sourced ethically and sustainably. Feel assured by your responsible purchase!
Cons
Limited color options: Those looking for a wide range of colors or patterns, these sheets won't be for you. They only come in white, ivory, and grey.
Twin/Twin XL sets only come with one pillowcase: Due to the size of these sheets, Saatva only gives you one pillowcase. Unlike the other larger sizes, which come with two pillowcases.
Pricey: A queen set retails for $215, making them not the most budget friendly option. However, they are an investment item. Plus, Saatva offers a payment plan option at checkout. Prices and promotions are always changing, so be sure to check our link for the best price available.
Sizing and Pricing
| | | | |
| --- | --- | --- | --- |
| Size | Dimensions (flat sheet) | Dimensions (fitted sheet) | Price |
| Twin | 72" x 110" | 39" x 75" x 16" | $145 |
| Twin XL | 72" x 114" | 39" x 80" x 16" | $155 |
| Full | 92" x 100" | 54" x 75" x 16" | $195 |
| Queen | 96" x 114″ | 60" x 80" x 16" | $215 |
| King | 114" x 114" | 76" x 80" x 16" | $235 |
| California King | 108" x 114" | 72" x 84" x 16" | $235 |
| Split King | 114" x 114" | 39" x 80" x 16" (x2) | $275 |
| Queen Upper-Flex | 96" x 144″ | 60" x 80" x 16" | $225 |
| King Upper-Flex | 114" x 114" | 76" x 80" x 16" | $245 |
Shop Saatva.com for more options. 
Policies
Shipping
The Saatva Organic Sateen Sheets ship for free within the contiguous United States. Saatva does not ship to Hawaii, Alaska, or Canada.
Trial Period and Warranty
Saatva offers a 45-night sleep trial and a 1-year limited warranty for their sheets. This means you have 45 nights to try out your sheets and decide if they're for you or not. If you decide they're not the right fit within that time frame, you can return them for a full refund. As for the limited warranty, the company will cover any manufacturing defects that may present. However, they won't cover typical wear and tear.
FAQs
What is the best thread count for sateen sheets?
You should look for a thread count between 300 and 600 for sateen sheets. This insures their breathability, while also maintaining softness and durability. 
How many different sheets does Saatva offer?
Saatva offers three different types of sheets— sateen, percale, and linen. The sateen sheets come in an embroidered option as well. The difference between all three types is the material used. The sateen option is silky and soft, the percale ones are going to be a bit more crisp and cool, and the linen will be more airy. 
How long should the Saatva Sateen Sheets last?
If you use these sheets every day and take good care of them, they should last 2-3 years without any deterioration. The high-quality materials will help to maintain durability and feel throughout that time.  
Are the Saatva Organic Sateen Sheets Worth It?
The Saatva Organic Sateen Sheets are a great set to splurge a bit on and invest in. They're high quality and durable, so they're set to last a few years with proper maintenance. After trying them for myself, the biggest aspects I enjoyed were their soft texture, cool feel, and how luxurious they felt. Sheets are crucial to your sleeping experience. They're what you sleep directly on every night, and in my opinion, it's one of the more important things to invest in when it comes to bedding.
If the price is out of your budget, but you're really interested in these sheets, Saatva offers a payment plan to lower the cost and make the purchase more feasible.
Overall, if you're looking for sheets with a luxury feel, 100% organic and high quality materials, that'll also keep you cool at night, the Saatva Organic Sateen sheets are a great option.
Nerd Score Wrap Up
| | |
| --- | --- |
| Performance Factor | Out of 5 |
| Temperature Control | 4.5 |
| Customizability | 4 |
| Comfort | 5 |
| Quality of Materials | 5 |
| Care | 5 |
| Customer Experience | 4 |
| Total Nerd Score | 4.6 |
Shop related products