Mattress Foundation Guide
•
Disclosure: By clicking on the product links in this article, Mattress Nerd may receive a commission fee at no cost to you, the reader. Read full disclosure statement.
Once you've chosen the perfect mattress, it's important to find the right base. A base, sometimes called a foundation, sits under your mattress to support it and protect it from wear. A quality base will extend the lifespan of your mattress and has the potential to improve your sleep. In fact, many mattress companies require that a specific base type be placed under the mattress in order to file warranty claims.
Read on to learn about the types of foundations available today and which might be right for you based on the type of mattress you own and your personal preferences.
Foundations vs. Box Springs vs. Platform Beds
The most well-known mattress foundation is the box spring. It's a cloth-covered bed base made of a wooden frame and springs or metal rods in a grid pattern in the center. Originally designed to support innerspring mattresses, the springs inside of a box spring provide give to the mattress on top. A box spring is typically placed on a wooden or metal bed frame that's connected to a headboard and footboard.
With the emergence of new mattress types, manufacturers have moved away from box springs in favor of foundations. Foundations are reinforced slats that support the mattress and protect it from falling through the base. Typically, they're a cloth-covered box made of wood with wooden slats on the sides and a flat board on top. Foundations pair with any type of mattress. Like box springs, foundations are usually placed on a wooden or metal bed frame that's connected to a headboard and footboard.
The third type of base is called a platform bed. A platform bed is a frame that's solid or has a built-in slat system, eliminating the need for a box spring. It's a clean, modern look that theoretically works for all mattress types. Platform beds come in many styles, from minimalistic, solid wood varieties to those complete with upholstered headboards and footboards.
Types of Foundations and Frames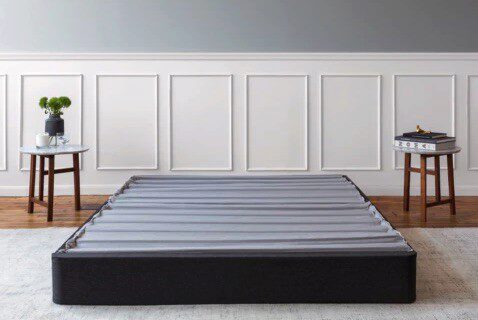 Box Springs
As mentioned, box springs are the most long-standing, traditional bed base. The term "box spring" has become somewhat of a misnomer in the mattress industry as it's sometimes used to describe foundations, which do not contain springs. A true box spring will contain springs and works best with an innerspring mattress.
Price Range (Queen): $70 to $500
Best Paired With: Innerspring mattresses
Top Box Spring Picks
---
Metal Bed Frames
While box springs and foundations are technically okay on the floor, most sit on a metal bed frame, elevating the mattress to a comfortable sitting height. Frames are relatively low cost and the addition of a bed frame also creates extra storage room and aids air circulation. These are not designed to support a mattress without a box spring, as the perimeter frame would not provide sufficient support on its own.
Price Range (Queen): $50 to $150
Best Paired With: Any mattress type paired with a foundation or box spring
Top Metal Bed Frame Picks
---
Platform Beds
A platform bed is a broad term that describes bases designed as a raised platform to support a mattress without a box spring or foundation. Platform bases can be raised wood or metal frames with horizontal slats or solid wood. They're a minimalistic, simple option and create a lower profile bed. Solid designs often have built-in storage.
Price Range (Queen): $200 to $2,500+
Best Paired With: Any mattress type; solid platforms work well for foam and hybrid
Top Platform Bed Picks
---
Slatted Foundations
Slatted foundations are a variation of the platform base. The wood frames have planks of wood, metal, or other materials that span the frame horizontally. The "slots" created allow for added circulation, and the height of the base adds storage space. In most cases, you won't need a box spring with a slatted foundation, but check the manufacturer's recommendations first. Keep in mind that wood slatted foundations, while less expensive than metal ones, may bend over time.
Price Range (Queen): $100 to $300
Best Paired With: Any mattress type
Top Slatted Foundation Picks
---
Metal Platform Bases
Another platform base variation, metal platforms are metal frames with metal slats spaced horizontally for added support. No box spring is required, and the strength of the metal often makes this a better platform option than slatted wood platforms. These are among the most affordable platform beds on the market.
Price Range (Queen): $70 to $250
Best Paired With: Any mattress type
Top Metal Platform Base Picks
---
Adjustable Bed Frames
An adjustable bed frame can adjust a mattress at the head and foot with a remote. These foundations typically come with fancy additions like Bluetooth capability, reading lights, and massaging vibrations. Adjustable bed frames have been associated with reduced acid reflux and improved joint pain.
Price Range (Queen): $1,000 to $2,500
Best Paired With: Mattresses with flexibility (foam, latex and some hybrid)
Top Adjustable Base Picks
---
Bunkie Boards
A bunkie board is a piece of thick plywood that's covered in fabric and set on top of slats. They provide the same support as a box spring without the added height, making them a great choice for a child's bed. They can also be used to add support for foam mattresses resting on platform beds with widely spaced slats.
Price Range (Queen): $50 to $250
Best Paired With: Aging foundations that need extra support, or low profile children's beds and bunk beds.
Top Bunkie Board Picks
---
The Floor
The most obvious benefit of placing your mattress on the floor is that it's free. While the floor is a sturdy surface, it doesn't allow the mattress to breathe and creates an open invitation to dust mites and allergens. If you must place your mattress on the floor, lean it against a wall during the daytime to encourage airflow.
Price Range (Queen): Free
Best Pair With: Foam and hybrid mattresses
Our Top Picks
Any floor, really, as long as it's clean.
---
Why A Good Foundation Matters
A supportive bed base is just as important as the mattress itself. Like we've mentioned, an appropriate base can make the difference in keeping a mattress warranty valid. Foundations ensure that mattresses are properly supported and increase their longevity. They also allow for the customization the height of the mattress and provide air circulation benefits for cooler sleep. Lastly, they act as a protectant by raising mattresses away from dust, dirt, and mold.
What to Consider When Choosing a Foundation
Selecting a foundation for your mattress will depend on several factors, the most important of which is your mattress type. Here are a few guidelines:
For foam and hybrid mattresses,

we don't recommend a box spring, since box springs are designed to support innerspring mattresses. Instead, choose a base with solid reinforcement, like a foundation or platform bed.

A foundation and metal bed frame

is an affordable, simple bed set that raises your mattress off the ground, provides extra storage space and works well with most mattress types.

Consider investing in a platform bed

if you like a stylized, decorative, or modern look. This will take the place of the bed frame and the foundation, and there are hundreds of options and styles to choose from at a variety of price points.

Adjustable bases

increase the versatility of your mattress and are a great option if you want to lounge, relax, read, and sleep in your bed.

If you have an all-foam mattress,

which may sleep warm, consider a slatted foundation or slatted platform base to improve airflow.

Don't discount the size of your mattress. If you have a queen, king, or California king, it will require a foundation that can support its weight, especially in the middle of the mattress. See: Best Mattresses for Adjustable Beds
Similar to the mattress industry, the bed base industry can seem complicated, with a variety of options that may make your decision overwhelming. Don't hesitate to reach out to your mattress manufacturer to find out what they recommend, and then use this guide to further narrow your search.