What's an Adjustable Base Bed?
•
Disclosure: By clicking on the product links in this article, Mattress Nerd may receive a commission fee at no cost to you, the reader. Read full disclosure statement.
Disclosure: By clicking on the product links in this article, Mattress Nerd may receive a commission fee at no cost to you, the reader. Read full disclosure statement.
One of the latest trends in the mattress industry is the adjustable base (also called power bases, ergo bases, lifestyle bases, etc). They offer the option for users to raise parts of their body while still lying down. These have been around for decades but recently underwent a rebrand to attract the increasingly tech-friendly market. More of us are bringing our phones to bed, and adjustable bases are just one way to comfortably watch, text, or surf the web.
Benefits of an adjustable base
Here are some ways an adjustable base can make your life (and sleep) easier:
Reading and watching.

Adjustable bases make it easier to read a book, use a laptop, or watch TV or videos in bed without craning your neck to see a page or screen.
Snoring.

An adjustable base can allow for easier breathing to help with snoring.
Acid reflux.

Easily elevate your head for acid reflux relief without piling pillows behind your neck.
Injuries and circulation.

Elevating the legs can help with circulation issues. It's also recommended for some injuries, like sprained ankles.
Older folks

. Raising the head up can make it easier to get in and out of bed.
Features to look for in adjustable bases
Adjustable bases range in price and their characteristics. Here is a list of helpful features to look out for:
The ability to raise the head and/or feet up. On some models, only the head of the base raises. On others, you can raise both the head and the feet. If you want to raise just your feet, feel free to flip the base around. 
Massage feature. Models with this feature typically have between 1 and 3 different zones of massage. On some models, you can control the intensity of the massage, and even change the pattern of the massage.
Memory positions. Some models have the ability to save your favorite position and return to it whenever you'd like. These also tend to include a "flat" button to return the mattress to its original position. 
Wireless remote. Some remotes will be hardwired to the bed, and some will be wireless. There are pros and cons to each, but most people prefer wireless for a larger fee. Some can even be controlled by an app on your phone.
Other advanced features. Each adjustable base is unique, so not all the features can make this list. Some of the more unique features include a preset "zero gravity" position which allows even weight distribution, or the ability for the feet to actually recline down below horizontal.
Changing your current base
If you're considering making the switch, it's not too big of a change from your usual setup! Many mattresses can work with an adjustable base. Nearly all foam mattresses, most mattresses that use individually pocketed coils, and even some models with "offset" coils that are tied together can work with an adjustable base.
How much does an adjustable base cost?
The price range of adjustable beds range from high to low based on what they have to offer. On the lower end, the cheapest adjustable bases only cost a few hundred more than a regular boxspring and frame. For example, in a queen size, the Falcon by Leggett & Platt runs about $800. A regular boxspring and frame without any adjustability will be about $400. So, instead of buying a normal queen mattress & boxspring set with a new frame for $1200, you can get the mattress and an adjustable base for $1600.
On the higher end, you can spend $3,000 for the best adjustable bases. These bases add the advanced features listed in the previous section like massage features and smart control options.
Here are a few options for adjustable bases at different price points:
Leggett and Platt Falcon

The Falcon is one of the best adjustable bases for the price out there. For under $800 (at the time of writing this), you are able to raise the head and feet of the mattress, plus it has a wireless remote. Many others in this price range either give you a hardwired remote, can only raise the head, or both.
Tomorrow Sleep Adjustable Base
Tomorrow Sleep, a direct-to-consumer mattress company owned by Serta Simmons Bedding, has a good adjustable base here.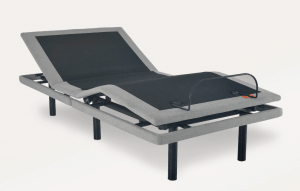 It's only slightly more than the Falcon above, with similar features, but it's designed for quick and easy setup and it has a free return policy. You also get a USB port to conveniently charge your phone. It retails for $900 in a queen, but with my coupon code NERD125 you get $125 off (bringing the price to $874 in a queen).
The convenience of the return policy makes it a low-risk purchase, which helps offset the slightly higher price.
Serta Motion Select adjustable base
This model available at Amazon has just about anything you could ask for in an adjustable base as well as a 20 year limited warranty. It has an adjustable height off of the ground, a zoned massage feature, an "anti-snore" feature in which the bed will adjust slightly to break up whatever position is causing your partner to snore without waking him or her up, a preset "zero gravity" position, and a programmable remote. This is one of the best on the market, and it'll run you about $1500-1700 for the queen size, depending on current sales.
There are other models for even more, but I don't feel they add too much to be worth the extra money for most people. Check out our best adjustable beds guide for more recommendations.
In conclusion
An adjustable base is a great way to enhance your sleep experience. If you're already getting a good mattress, you can make it even better with an adjustable base. If you're getting a low-end mattress, you should take the money you would otherwise spend on the base and use that for a better mattress instead.
But, if you already have a good mattress, or are about to buy a nice mattress, and you can fit it in your budget, an adjustable base is a great idea.