The Mattress Nerd's Take:The Saatva Latex pillow features a pillow-on-pillow design that allows you to easily adjust the height and feel to accommodate your sleeping position. This unique model is made up of a supportive Talalay latex core, wrapped in a plush outer layer of down-alternative fiber, and held all together in an organic cotton cover. It'll work for all sleeping positions, is hot sleeper friendly, and— in true Saatva fashion, sleeps oh-so comfortable. It even made our Best Pillows of 2022 list, as the most "hotel-like" pillow!
Who It's Good For
All sleeping positions

Hot sleepers

Individuals with

neck pain
Who It's Not Good For
Those who prefer a memory foam pillow

Individuals who don't like fluffing their pillows regularly

Budget shoppers
Video Review
A Look Inside
Organic Cotton Cover
The Saatva pillow cover is woven with 100 percent organic cotton sateen. This weave is known for being super soft, breathable, and moisture-wicking. To wash the cover, just unzip it along the side and pull it away from the outer pillow.
Microdenier Fiber
The outer pillow is an organic cotton casing filled with microdenier, which is an ultra-fine synthetic fiber. A denier is a measurement of thickness. For context, a human hair is 20 deniers, whereas microdenier fiber is only 0.9 denier! Picture your pillow filled with airy, silky cotton candy… except less messy.
Microdenier fiber is often used as a down alternative because it's similarly plush and lofty. It's easily fluffed up, which allows for great airflow and a cool sleep experience.
Shredded Talalay Latex
The pillow core is made of a polyester inner pillow stuffed with shredded Talalay latex foam. Talalay is a high-end version of latex, similar to Dunlop latex but more responsive and breathable. Saatva says the material is recommended by chiropractors and orthopedists for its neck support. While we can't verify that claim, we will say that the latex core makes this pillow noticeably more conforming, which helps to keep your head and neck in a healthy alignment. Check out the best latex pillows for more information on the material.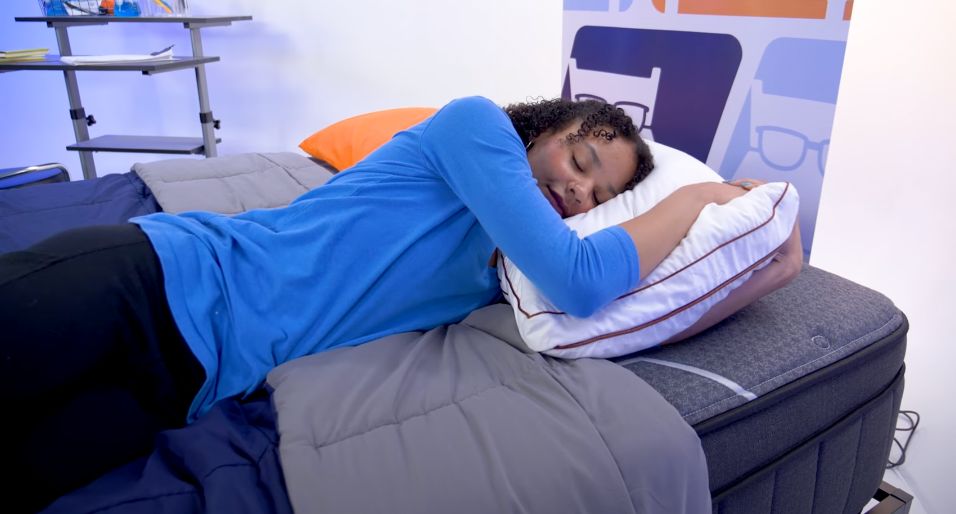 Mattress Nerd Pillow Scores
At Mattress Nerd, we rate products on a scale from 1-5 with 5 being the best. We test each product over six categories ranging from temperature to comfort, so you can get a better idea of how the pillow feels during use.
Cooling: 4.5/5
The Saatva pillow is intentionally layered with three breathable materials to maximize cooling comfort. The cotton cover is lightweight, which allows air to flow freely through the fabric. Good airflow also reduces the accumulation of excess moisture. The outer pillow is stuffed with extra fine, silky microdenier fiber that doesn't clump together, creating countless tiny air pockets that prevent heat retention as well.
The core is also shredded, so you don't need to worry about warmth getting trapped in a solid chunk of foam. Plus, latex is naturally temperature regulating. Overall the pillow sleeps cool for most folks. It's not cool on contact, hence why it was docked a half point, but it won't trap heat like memory foam pillows, so we'd say it's a good choice for hot sleepers.
If you are looking to sleep cool, see the best cooling pillows.
Alignment: 5/5
When you put your head on the Saatva pillow, it feels plush and cloudlike. But unlike 100 percent down pillows, the Saatva pillow has a latex core that adds extra head and neck support, which makes this a great pillow for neck pain. The pillow allows your head to sink down enough for pressure relief, but then the latex compresses, keeping your head level and maintaining your spinal alignment.
We think this pillow has a medium-soft firmness level. The latex core gives it a medium feel, while the microdenier fiber adds softness. If you like the feel of down, but need more support, this may be the pillow for you.
Adjustability: 4.5/5
The Saatva pillow's pillow-on-pillow design allows users to easily adjust the height to their sleeping needs. The fluffy microdenier fill adds quite a bit of height to the pillow, but once your head compresses the surface, it sinks to five to six inches. Keep in mind that microdenier fiber is a down alternative, so it will lose a lot of volume when air is pressed out of it.
However, the Saatva pillow can't easily be folded when the Talalay latex core is inside. Taking the core out makes it more moldable, but memory foam pillows tend to offer sleepers more control over their pillow shape. Once you lie down, the Saatva pillow will keep its shape.
Quality of Materials: 5/5
Almost all Saatva products are geared toward high-end, eco-friendly shoppers. The Saatva pillow is no exception—it's made with high-quality materials like organic cotton, American Talalay latex, and microdenier fiber.
Care: 4.5/5
This pillow has a washable organic cotton outer cover and a microdenier fiber pillow. Before you wash, make sure to take off the cover, remove the inner core of natural latex, and then machine wash both the cover and the pillow. Do not wash the shredded latex core. Saatva recommends washing your pillow twice a year and replacing it after about three years of use. Besides needing to remove the core, the Saatva pillow is easy to clean and maintain.
Customer Experience: 3.5/5
Saatva offers a 45-night sleep trial so you can test out your pillow. The return policy allows you to get a full refund if you decide this pillow is not for you. Saatva asks that you wash your pillow before returning it. They also allow for a pillow exchange if you'd like a different one.
While 45 nights for a trial period is great, the industry standard usually spans 100 nights. With that being said, Saatva lost points for having a relatively short sleep trial.
As for the warranty, Saatva pillows are warranted against defects for one year. In the case of a defect that falls under the warranty, the pillow will be either repaired or replaced and then your original warranty will continue until it expires. It's important to know that Saatva bedding warranties don't cover defects like stains, discolorations, or damages that result from abuse or misuse of the pillow
Saatva offers a customer service chat feature on their website, as well as an email and phone number you can call for assistance.
Total Score: 4.5/5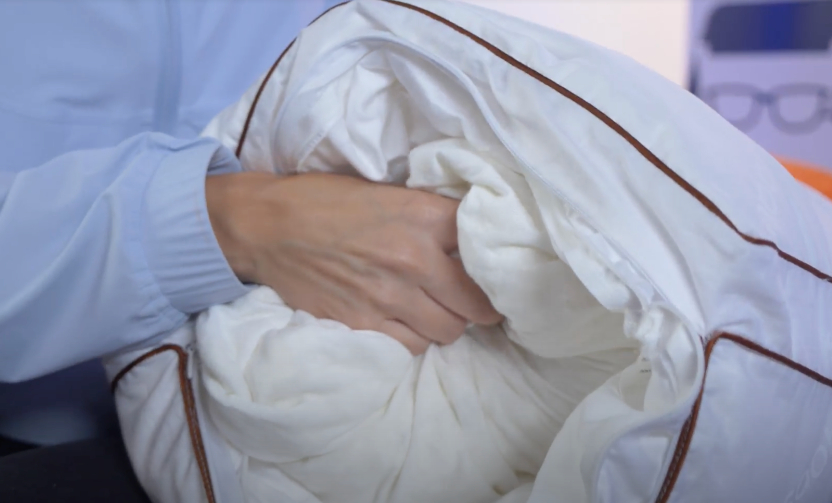 Side Sleeping
Fully stuffed, the Saatva pillow comes with a high loft, which is what side sleepers need to support their head and neck, while also leaving enough room for their shoulders to lie comfortably against the bed's surface. As a side sleeper myself, I felt very comfortable sleeping on this pillow and it kept me supported and my spine aligned. It was still soft enough, however, for my head to slightly give into the surface.
For more options, check out the best pillows for side sleepers.
Back Sleeping
The Saatva pillow is an ideal choice for the average-weight back sleeper. Pillows with a 5" loft generally work best for this sleeping position because it is enough to support your neck and spine. The Saatva pillow's dual-layer construction creates a balance of pressure relief and support. It's soft on the outside and denser on the inside, all benefits for a back sleeper.
Stomach Sleeping
The average stomach sleeper will likely need to remove the inner core. However, if you have a larger body type, you may find this pillow more comfortable than most given your size. For similar options, see the best pillows for stomach sleepers.
| | | |
| --- | --- | --- |
| Score for Side Sleepers | Score for Stomach Sleepers | Score for Back Sleepers |
| 5/5 | 4/5 | 5/5 |
Pros
Adjustable design:

This model's pillow-on-pillow design is great for customizing the feel of your pillow and getting a lot of value from your purchase. It's kind of a 2-for-1 deal!

Hotel-like comfort:

You know when you stay at a hotel and the pillow is just so comfy and cloud-like? That's what you get from this pillow.

Stays cool:

The whole core of this pillow is stuffed with shredded Talalay latex foam, which is known for its breathability. Pair it with super fine microdenier fiber and a breathable cotton cover, and you've got a pillow that will stay cool all night long.

Hypoallergenic:

The bulk of the

Saatva pillow

is made with

hypoallergenic

materials that are almost

dust-mite

and

mildew proof

. Unlike

memory foam

,

Talalay latex

is much less likely to produce an

off-gassing

odor. If you are looking to sleep on all-natural or

hypoallergenic

materials, see the

best organic mattresses.
Cons
Specific feel:

If you prefer memory foam, this pillow won't offer that doughy, impressionable feel.

Strict stomach sleepers may not want to pay for the added features:

While this pillow will work for stomach sleepers, you'd have to remove half the pillow to get the loft to a low enough height to keep the spine aligned.

Pricey:

The Saatva Latex pillow is not the most budget-friendly option, retailing for just under $200.
Ready to buy a Saatva pillow and maybe a Saatva mattress? See our Saatva Mattress Comparison to find out everything you need to know!
Saatva Pillow Pricing, Policies, and Specs
| | | |
| --- | --- | --- |
| Size | Dimensions | Price |
| Queen | 28" x 18" x 8" | $165 |
| King | 34" x 18" x 8" | $185 |
For the best price on all Saatva products, see our Saatva mattress coupons.
Shipping
All Saatva bedding orders, including pillows, ship for free via FedEx.
Sleep Trial
You'll have a 45-night trial period to test out your Saatva Latex pillow. This policy allows you to get a full refund to your original form of payment if you decide not to keep it within the allotted time frame. According to their website, Saatva requests that you wash your bedding before returning it. To make a pillow exchange, just return your original pillow and then buy the pillow you'd like instead.
Warranty Coverage
Saatva pillows come with a 1-year limited warranty. A limited warranty means the company will cover any manufacturing defects that affect the quality of the product. The warranty does not cover common things like stains, discolorations, or damages that result from misuse of the pillow.
FAQs
Is the Saatva pillow hypoallergenic?
Yes! The Talalay latex is washed five times, which removes latex proteins that can cause allergic reactions. It's a natural material and very unlikely to have an off-gassing scent. Microdenier fiber is also hypoallergenic and resistant to common allergens.
How long will the Saatva pillow last?
Latex is one of the more durable bedding materials. Latex mattresses typically last around eight years. However, pillows are a little different. We recommend replacing this pillow after about three years of nightly use.
Do you need to use a pillowcase on top?
Since the cotton case that comes with the Saatva pillow is machine washable, you don't need to add a pillowcase of your own unless you'd like to.
The Nerd's Final Take: Should You Buy the Saatva Pillow?
The Saatva pillow's dual-core construction creates a balance of pressure relief and support with a plush exterior and responsive latex fill. The adjustability makes this pillow an option for all sleeping positions. Back and side sleepers can keep the fill inserted, while stomach sleepers may want to remove it for a softer, flatter profile. Thanks to the Talalay latex and other breathable materials, the Saatva pillow stays cool during use, which will prevent most hot sleepers from overheating.
So why buy this pillow instead of others? The Saatva pillow is made with high-quality, durable materials, which should last you several years. Plus, the machine washable cover makes maintenance and upkeep easy— which is not always the case with pillows. It's not a budget item, but you can test it for over a month to make sure it's the right pillow for you.
JUMP TO
Who It's Good For
Who It's Not Good For
Video Review
A Look Inside
Mattress Nerd Pillow Scores
Pros
Saatva Pillow Pricing, Policies, and Specs
FAQs
The Nerd's Final Take: Should You Buy the Saatva Pillow?