Saatva Mattress Topper Review
•
Disclosure: By clicking on the product links in this article, Mattress Nerd may receive a commission fee at no cost to you, the reader. Read full disclosure statement.
The Nerd's Take: The Saatva mattress topper comes in three options, all which offer unique luxury experiences depending on your preferences. Choose between graphite-infused memory foam, latex, and high-density foam versions. All three can make your current mattress more comfortable and supportive without having to invest in an entire new bed. For more choices by top brands, see the best mattress toppers.
Watch our Video Review of the Saatva Mattress Topper
Watch our video review to get a better idea of how the Saatva Mattress Topper looks and feels in action.
Materials and Construction: What's the Saatva Mattress Topper Made Of?
With each Saatva mattress topper option, the construction and cover material is the same. They all feature an organic cotton cover and come with elastic bands on each corner that help keep the topper anchored in place to the mattress. The only difference between each option is the fill material. Let's take a closer look.
Graphite-Infused Memory Foam
This option features 3″ of graphite-infused memory foam, made with hot sleepers in mind. Graphite is used as a heat conductor, which draws heat away from the body to prevent overheating. The memory foam is also CertiPUR-US certified, meaning it's free of harmful chemicals. If you're looking for a doughy, impressionable feel without the heat buildup, this is the option for you.
This topper earned our "Editor's Pick" for Best Memory Foam Mattress Topper!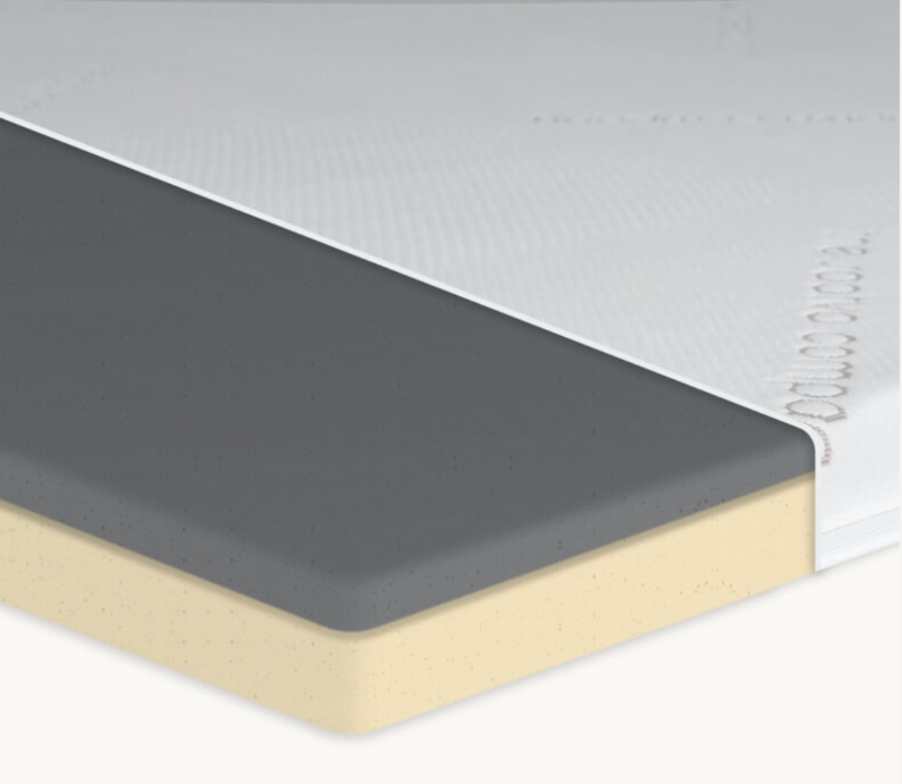 Talalay Latex
Next, we have the latex option. Talalay Latex is naturally hypoallergenic, durable, responsive, and pressure relieving. This eco-friendly option is the most expensive given it's natural sourcing, but it's also a great option for hot sleepers. Latex is known for its cooling properties, and Saatva even reassured this model wouldn't trap body heat by adding perforations throughout for added breathability. This option won't be as body contouring as the graphite model, considering it's only 1 1/2″ thick, but it'll be your most supportive and durable choice.
If you like the feel of latex, check out our picks for the best latex mattresses.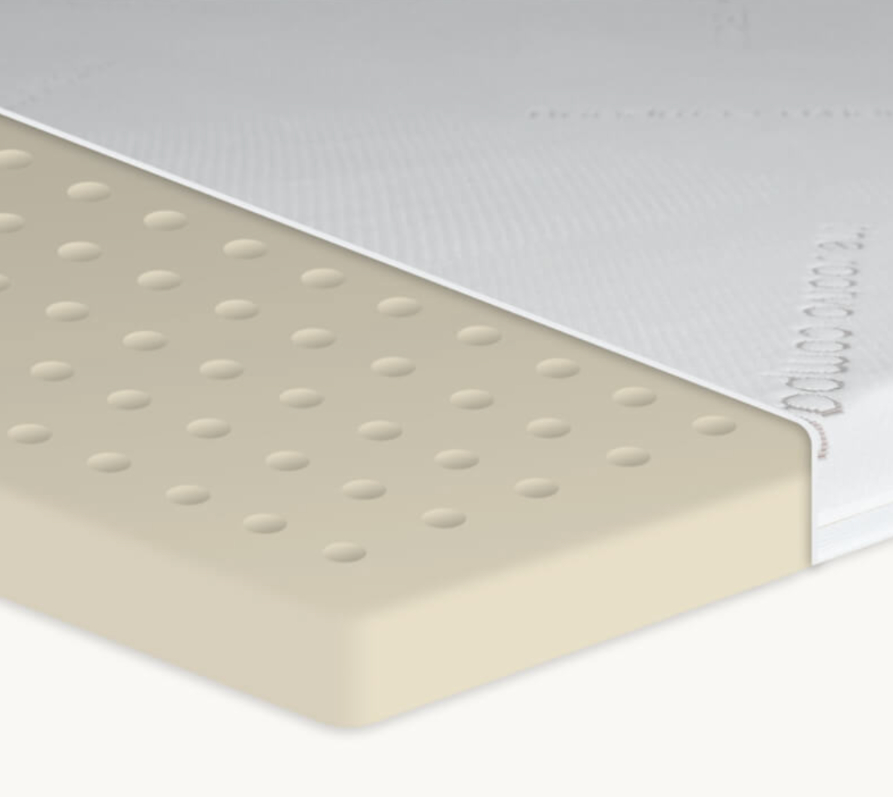 High-Density Foam
Lastly, we have our most affordable model of the three, the high-density foam model. This option is made with 1 1/2″ of medium-firm polyfoam, that'll add a touch of softness to your bed without drastically changing the overall feel. Just like the graphite model, this foam is also CertiPUR-US certified. If you want support and memory foam but don't care about added cooling features, this is your best bet.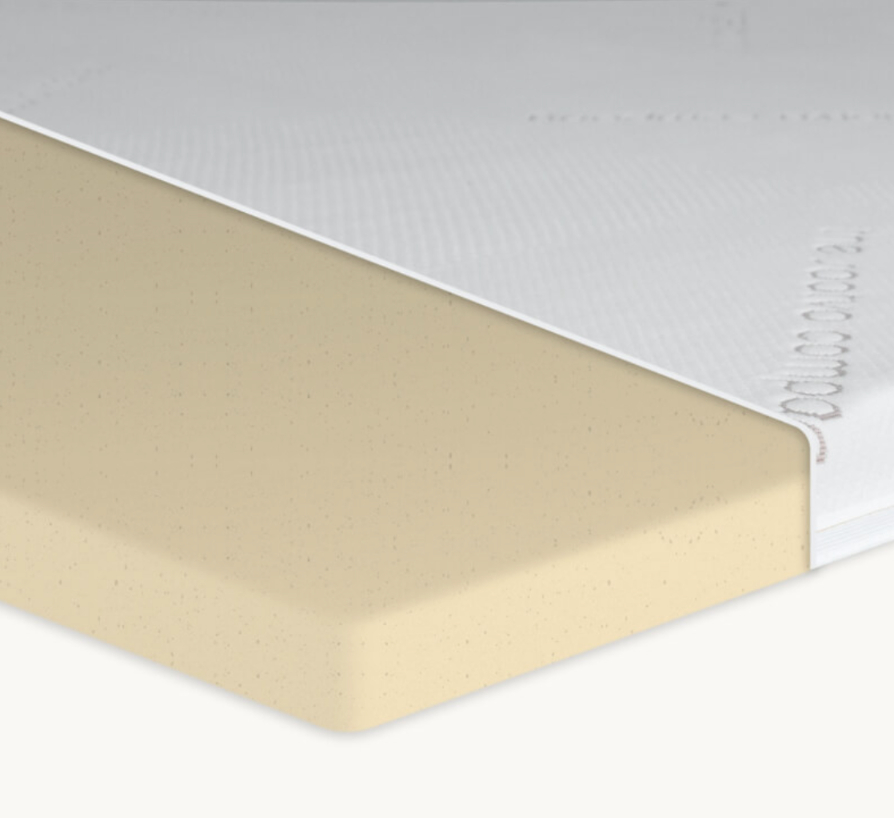 What does the Saatva Mattress Topper Feel Like?
The way a mattress topper feels to sleep on depends largely on the materials used in their construction. We've already covered the materials offered for the Saatva topper, so let's take a look at how they feel.
Graphite-Infused Memory Foam
The graphite-infused memory foam topper feels soft and closely molds to your body. If you already have a memory foam mattress, you're probably familiar with this unique "hugging" sensation. Expect to feel contoured to and comfortably cushioned, but with not much firm support. If you want to experience pressure relief in areas like the lower back, shoulders and hips, the thick foam will provide that. This option is great for lightweight back sleepers, side sleepers, and couples looking to stifle each other's motion.
Talalay Latex
Unlike the memory foam topper, the latex topper feels responsive and bouncy, and I'd say it's the best overall mattress topper for back sleepers. When you lie down on this topper, your body sinks in a little, but stays lifted and supported. You'll also get a refreshingly cool sensation against the body. Latex works for a wide range of sleepers, including combination sleepers, most back sleepers, those looking to relieve aches and pains, and lightweight or average-weight stomach sleepers.
High-Density Foam
Saatva's high-density foam mattress topper feels different from the other two because it's firmer. The high-density foam—aka polyfoam—provides pressure relief and support, but not much cushioning. This feel is ideal for stomach sleepers, who need lots of support for their hips to stay elevated. Heavyweight sleepers (those over 230 lbs) might need a firmer density foam like the kind used in this topper.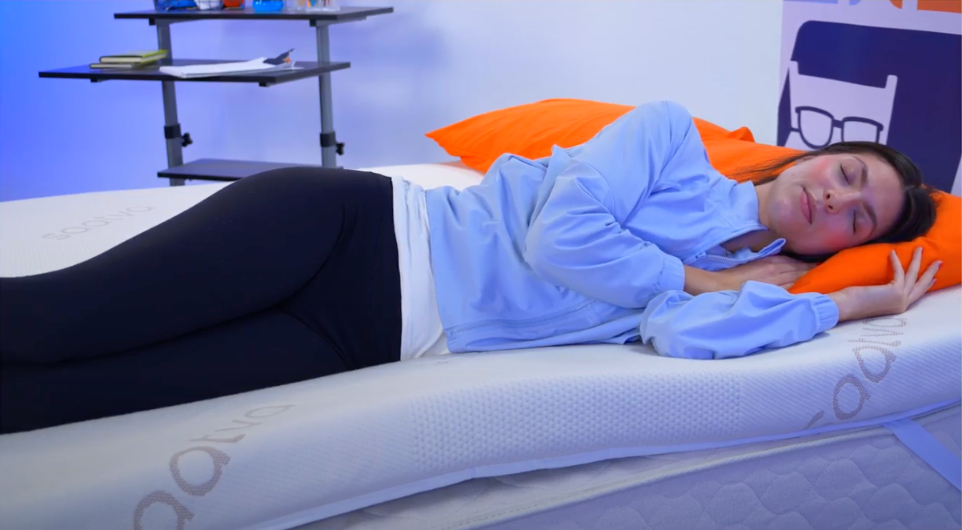 Mattress Nerd Saatva Mattress Topper Scores
At Mattress Nerd, we rate our products on a scale from one to five, with five being the best. The Saatva mattress topper options were measured against six performance categories to get an even closer look at how the product will benefit you.
Temperature Control:
Graphite: 5/5
The Graphite model uses active cooling technology to conduct body heat away from you as you sleep.
Latex: 4/5
The latex model is also a good option for hot sleepers who don't want memory foam. Latex is naturally thermo-regulating, so you shouldn't overheat or get cold on this option. Plus, the perforations in the foam will aifd in keeping air flowing while you sleep.
High-Density Foam: 2/5
This model does not contain any cooling materials or added technologies. Memory foam also has a tendency to trap body heat. Therefore, it got the lowest temperature control score out of the group. Hot sleepers, this option won't be for you.
Spine Alignment:
Graphite: 4/5
The graphite option has 3″ of memory foam. Side sleepers will achieve the best alignment on this model since their shoulders and hips can slightly sink into their surface, while keeping their spine and neck aligned. However, stomach sleeper's hips will sink too far into the soft surface. Light to average weight back sleepers should be okay, while those who are heavyweight may sink too far into the layers, throwing their spine out of alignment.
Latex: 5/5
The latex option is only 1 1/2″ thick. This option will suit the needs of back sleepers best when it comes to alignment because the hips will stay elevated enough to even out the back and allow it to lie flat.
High-Density Foam: 5/5
As for the high-density foam, this option will allow stomach sleepers to achieve spinal alignment since the 1 1/2″ of durable polyfoam will keep the hips elevated enough to maintain ideal alignment.
Motion Isolation:
Graphite: 5/5
The graphite model has 3″ of memory foam. The thickness and material work in tandem to stifle motion, limiting its transfer across the bed. If you sleep with an active partner, this is important to consider. Out of each option of this topper, the graphite model will isolate motion the best.
Latex: 2/5
Latex is very responsive, and this means it reacts to pressure applied to the surface very well. While this is great when it comes to switching sleeping positions, it also means motion will transfer.
High-Density Foam: 4.5/5
High-density polyfoam will be able to stifle motion very well. Although this option isn't as thick as the graphite model, the durability of the foam helps.
Quality of Materials:
Each option comes with an organic cotton cover and securing straps that anchor the topper to the bed.
Graphite: 5/5
Graphite-infused memory foam is a material with cooling technology built in to accommodate the needs of hot sleepers who still love the feeling of memory foam. This enhances a material that typically traps heat into one that acts as a conductor, transferring body heat away from you as you sleep in order to stay cool throughout the night.
Latex: 5/5
Latex is one of the best materials to have featured in your bedding because its naturally cool, hypoallergenic, durable, responsive, and pressure relieving (yes, it's that good). Latex is derived from the sap of rubber trees, and while it has a ton of benefits, it's the most expensive out of the three material options for the Saatva topper. Another nice added feature is the perforations, or tiny holes, throughout the topper. This encourages airflow so you can sleep even cooler.
High-Density Foam: 4/5
Polyfoam is the least expensive material out of the three offered. With the lower price tag comes less fancy benefits, but nonetheless, this high-density support does the job when it comes to adding a touch of comfort to your bed while also elevating your bodyweight.
Care:
All models are spot clean only. Overall score: 2/5
Customer Experience:
All models are subject to the same Saatva bedding policies. Free shipping, a 180-night sleep trial, and a 1-year limited warranty. To contact Saatva, you can call, email, or connect via chat on their website. Overall score: 4/5
Graphite Score: 4.2/5
Latex Score: 3.7/5
Foam Score: 3.6/5
Saatva Mattress Topper Sizing, Pricing, and Policies
| | | | |
| --- | --- | --- | --- |
| Size | Graphite | Latex | High-Density Foam |
| Twin | $245 | $295 | $175 |
| Twin XL | $255 | $325 | $195 |
| Full | $315 | $395 | $245 |
| Queen | $345 | $445 | $295 |
| King | $445 | $545 | $345 |
| Cal King | $445 | $545 | $345 |
| Split King | $510 | $650 | $390 |
See our Saatva mattress coupons for the best price on all Saatva mattresses. If you're still deciding between a new topper or a new mattress, see the best affordable mattresses and best mattress deals of 2023.
Shipping
Saatva offers free shipping via FedEx.
Sleep Trial and Warranty
You'll have 180-nights to try out your Saatva mattress topper to decide whether or not you like it. If you decide to return it within that time period, you'll receive a full refund. You'll also be eligible for the company's 1-year limited warranty. Saatva will cover any manufacturing defects you may find during that time.
Saatva Mattress Topper FAQs
How do you clean the Saatva mattress topper?
Each model is spot clean only.
How long does it take the Saatva mattress topper to fully expand?
Typically, you'll want to allow your topper 24 hours to fully expand. This is particularly important for the foam models, since foam usually takes longer to expand than latex.
Which Saatva mattress topper option should I buy if I have back problems?
Latex and graphite memory foam will be the best two options to relieve back pain. The latex option is very responsive, and the graphite-infused option has exceptional pressure-point relief. Either option will work, it'll just depend on your material preference.
The Nerd's Final Take
The Saatva mattress topper is one of our favorite luxury options when it comes to toppers on the market. You get the choice of three material options, each coming with an organic cotton cover and elastic securing straps. Depending on your preferences, you can find the Saatva topper material that'll work best for you. The graphite-infused option is best for hot sleepers who love the feel of memory foam, as well as side sleepers. The latex version is great for combination sleepers, back sleepers, hot sleepers, and those with hypoallergenic needs. And lastly, the high-density foam option will work best for stomach sleepers who want a balance of comfort and support.
While the price isn't the most budget friendly, this topper is still much less expensive than buying a whole new mattress. At the end of the day, a topper is a great way to revitalize the feel of your bed without investing in a new one. If you want a luxury sleeping experience, consider the Saatva mattress topper, which also comes with a risk free 180-night trial.