Layla Mattress Topper Review
•
Disclosure: By clicking on the product links in this article, Mattress Nerd may receive a commission fee at no cost to you, the reader. Read full disclosure statement.
The Mattress Nerd's Take: The Layla memory foam mattress topper offers a plush, cloud-like feel that adds extra pressure relief to any mattress. With cooling innovations in both the foam and the cover, this is one of few memory foam toppers that can make your bed sleep a bit cooler. Its slight body hug and responsive feel make it an excellent choice for most sleeping positions.
Layla Sleep is well-known for its high-quality flippable mattresses. But the brand also crafts sleep products designed to enhance your nighttime comfort. The Layla Topper is a cooling memory foam pad with a soft feel that conforms to the body's curves and pressure points.
Read our Layla mattress review to learn more about the brand.
In this review, we explore what makes the Layla topper unique, who it is and isn't a good fit for, and what you can expect if you decide to purchase this topper.
Watch our Review
Watch our video review of the Layla Mattress Topper for an even closer look!
Pros
Two inches of plush, conforming memory foam adds softness to your current mattress.

Cooling copper and gel memory foam and a cover with ThermoGEL make this one of the best memory foam toppers for hot sleepers.

Memory foam minimizes motion transfer, so couples can get better sleep.
Cons
The topper may be too soft for most stomach sleepers.

At two inches thick, this topper may not provide the level of cushioning needed by heavier side sleepers.

This topper is pricier than many of its memory foam competitors.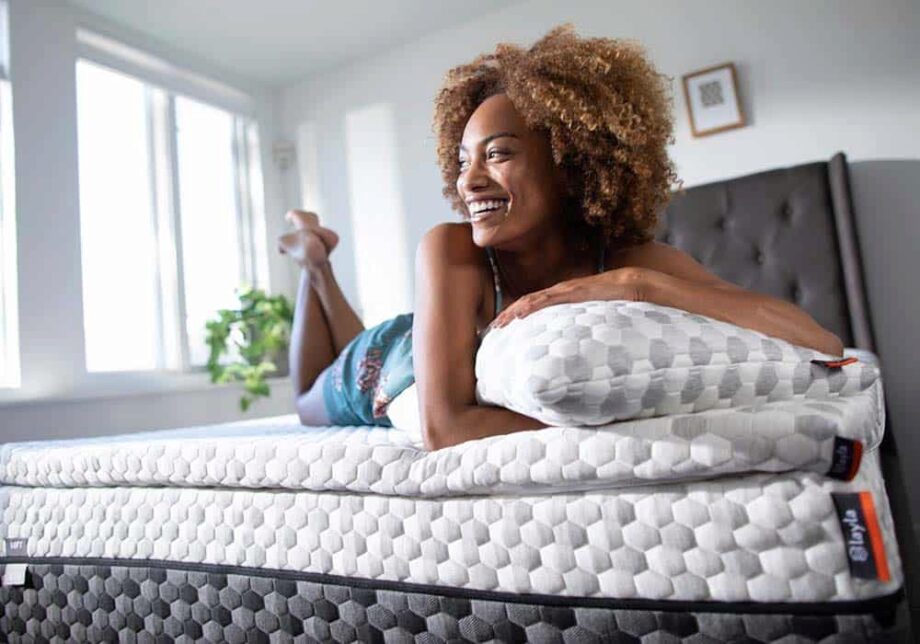 Copper-Gel Infused Memory Foam
The Layla mattress topper is one 2" layer of 3.5 lb density memory foam. The memory foam used in the Layla topper falls in the low-density range, which means the topper is on the softer side. The resulting product will offer a plush and cloud-like feel to your mattress: even if you already have a soft bed.
To absorb body heat and move it away from the mattress surface, the memory foam uses a gel and copper infusion. An additional benefit? Copper is naturally antimicrobial, helping to keep your bed clean and fresh. For additional cooling, check out our Best Cooling Sheets.
Cooling Mattress Cover
The Layla Topper has the same cooling cover as the Layla mattresses. The cover is a polyester, viscose, and Lycra blend that's breathable and lightweight. Layla incorporates ThermoGEL—a cooling agent—into the cover to create a cool-to-the-touch feel. The cover is also removable for easy cleaning, but we always recommend that customers use a mattress protector in case of spills.
The Layla Topper has the slow response feel that many people expect from memory foam. But thanks to its low density, it doesn't have the quicksand sensation that some memory foams have. The result is a contouring topper that doesn't make you feel stuck in your mattress.
As a rule, this topper makes mattresses softer. We measure mattress firmness on a 1–10 scale, with 10 being the firmest. The Layla mattress can shave around 1.5 points off your mattress' existing firmness level. For example, the Layla flippable mattress has a firm side (7/10) and a soft side (3.5/10). Adding the topper changes the firm side of the mattress to a medium-firm (5.5/10) and creates an even softer feel to the soft side of the mattress (2/10). If you are looking to sleep more "on" a topper instead of "in" it, check out our recommendations for hybrid mattresses.
The cushiony feel of the topper isn't great for all sleeping positions. The foam is plush yet supportive, cradling the shoulders, lower back, and hips while still supporting the spine: excellent for side and back sleepers. However, stomach sleepers typically prefer a firm feel at the hips, and the Layla topper can lead to too much sagging for stomach sleepers.
See our Best Mattress Toppers for Back Pain for a complete list of recommendations.
Another perk to the Layla memory foam topper is that it sleeps much cooler than most memory foam toppers. Its cooling properties come from copper gel beads found in the foam and ThermoGEL material in the cover.
| | | | |
| --- | --- | --- | --- |
| | Dimensions | Height | Price |
| Twin | 38" x 75" | 2" | $269 |
| Twin XL | 38" x 80" | 2" | $279 |
| Full | 54" x 75" | 2" | $329 |
| Queen | 60" x 80" | 2" | $349 |
| King | 76" x 80" | 2" | $449 |
| Cal King | 72" x 84" | 2" | $449 |
Shipping
Layla offers free shipping to customers who live in the continental U.S. The brand can ship to Alaska, Hawaii, and parts of Canada for a fee. Shipping time tends to take between two and 10 business days.
Your new topper arrives compressed in a box, which means it can take around 48 hours to expand. You should expect a slight off-gassing odor during this time. To speed up the process, we recommend that you leave the topper for a day or two to grow and breathe without any sheets on it.
Sleep Trial
Your new mattress topper comes with a 120-night trial period. If you decide that the Layla topper isn't right for you, contact the brand's customer service team. They will work with you to find a local charity for topper donation. You must show a donation receipt to receive your full refund.
Warranty Coverage
Layla mattress toppers come with a 5-year warranty, which is longer than most topper warranties. This generous warranty demonstrates Layla's belief in the durability of its products and its commitment to ensuring customers' long-term happiness. If you are looking for more information on Layla's Warranty Process you can read our full outline that our experts have put together.
What is the best mattress topper you can buy?
The best topper depends on your needs. Latex toppers are great for softening up a firm bed, allowing for ease of movement, and creating a cooler surface. Memory foam toppers like the Layla are excellent for pressure relief, motion isolation, and softening up a firm mattress.
Is the Layla mattress topper toxic?
The Layla Topper contains CertiPUR-US certified foams, meaning that Layla uses foams made without compounds known to be dangerous to human health. You won't find heavy metals, ozone depleters or Tris flame retardants in the Layla Topper. Still, you might experience an off-gassing smell when you first open the topper.
What is the healthiest mattress topper?
Natural latex toppers are the healthiest toppers, and can dramatically change a mattress's feel. The sap from rubber trees used in latex toppers can be 100% organic. Other healthy, all-natural options include cotton toppers, down toppers, and wool toppers. These all add a touch of softness to an existing bed.
The Layla memory foam mattress topper is an excellent option for sleepers who want to add some softness to their current bed. Using 2" of slow-response foam, the Layla Topper hugs the body's curves, providing extra cushioning and pressure relief to sensitive areas. It's also one of the coolest memory foam toppers that we've seen. It might not be the best choice for stomach sleepers or people who want to firm up their mattresses.
Other Popular Layla Products
Layla Bamboo Sheets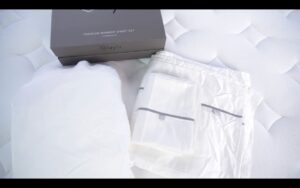 These sheets are breathable and odor-resistant.
Mattress Nerd Score
4.50 / 5
Layla Memory Foam Pillow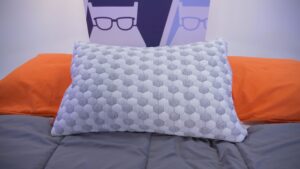 Layla Weighted Blanket