Layla Weighted Blanket Review
•
Disclosure: By clicking on the product links in this article, Mattress Nerd may receive a commission fee at no cost to you, the reader. Read full disclosure statement.
The Mattress Nerd's Take: The Layla Weighted Blanket is a top choice for shoppers looking for a blanket to offer therapeutic benefits or to simply cozy up in. It's available in three weights, allowing options for a wide variety of body types and preferences. Plus, the dual-sided cover design provides two choices for feel: one that's light and airy, and another that feels like faux fur or fleece.
Who It's Good For
Average body types

Those looking for a multi-material blanket

Value shoppers

Individuals who have Anxiety, ADHD, Insomnia, or Autism
Who It's Not Good For
Layla Weighted Blanket Video Review
Want to see the Layla Weighted Blanket up close and personal? Watch our video review for a closer look.
Feel
This blanket feels light and heavy at the same time. Which I know is contradictory but I mean it in the way that you definitely feel the pressure evenly throughout but it's not overwhelming by any means. It's like when your pet lays on your lap or when you get a hug from your mom. It's comforting!
For an extra cozy feel, I liked sleeping with the mink side against my body, which has a fuzzy, fleece feel, for added warmth. But if you like to be more temperature neutral, I'd recommend sleeping with the cotton side against the body for a smoother, lighter feel.
As for heat retention, I didn't notice it to be too much of an issue, but I tend to sleep cold and like a warm, cozy feel from my blanket. But if you tend to get really hot throughout the night, like I said, I'd stick to the cotton side against the body and keep the clothes underneath pretty light like a t-shirt and shorts.
The Layla Weighted Blanket comes in 3 weight options, 15, 20, and 25 lbs. We recommend choosing a blanket option based on approximately 10% of your body weight. So for example, if you're 200 lbs, 10% of that is 20, so you'd choose the 20 lb option. If you are between weight options, round up.
Picking the correct weight option for your body type is critical for experiencing deep touch pressure— the science behind the effectiveness of weighted blankets.
What is deep touch pressure?
Deep touch pressure is when you apply firm, yet gentle pressure to your entire body, relaxing your nervous system. This triggers your body to think it's receiving the same reward as a hug, squeeze or swaddle. Our body responds by releasing serotonin, melatonin and dopamine into your body, allowing you to relax, reduce feelings of stress and anxiety, and fall into a deeper, more restful sleep.
This is especially great for those with:
Anxiety

Autism Spectrum Disorders

ADHD

High stress lifestyles that affect their ability to calm down at night

Sleep Disorders
Mattress Nerd Weighted Blanket Scores
At Mattress Nerd, we score the products on a scale from 1 to 5 over 6 performance categories, with 1 being the worst and 5 being the best. We run the products through a series of tests in order to evaluate their ability during use, so you can get a better idea of what to expect from your blanket before you buy.
Weight Distribution: 5/5
The Layla Weighted Blanket has great weight distribution thanks to the hexagon gridded stitching pattern, which partitions the glass microbeads and polyester batting fill into evenly divided pockets. This way the blanket feels the same way from top to bottom.
Customizability: 4.5/5
This blanket is offered in three weight options: 15, 20 and 25 lbs. Each goes up in dimension as the weight increases.
Plus, the dual sided cover offers another level of personalization when it comes to the "feel" experience.
While I do think Layla offers a good range of weight and size options, I wish there was at least one more lightweight option, like a 10 or 12 lb option, to accommodate petite folks who would be too light for the 15 lb option. Hence, why it didn't receive a perfect score in this category.
Temperature Control: 3/5
This blanket is not the most hot sleeper friendly option. However, the dual sided cover allows you to pick between a cozy side (polyester/mink) and a cooler side (cotton). The cotton side is definitely a better option if hot sleeping is a concern.
Quality of Materials: 5/5
The Layla Weighted Blanket comes with high-quality materials like cotton and polyester, as well as sustainable, environmentally-friendly glass microbeads. Plus, the blanket is machine washer safe, which means the materials are durable and will withstand prolonged use.
Another thing I believe shows testament to the quality of a product is a company's policies on it. In this case, this blanket comes with a long trial period and multi year warranty, so Layla definitely backs their blanket!
Care: 5/5
The entire blanket is completely machine washable, which is great for easy upkeep and folks with hypoallergenic concerns.
For best results, machine wash the blanket on cold, then tumble dry on low. Do not iron.
Customer Experience: 5/5
This weighted blanket ships for free within the contiguous United States, comes with a 120-night sleep trial with a 100% money back guarantee if you decide not to keep it, and a 5-year warranty.
I'd say these are the best policies I've come across so far on a weighted blanket— which I think is important to consider when investing in a pricier purchase like this.
Layla also makes it easy to get in touch with their customer service by phone (855-358-1676), by email, or through a chat feature on their website.
Total Score: 4.6/5
No attachment found (5600)
Materials and Construction: What's It Made of?
Dual sided outer cover
This blanket features a dual sided cover. One side is 100% polyester/mink that is soft to the touch and feels similar to fleece. The other side is 100% cotton with 300 thread count, which gives the fabric a silky, smooth feel.
Having two materials like this is a unique feature which adds an extra element of luxury and personalization to this blanket.
Gridded stitching pattern
As for the stitching pattern, this blanket comes with a hexagon pattern across its surface. Inside each hexagon is the weighted fill, which is glass microbeads and polyester batting fill. The hexagons are the perfect size to help even out the weight distribution and keep the micro beads from grouping together or making any sound.
Glass microbeads and polyester batting fill
These materials make up the weighted fill inside of the blanket. Glass beads are sustainable, don't trap heat, and are more durable than alternative blanket fill like plastic pellets or dried foods. The polyester is in there to prevent the glass beads from hitting against each other and making noise, and to also add a plush overall feel to the blanket.
Pros/Cons
Pros
Dual-sided cover:

This offers a personalized feel so you can cater your coziness to whatever "feel" you're looking for.

Stress-reliever:

Using this blanket can help you experience deep touch pressure, which relieves feelings of anxiety and helps you fall asleep.

Value policy:

This blanket comes with top-of-the-line policies like a 120-night sleep trial, free shipping and a 5-year warranty, which I do not come across often when reviewing accessories in general. I think that adds value to this purchase and shows that Layla really backs their product.
Cons
Hot sleepers beware:

if you're a notoriously hot sleeper, this blanket may build up a bit too much heat to be comfortable for you. So just be mindful of that if that tends to be an issue for you.

Not many size options:

The lightest option is 15 lbs, which if you're under 150 lbs, would put you out of the 10% weight category. So I wish there was a wider weight range to accommodate more folks.

Pricey:

This blanket retails around the $200 price point depending on which weight option you choose, so it's not the most budget friendly option.
Sizing, Pricing, and Policies
| | | | |
| --- | --- | --- | --- |
| Size | Weight | Dimensions | Price |
| Small | 15 lbs | 48″ x 72″ | $180 |
| Medium | 20 lbs | 60″ x 80″ | $220 |
| Large | 25 lbs | 80″ x 87″ | $240 |
Shipping
Free shipping is offered for orders within the contiguous United States.
If you'd like to ship to Canada, Hawaii, or Alaska, there will be an additional shipping fee that gets calculated at checkout based on your location.
Trial Period and Warranty
The Layla Weighted Blanket comes with a 120-night sleep trial. If you decide this blanket isn't for you within that time frame, Layla says to send an email to support@laylasleep.com with your order number and the reason for your return. You will not be charged for sending your blanket back and you will receive 100% of your money back.
Shipping fees to Canada, Hawaii, and Alaska are non-refundable.
Layla also offers a 5-year warranty on their blankets. So if the stitching or seams come undone from natural wear, or there is a manufacturing defect present, you can send Layla a claim and get a new blanket for free!
FAQs
What is the best position to sleep in when using a weighted blanket?
To experience the full benefits of a weighted blanket, I recommend sleeping on your back. That way your entire body can receive the pressure from the weight of the blanket and you can fully get that deep-touch pressure that helps relax our nervous system and helps us feel calm and sleepy!
Do weighted blankets affect blood pressure?
Studies show that people who use weighted blankets had lower blood pressure, pulse rates and healthy blood oxygen levels— all signs of reduced stress levels.
How long can it take for your body to get adjusted to the feel of a weighted blanket?
If you're skeptical about the feel of a weighted blanket, you just have to give it a chance to work its magic! It can take your body up to 14 days to get used to the added weight and experience the full benefits.
The Nerd's Final Take
In my opinion, the Layla Weighted Blanket is one of the best options on the market considering the price, value policies and all-season versatility. The weight options and sizes work for a variety of body weights as well as individuals and couples who want to share a blanket. Even if you're not 100% certain that the Layla Weighted Blanket is the right one for you, it comes with a generous sleep trial so you can try it out, as well as a long warranty.
Hot sleepers proceed with caution— but otherwise, I give this weighted blanket my official Mattress Nerd stamp of approval.
Looking for more options? Check out our best weighted blankets!
Nerd Score Wrap Up
| | |
| --- | --- |
| Performance Factor | Out of 5 |
| Weight Distribution | 5 |
| Customizability | 4.5 |
| Temperature Control | 3 |
| Quality of Materials | 5 |
| Care | 5 |
| Customer Experience | 5 |
| Total Nerd Score | 4.6 |
Starting at $1,099
Layla Memory Foam Mattress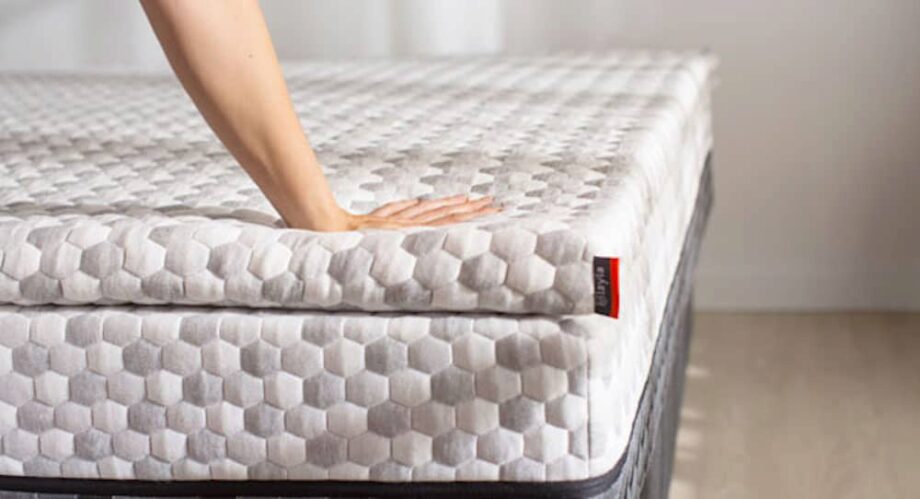 Starting at $1,699
Layla Hybrid Mattress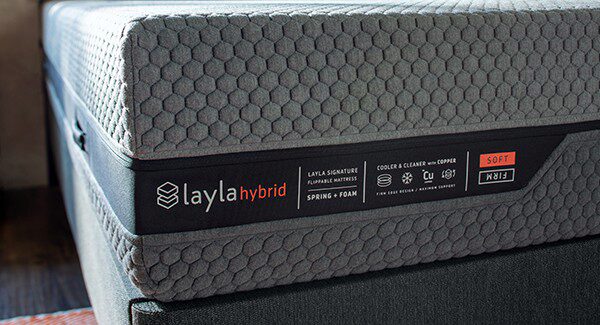 Starting at $109
Layla Kapok Pillow