GhostBed Weighted Blanket Review
•
Disclosure: By clicking on the product links in this article, Mattress Nerd may receive a commission fee at no cost to you, the reader. Read full disclosure statement.
The Mattress Nerd's Take: The GhostBed weighted blanket is a thin, breathable option for hot sleepers looking to experience the benefits of deep pressure touch. Despite only coming in one weight and size (15 lbs, 60″ x 80″), this blanket will work for a variety of people looking for a cooling weighted blanket option.
Who It's Good For
Hot sleepers

Those weighing around 150 lbs

Couples

Those with anxiety, ADHD, or PTSD
Who It's Not Good For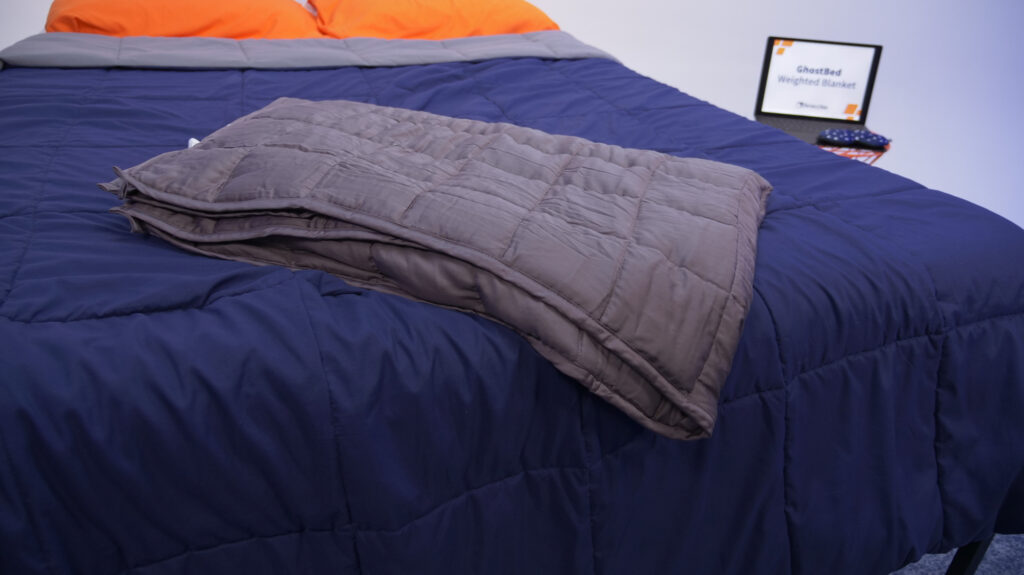 GhostBed Weighted Blanket Video Review
Feel
This blanket feels super thin and light on the body. It doesn't feel like 15 lbs, so if you're someone who is intrigued by a weighted blanket but worried about the possibility of feeling overwhelming, you're not going to get that with the GhostBed blanket. It's cool against the skin, feels silky smooth, and doesn't trap any body heat over prolonged use.
When I tried the GhostBed weighted blanket out for myself, I felt like the weight was evenly distributed over my body, making moving from one sleeping position to another very easy. I could feel the tiny glass beads inside the fabric, but it didn't bother me. If you don't like feeling the beads, you could easily combat this by putting your own duvet cover on top for more of a buffer between you and the blanket.
The GhostBed Weighted Blanket only comes in one weight option which is 15 lbs. We always recommend choosing a blanket option based on approximately 10 percent of your body weight. So for me, the 15 lb option was appropriate for my body size, so I was able to experience deep touch pressure. However, if you're outside of the weight range of 120–180 lbs, I'd say this blanket is not right for you. The blanket will either be too heavy or too light for you to experience the benefits of a weighted blanket.
What is deep touch pressure?
Deep touch pressure is when you apply firm, yet gentle pressure to your entire body, which relaxes your nervous system. This triggers your body to think it's receiving the same reward as a hug, squeeze, or swaddle. Our body responds by releasing serotonin, melatonin, and dopamine, allowing you to relax, reduce feelings of stress and anxiety, and fall into a deeper, more restful sleep.
This is especially great for those with:
Anxiety

Autism Spectrum Disorders

ADHD

High stress lifestyles that affect their ability to calm down at night

Sleep Disorders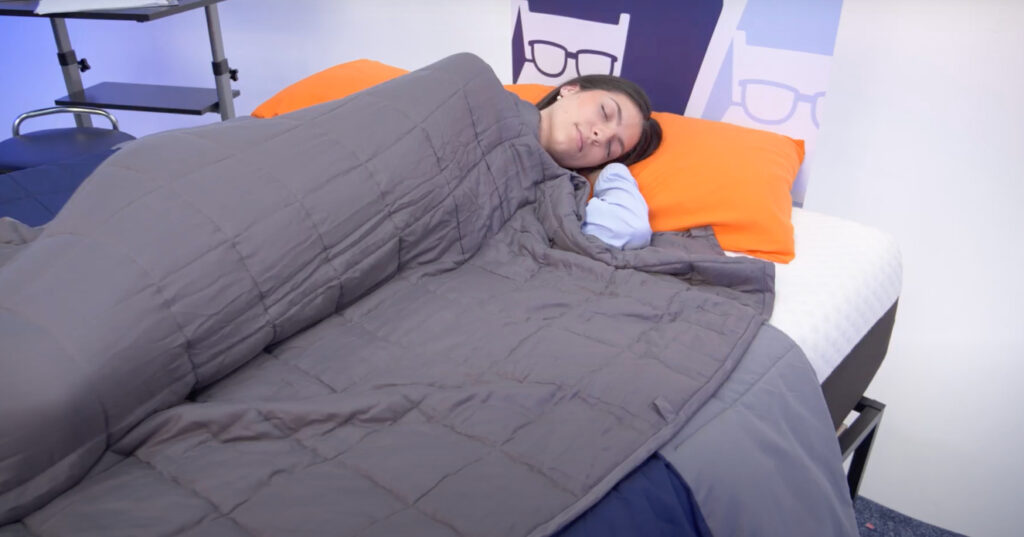 Mattress Nerd Weighted Blanket Scores
We score sleep accessories on a scale from 1–5 over six performance categories, with 1 being the worst and 5 being the best. We run the products through a series of tests in order to evaluate their performance during use, so you can get a better idea of what to expect from the blanket before you buy.
Weight Distribution: 5/5
I experienced great weight distribution when I used the GhostBed weighted blanket. This blanket features a gridded square stitching pattern, which allows the glass microbeads to stay evenly distributed without clumping together and causing pockets of extra weight. I felt the light pressure from head to toe, which is critical for experiencing deep touch pressure.
Customizability: 1/5
This blanket only comes in one size, weight, and color, hence why I gave it a 1/5 for this category. I like to see at least three different weight options so that the product is accessible for a larger number of people. Like I previously mentioned, the most important benefit of a weighted blanket is deep touch pressure. That being said, if you are between 120–180 lbs, this blanket's weight will work for you. If you fall outside that range on either end, then it won't work for you.
On top of that, this blanket doesn't come with a duvet cover, making it harder to clean (spot clean only) and match with the color scheme of your room. So, although the blanket itself is a great product, the lack of accessibility to a larger group of people docked it major points.
Temperature Control: 5/5
GhostBed is known for the cooling features they incorporate into their products. Their weighted blanket is no exception: it comes with a TENCEL cover which is cool-to-the-touch and smooth against the skin. Surprisingly, it stays cool over use, which is crucial if you tend to overheat throughout the night.
The blanket as a whole is also thin and light on the body, despite its 15 lb weight, so if you're a hot sleeper, this will be one of the best options on the market for you.
Quality of Materials: 5/5
The GhostBed weighted blanket comes with high quality materials like TENCEL and premium glass microbeads. TENCEL is a luxury material that's known for its absorbent, lightweight, and soft qualities. This sustainable material is sourced from eucalyptus, making it cooling, eco-friendly, and durable.
The design features a premium, double-stitched gridded pattern to help keep the weighted fill evenly distributed— preventing the weighted insert from pooling to one side.
Lastly, inside each square stitch is hundreds of tiny glass microbeads, which give the blanket its weight. They're eco-friendly, don't trap heat, and conform better to your body than plastic pellets or other common fill materials.
Care: 2.5/5
You can only spot clean this blanket with warm water and mild detergent. Then, lay it flat to dry. Don't machine wash or dry it, or else you risk damaging the weighted glass microbeads. Also, don't bleach, iron, or dry clean this blanket.
Customer Experience: 3/5
Like most online bedding companies, GhostBed offers free shipping within the contiguous U.S. They don't offer a trial period with their weighted blanket, which means you can only return the blanket if it's unused. I'd like to see at least a 30-day sleep trial, which is why I docked two points in this category. The blanket's 3-year warranty is longer than the industry standard of 1-year, which is a nice benefit.
Customer service can be reached via phone, online chat, and email from 8am-10pm (EST) everyday. I recommend the chat feature on GhostBed's website. I was able to speak with a representative in under 60 seconds. GhostBed also offers financing on their products through Affirm and SplitIt.
Total Score: 3.6/5
Materials and Construction: What's It Made of?
Unlike most weighted blankets, the GhostBed weighted blanket doesn't come with an outer duvet cover and is only offered in one size and weight option. It is thin, lightweight, and silky smooth against the skin.
TENCEL Cover
The cover fabric is durable and silky. TENCEL is hypoallergenic, breathable, and cool-to-the touch.
Quilted Design
High-quality, double-stitched squares are sewn into a gridded design and act as a partition for the glass microbead fill; this design helps evenly distribute the weighted fill and prevents it from collecting to one side or bunching up.
Premium Glass Microbeads
Each square grid is filled with tiny microbeads that give the blanket its overall weight. The glass is eco-friendly and doesn't trap heat.
Duvet Loops
There are loop holes along the edges of this blanket that allow you to fasten it to a duvet cover of your choosing if you'd like to do so.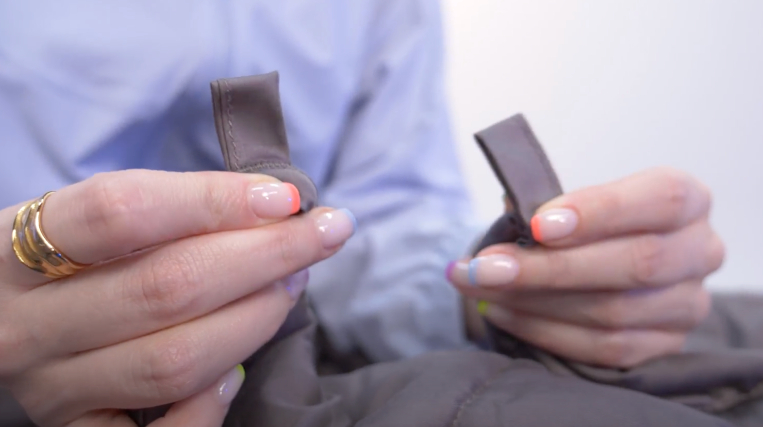 Pros/Cons
Pros
Cooling capabilities:

Thanks to the TENCEL material and lack of a duvet, this blanket is cool-to-the-touch and stays cool over use. It's thinner than most other weighted blankets, so it's a great option for hot sleepers.

Queen size is great for sharing/large body types:

If you're on the taller side like me, you'll really enjoy the size of this blanket, which will allow you to sprawl out or cuddle underneath with your partner, pet, or kiddo.

Deep touch pressure:

This blanket promotes deep touch pressure therapy, which can help relieve daily stress and get you a full night's sleep.
Cons
Care instructions:

Since this blanket doesn't come with its own duvet cover, you're limited to spot cleaning only. If you're concerned about dirt or stains, this blanket may not be your best option.

No returns:

GhostBed doesn't offer returns for their weighted blanket, so it's a commitment to buy.

Only one weight option:

GhostBed only offers this blanket in one weight and size option, which limits the amount of people it will work for.
Sizing, Pricing, and Policies
| | | | |
| --- | --- | --- | --- |
| Size | Weight | Dimensions | Price |
| Queen (one size) | 15 lbs | 60″ x 80″ | $289 |
Shipping
The GhostBed Weighted Blanket ships for free within the contiguous 48 states. There is an additional freight fee of $600 for those shipping to Alaska and Hawaii according to a GhostBed Customer Support Specialist. (You read that right—$600).
Trial Period and Warranty
This blanket comes with a 3-year warranty that covers any manufacturing defects of the product, NOT including wear and tear. GhostBed doesn't allow for returns on personal use items– including their weighted blankets. There is no trial period offered for this blanket.
FAQs
Why doesn't the GhostBed come in other sizes?
GhostBed claims this blanket is the perfect "sweet spot" size for most adults. As I touched on earlier, we always recommend choosing a weight option that is 10 percent of your body weight, so if the 15 lb option is that for you, that's wonderful.
However, if you're around 200 lbs or heavier, this blanket isn't best for you because it'll be too light for you to experience deep touch pressure. If you're still interested in a cooling weighted blanket, the Resident weighted blanket offers heavier weight options with similar features.
Can this blanket only be used as a throw, or can you use it as a comforter?
Since the GhostBed weighted blanket is larger than most standard weighted blankets or normal throws, you can use it for both casual use and as a comforter on a smaller bed. It's also lightweight enough to use on your couch while snuggling up for a movie night.
What are the different types of fill for weighted blankets?
We see many different materials used as weighted blanket fill. This blanket uses premium glass microbeads, but other blankets use sand, plastic pellets, or dried foods like rice or beans. Which fill you choose depends on your preferences and the benefits of certain kinds of fill.
Glass microbeads are a good choice because they don't trap heat, they don't have an odor, and they're a more durable and environmentally-friendly option.
The Nerd's Final Take
If you're interested in a high quality weighted blanket that feels light on the body and is cool-to-the-touch, this is the option for you. This blanket will work best for those with average body types who want to share their blanket with a partner due to its Queen size.
Plus, this blanket is one of my top recommendations for hot sleepers looking to experience the benefits of weighted blankets. Unlike other models I've tested, this blanket should allow you to experience deep touch pressure without a thick cover that can trap heat throughout the night.
It's not the most budget friendly option, but GhostBed is one of the best brands in the sleep market and consistently delivers on high quality products.
Looking for more options? Check out our best weighted blankets!
Nerd Score Wrap Up
| | |
| --- | --- |
| Performance Factor | Out of 5 |
| Weight Distribution | 5 |
| Customizability | 1 |
| Temperature Control | 5 |
| Quality of Materials | 5 |
| Care | 2.5 |
| Customer Experience | 3.5 |
| Total Nerd Score | 3.6 |