Hush Classic Weighted Blanket Review
•
Disclosure: By clicking on the product links in this article, Mattress Nerd may receive a commission fee at no cost to you, the reader. Read full disclosure statement.
The Mattress Nerd's Take: The Hush weighted blanket is filled with non-toxic glass sand that stays evenly distributed across the blanket. It's offered in four sizes and six weights that accommodate a wide range of sleepers, including teens and couples. The velvety duvet cover is made with breathable, durable organic cotton and polyester.
Couples

Teens and adults

Light sleepers who want a quiet

weighted blanket

Sleepers prone to insomnia or anxiety

Those with

ADHD

or autism

Those looking to supplement a comforter with a

weighted blanket
Who It's Not Good For
Budget shoppers

Young kids (Hush also makes a

Hush Kids Blanket

and

Hush Throw

Blanket that are better fits)

Those who easily overheat
The Hush weighted blanket has a soft, velvety cover that's textured with a quilted pattern on one side and is completely smooth on the other. The inner layer that holds the fill is soft and pliable, so the blanket doesn't feel stiff. It's easy to wrap around my shoulders or lay flat on my bed.
The weight is similar to a thick quilt. I've used the Hush over a down comforter and stayed at a comfortable temperature as long as I keep my bedroom at or below 68 degrees. Since using the Hush blanket, I've noticed that I fall asleep faster and generally feel calmer at night.
To test weighted blankets, we actually use them! Each blanket is scored across six performance categories that cover comfort, quality, and the overall experience of ownership (i.e. how easy it is to buy and clean). The total score is an average of all six scores and ranges from one (lowest) to five (highest).
Weight Distribution: 5/5
The inner blanket that holds the fill is quilted with very small squares that do an excellent job of evenly distributing the weight of the glass beads. The squares are smaller than I've seen in other weighted blankets. Smaller squares do a better job of keeping the beads contained in one place, rather than sliding to the side. Whether sleeping or sitting, the blanket feels the same weight across my entire body.
Customizability: 5/5
The Hush is available in a wide range of weights and sizes, including a size designed for teens and weighing only 12 lbs. Other sizes include larger-than-normal Twin, Queen, and King blankets. Each of those three sizes comes in two weights ranging from 15–35 lbs.
Temperature Control: 4.5/5
I sleep on a memory foam topper with a down comforter, and adding the Hush blanket doesn't cause me to overheat. I keep my bedroom pretty cool, so I'd nix my down comforter if I slept with the Hush during the summer. You can also remove the cover and sleep only under the weighted inner blanket. Overall, it feels temperature neutral, though the thickness of the cover causes it to trap some body heat.
Quality of Materials: 4.5/5
The Hush is made of organic cotton and polyester—both are breathable, durable, and moisture-wicking. The glass sand fill stays more evenly distributed than plastic pellets or glass beads. The only reason I docked it a half point is because I'd like to see more eco-friendly materials.
Care: 4/5
The outer cover can be removed and machine washed with mild detergent and cold water. Hush recommends hanging the cover to dry. The weighted insert is hand wash only.
Customer Experience: 4.5/5
Hush blankets include a 100-night guarantee (i.e. sleep trial) and free returns, minus shipping costs. The weighted blanket is protected by a one-year warranty. The warranty period is about average for weighted blankets, but the sleep trial is much longer than the industry standard of 30 nights. I appreciate the online chat service that makes it easier to reach customer service.
Total Score: 4.6/5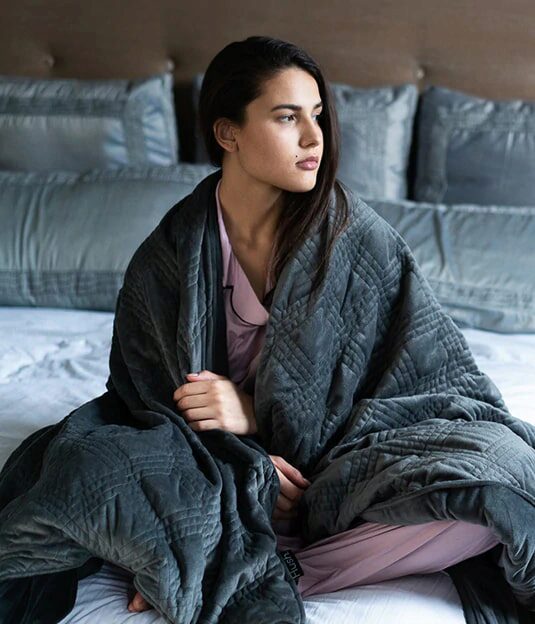 The Hush weighted blanket has a soft duvet cover that's made with organic cotton and polyester. The fabric is designed to mimic the velvety look and feel of mink fleece. The inner blanket also has a plush, microfiber feel and is made from cotton and polyester.
The inside of the duvet has a zipper system that keeps the inner blanket secure. It's quilted into squares to keep the weighted fill (non-toxic glass sand) evenly distributed.
Pros
Fitted:

The weighted insert zips into the cover, which prevents it from sliding around or sagging.

Temperature Neutral:

The Hush keeps you warm, but doesn't overheat and can be modified to stay cooler by removing the

duvet cover

.

Even Weight Distribution:

The fill is a fine glass sand contained in

quilted

squares that stays evenly distributed across the blanket.

Removable Cover:

The

duvet cover

is removable and

machine washable

.

Size Options & Weight Options:

The

Hush weighted blanket

is offered in four sizes and six weights that accommodate a variety of

body weights

and types.

Calming:

Weighted blankets

have been proven to increase the production of calming hormones like

melatonin

and

serotonin

and reduce the stress hormone

cortisol

.
Cons
Pricing:

The Hush is not a budget blanket.

Heavy:

The larger sizes of the blanket reach up to 35 lbs, potentially causing the blanket to slide off your bed if it gets moved too far to one side.
| | | | |
| --- | --- | --- | --- |
| Size | Weight | Dimensions | Price |
| Teen | 12 lbs | 48" x 78" | $179 |
| Twin | 15 lbs | 60" x 80" | $199 |
| Twin | 20 lbs | 60" x 80" | $199 |
| Queen | 20 lbs | 80" x 87" | $229 |
| Queen | 25 lbs | 80" x 87" | $229 |
| King | 30 lbs | 90" x 90" | $259 |
| King | 35 lbs | 90" x 90" | $259 |
Note: The ideal weight for a weighted blanket is around 10 percent of your body weight. If you weigh under 200 lbs, the Teen or Twin sizes are best. If you weigh over 200 lbs or plan to share your blanket, the Queen size and King size are better.
Shipping
Hush is a Canadian bedding company that ships their weighted blanket for free across the U.S.and Canada within one to two business days. It should take around five to seven days for your blanket to arrive on your doorstep.
Trial Period and Warranty
Hush blankets purchased from hushblankets.com come with a 100-night guarantee and a full refund with returns, minus the cost of return shipping. The return policy may be different for blankets bought by retailers like Amazon.
The blanket is covered by a one-year warranty that protects against manufacturing defects like a broken zipper, fill leakage, or unraveled threading.
Why do Hush blankets cost so much?
Weighted blankets typically range from $100–$300. The Hush weighted blanket is on the higher end of the price spectrum, partially because it's offered in larger sizes than other blankets on the market. The Hush Iced 2.0 has extra cooling technologies, which is why it's more expensive.
Does the Hush blanket get hot?
The Hush blanket isn't likely to overheat unless you're prone to overheating or live in a warm climate. If you're a hot sleeper, the Hush Iced 2.0 is a better option because it has a breathable viscose bamboo cover. The Iced 2.0 costs more, but it's a cooling weighted blanket.
Are weighted blankets bad?
Weighted blankets aren't bad for your health, but they do have a few cons. In short, they're more expensive than regular blankets, they're too heavy to pack for travel, they're prone to trapping body heat, and they're often too heavy for young kids and those with mobility issues.
The Hush weighted blanket is one of my favorites, and I consider it one of the best weighted blankets on the market. It's a good fit for shoppers willing to pay a little more for a high-quality blanket that's offered in more sizes and weights than we typically see from online bedding companies. And I can say from experience that it helps me get the best sleep possible.
Still, it may sleep a touch too warm for those prone to overheating, but these folks can also remove the duvet cover for a cooler experience. Budget-conscious shoppers will find a more affordable option in the Helix weighted blanket.
Looking for more options? Check out our other best weighted blankets!
Nerd Score Wrap Up
| | |
| --- | --- |
| Performance Factor | Out of 5 |
| Weight Distribution | 5 |
| Customizability | 5 |
| Temperature Control | 4.5 |
| Quality of Materials | 4.5 |
| Care | 4 |
| Customer Experience | 4.5 |
| Total Nerd Score | 4.6 |