Layla Kapok Pillow Review
•
Disclosure: By clicking on the product links in this article, Mattress Nerd may receive a commission fee at no cost to you, the reader. Read full disclosure statement.
The Nerd's Take: The Layla pillow combines all-natural Kapok fibers with shredded memory foam for a feel that's plush yet supportive. With an adjustable fill level and cooling copper fibers, the Layla Pillow sleeps temperature neutral and suits all sleeping positions. The one downside is that this pillow is on the pricier side.
Who It's Good For
All sleeping positions
Foam lovers
Hot sleepers
Those interested in an adjustable fill pillow
Who It's Not Good For
Budget shoppers
Those looking for an extra plush pillow or an extra firm pillow
People who want an all-natural pillow
Watch our Review
Watch our video review of the Layla Pillows for a better idea of which one will work for you!
Look Inside the Layla Kapok Pillow
Kapok Fibers
Kapok is an all-natural fiber harvested from the seed pods of tropical Kapok trees. Kapok has a similar fluffy-pillow feel as down and is a popular all-natural and vegan down pillow alternative. Kapok does an excellent job retaining its plush feel and loft throughout the night.
Shredded Memory Foam
In addition to Kapok fibers, the Layla Pillow contains shredded memory foam. The foam is open-cell, so expect a light and fluffy feel that'll contour around your head and neck. When I pressed my hand into the pillow, I noticed a slightly slow response memory foam that's quickly balanced with airy expansion. It's this memory foam that provides support within the Layla Pillow. For similar options, see the best memory foam pillows.
Copper-Infused Pillow Cover
The Layla Pillow has a zippered cover with an aesthetically pleasing hexagonal pattern. The zipper enclosure provides a fast way to adjust the loft by adding or removing the memory foam and Kapok fill.
This pillowcase fabric has breathable polyester, viscose, and lycra fibers paired with CuTEC yarn. CuTEC yarn has copper woven into the fibers to create a cooler, cleaner pillow. Copper absorbs heat from your head and disperses it, helping minimize night sweats. And with copper's antimicrobial benefits, these fibers combat microbes that can lead to bad odors and allergies.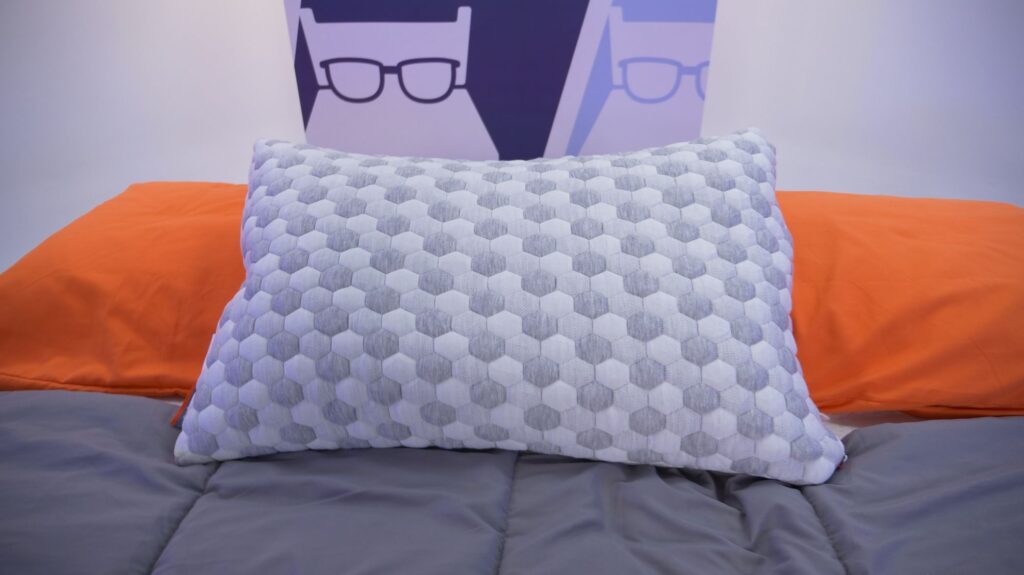 Mattress Nerd Pillow Scores
At Mattress Nerd, we score each pillow on a scale from 1 to 5 over six categories. Take a look at how the Layla Kapok Pillow scored in each of our tests, and see the best pillow guide to learn more on what to look for when buying a pillow.
Cooling: 4/5
Though the Layla pillow doesn't sleep actively cool, Layla's interior is fluffy and breathable, with open-cell foam and natural Kapok yarns which facilitate more airflow than your average foam pillow. The pillow cover is a breathable fabric with temperature-regulating copper fibers woven in, which distributes heat away from your face. My experience with this pillow was sleeping temperature-neutral, instead of a cooling sensation.
See the best cooling pillows for actively cool options.
Alignment: 5/5
The primary reason most of us use a pillow is to support healthy alignment along our upper spine. A pillow should support your neck's proper alignment by not allowing your head to dip too far or be kinked upwards.
One of the Layla pillow's biggest attributes is it's adjustable fill, meaning you can remove or add as much as you need to get proper alignment. Plus, the memory foam contours to your head and neck, keeping it in place and supporting it all night. It is even featured in our best pillows for neck pain roundup.
Adjustability: 5/5
Obviously, an adjustable pillow gets a 5/5 in adjustability. You can adjust the fill to fit any sleep position, and though you can flip, fold, and fluff the Layla pillow, you don't need to for it to fit your needs.
Quality of Materials: 4/5
Layla's pillows are more expensive than your average pillow, but they have high-quality materials, including eco-friendly and non-toxic materials with all-natural Kapok fibers and CertiPUR-US certified memory foams. However, keep in mind that neither the memory foam nor the cover is 100% natural. Another potential downside is that the pillow is made in China, where there are fewer safety regulations than in the United States or European Union.
Care: 3/5
You can wash the pillow cover but not the shredded foam and Kapok fiber fill. To wash the cover, remove the fill and place it in a large bag or container. Then throw the cover in the washing machine on a gentle cycle in cold water and hang dry.
All that being said, Layla recommends that you dry clean your pillow cover rather than washing it yourself because your washer has the potential to damage the cover and void your warranty.
Customer Experience: 5/5
Layla offers a 120-night trial and a 5-year warranty for the Kapok pillow, which is well over the industry-standard 100 nights and 1 year we are used to seeing for pillows. This item also ships for free within the contiguous United States. Shipping fees to Canada, Hawaii, and Alaska are non-refundable.
To contact Layla customer service, you can reach the company directly by phone, email, and via chat on their website (7am-4pm PST).
Total Score: 4.3/5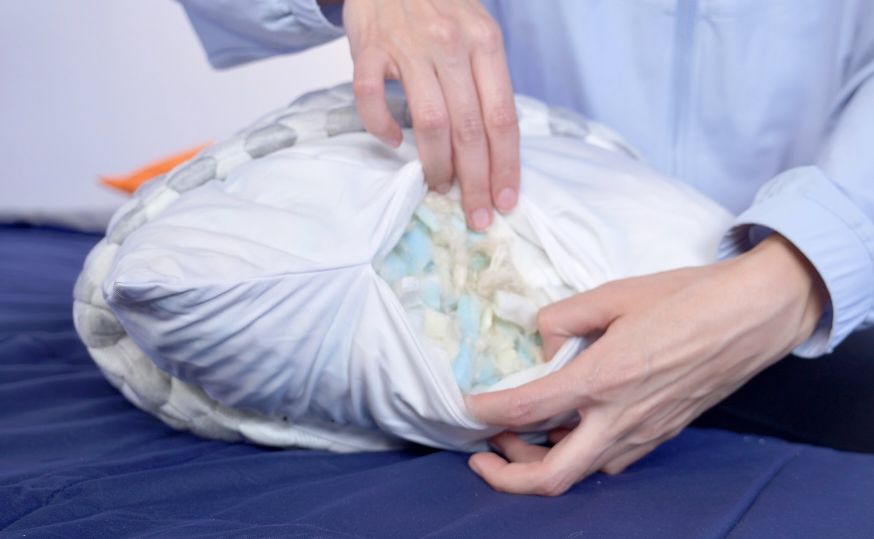 Side Sleeping
The best pillows for side sleepers require sufficient loft and support to keep the neck from slipping out of alignment with the spine. The Layla Pillow comes generously stuffed, with enough loft for most side sleepers—even tall folks with broad shoulders. And because you can unzip the cover and remove some of the fill, all side sleepers should be able to find a level of support that works for them.
I have an average frame and only needed to remove about one handful of fill to support me on my side.
Back Sleeping
The Layla Pillow is also a good fit for back sleepers. The pillow's adjustable height ensures that you can find the right fill level for you. Personally, I kept the loft at the same level as I did on my side. Plus, the Layla Pillow marries a plush feel with memory foam's support, and I felt supported all night long. For options that are just as supportive, see the best pillows for back sleepers.
Stomach Sleeping
Most stomach sleepers should find what they need with the Layla pillow. Typically, stomach sleepers need a thin pillow that adds comfort without too much loft. Because you can remove as much fill as you need, stomach sleepers can find the right height for cozy comfort without having their necks kinked upwards. Personally, I had to take out a few more handfuls of fill until it was flat enough for my stomach.
However, some stomach sleepers prefer a light and fluffy pillow that compresses to almost nothing. With memory foam fill, the Layla Pillow may be a touch too supportive for some stomach sleepers, and those people should check out the best pillows for stomach sleepers.
| | | |
| --- | --- | --- |
| Score for Side Sleepers | Score for Stomach Sleepers | Score for Back Sleepers |
| 5/5 | 4/5 | 5/5 |
Pros and Cons of the Layla Kapok Pillow
Pros
Adjustable loft:

With a convenient

zipper

enclosure, you may remove filling to find your preferred firmness and loft.

Keeps your temperature neutral:

With open-cell foams, airy Kapok fiber, and a breathable pillowcase with cooling copper infusion, the Layla Pillow is one of the best memory foam pillows for hot sleepers.

Eco-friendly:

While the Layla Pillow isn't 100% natural, it does include eco-friendly Kapok fibers that come from seed pods harvested in Indonesia.
Cons
Cost:

At just over $100 for a Queen size, the Layla pillows a bit on the pricey side.

Off-gassing odor:

The Layla Pillow has memory foam and arrives compressed. When the foam expands, it releases tiny particles that emit a temporary odor.

Be cautious when cleaning: The filling is not washable, and to clean the cover, you must remove all of the filling. As the fill contains many tiny fibers, it can be a bit messy to un-stuff and re-stuff the pillow cover.
Sizing, Pricing, and Policies
| | | | |
| --- | --- | --- | --- |
| Size | Dimensions | Weight | Price |
| Queen size | 18" x 28" | 3-3.5 lbs. | $109 |
| King size | 18" x 34" | 4-4.5 lbs. | $129 |
To lower the price on the Layla pillow, check out these Layla coupons.
Shipping
Layla Sleep ships its pillows to customers in the 48 contiguous United States for free, with a fee for shipments to Alaska, Hawaii, and Canada.
The pillow is shipped in a small box and takes around 24 hours to fully expand once you remove it from its packaging. During this time, you may notice an off-gassing odor. Simply allow the pillow to breathe in a well-ventilated room or outdoor area before you sleep on it.
Trial Period
When you buy a new Layla Pillow, you have 120 nights to give it a try and see how you like it. Given that this is an adjustable pillow, the 120 nights provide sufficient time to try different fill levels to see if you can find a feel and height that works well for you.
If you decide that the Layla Pillow isn't what you want, contact Layla's customer service during the sleep trial period, and they will help you with a hassle-free return. There are no return shipping fees, although initial shipping charges to Hawaii, Alaska, or Canada are non-refundable.
Warranty
The Layla Pillow comes backed by a 5-year warranty, which is longer and more generous than the average 1-year pillow warranty. The warranty covers defects, including permanent flattening, unraveled stitching, or a faded cover.
FAQs
Where is the Layla pillow made?
The Layla Kapok pillow is made in China, although the materials come from elsewhere. The Kapok fibers are harvested from the seed pods of Kapok trees in Indonesia. The shredded memory foam fill and fabric for the pillowcase are made domestically in the United States.
Is Kapok good for pillows?
Kapok is a great material for pillow fill because it's not only comfortable, but also hypoallergenic! Kapok fibers are mite resistant, antimicrobial, and moisture-wicking. Because of these characteristics, this pillow doesn't carry the risk of bacteria growth, which causes some to experience allergies.
How thick is the Layla pillow?
The Layla Kapok comes fully stuffed with a very high loft of 7 inches. Once you get your pillow, play around with the adjustable fill and decide whether or not it would be comfortable to remove some. Side and back sleepers may only need to remove a bit of fill, if any at all, while stomach sleepers may need to remove a decent amount.
Should You Buy It?
Thanks to the Layla Kapok pillow's adjustable fill, back, stomach, side, and combination sleepers can all find a loft that works for them. With cooling fibers found in the cover and a breathable fill, this is an excellent pillow for hot sleepers.
While there's lots of love about the Layla Pillow, it is more expensive than the average memory foam pillow. Additionally, even at a minimal loft, it's still quite supportive. Some stomach sleepers may prefer a fiber fill, down, or down alternative pillow for less support.
If you decide to try the Layla Pillow, you have a risk-free 120-night sleep trial, so you won't pay a dime unless you choose to keep it.