Bear Pillow Review
•
Disclosure: By clicking on the product links in this article, Mattress Nerd may receive a commission fee at no cost to you, the reader. Read full disclosure statement.
The Nerd's Take: The Bear Pillow has the contouring of memory foam with the springy feel of latex, so it's conforming yet responsive. While it's not the coolest pillow we've seen, aerated foam, cooling fabric, and mesh side panels make it one of the best all-foam pillows for hot sleepers.
Who It's Good For
Back and side sleepers

People who sleep hot

Sleepers who want a lofty pillow
Who It's Not Good For
Sleepers who like to mold or scrunch up their pillow

Stomach sleepers

Plush or firm pillow fans
What is the Bear Pillow Made Of?
Breathable Cover
The Bear pillow features an exclusive Double Ice Fabric cover, which has a cool-to-the-touch feel. The fabric consists of 40 percent cooling yarn and 60 percent a polyester blend. It has a smooth, almost slippery feel. Dual mesh side panels cap both ends of the pillow, and help it perform well as a cooling pillow to an even greater degree.
The cover has a small zipper for easy removal, but keep in mind that it isn't machine washable. Bear recommends only spot cleaning and air drying the cover. To protect against dust mites and keep the pillow hypoallergenic, you should use a washable pillowcase.
Loft-X Foam
Inside the Bear Pillow is a single piece of proprietary polyfoam called Loft-X Foam. Bear designed this foam to have the soft contouring of memory foam and the bounce of latex, which means it returns to its original shape almost immediately when you move around. The foam slab has small holes throughout that increase airflow and promote cool sleep.
While the Loft-X Foam does conform to your head and neck, it's lighter and softer than memory foam. This is a plus for people who like a squishy pillow and for anyone who repositions a lot at night.
Mattress Nerd Bear Pillow Scores
Cooling: 4/5
Bear engineered this pillow with mesh panels and airy foam to promote breathability. Combine the panels with fabric that's cool to the touch and you have an excellent cooling pillow. But while most sleepers find the Bear Pillow sufficiently cool, some ultra-hot sleepers may still experience a touch of heat retention. Unfortunately, that's the case with most all-foam pillows.
Alignment: 4/5
Whether or not you experience healthy neck alignment on the Bear Pillow depends on your sleep position and body size. This pillow is pretty lofty, measuring around 5.5" thick and compressing roughly 50 percent. That means your head will probably be lifted at least 2″ no matter how you sleep.
Lofty support and a medium firmness help keep the neck aligned for most side and back sleepers. However, smaller back sleepers may experience too much lift, and stomach sleepers of all sizes should look for a less lofty pillow.
Adjustability: 2/5
Unlike down, down alternative, or shredded foam pillows, the Bear Pillow isn't very moldable. There are no ways to increase or decrease the loft, so the pillow's size is what it is.
Despite the Bear Pillow retaining its size and shape throughout the night, it has a responsive feel that quickly bounces back. This means that you can easily switch from one sleeping position to the next and have your pillow quickly adjust to your new shape.
Quality of Materials: 2/5
Bear's pillow has a hypoallergenic and cooling design, but according to its customer service representatives, this foam is not CertiPUR-US certified. Most mattresses and pillows sold in the U.S. with foam components have this certification, which confirms that the foams are free from known toxic chemicals. The lack of this certification, or any others concerning the eco-friendliness and safety of the foams, lead us to give it a low score in terms of quality.
Care: 2/5
Just as with other all-foam pillows, the foam core is not washable. And while you may remove the cover, it too should only be spot cleaned with cold water. Because there isn't a washable cover, we recommend always having a pillowcase on the Bear Pillow to help keep it clean.
Customer Experience: 4/5
The Bear Pillow has a 100-night trial period and 2-year warranty, which are relatively generous in terms of length. Our only qualm is that you're responsible for shipping fees if you decide to return the pillow during the trial period.
Total Score: 3/5

Will It Work for Your Sleeping Position?
| | | |
| --- | --- | --- |
| Score for Side Sleepers | Score for Stomach Sleepers | Score for Back Sleepers |
| 5/5 | 1/5 | 4/5 |
Side Sleeping
Side sleepers need the thickest, most supportive pillows out of all the sleeping positions. When you lie on your side, you need a pillow that keeps your neck in a straight line, which the lofty Bear Pillow excels at. This pillow conforms to your head and neck, slightly compressing while maintaining a robust loft that keeps your neck supported.
Back Sleeping
Back sleepers do best on a pillow with moderate loft that supports the neck's natural curve without allowing it to dip too low or bend too high. The Bear Pillow has an excellent thickness for most back sleepers, although smaller folks may find it a bit too lofty.
Stomach Sleeping
We don't recommend the Bear Pillow for strict stomach sleepers. It's fluffy and thick, so it lifts the neck out of line with the spine. When you lie on your front, you'll have the best alignment on a very thin pillow or no pillow at all.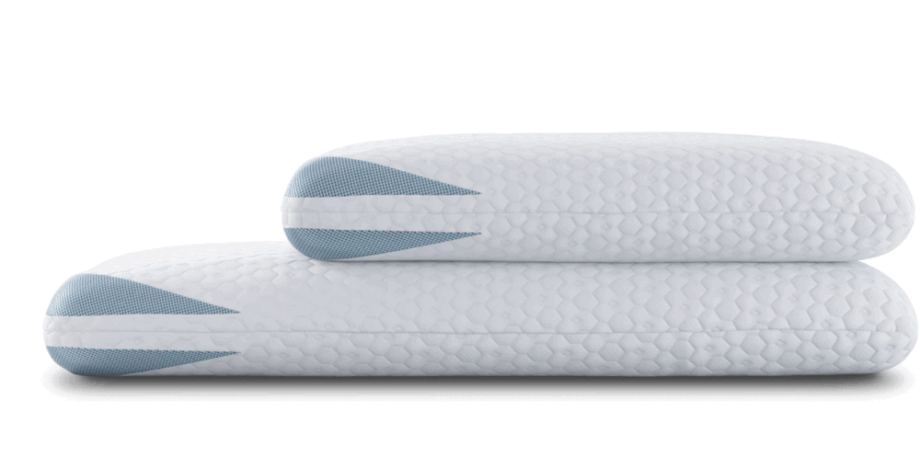 Pros/Cons
Pros
Squishy yet supportive:

The Bear Pillow has a marshmallow-y, medium-plush feel that compresses for lofty support.

Cool for a foam pillow:

This pillow is much cooler than most foam pillows, so you can enjoy foam contouring without excessive heat retention.

Quickly springs back to shape:

Bear's Loft-X Hybrid Foam has a latex-like spring to it, so it bounces back to its original shape as soon as you take your weight off of it. This responsiveness makes it suitable for sleepers who move around a lot.
Cons
No quality certifications:

The Bear Pillow is one of the few high-end foam pillows without any certifications confirming non-toxic or eco-friendly materials.

You pay return shipping costs:

While you can return your Bear Pillow during the first 100 nights, you're responsible for the cost to return the Bear pillow through FedEx.

Price point: With prices starting at $125, this is not the most affordable pillow on the market.
Bear Pillow Sizing, Pricing, and Policies
| | | |
| --- | --- | --- |
| Size | Dimensions | Price |
| Standard Size Pillow | 15.75" x 25" x 5.5" | $125 |
| King Size Pillow | 15.75" x 35.4" x 5.5" | $145 |
If you're interested in finding a great deal on Bear products, look no further than our Bear Coupons page.
Shipping
The Bear Pillow ships to all 50 states, but international deliveries are not available at this time. Shipping to Alaska or Hawaii incurs an additional shipping fee.
Sleep Trial
The Bear Pillow comes with a 100-night sleep trial, which means you'll have more than three months to sleep on the pillow from the date of delivery before making your final decision.
There's no mandatory break-in period, so if you don't like the pillow, you can return it for a full refund at any time during the sleep trial. However, customers in all states must pay the return shipping costs, and there is no refund for the initial shipping fees to Alaska or Hawaii.
Warranty Coverage
The Bear Pillow has a 2-year, non-prorated warranty. The warranty protects customers against manufacturing defects. If you experience a defect, Bear replaces the pillow at no cost to you. The warranty is non-transferable, meaning that only the person who bought the pillow qualifies for coverage.
Bear Pillow FAQs
How do I care for my Bear Pillow?
Because neither the cover nor the pillow is machine washable, we recommend using a pillowcase for easy care. You might consider a waterproof pillow cover if you tend to sweat much during the night or worry about other liquid damage.u00a0
Does the Bear Pillow use the same Celliant fabric technology as the Bear Mattress?u00a0
No, the Bear Pillow has a Double Ice Fabric cover that is cooling but doesnu2019t actively promote recovery like Celliant fabric. For more information about the Bear Mattress Celliant-blend cover, read our Bear Mattress Review.
Does a pillowcase inhibit the cooling benefits of the Bear Pillow?u00a0
If you want the Bear Pillow for its cooling properties, itu2019s a good idea to purchase a cooling, breathable pillowcase. Consider bamboo fabric, which is lightweight and refreshingly cool. Learn more about bamboo fabric in our Best Bamboo Sheets article.
The Nerd's Final Take: Should You Buy It?
If you sleep hot and need the loft of an all-foam pillow, the Bear Pillow might be a good fit. It has a cooling cover and exceptional breathability, making it one of the coolest all-foam pillows that we've seen. Just be sure that you're comfortable spending more than $100.
Because the Bear Pillow has a pretty thick loft, it's best for side and back sleepers. Stomach sleepers need a thinner pillow, like the Belly Sleep Pillow. Our main qualm with the Bear Pillow is the lack of any eco-friendly materials or certifications confirming non-toxic foams. For an all-natural pillow great for your health and the environment, consider the Avocado Pillow.
Want to learn more about Bear? Check out these other reviews: