Tuft & Needle Original Pillow Review
•
Disclosure: By clicking on the product links in this article, Mattress Nerd may receive a commission fee at no cost to you, the reader. Read full disclosure statement.
The Nerd's Take: The Tuft & Needle Pillow provides plush yet lofty support with a medium firmness that's great for side and back sleepers. Made from a slab of T&N Adaptive foam, this pillow is squishy, responsive, and supportive. If you sleep hot, the breathable materials can help keep you cool.
Who It's Good For
Hot sleepers

Indecisive shoppers

Back and

side sleepers
Who It's Not Good For
Stomach sleepers

Shoppers on a tight budget

Down pillow fans
The Tuft & Needle Pillow, also called the Original Foam Pillow, consists of T&N's proprietary foam and an ultra-cozy cover. Here's an in-depth look at the construction to help you envision sleeping on this pillow.
Breathable Cover
The removable pillow cover is made with polyester and a polyester blend called micro polyamide (similar to a polyester and nylon blend). This combination is hypoallergenic and machine washable. It's also so soft, airy, and cool-to-the-touch that it's tempting not to use a separate pillowcase—although we recommend you do so to keep it clean.
Adaptive Foam Core
The Tuft & Needle Pillow's core contains a custom-cut slab of T&N Adaptive foam—the same material that makes up the top layer of the fan-favorite Tuft & Needle mattress. Instead of shredding or molding this foam, T&N maintains the foam's original structure, helping it retain its shape throughout the night.
This proprietary foam is squishy soft while compressing in a way that contours nicely to the head and neck for superb support. Don't expect a memory foam cradle, but something cloud-like with a medium to medium-firm feel.
The final component of this pillow is a collection of graphite and cooling gel beads. These materials pull heat away from your body, and when paired with the open-cell foam design, dissipate body heat. The result is a pillow that feels touchably cool all night long.
Curious about the Tuft & Needle foam mattress? Read our full Tuft & Needle mattress review!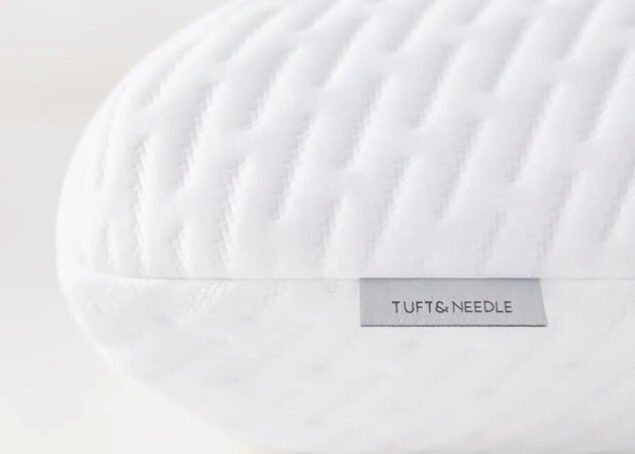 We rate every pillow we test on a 1–5 scale for five categories essential to finding the right pillow. Some of these attributes—like cooling and adjustability—matter more to some sleepers than others, while the other factors are important for all pillow shoppers.
Cooling: 5/5
If you want a cooling foam pillow, the T&N is an excellent option. The pillow cover is incredibly airy, while the foam has holes throughout that increase breathability. T&N also uses cooling graphite and gel beads in the foam core. Plus, the airflow through this pillow is so good that you shouldn't feel the need to flip it.
Alignment: 4/5
Your body size and sleeping position influence the right pillow for healthy upper spine and neck alignment (aka good sleeping posture). Stomach sleepers require the thinnest pillows, side sleepers the loftiest, and back sleepers something in the middle. Also, the bigger your body, the loftier a pillow you'll need for proper nighttime posture.
This pillow has a 5" loft that compresses to a medium to medium-firm firmness, with a feel that's squishy, contouring, and supportive. We believe most side and back sleepers will like the compressed loft, but side sleepers with wide shoulders may want something even thicker. If you sleep on your front, the T&N pillow is likely too thick, and may eventually cause neck pain.
Adjustability: 2/5
The size and shape of the T&N pillow don't change. Unlike a down or down alternative pillow, you cannot easily bunch or fold this pillow for customized comfort. Additionally, you can't increase or decrease the loft like you can with many shredded memory foam pillows.
Quality of Materials: 4/5
The Tuft & Needle is a high-quality all-foam pillow. Not only is the entire pillow manufactured in the U.S., but it boasts several certifications showing it to be non-toxic and eco-friendly. These include:
GREENGUARD GOLD Certification:

The pillow earned this certification for low chemical emissions, supporting healthy indoor air.

CertiPUR-US Certification:

The foams contain no heavy metals, formaldehyde, ozone depleters, prohibited phthalates, or Tris fire retardants. Additionally, the foam has low VOC (volatile organic compound) emissions.

Intertek's Clean Air Certification:

This testing confirms low chemical emissions, something that's good for your health and the environment.
Additionally, the T&N Pillow doesn't go flat at night, so you won't need to fluff it for comfort. And the foam has shown impressive durability in T&N mattresses, so it's likely to last for many years in pillow form as well.
Care: 4/5
It's pretty easy to care for the Original Foam Pillow. All you need to do is remove the cover, pop it in the washing machine, and hang it dry. Our only qualm is that you cannot clean the foam itself unless it's a small spot cleaning. But given that no polyfoam or memory foam pillow is completely washable, this isn't a huge concern. Just be sure to always have a cover on the T&N Pillow when you sleep on it.
Customer Experience: 5/5
One of the biggest selling points for the T&N Pillow is the excellent customer experience. Tuft & Needle is known for its high-quality customer care, and this applies whether you're buying a bed-in-a-box mattress or a sleeping accessory.
When you purchase this pillow from tuftandneedle.com, it comes with a 100-night sleep trial, full refunds, and free shipping within the contiguous U.S. Unlike the standard 1-year warranty that comes with most pillows, this pillow has a generous 3-year warranty.
However, if you buy the T&N Pillow from Amazon, the trial period is just 30 days, and you must go through Amazon customer care if you have any concerns (outside of warranty claims).
Total Score: 4/5
| | | |
| --- | --- | --- |
| Score for Side Sleepers | Score for Back Sleepers | Score for Stomach Sleepers |
| 4/5 | 2/5 | 5/5 |
Side Sleeping
The Tuft & Needle Original Foam Pillow offers the right balance of cushiony comfort and lofty support for most side sleepers. If you have wide shoulders, you may want something even thicker and more supportive. This is because the best side sleeper pillows keep your neck in line with your spine, so folks with bigger bodies typically require a bit more loft.
Back Sleeping
Back sleepers of all body sizes are likely to enjoy the T&N Pillow. The fluffy 5" loft generously conforms to the neck and shoulders, providing spinal support without too much lift. The foam readily expands when you move, so it won't stay compressed if you toss and turn to get comfy.
Stomach Sleeping
The best pillow for stomach sleepers is one that's ultra-thin, allowing a more neutral neck position than a thicker pillow. With a 5" loft, the T&N Pillow is simply too thick for front sleeping. Still, if you're a combination sleeper who doesn't spend too much time on your stomach, this pillow is okay for brief stomach sleeping stints.
Related: Best Pillow Guide
Pros
Sleeps Cool:

The

T&N Pillow

is cooler than almost any other pillow. With exceptional

breathability

, temperature-regulating

graphite

, and

cooling gel beads

, this pillow stays refreshingly cool through the night.

No Fluffing:

The

Adaptive foam

bounces back, staying

squishy

and lofty throughout the night—no

fluffing

required.

Medium Firmness and Loft:

The

T&N Pillow

is plush and supportive, with a medium feel and loft that suits most back and

side sleepers

.

Excellent Durability:

T&N's

Adaptive foam

has stood up to years of use in T&N mattresses, so we expect it to last and stay comfortable for many years in pillow form.

Free Returns:

T&N gives you 100 nights to sleep on your new pillow, risk-free.
Cons
Off-Gassing Odor:

Your new

T&N Pillow

will have an odor when you unwrap it that lasts up to a few days. Let your pillow air out for a night or two before sleeping on it if you dislike the smell.

Not for Stomach Sleepers:

This pillow is too thick for

stomach sleepers

, who require a thinner pillow to minimize

neck pain

.

High Price Point:

While plenty of pillows cost more than the

Original Foam Pillow

, there are also many pillows that cost less.

Shipping Fees to Alaska and Hawaii: Only customers in the continental U.S. receive free shipping, with fees for those in Hawaii or Alaska starting at $30.
| | | |
| --- | --- | --- |
| Size | Dimensions | Price |
| Standard Size | 25" x 16" x 5" | $85 |
| King Size | 34" x 16" x 5" | $110 |
See our Tuft & Needle mattress coupons for the best deals.
Shipping & Returns
Tuft & Needle offers all customers in the contiguous U.S. free shipping on its mattresses and sleep accessories. Most pillows ship in one to five business days, compressed into a small box. It may take a day or two for your new pillow to reach its final size and lose any residual off-gassing odor after you unpackage it.
From the first night that your pillow arrives, you can try it out risk-free for 100 nights. So if you find that you end up going back to your old pillow or find one you like more, you can return the T&N pillow for a full refund.
Another great perk of the T&N Pillow is its 3-year limited warranty, which is three times as long as the typical pillow warranty. The warranty length speaks to T&N's belief in the quality and longevity of the Original Foam Pillow.
Where are Tuft & Needle bedding products made?
Every Tuft & Needle product is made in the USA. The pillowcases, mattress covers, and other fabrics come from fabric mills in North Carolina and South Carolina, while T&N sources its foams from various factories around the U.S. Even T&N's headquarters are in the U.S. in Phoenix, Arizona.
How does the Tuft & Needle Pillow compare to competitor pillows?
The T&N Original Foam Pillow consists of a unique foam that's unlike other popular foam pillows. The T&N Adaptive foam is soft and squishy, with a high loft that conforms for good side and back sleeper support. Unlike memory foam pillows, the foam is lightweight and quickly regains its shape when you move.
How do I know if the Tuft & Needle Pillow is right for me?
If you like a lightweight, lofty foam pillow with a medium firmness, the T&N Pillow may be a good fit. It's an excellent option for hot sleepers, side sleepers, and back sleepers. If you're not sure, know that you can return the T&N pillow for a full refund during the 100-night trial period.
The Tuft & Needle Pillow provides the conforming support that most back and side sleepers enjoy. If you sleep hot, this is one of the best pillows to help reduce night sweats, thanks to its breathability and cooling innovations.
If you're a stomach sleeper or someone who loves to shape your pillow as you toss and turn, there are better options. For example, we love the Casper Original Pillow for its adjustability. You can also peruse our list of the Best Pillows for Stomach Sleepers.
Other Popular Tuft & Needle Products
Tuft & Needle Percale Sheet Set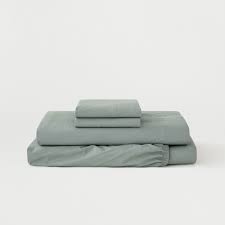 Mattress Nerd Score
4.40 / 5
Tuft & Needle Jersey Sheet Set

Mattress Nerd Score
4.30 / 5
Tuft & Needle Mattress Topper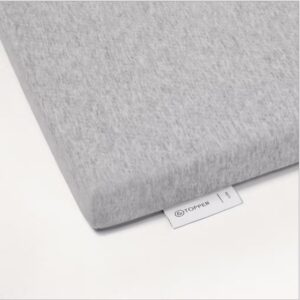 Mattress Nerd Score
4.40 / 5
Want to learn more about Tuft & Needle? Check out these other reviews: