Leesa vs. Bear Mattress Comparison
•
Disclosure: By clicking on the product links in this article, Mattress Nerd may receive a commission fee at no cost to you, the reader. Read full disclosure statement.
The Leesa Original mattress is a memory foam bed with a contouring surface that gently hugs the body's curves. The Bear is a slightly firmer memory foam mattress engineered to speed recovery and help athletes sleep better. The Leesa's softer, more enveloping surface tends to work better for side sleepers, lightweight people, and anyone with joint pain. Athletes, hot sleepers, and stomach sleepers are likely to prefer the feel of the flagship Bear mattress.
In our Leesa vs. Bear mattress comparison, we outline what you need to know to decide which of these leading online mattresses has what you need in a bed.
Want to know how we review our mattresses? Feel free to learn more about our testing methodology.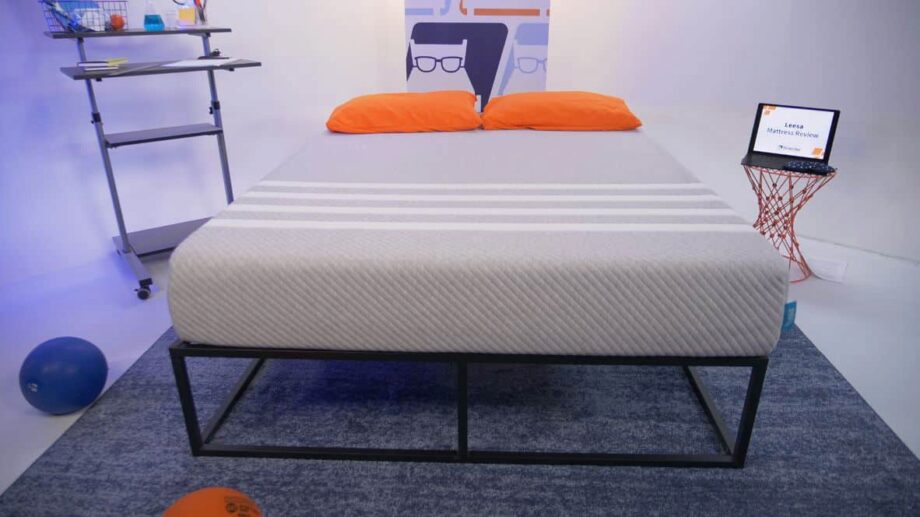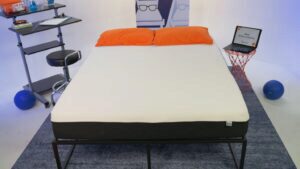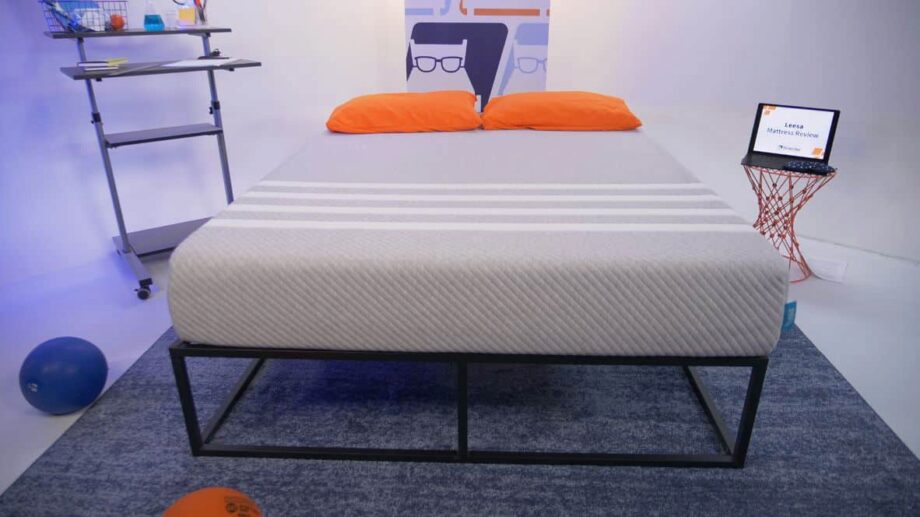 Product
Leesa Original Mattress
Firmness
Medium-soft: 5.5/10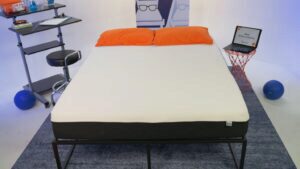 Firmness
Medium-firm: 7/10
Bear vs. Leesa Overview
Here's a brief overview of the Bear and Leesa's strong points, as well as which types of sleepers we recommend them to the most.
| | |
| --- | --- |
| Bear is best for… | Leesa is best for… |
| Athletes | Side sleepers |
| Hot sleepers who like all-foam beds | Memory foam aficionados |
| People with back pain | People who share the bed |
Who Should Choose the Bear Mattress?
Athletes: Bear designed this bed to support deep sleep and expedite healing for active folks. Celliant technology may boost blood flow while cooling innovations support deep, restorative sleep. If you are looking to maximize your sleep, see the best mattresses for athletes.
Hot sleepers who like all-foam beds: The Bear is exceptionally cool for an all-foam mattress. Its Celliant cover promotes ample airflow, while the top layer of memory foam has cooling gel and graphite to remove heat from where you sleep.
People with back pain: The Bear has the contouring support of firm memory foam, which is an excellent material for proper spinal alignment in stomach and back sleepers. A healthy spine means fewer aches and pains. Check out the best mattress for back pain for our recommendations.
Who Should Choose the Leesa Mattress?
Side sleepers: The Leesa has a soft top layer designed to compress easily at the hips and shoulders, avoiding excess pressure at these sensitive areas. 
Memory foam aficionados: The Leesa has a memory foam feel, which means you can expect to sink in a bit and be cradled by pressure-relieving foam. 
People who share the bed: Leesa isolations motion transfer so people can sleep together without interruptions. Additionally, its medium-firm feel is a good fit for most people, which increases the likelihood that both partners enjoy the Leesa. 
In this part, we'll discuss the main similarities and differences between the Bear and Leesa mattresses.
Bear vs. Leesa: Top Similarities
Construction: Both are memory foam mattresses with a 2" comfort layer, 2" transition layer, and 6" polyfoam base layer.
Limit motion transfer: Thanks to each bed's all-foam construction, both help sensitive sleepers sleep well by absorbing motion from the other side of the bed—such as when a partner gets into bed or moves around to get comfy.
Spinal alignment: Both mattresses have memory foam layers that contour to the body's unique curves. This feature supports a healthy spine, which can ease back pain.
Bear vs. Leesa: Top Differences
Pressure relief: The Leesa's softer top layer more generously cushions pressure points, making it better than the Bear for most side sleepers and people with joint pain. If you are looking for optimal pressure relief, see the best mattresses for side sleepers.
Heat retention: The Bear mattress boasts more advanced cooling technology that keeps sleepers cooler than the Leesa. If you run hot or live somewhere warm, Bear is likely to help you sleep more soundly.
Suitable sleeping positions: While back sleepers are likely to enjoy either bed, the Leesa's softer feel is a better fit for most side sleepers and the Bear's firmer surface for stomach sleepers.
Body sizes supported: Heavier sleepers find superior support on the Bear's firmer top layer, while lightweight sleepers tend to prefer the Leesa's softer surface.
Bear vs. Leesa: Firmness & Feel Differences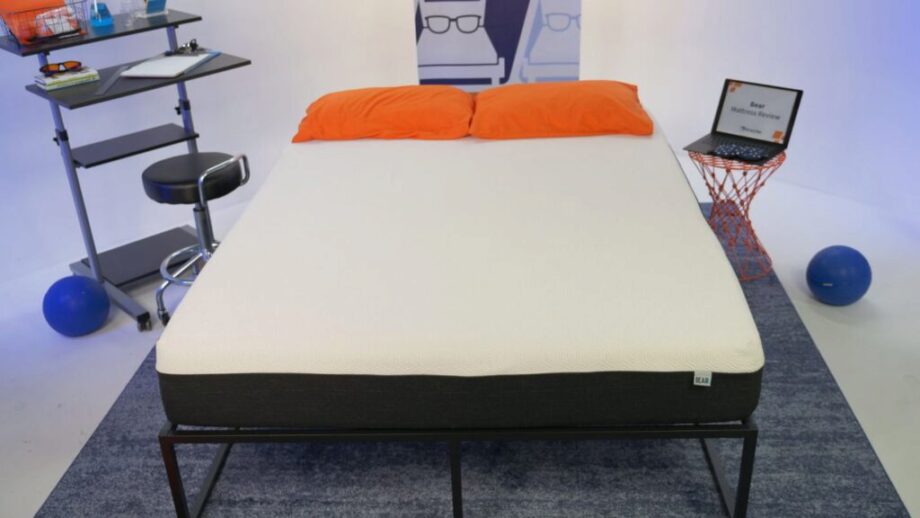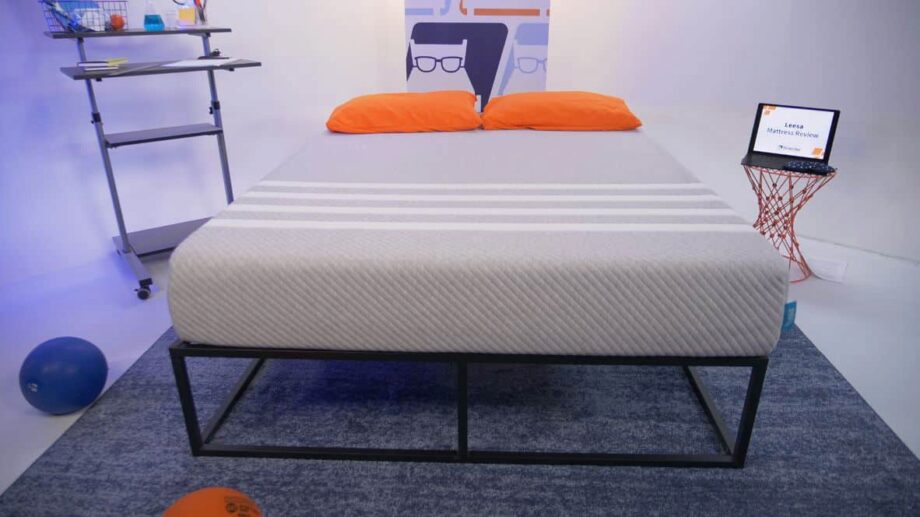 For this section, we go into detail about how well the Bear and Leesa stack against each other in terms of firmness and feel.
What's the Firmness Of the Bear & Leesa Mattresses?
Mattresses are rated on a firmness scale of 1 to 10, with 10 being the most firm and 1 being the softest. Softer firmness levels are better for side sleepers who need their shoulders and hips cradled, while firmer mattresses are better for stomach and back sleepers in need of hip and back support. Because beds feel softer the more that you weigh, lighter people tend to prefer softer beds, and heavier folks firmer mattresses.
The Bear mattress is a 7/10 on the firmness scale, making it one of the firmer medium-firm mattresses. The Leesa falls at a 6/10, so it's one of the softer medium-firm beds.
What Do the Bear & Leesa Mattresses Feel Like?
Despite being firmer than most foam mattresses, we think the Bear mattress has a balanced foam feel. Its memory foam top layer feels stable and sturdy like you're sleeping "on" the mattress rather than "in" it. Despite having a memory foam layer, it doesn't have that traditional hugging feel that comes with most memory foam mattresses.
The Leesa Original feels very soft, bouncy, and responsive, unlike other foam mattresses that make you feel "stuck" in the mattress. There's a slight sinking feeling when you lie down on it, but the way it hugs and conforms around your body is very comfortable.
What's It Like to Sleep On the Bear & Leesa Mattresses?
The Bear's firmer surface has a touch of contouring, a level of balance that is excellent for both stomach and back sleepers. The Leesa's softer feel and more generous contouring are a good fit for side sleepers and back sleepers.
Expect to sink more into the Leesa, which can make it harder to move around than on the Bear's more supportive surface. Combination sleepers who toss and turn a lot may find themselves waking up less often on the Bear. However, combination sleepers should consider which positions in which they spend the most time. Of the two beds, the Leesa does a slightly better job at keeping sleepers of every sleeping position comfortable.
Average-weight people experience top-notch support on either the Bear or the Leesa. However, the Leesa better conforms to the bodies of lightweight people: those who weigh less than 130 pounds. The Bear's firmer feel and more durable top layer provide sufficient support for heavier folks, while the Leesa is typically too soft for people who weigh more than 230 pounds.
The Bear vs. Leesa Mattresses By Body Type
Bear Performance By Body Type & Sleeping Position:
| | | | |
| --- | --- | --- | --- |
| Body Type: | BACK SLEEPERS | STOMACH SLEEPERS | SIDE SLEEPERS |
| Lightweight (< 130 lbs): | 5 | 5 | 2 |
| Average-weight (130–230 lbs): | 5 | 4 | 3 |
| Heavyweight (> 230 lbs): | 3 | 2 | 3 |
Leesa Performance By Body Type & Sleeping Position:
| | | | |
| --- | --- | --- | --- |
| Body Type: | BACK SLEEPERS | STOMACH SLEEPERS | SIDE SLEEPERS |
| Lightweight (< 130 lbs): | 5 | 4 | 4 |
| Average-weight (130–230 lbs): | 5 | 3 | 3 |
| Heavyweight (> 230 lbs): | 2 | 1 | 2 |
1 = Very poor, 2 = Not good, 3 = Fair, 4 = Good, 5 = Excellent
Average-Weight Sleepers (130–230 lbs)
Average-weight back sleepers will have a good night's sleep on both mattresses since they'll get plenty of back support and pressure relief no matter which they pick.
Most average-weight side sleepers will probably have the same experience on both mattresses, but we think the Leesa is the slightly better option for side sleepers because of its softer foam layers.
Since average-weight stomach sleepers will need a firm yet supportive mattress to keep their hips up and aligned with their spine, we think the firmer Bear mattress is the better pick.
Average-weight combination sleepers can enjoy a good night's rest on both mattresses. But for better comfort, we suggest you choose the mattress that's better suited to your dominant sleeping position.
Heavyweight Sleepers (> 230 lbs)
Heavyweight back sleepers will probably fare better on the Bear mattress because of its firmer nature. However, heavier folks may feel like it lacks enough support to prevent them from sinking in too much.
We think the Bear mattress is also the better option for heavyweight side sleepers since it can provide enough support and cushion for the hips and shoulders. However, some may still feel like it's a bit too soft.
Both mattresses struggle when it comes to accommodating heavyweight stomach sleepers since they lack the support needed to keep the hips elevated. Instead, we recommend firmer and more supportive options like the ones in our best mattresses for stomach sleepers.
Heavyweight combination sleepers may feel like they sink in too much on both mattresses, so neither is a good choice. For more responsive mattresses, check out our list of the best mattresses for combination sleepers.
Lightweight Sleepers (< 130 lbs)
Both the Bear and Leesa mattresses offer excellent back support for lightweight back sleepers.
Lightweight side sleepers will sleep much more comfortably on the Leesa mattress because of its softer foam layers, which will help cradle pressure points and relieve pressure.
Both mattresses are a good match for lightweight stomach sleepers, but in terms of hip support, the firmer Bear outperforms Leesa.
Lightweight combination sleepers will be happy with both mattresses since they're both very responsive to movement. It's only a matter of choosing which mattress better suits your dominant sleeping position.
Differences In Mattress Construction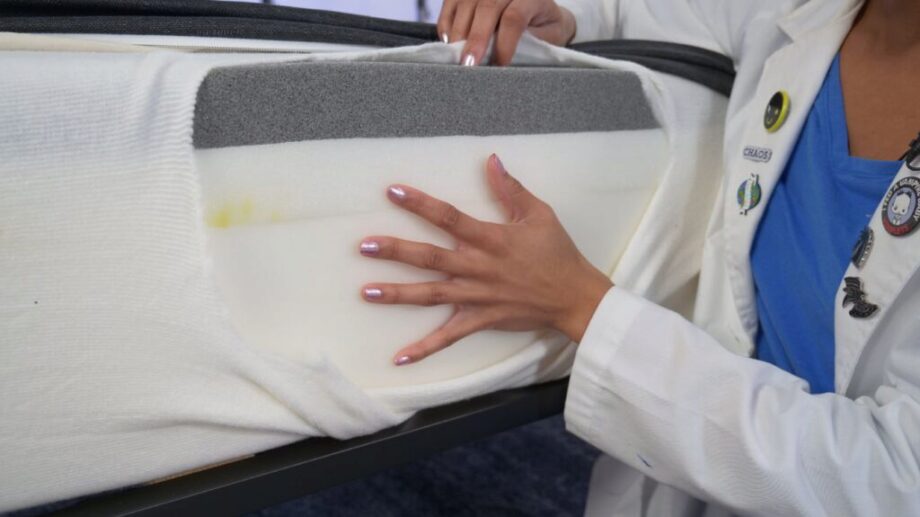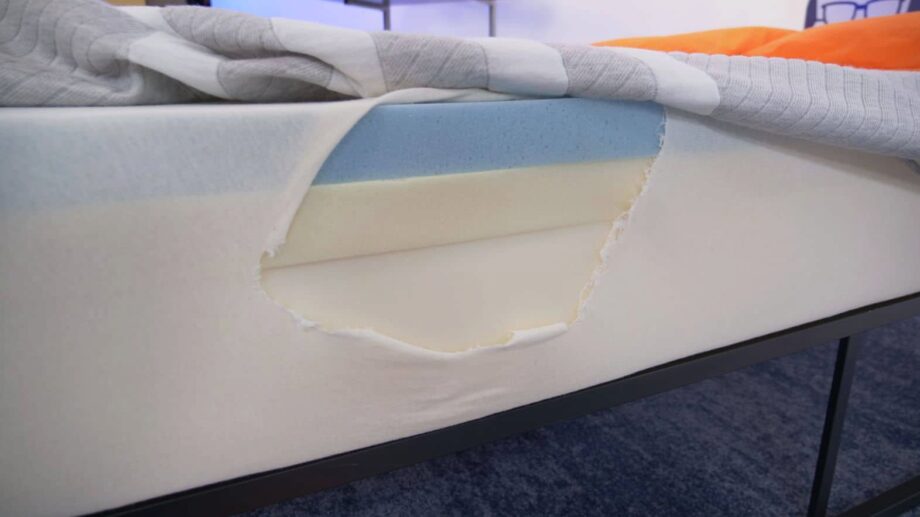 Both Bear and Leesa are popular 10" foam mattresses. However, they differ when it comes to mattress construction and features. Take a look.
| | |
| --- | --- |
| Bear Mattress Materials | Leesa Mattress Materials |
| Breathable Celliant Cover | Soft Twill Cover |
| 2" Graphite-Gel Memory Foam | 2" LSA200 Foam Layer |
| 2" Responsive Transition Foam | 2" Memory Foam Recovery Layer |
| 6" High-Density Support Foam | 6" High-Density Base Foam |
Cover
Bear uses its proprietary Celliant cover which they claim redirects infrared light into your body to help improve blood flow, muscle recovery, and performance. Leesa has a soft twill cover that's smooth, slightly stretchy, and durable.
Comfort Layers
The Bear mattress has a memory foam comfort layer that's infused with graphite gel to give it a cooling feeling. Leesa's comfort layer is made from its patented LSA200 foam that's both responsive and cooling.
Support Layers
Both mattresses have a 6" high-density foam layer that serves as their base.
Bear vs. Leesa Pricing
| | | |
| --- | --- | --- |
| Size | Bear Prices | Leesa Prices |
| Twin | $786.00 | $849.00 |
| Twin XL | $849.00 | $899.00 |
| Full | $911.00 | $1099.00 |
| Queen | $998.00 | $1199.00 |
| King | $1305.00 | $1399.00 |
| California King | $1305.00 | $1399.00 |
For exclusive discounts on both beds see our Bear mattress coupons and Leesa mattress coupons.
Bear vs. Leesa Mattress Performance Ratings & Differences
Temperature
The Bear mattress is better at keeping sleepers cool due to the graphite and gel found in the memory foam top layer. Both beds utilize open-cell foams for airflow and breathable mattress covers, but most hot sleepers find the Bear more comfortable than the Leesa.
However, if you struggle to stay cool, you might consider a bed with innerspring coils. Leesa and Bear each have hybrid models featured in our best cooling mattresses for hot sleepers list.
Motion Transfer
When we shift positions or get in and out of bed, that motion can travel across the surface, disturbing those who sleep with us. That is why most couples prefer beds with superb motion isolation abilities—typically, most all-foam beds and hybrid mattresses with thick comfort layers.
Both the Leesa and Bear demonstrate an outstanding level of motion isolation, with neither one outperforming the other in this category. As such, they're both good mattresses for couples, even when one person is an ultra-sensitive sleeper.
Edge Support
Edge support is more important for some people than others. Sturdy edges help elderly people get into and out of bed safely. They also provide more sleeping space for people who like to hug the edge as they sleep—think those who share the bed with a bed hog. Additionally, you might sit along the edge to put on your shoes or read a bedtime story to your kids.
If any of the above applies to you, you should shop for a bed that has reliable and comfortable edges. Both mattresses have edges suitable for sleeping along or sitting on briefly to get ready. However, if you like to sit on the edges to read or need extra support for getting into bed, the firmer Bear has a slight advantage.
Pressure Relief
Pressure relief is a mattress's ability to evenly distribute weight so that areas like the shoulders and hips don't experience excess pressure and pain.
A bed with a softer surface usually provides better give at these sensitive areas, and the softer Leesa delivers better cushioning than the Bear to side sleepers of every body size.
Pain Relief
Have you ever experienced waking up and immediately feeling sore? That's probably a sign that your mattress has poor pain-relieving properties. Pain relief is directly tied to pressure relief—the better a mattress is at relieving pressure, the better it is at relieving pain.
As we mentioned above, the softer Leesa mattress will probably provide better pain relief for most lightweight and average-weight sleepers dealing with back pain. But for those who are on the heavier side, we think the Bear has a slight upper hand over Leesa.
Lightweight to average-weight sleepers with joint pain will find better relief and comfort on Leesa too, but heavier folks will likely require the firmer and more supportive foam layers of the Bear so that they don't sink in too much and let pressure buildup.
Durability
All-foam beds like the Bear and Leesa typically last around seven to 10 years. At this point, most sleepers begin to notice softening or body indentations that hinder a good night's sleep. Because both of these beds are 10" tall beds made from memory foam and polyfoam, we expect them to have a similar lifespan. However, the slightly firmer foams of the Bear give it a slight edge in longevity.
Shipping, Returns, & Warranties
Bear
Bear offers free shipping in the contiguous U.S., along with a 120-day sleep trial. They'll also provide you with a Lifetime warranty that covers material and design defects but only under certain conditions.
Leesa
Leesa provides free shipping to 50 U.S. states and white glove delivery as an optional service for a fee of $150. They also provide a 100-day sleep trial where you can apply for a free return and full refund after 30 nights and a 10-year warranty that covers full replacements for any defects not caused by daily wear and tear.
More Mattresses to Consider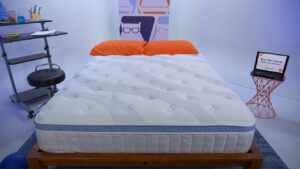 Bear Star Hybrid Mattress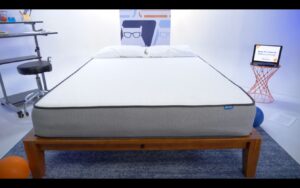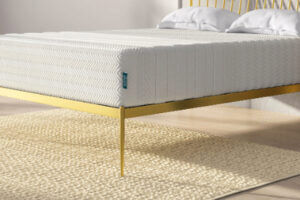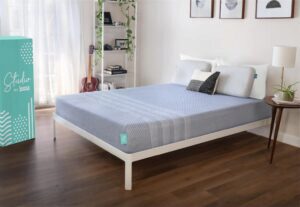 Our Bear vs. Leesa Final Review
The Bear mattress is our pick for athletes, hot sleepers, stomach sleepers, and heavier folks. The Leesa tends to be better for side sleepers, people with pain at their hips or shoulders, and anyone who likes a hugging foam feel. Both are excellent for couples and back sleepers and have risk-free home trial periods.
Bear & Leesa FAQs
Do you need a box spring with a Bear mattress?
No need. Bear mattresses don't require a box spring. Instead, Bear recommends you use a flat foundation that will help distribute your body weight, such as a slatted bed, platform bed, or adjustable base.
How long do Leesa mattresses last?
Like other foam mattresses, you can expect your Leesa mattress to last you around seven to ten years, depending on the daily wear and tear it goes through. We recommend you regularly clean and maintain your mattress so you can maximize its lifespan.
How long will a Bear mattress last?
Expect your Bear mattress to last you around seven to ten years of use, similar to the lifespan of other foam mattresses. How long your mattress will last depends on the daily wear and tear it experiences. To maximize your mattress's lifespan, make sure to choose an appropriate bed frame for it, as well as practice regular care and maintenance.
How firm is a Leesa mattress?
According to our 1-10 firmness scale (which goes from 1 to 10, with 1 being the softest and 10 being the firmest), the Leesa Original mattress scored a 5 /10 which gives it a "true medium" rating.