Belly Sleep Pillow Review
•
Disclosure: By clicking on the product links in this article, Mattress Nerd may receive a commission fee at no cost to you, the reader. Read full disclosure statement.
The Belly Sleep Pillow is exactly as advertised—a slim pillow for stomach sleepers.
While I would imagine stomach sleepers have been suffering in silence sleeping on pancake-thin pillows just to keep their heads and necks from being too far out of alignment with their spines, the Belly Sleep Pillow counters with a thin-profile pillow made of memory foam strong enough to lift your head enough, but not too much. Check out the best pillows for neck pain for our recommendations.
Regular pillows sit too high for stomach sleepers, pushing their heads too far above their neck to keep the cervical vertebrae in line with the rest of the spine. Also, slim pillows that are just flat may not be strong enough to hold up your head at all.
The 2.5-inch height of the Belly Sleep is thin enough to solve this problem. Also, the edges of the pillow are curved. That is supposed to reduce how much you turn your head and neck throughout the night.
The fact that it's made of memory foam means your head will be cradled instead of the head just pressing down on the pillow and smashing your face against the mattress.
Additionally, this pillow is infused with cooling gel. The gel absorbs extra heat and keeps you cool as you sleep. Although most of us would say we want to be warm and cozy as we sleep, science tells us that cool and dry is what we need to get our best sleep consistently.
The pillow comes with a removable and washable polyester/bamboo cover that wicks moisture to keep you dry and cool. The bamboo keeps microbes and dust mites at bay.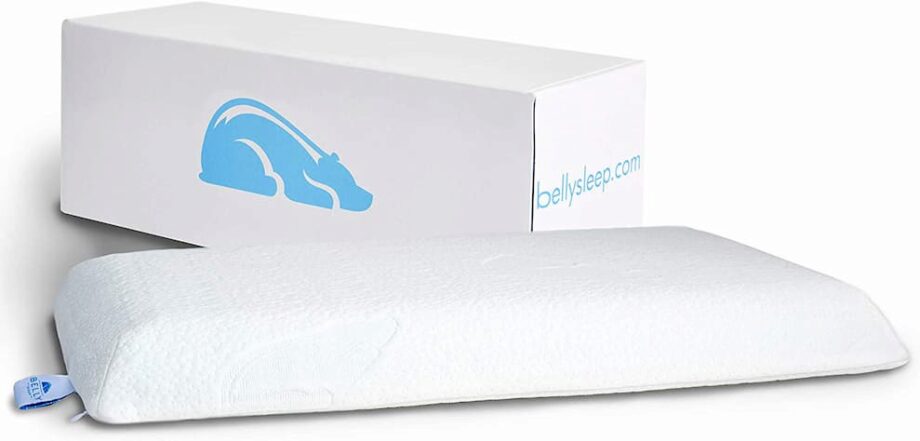 Why I Love It
The Belly Sleep Pillow has addressed the specific needs of a person who likes to sleep in the most specific sleep position.
Sleeping on your stomach is anatomically known to be one of the worst positions to sleep in. Though you're least likely to snore in that position, it's tough on your back and neck. You're sleeping in an unnatural position for your spine. Not to mention, I read something just today that claims sleeping on your stomach make you more likely to develop wrinkles since you sleep facedown (Yikes!) Never fear, Belly Sleep has solutions!
The design of the Belly Sleeper aims to solve those issues. The pillow profile is low, like 2 ½ inches, and made of memory foam. The memory foam is dense but pliable, meaning it will cradle your head without bottoming out. Your neck won't collapse and you'll breathe better.
There's cooling gel in the memory foam and customers say it does absorb heat, which is unique because typically memory foam traps heat and softens throughout the night. The Belly Pillow stays cool and so it stays supportive throughout the night. If you are a hot sleeper, check out the best cooling mattresses.
I also like that the company sells multiple types of pillow covers that are hypoallergenic and wick moisture so you stay both cool and dry. Selling a silk cover that is easier on your face and hair is also a nice touch considering stomach sleepers spend the most time with their face touching their pillow. I appreciate that bit of detail.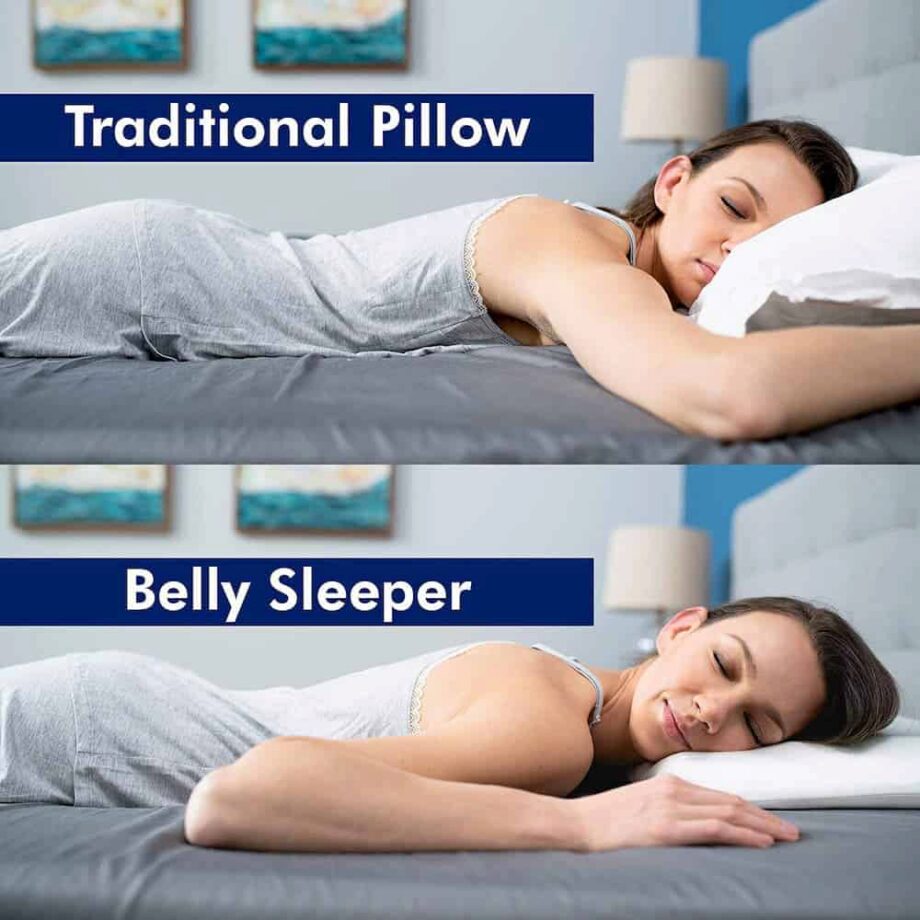 Belly Sleeper Sizes and Pricing
MODEL
REG. PRICE

Belly Sleep Pillow

$79.99

Belly Sleep Cotton Pillowcase (2 ct.)

$34.99

Belly Sleep Age Delay-

Satin Pillowcase

$39.99

Belly Sleep Bamboo

Pillowcase

$19.99
Warranty
The company offers a Forever Warranty. This warranty covers defects with materials or workmanship.
Where to buy
You can buy the Belly Sleep Pillow on the company website and on Amazon.
Shipping and Returns
Belly Sleep Pillow offers free two-day delivery and you get a 30-night trial period.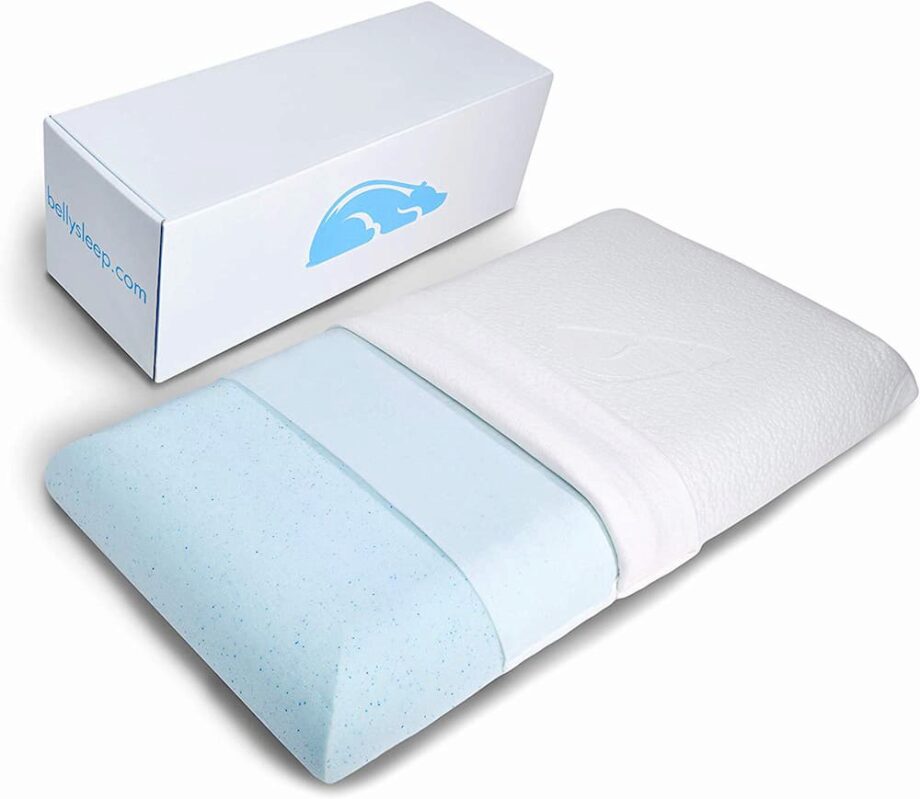 Sleep Experience
Customers say the Belly Sleep Pillow sleeps just as advertised—thin, supportive and cool.
The pillow is light and thin but holds up the head enough. The cooling gel in the memory foam helps you avoid getting too hot as you sleep.
So many stomach sleepers have to sleep on the edge of their pillows to their heads aren't too high, but people don't have to use just a portion of their pillows with the Belly Sleep Pillow.
Customers also feel they breathe better with this pillow. You can attribute that to the fact that it supports the head and has curved edges so you're not turning your head as much. Plus the covers are breathable. Using this pillow has eliminated that annoying back pain in the mornings!
Pros & Cons
PROS
Keeps your head supported just enough
Regulates temperature with cooling gel
Very specifically designed for belly sleepers but also a good pillow for back sleepers
Reasonably priced for the amount of design you get
CONS
Not a great choice for combo or side sleepers
Who is the Belly Sleeper Pillow best for?
People who sleep on their stomachs (and back)
People with smaller frames (think the smaller distance from neck to edge of the shoulder)
People who want to try a memory foam pillow
Kids!
Conclusion
If you sleep on your stomach, you know the indignity of trying to sleep on a pancake-like pillow because sleeping on anything thicker gives you back and neck pain.
Seriously, sleeping on your stomach is really bad for your neck and spine. To sleep well and wake up without pain or soreness, your spine needs to stay straight. It's a lot of work to support the neck. Thin pillows tend to be soft pillows, and soft won't work for your head and neck.
The Belly Sleep Pillow uses memory foam to successfully be both thin but supportive. With additional features like cooling gel in the foam and a breathable, machine washable bamboo cover, this pillow is a solid great for anyone who likes to sleep on their stomachs.