Lucid Memory Foam Mattress Topper Review
•
Disclosure: By clicking on the product links in this article, Mattress Nerd may receive a commission fee at no cost to you, the reader. Read full disclosure statement.
The Mattress Nerd's Take: Perfect for side sleepers and anyone looking for a bit of extra cushion for their mattress, the Lucid 3 inch Gel Memory Foam mattress topper is designed to deliver a plush, cooling feel. Sure, it's not a luxury topper: In fact, it doesn't have a removable cover or even straps to keep it in place on a mattress. But if you're in a bind and need a low-cost, high-quality solution without all the bells and whistles, check out the Lucid topper.
Since the company first started manufacturing mattresses in 2010, Lucid has been committed to creating personalized sleep experiences for customers across the country. The company is also known for its various mattress topper options. In fact, a quick visit to Lucid's website can either be overwhelming or enticing, depending on your point of view: We counted at least 21 varieties of mattress toppers on Lucid's site. A down alternative topper, a lavender memory foam mattress topper and even a bamboo charcoal memory foam mattress topper appear on their website, as well as toppers from 2" heights to a whopping 4" profile. Each topper can beef up an old mattress or add an extra layer of comfort to a too-firm bed.
In this review, we'll be looking at the Lucid 3 inch Gel Memory Foam mattress topper. Investing in a mattress topper for your bed is one way to increase comfort or improve the bed's cooling ability. The Lucid mattress topper addresses both of those needs. Its pressure-relieving memory foam will soften firm mattresses, and the gel foam can keep you cool by collecting heat and keeping it away from the body. What's more, the perforations in the topper enhance air circulation for those who can't seem to get a cool night of sleep.
Memory foam is known for its ability to cradle the body and distribute weight evenly, which can relieve pressure on key areas throughout the body and ensure better spinal alignment. The Lucid memory foam topper conforms to the curves of your body and can provide pressure relief for your knees, hips and shoulders.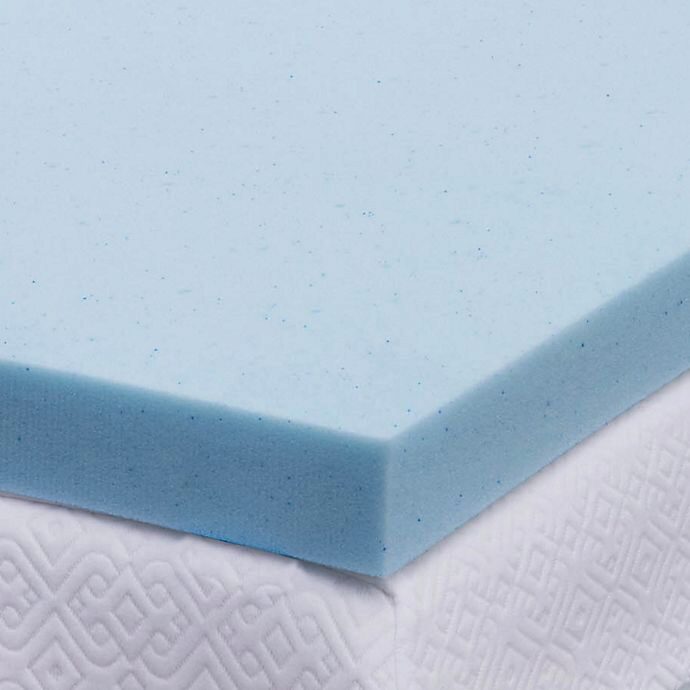 What Makes the Lucid Mattress Topper Stand Out?
Pros
High Profile
The Lucid topper's 3" high profile will enhance the product's durability and ensure a cushiony, softer sleeping surface. Our team often sees bed-in-a-box mattresses that measure 10" tall, meaning that this cushion could add a sizable amount of loft to a lower-profile bed. A thick, luxurious topper can give the entire bed more of that "hotel bedroom" feel that many shoppers look for.
Cooling Capabilities
Memory foam has long had a reputation for creating hot, sleepless nights, especially for those who already have a tendency to sweat through the night. Lucid's cooling gel infusion should keep the bed a bit cooler than the old-fashioned memory foams that hit the market a decade or so ago. While it may not keep the hottest of sleepers adequately cool, it'll be great for most sleepers seeking comfort and temperature control. What's more, the bed topper's memory foam features numerous evenly spaced, evenly sized ventilation holes. These holes encourage airflow across the topper's surface.
Pressure Relief
Sleep physics is pretty simple: if you're a side sleeper who's sleeping on a too-firm mattress each night, you risk developing pain in joints like the shoulders and hips. That's where the Lucid 3 inch Gel Memory Foam topper comes in. Memory foam like the kind used in the Lucid topper is known for being able to distribute weight evenly while also contouring to your body's unique shape. This topper will add a bit of loft and softness to a bed in order to cradle joints and relieve pressure. So, sleepers are more likely to wake up pain-free instead of achy. If you suffer from arthritis or fibromyalgia, the Lucid topper might also be a great option to soothe painful pressure points.
Cons
A Bit Too Tall?
OK, we know we already praised this topper's robust 3" profile in our "Pros" section. But that added height might become a hurdle for those who have trouble getting in and out of bed. Adding the 3" topper onto an already-tall mattress might make it difficult for those with mobility issues to maneuver out of the bed. The good news? Lucid sells a variety of toppers from 2" to 4" heights. If Lucid's 3" Gel Memory Foam mattress topper isn't for you, a 2" variety might make all the difference in mobility.
Memory Foam Construction
The Lucid 3 inch Gel Memory Foam mattress topper is true to its name: It's constructed completely from a flat, perforated slab of blue memory foam. While some people swear by the squishy, slow-moving feeling of memory foam, others want a firm and bouncy topper that's responsive, keeping them balanced on top of the mattress instead of feeling like they're sinking into it. Those who need a rock-solid mattress and are looking for extra support in a topper probably won't love the feel of the Lucid.
No Cover
Unlike some other mattress toppers on the market, the Lucid 3 inch Gel Memory Foam topper lacks a zippable, washable cover. A high-quality zippable cover would definitely hike up the Lucid's competitive pricing, but there's something to be said about a protective barrier between the topper and all the grime that can end up on a bed's surface. We'd recommend purchasing a mattress protector to protect both the investment of your topper and the mattress underneath.
What is the Lucid Memory Foam Mattress Topper Made Of?
Ventilated Gel Memory Foam
The bed's gel memory foam construction is designed to capture and dissipate body heat to cool the body. Though memory foam isn't known for sleeping ultra-cool, this memory foam features excellent breathability, thanks to the evenly sized and evenly spaced ventilation holes that encourage airflow throughout the topper surface.
Another benefit of the memory foam material is that it is soft and supple, allowing it to soften a firm sleep surface. It conforms to your body's shape and relieves pressure on sensitive areas. If you think memory foam will improve your mattress, check out our Best Memory Foam Mattress Toppers 2023!
What Does the Lucid Memory Foam Mattress Topper Feel Like?
The Lucid mattress topper's plush memory foam construction allows it to soften firm mattresses. For sleepers who want a little extra cushioning for their sensitive areas, such as their hips and shoulders, this topper may be the solution. Side sleepers and those with conditions such as arthritis should find that this topper eases stress on joints like the hips, shoulders and even elbows. We wouldn't necessarily recommend the Lucid topper for stomach sleepers or back sleepers, who typically need a firm sleep surface to keep the hips elevated and the spine aligned.
If you're prone to sleep hot but are still set on a high-value all-foam mattress topper, the Lucid 3 inch Gel Memory Foam topper could fit the bill. The topper's surface is perforated all the way through with small holes, enhancing its breathability. A gel infusion throughout the foam is also designed to keep inevitable nighttime heat buildup away from the body as you sleep.
While the topper doesn't have straps to keep it fastened to the mattress, we still think it's a great mattress topper for a bed in need of a pick-me-up.
Lucid Memory Foam Mattress Topper Pricing and Specs
| | | | |
| --- | --- | --- | --- |
| Size | Dimensions | Height | Price |
| Twin | 74" x 37.5" | 3" | $69 |
| Twin XL | 79" x 37.5" | 3" | $74 |
| Full | 74" x 52.5" | 3" | $89 |
| Full XL | 79" x 52.5" | 3" | $94 |
| Queen Size | 79" x 59" | 3" | $99 |
| King Size | 79" x 75" | 3" | $119 |
| California King Size | 83" x 71" | 3" | $119 |
Lucid Memory Foam Mattress Topper Policies
Shipping
The Lucid 3" Gel Memory Foam mattress topper is rolled and shipped in a box to your doorstep in the classic bed-in-a-box style. When the topper is purchased directly from Lucid's website, the company offers free shipping. If the topper takes more than 48 hours to ship or can't be shipped, the company will alert the customer and may even offer a refund. The topper is also available on Amazon, but Lucid's policies may not apply to toppers purchased from a third-party company like Amazon.
Sleep Trial
Lucid offers a 30-day sleep trial for the topper, meaning that customers are allowed to try out the product for 30 days with no risk. If shoppers decide the topper isn't working for them during that time, they're allowed to return it for a refund or exchange. You'll need to repackage the product and send it back, but the company will provide a return label.
Warranty Coverage
The gel foam in the topper is designed to retain its shape and structure for a long time, and Lucid backs the mattress topper with a 3-year warranty. According to the company, the warranty is only valid if the topper is purchased within the U.S. You'll need to contact customer service and have your receipt if you'd like to make a warranty claim on the topper.
Lucid Mattress Topper FAQs
How can I protect my mattress and mattress topper from spills and stains?
One of the best ways to protect your mattress is to invest in a waterproof mattress protector.
How do I clean the mattress protector?
Itu2019s best to read the specific care instructions for mattress protectors, but typically, removable covers can be machine washed with mild detergent and warm water. You can then tumble dry them on low heat (below 125 degrees).
How long does it take to break in a memory foam topper?
Whenever you change to a new mattress, your body will need to become acclimated to a new sleep surface and environment. Typically, it can take approximately 1 to 3 weeks for your new memory foam mattress to break in. However, this can vary depending on individual preference.
The Nerd's Final Take
If you're looking for the most elaborate topper on the market, the Lucid 3 inch Gel Memory Foam mattress topper isn't it. In essence, the Lucid topper is simply a rectangular slab of foam. Still, sometimes that's exactly what you need to make your bed a bit comfier and relieve pressure points along the body. Side sleepers will get the most satisfaction out of this topper because it cradles sharp pressure points like the hips and shoulders. Back sleepers and stomach sleepers need a firmer sleep surface than the Lucid topper, and ultra-hot sleepers might not find enough breathability in this memory-foam slab, even with its perforations and gel infusion. But if your bed is in need of some extra plush softness, the inexpensive Lucid topper could fit the bill.