Linenspa Mattress Topper Review
•
Disclosure: By clicking on the product links in this article, Mattress Nerd may receive a commission fee at no cost to you, the reader. Read full disclosure statement.
The Mattress Nerd's Take: The Linenspa 2" Gel Memory Foam Mattress Topper is a good mattress topper for the price. It's a nice choice for sleepers looking to make their bed softer without breaking the bank, and it's great for people who like the feel of memory foam but tend to sleep hot on the material. All sizes of the 2" tall version cost less than $100 on Amazon, and it's infused with temperature regulating gel beads to dissipate heat for sleepers who normally sleep hot on all-foam beds.
Linenspa is a leading bed-in-a-box company that's known for selling affordable mattresses and bedding accessories on Linenspa.com and other third-party online retailers. Their toppers are some of the most affordable on the market, and they're a high-value pick, as is evidenced by thousands of positive reviews for the company's toppers on Amazon.com. Currently the Linenspa 2" Gel Topper has more than 18,000 ratings and a 4.4/5 star rating.
This gel topper hits the mark for people who are looking for an affordable way to rejuvenate an old mattress or want to soften a mattress that they find too firm. While the product has a simple construction (it's essentially a thick slab of memory foam), it can substantially change the feel of your mattress, especially if you select the 3" version. What this topper lacks in luxury details––like a washable cover or elastic straps to keep it in place––it makes up for in comfort and affordability.
Linenspa 3-inch Gel Infused Memory Foam Mattress Topper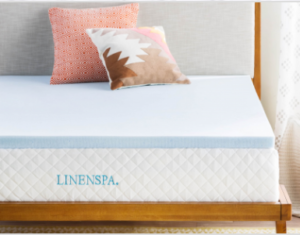 Pros
Affordable and comfortable
Polyurethane gel beads distribute heat
Available in 2" and 3" heights
Cons
Does not have a form of attachment (for instance, elastic straps) to keep it in place
May be hard to move around and switch positions on the memory foam material
Not as durable as more expensive topper models
Gel-Infused Memory Foam
The topper features 2" or 3" of supportive CertiPUR-US certified memory foam that feels plush to the touch and responds to the weight of your body to relieve pressure points, aches and back pains.
100% Polyurethane Memory Foam Gel Beads
These beads are distributed throughout the memory foam to help the product dissipate body heat, regulate temperature and sleep cooler than most memory foam toppers.
This topper has a plush, soft memory foam feel. When you lay down on a bed with the topper on top, you'll sink in slowly and feel cradled by the material. If you purchase the 3" version, you'll sink even further. The topper does not come with straps or a cover to attach it to the mattress, so it may shift slightly throughout the night.
How soft the topper feels to your body will depend on a few factors: namely, your body weight and the type of mattress underneath the topper. Lightweight sleepers will find the topper very plush in any sleeping position while heavyweight sleepers may not notice a big difference in the feel of their mattress. Further, if you're currently sleeping on a memory foam mattress or plush hybrid mattress, the topper will feel soft. If the bed underneath is firm or an innerspring variety without a pillow top, the topper will not feel as soft. In other words, the softer the mattress underneath, the softer this topper will feel.
| | | |
| --- | --- | --- |
| Size | Price (2") | Weight |
| Twin | $39.99 | 4 lbs. |
| Twin XL | $42.99 | 4 lbs. |
| Full | $49.99 | 5 lbs. |
| Full XL | $54.99 | 7 lbs. |
| Queen | $59.99 | 11 lbs. |
| King | $79.99 | 22 lbs. |
| California King | $79.99 | 22 lbs. |
Shipping
If you purchase the Linenspa topper from Amazon.com, it will be shipped free if you're an Amazon Prime member. Most orders arrive within 3 business days of purchase.
Sleep Trial
This topper comes with a 30-night sleep trial period. During the first month of ownership, you can return the topper for a full refund if you're not satisfied with your purchase.
Warranty Coverage
The Linenspa topper comes with a 3-year warranty, which covers any defects in material or workmanship and begins on the date of purchase.The limited warranty only applies to the original purchaser and does not cover wear and tear, normal changes in softness, shallow indentations, stains or improper maintenance.
Is the Linenspa mattress topper good for side sleepers?
This depends on your body type and the firmness setting of your mattress. Side sleepers need pressure point relief at the hips and shoulders, and a mattress or topper that's on the plush side can offer this. If your mattress is already soft, the addition of a topper may discourage proper alignment of the spine, even if it feels comfortable at first. If your mattress feels too firm for your body and leaves you with aches and pains in sensitive joints, you'll probably benefit from the softness that the Linenspa topper will offer.
Who are the 3-inch and 2-inch toppers best for?
The 3" topper will soften the feel of your mattress more than the 2" topper, although both will add plushness to your existing bed. We recommend the 3" version for side sleepers who need cushioning around the hips and shoulders. Back and stomach sleepers require firmer mattresses that evenly distribute the body weight, so they will probably enjoy the 2" topper because it won't inhibit or mask the support of a firmer mattress.
How does the topper help you sleep cool?
The 2" and 3" gel memory foam mattress toppers are infused with gel beads in a swirl design. The beads help reduce heat trapping inside the memory foam, which can regulate your sleep temperature throughout the night.
Do I need to use a mattress pad or mattress protector with this topper?
Yes, it's recommended that you use a mattress pad with this topper. The topper is not machine-washable and does not come with a cover, so a mattress pad will protect the topper and your mattress from stains and spills.
See Amazon.com for more FAQs.
This is one of the best value-priced mattress toppers available today for sleepers who want to soften a firm mattress or give an older bed a boost without spending much money. The general consensus from customer reviews is that the Linenspa 3" or 2" topper makes a bed more comfortable without trapping too much heat, even though it isn't the most luxurious or high-quality topper on the market. Its simple design should fit nicely onto any mattress regardless of size, and the cooling gel beads prevent overheating and put the topper one step above traditional memory foam slab options. Regardless of your body type or sleeping position, the Linenspa 2" gel swirl memory foam topper is an affordable way to make your mattress feel softer.
Other Popular Linenspa Products
Linenspa Premium Mattress Protector
Mattress Nerd Score
4.60 / 5
Linenspa Down Alternative Comforter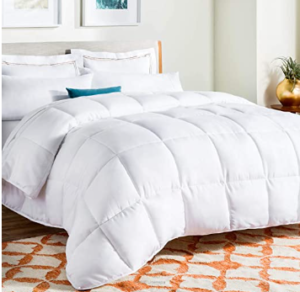 Mattress Nerd Score
4.50 / 5
Linenspa Bamboo Bed Sheets