Brooklinen Sheets Review
•
Disclosure: By clicking on the product links in this article, Mattress Nerd may receive a commission fee at no cost to you, the reader. Read full disclosure statement.
Brooklinen is a Brooklyn, New York-based online vendor that's essentially a one-stop-shop for outfitting your bedroom. As one of the most popular direct-to-consumer companies in the bedding market today, they sell luxury bed sheets, comforters, and blankets with a focus on quality, comfort, and affordability. 
In this review, we're taking a look at the most popular of Brooklinen's bed sheet offerings, including the Classic Percale Collection, the Luxe Sateen Collection, and the Linen Collection. Read on to learn what each is made of, how they're priced, and their pros and cons. We'll also share more information about Brooklinen's purchase and return policies along with details about the company's vision and mission.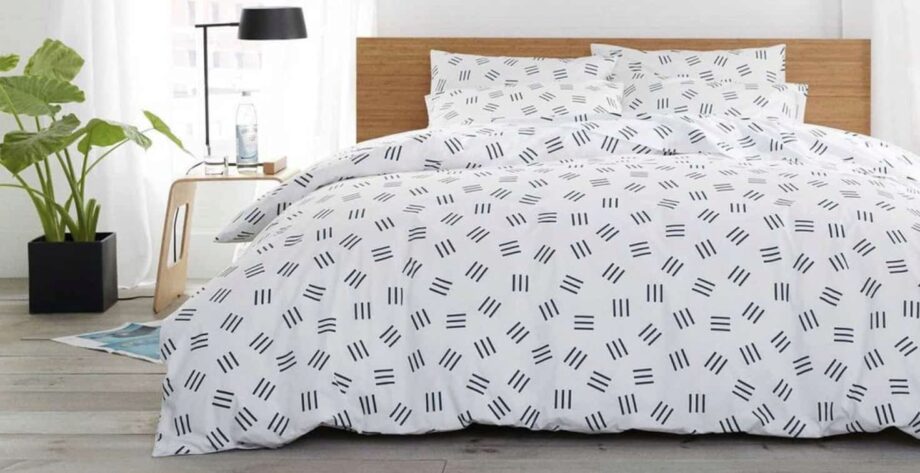 Brooklinen Classic Percale Collection (Classic Core Sheet Set)
The Classic Core Sheet Set, part of Brooklinen's Classic Percale Collection, is made from 100% long-staple cotton in a 270 thread count percale weave. This weave is known for feeling especially airy, crisp, and cool, almost like a men's dress shirt. These sheets have a matte finish, which is traditional for percale bedding. The materials used are Oeko-Tex certified for chemical safety, and the sides of the sheet are labeled "long" or "short" to ease the task of bed-making.
The Classic Percale Set is our choice for summer nights and for individuals who sleep hot. Percale is highly breathable and will keep even the warmest of sleepers sweat-free during the hottest months of the year. It also has a pleasant, almost buttery feel to the touch. Brooklinen calls these sheets their 'luxury hotel' style, and we think that's an apt description.
Brooklinen offers their percale sheets in a variety of packages, from a Classic Starter Set that includes one fitted sheet and two pillowcases to a Classic Hardcore Bundle with one flat sheet, one fitted sheet, four pillowcases, and an accompanying duvet cover. However, the Classic Core Set, which includes one flat sheet, one fitted sheet, and two pillowcases, will meet the needs of most shoppers.
The Percale Collection Classic Core Sheet Set is available in more than nine essential colors and patterns, including some limited edition colors, comes in sizes ranging from Twin to California King and costs $99 to $149.

Brooklinen Luxe Sateen Collection (Luxe Core Set)
The Sateen Collection is Brooklinen's best selling bedding collection. The pieces in this collection are made from 480 thread count cotton sateen that's woven for a finish that's rich and luminous. These sheets have more luster and drape than the Classic Percale sheets, but they're not quite as airy. To the touch, they're silkier, and the drape will cause them to feel a little heavier on your skin.
If you prefer silky smoothness to the crisp, cool feel of percale, you'll like the Luxe Sateen sheets better than Brooklinen's Classic Percale option. Keep in mind that sateen will sleep warmer than percale, so they're better suited for cooler months. Also, while they will wrinkle less than percale, sateen fabric can be a little noisier if you tend to move around a lot throughout the night.
Just like all Brooklinen sheets, these are made with 100% long-staple cotton, are Oeko-Tex certified for chemical safety, and the flat and fitted sheets in each set have "long" and "short" side labels to guide you as you make your bed.
The Luxe Core Sheet Set comes with the same components as the Classic Set, but it's slightly more expensive, with a Twin size set priced at $129. The sateen Luxe Core Sheet Set is available in all mattress sizes ranging from a Twin to a California King, and you can choose from nine essential Brooklinen colors and patterns, or five limited edition color options that the company rotates seasonally.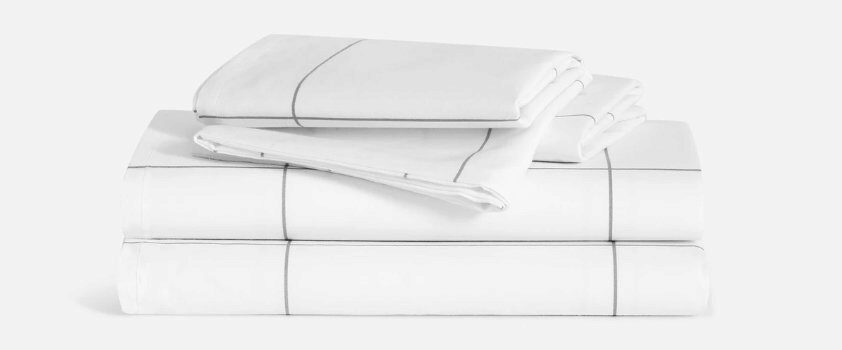 Brooklinen Linen Collection (Linen Core Set)
The newest addition to Brooklinen's sheet offerings, the Linen Collection sheets are made from 100% linen derived from Belgian and French flax, are stone-washed for softness, and are dyed in small batches to give the collection a "playfully unique and individual character," according to Brooklinen's website. If you prefer the rumpled, slept-in look, you might feel drawn to this collection.
We love this set for those who sleep hot or cool. Linen is a nice all-season fabric for bedding as it will wick away water and perspiration better than cotton, but it can maintain warmth and heat during the winter months. While linen can sometimes have a grainy, rough feel, Brooklinen took the extra step to stone-wash these sheets prior to packaging them, so they'll feel soft upon arrival. Keep in mind that linen wrinkles and creases easily, so if you prefer a crisp, smooth aesthetic to your bedding, you may not enjoy the way these look on your mattress.
These are the most expensive of Brooklinen's bedding options, but the prices are in line with the higher costs of quality linen across the bedding market. Brooklinen offers a little less choice with regard to colors and sizing for this set, with just 14 color options to choose from and sizes ranging only from Full to California King. A Linen Core Sheet Set with one flat sheet, one fitted sheet, and two pillowcases cost $249 to $279, depending on the size.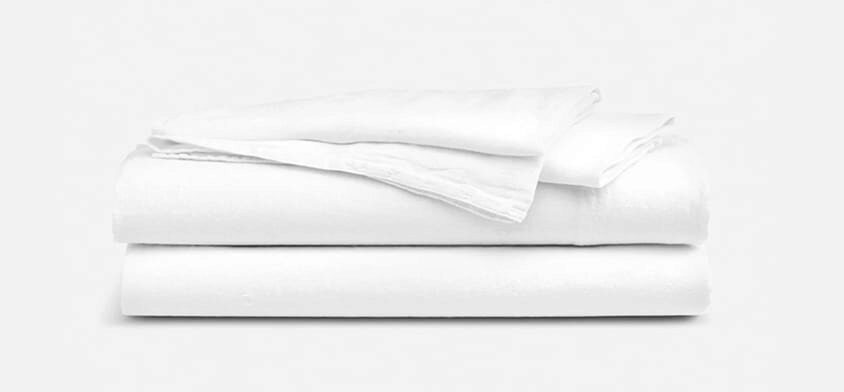 Shipping and Returns
Brooklinen offers free shipping in the U.S. and Canada for all their products. Most Brooklinen products are also available on Amazon.com where, if you're an Amazon Prime member, free shipping is included.
Brooklinen is so confident about its products that they offer a lifetime warranty. If you have an issue with your sheets as a result of faulty manufacturing or a defect, they'll replace them free of charge.
While the company doesn't offer a trial period for its products, its return and exchange policies are generous. Brooklinen offers a window of a full year (365 days) to exchange or return unused, undamaged Brooklinen goods. They also pay for the return shipping cost of domestic orders. Washed or used Brooklinen goods can still be refunded, minus a processing fee of $9.99. As mentioned, Brooklinen sheets costs $109 to $149, depending on the type and size you purchase.
---
About Brooklinen
Founded by a husband and wife in 2014, Brooklinen is run by a small team in Brooklyn, New York. Put simply, the couple wanted to provide "great sheets without the insane luxury markups." They deliver on this vision by cutting out the middleman, bypassing wholesaling, storefront, and designer licensing costs, to pass savings to their customers.
Brooklinen sells a range of bedding materials, from sheets to comforters, pillows, and blankets, and even move-in bundles with "everything you need to overhaul your bedroom" in one package that will save you about 15%.
One of Brooklinen's guiding core values is quality. For example, they use long-staple cotton, single ply yarn, and fine threads to create notably soft, sumptuous sheets. For their down-filled products, they opt for fluffy down clusters instead of feathers, which lack the prickly spines of feathers and trap air more effectively, keeping sleepers warm at night. We like that the Brooklinen website explains their approach, from the materials to their values, pricing structure, and more, clearly, using straightforward wording and helpful visuals. It's a nice way that they cultivate trust among their customer base, and it helps shoppers understand exactly what they're getting when they decide to purchase.
Conclusion
We think Brooklinen has something for every sleeper, whether you want a crisp, airy feel, prefer linen, or want to splurge on sateen. All of the sheets have a cozy, lived-in feel to them, and Brooklinen's return and warranty policies make the purchase feel like a safe bet to make. We recommend these sheets for sleepers who are in the market for new bedding, and the type you choose will depend on your personal preferences, whether you sleep hot or cool, and your budget.