Pillow Cube Review
•
Disclosure: By clicking on the product links in this article, Mattress Nerd may receive a commission fee at no cost to you, the reader. Read full disclosure statement.
The Mattress Nerd's Take: The Pillow Cube is designed to be the perfect pillow for side sleepers. With a loft level of 5" or 6" and a medium-firm feel, we agree that this memory foam pillow should help the average side sleeper get a good night's sleep. It's not so good for stomach sleepers or combination sleepers.
Who Is the Pillow Cube Good For
Strict

side sleepers

Those with

sleep apnea

Those with

shoulder pain

People who snore
Who Is the Pillow Cube Not Good For
Stomach sleepers

—instead, try the lower loft

Belly Sleep pillow

, designed especially for

stomach sleepers

Combination sleepers—instead,

Layla pillow

has a more responsive

memory foam

feel that can also be adjusted to your primary

sleeping positions

Those with

broad shoulders

(over 6" per shoulder)—instead, the Coop Eden pillow comes overstuffed with a 9" loft; plus, you can add extra fill for a firmer feel.
Pillow Cube Side Sleeper Pro
Mattress Nerd Score
4.90 / 5
Pillow Cube Video Review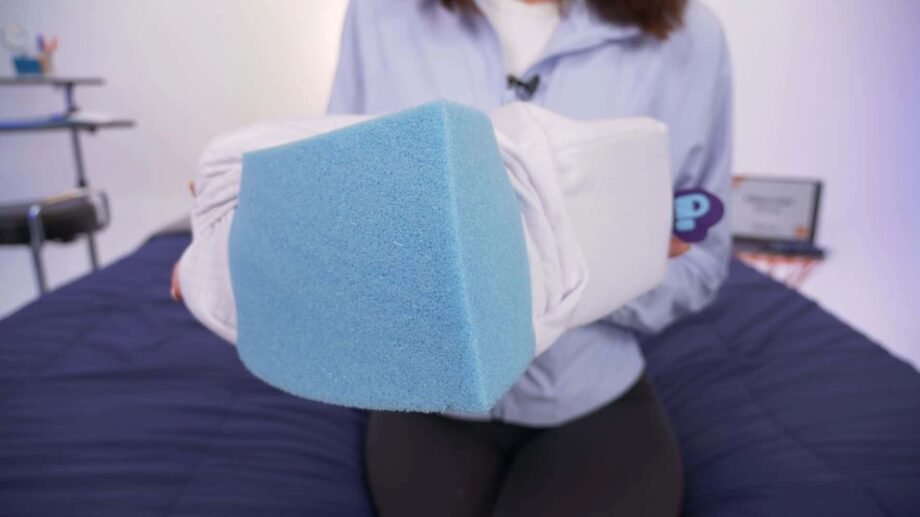 Look Inside the Pillow Cube
You'd be forgiven for mistaking the Pillow Cube for a yoga block or funky throw pillow. It doesn't look like a regular pillow, but that's the trade-off for designing one of the best pillows for side sleepers.
The Pillow Cube is made from a single piece of high-density memory foam with a medium-firm feel. The foam compresses quite a bit, and it feels denser with increased pressure. Without the pillow cover, the foam has a grippy, doughy feel.
The pillow cover is made of quilted polyester and spandex. It feels a lot like the material used to make sports jerseys—a little slippery, but soft. Personally, I'd want to use a pillow case over the cover, since I never was a huge fan of my old rec soccer jerseys. The company sells a collection of funky pillow cases designed especially for the Pillow Cube (think waffle, tie dye, and dollar bill patterns).
Mattress Nerd Pillow Cube Scores
We get up close and personal with every pillow we bring into our Nerd testing lab—after all, we want you to have a super clear idea of whether or not each pillow we review will help you achieve the best sleep possible. Specifically, we cover pillow temperature, adjustability, quality, ease of care, customer experience, and how well it keeps your neck and head aligned.
Cooling: 3.5/5
Solid memory foam pillows aren't the most cooling option on the market, but the Pillow Cube stays temperature neutral enough for most sleepers. The foam is infused with carbon fibers that help absorb moisture and excess heat. The cover is also fairly breathable.
It's worth noting that the vast majority of customer reviews don't even mention the temperature of the pillow, and of the ones that do, at least half say that they're impressed with how cool it stays. We didn't notice much heat retention after a few minutes on the pillow, which is promising.
Alignment: 4/5
If you want to wake up without a crick in your neck, you need a pillow that keeps your head and neck in alignment. Good alignment occurs when your head isn't tilted up or down on your pillow.
The Pillow Cube doesn't skirt around the fact that they designed the cube for side sleepers, and to that end, it does a great job with alignment. Those with especially broad shoulders or narrower shoulders will want to check out the different height options.
The Pillow Cube isn't a good pillow for stomach sleepers and some back sleepers (specifically those with smaller body types). It will likely cause these folks' neck to arch out of alignment, which can cause substantial neck pain come morning.
Related: Best Pillows for Neck Pain
Adjustability: 2/5
Since the Pillow Cube is made from a single piece of memory foam, it's not adjustable beyond choosing the height you want. The Classic version comes in two pillow sizes—5" and 6". Otherwise, you can't do much to adjust the feel of the pillow.
Quality of Materials: 4.5/5
The Pillow Cube is made in the U.S. with high quality materials. The foam is CertiPUR-US certified, meaning it's produced with no harmful chemicals and passes tests for low emissions.
A Pillow Cube customer service representative also confirmed that their manufacturing meets environmental requirements mandated by California's Proposition 65. Plus, the materials used to make the pillow are anti-microbial. We only deducted a half point because memory foam isn't the most eco-friendly material.
Care: 3/5
The original Pillow Cube cover comes off the cube just like the pillowcase. The company recommends machine washing the cover once a year but you can—and probably should—wash it more often than that. It's machine washable and dryer safe. The foam can't be washed, so try to keep spillable items away from your bed.
Customer Experience: 2/5
The Pillow Cube company has a 60-day satisfaction guarantee for their pillows, so you can return your pillow for a refund (minus $20) during that time. The average trial period for pillows bought online is 100 days. Additionally, most online companies provide free shipping and at least a one year warranty, but Pillow Cube charges a fee for shipping, and doesn't offer a warranty.
Additionally, their customer service team can only be reached via email. We prefer to see a live web chat or at least a phone line for customer service. Overall, we gave the company a pretty low score for customer experience—they need to make some changes to be on par with their competitors.
Total Score: 3.2/5
Side Sleeping
As a side sleeper, I was impressed with the level of neck support I experienced on the Pillow Cube. On most pillows, my neck is supported for the first few minutes, but as the fill compresses, my neck slowly archs out of alignment. I didn't have that experience on the cube, and would consider buying one of these pillows for my home.
Back Sleeping
I was surprised by how comfortable I felt on the Pillow Cube in the supine position. I expected my head to tilt forward, but it stayed fairly level. The Cube could be a good pillow for back sleepers with average or larger body types, particularly on a firmer mattress. The cube probably has too much height for good alignment on a soft mattress.
Stomach Sleeping
For a 5" tall pillow, the cube wasn't as bad as I expected while on my stomach since it compresses quite a bit. Still, it's a very poor choice for stomach sleepers. Instead, look for a pillow with a height of no more than 2", or check out our list of the best pillows for stomach sleepers.
| | | |
| --- | --- | --- |
| Score for Side Sleepers | Score for Stomach Sleepers | Score for Back Sleepers |
| 5/5 | 1/5 | 3.5/5 |
Pros and Cons of The Pillow Cube
Pros
Neck Support:

The foam gets denser as it's compressed, which improves support under your neck and stability under your head.

Good for Travel:

The Pillow Cube is smaller than the normal

bed pillow

, so it's easier to pack for vacations and overnight trips.

Low Maintenance:

The Pillow Cube doesn't need to be fluffed, since it keeps its shape and is more buoyant than traditional

memory foam pillows

.
Cons
Pillowcase Is Difficult to Remove:

The foam cube is very grippy, which, combined with a snuggly fit

pillowcase

, means the cover is not easy to remove for washing.

Narrow Width

: There's not a lot of room for movement, since the pillow is only 12" across.

Unique Shape:

The Pillow Cube won't fit neatly into standard

pillowcases

. For a good fit, you'll need to purchase a

pillowcase

from the Pillow Cube company.
Sizing, Pricing, and Policies
| | | |
| --- | --- | --- |
| Size | Dimensions | Price |
| Standard | 5" x 12" x 12" | $69.99 |
| Thick | 6" x 12" x 12" | $69.99 |
Pillow Cube ships their products vacuum-sealed and boxed. They ship within the U.S. for $8.99 when you buy directly from their website (www.pillowcube.com). You'll need to spend more than $120 to get free shipping. If you exchange your pillow, shipping is on the house; however, returning your pillow will cost $20 to cover shipping and processing fees.
Most online bedding companies offer free shipping and returns. If you want to save on shipping costs, buy your Pillow Cube from Amazon Prime—you'll get free shipping and free returns.
When you buy your pillow directly from the Pillow Cube company, it comes with a 60 day return policy, which gives you a few months to test whether or not the pillow gives you a better night's sleep. Make sure you request your return within 60 days of purchase—on day 61 the trial period ends.
FAQs
Does the Pillow Cube work for hot sleepers?
My Pillow Cube experience wasn't a toasty one, but there's no getting around the fact that the Pillow Cube is a solid chunk of memory foam. As such, it may not be the best fit for hot sleepers. The company does offer a cooling pillow upgrade, so check that out before completely giving the Pillow Cube the cold shoulder.
Why do people want to sleep on cube pillows?
The ultimate goal? No neck pain. Cube shaped pillows are appealing to people who need extra neck support—especially side sleepers, who need to fill in the gap between their shoulders and head. The height of the cube should roughly match the length of one of your shoulders, which allows your head to stay in alignment with your neck.
How long does it take for the Pillow Cube to expand?
The Pillow Cube shouldn't take more than a few hours to expand to its full size and shape. To speed up the process, you can massage the foam, which encourages it to fluff up.
Which Pillow Cube should I choose?
The original Pillow Cube and Pillow Cube Pro are made of the same supportive memory foam and polyester-spandex pillow case. The only difference is sizing. The original Pillow Cube has more of an actual cube shape that's 12" x 12", while the Pillow Cube Pro looks more like a traditional pillow with 12" x 24" dimensions.
Strict side sleepers should fare well on the original model, but those who move from their sides to their back will want the wider Pro. You can choose from different heights to make sure you get the right pillow for your body type. The original is available in 5" and 6" lofts, and the Pro comes in 4", 5", and 6" lofts.
Pillow Cube Side Sleeper Pro
Mattress Nerd Score
4.90 / 5
The Nerd's Final Take
The Pillow Cube's quirky marketing may be trending on social media, but it's not the right pillow for every sleeper. We recommend it specifically to side sleepers with average body types. It may also work for back sleepers with average or larger body types who sleep on a firm mattress.
It's probably not lofty enough for those with broad shoulders, and it's too small for those who move around or change the side they're sleeping on. Also, stomach sleepers should opt for a lower loft pillow.