Coop Home Goods Eden Pillow Review
The Mattress Nerd's Take: The Coop Eden pillow works for all sleeping positions and body types, thanks to an adjustable fill level. The pillow can sleep a little warm, so it's not ideal for hot sleepers. The gel memory foam and microfiber fill snuggly support the head and neck without compromising a cozy feel.
Who It's Good For
Those with

neck pain

Shoppers with allergy concerns (the pillow is

hypoallergenic

)

Combination sleepers
Who It's Not Good For
Video Review
Join me, Becca, our resident bedding reviewer as I tell you about the best and worst qualities of the Coop Eden pillow.
Look Inside
The Coop Eden pillow has two covers—an outer cover and an inner cover. The outer cover is meant to be used as a standalone, so a pillowcase isn't necessary. This cover has a velvety fleece feel that's similar to the inside of a new sweatshirt. It's made from Lulltra fabric, which is a blend of polyester and bamboo-derived viscose rayon.
The outer cover also features a polyester gusset, which is a supportive collar around the perimeter of the pillowcase that helps the fill inside stay evenly distributed. The gusset is a little scratchy, but chances are, your head and neck won't come into contact with this part of the pillow.
The inner cover is made from thin, silky polyester fabric. Like the outer cover, it has a zippered side that allows you to access the fill. The fill is a mixture of cross-cut gel-infused memory foam pieces and silky microfibers that resemble strands of cotton candy.
Related: Best Memory Foam Pillows
Mattress Nerd Pillow Scores
When we bring a new pillow into our Nerd lab, we assess it based on a handful of factors that most folks consider when pillow shopping. These include the temperature of a pillow, how well it keeps your head and neck aligned, how well the pillow adjusts to different sleep positions, the quality of the materials, the ease of care (i.e. cleaning), and the quality of customer service. Our total pillow score is the average score for these six factors.
Cooling: 3/5
The Coop Eden is not a cooling pillow, but it should stay temperature neutral enough for the average sleeper. We didn't notice any heat build-up in the pillow right away, but after 10 minutes or so, we could tell that there was some heat retention.
Coop Home Goods, the maker of the Eden pillow, infuses the memory foam bits with pieces of cooling gel that help to absorb extra body heat. Also, the breathable cover and light and airy fill both improve airflow through the pillow.
Alignment: 5/5
If you've ever woken up with a stiff neck, you understand the importance of a pillow that supports alignment. When your head arches too far up or down, it puts strain on the muscles in your neck, which can cause neck pain, shoulder pain, and headaches.
The Coop Eden pillow should keep your head and neck aligned as long as you adjust the fill to create the right loft level for your sleeping position and body type. As the pillow comes, it's just right for side sleepers, but back sleepers and stomach sleepers will need to remove the fill until the pillow reaches a lower loft.
Adjustability: 4.5/5
We gave the Eden pillow a high score for adjustability because you can easily add or remove fill to customize the pillow to your comfort preference. Also, the kind folks at Coop Home Goods include an extra 0.5 lb of fill on the side, so you can stuff the pillow pretty darn full.
We deducted half of a point from the score because the Eden can't be folded or scrunched to your desired shape. It keeps its shape really well, and the fill is very responsive, meaning it springs back to form when pressure is removed. That's good news for combination sleepers, but a bummer for those who like to manipulate the shape of their pillow.
Quality of Materials: 4.5/5
Coop Home Goods uses high-quality materials in their Eden pillow, which is why we gave it such a high score in this category. All of the materials used are hypoallergenic and GREENGUARD Gold certified for low chemical emissions and risk of chemical exposure.
Also, the foam is CertiPUR-US certified for low emissions and the absence of toxic chemicals that are sometimes used in the manufacturing of polyurethane foams (like formaldehyde—yuck). The half-point deduction was simply because we've seen other pillows that have a more eco-friendly construction that incorporates sustainable or recycled materials.
Care: 4.5/5
Caring for the Coop Eden pillow is simple because the pillowcase is removable and machine washable. You can use your own pillowcase for comfort or aesthetic reasons, or you can sleep right on the zippered case that comes with the Eden pillow.
You can also wash and dry the pillow core, but Coop doesn't recommend doing that more than once a year, and only if you spill on the pillow. If your pillow needs a glow-up, toss it in the drier once a month on low heat to refresh the fill and give it the airy fluffiness it had fresh out of the box.
Customer Experience: 4.5/5
The Coop Eden pillow comes with a 100-night trial period and a 5-year warranty. If you need help with your order or have questions about Coop Home Goods products, you can reach their customer service team Monday through Friday, 9AM–5PM PST over email (customerservice@coophomegoods.com) or phone (888-316-1886).
The website says it has a customer service live chat feature, but our team couldn't find the chat button anywhere, which is why we took a half point off of the score.
Total Score: 4.3/5
Side Sleeping
As a side sleeper with neck pain, I was really interested to see how well the Coop Eden pillow kept my neck in alignment and pressure off my shoulders. The pillow is really lofty in the center—I measured 8" tall—and tapers down to about 6" along the edges of the pillow.
Normally, this would be too tall for all but side sleepers with really broad shoulders; however, the fill is light and fluffy, so it compresses quite a bit under pressure. Under the weight of my head, the center of the pillow dropped down to 4"–5" tall. That's just right for most side sleepers.
The pillow completely filled in the space between my head and shoulder, which is great for alignment, but I prefer less taper along the edges since that's where side sleepers need the most support. Also, if I were sleeping on this pillow every night, I'd remove some of the fill because my head tilts up a little when I position it right in the center of the pillow (for reference, I'm 5'8" with an average-weight body type).
See the best pillows for side sleepers for more supportive, lofty options.
Back Sleeping
Back sleepers should have a comfortable experience on the Coop Eden pillow. The fill feels denser as it's compressed by your head, but it never loses its fluffy feel. I experienced the best comfort on my back when I positioned the pillow under my head and the tops of my shoulders.
As it comes, the fill level will probably be too high for most back sleepers, so Coop Home Goods recommends removing a quarter of the fill.
It's also worth noting that the gusset does its job well in this sleeping position. My head never rolled toward the sides of the pillow and stayed secure right in the center.
Check out the best pillows for back sleepers for similar options.
Stomach Sleeping
Stomach sleepers will definitely want to remove some of the fill before sleeping on this pillow. Ideally, you want the pillow to be no taller than 2". Coop Home Goods recommends removing one-third of the fill. We recommend taking out even more unless you sleep with your arms under your pillow (which keeps your chest and head elevated more in line with the top of the pillow).
If you remove some of the fill, you'll need to do a bit of reshaping and fluffing, but that shouldn't take too long. You can also pop the pillow in the dryer on low heat for 15 minutes.
The only reason we took a point off of the score for stomach sleepers is because, after removing a large portion of the fill, the pillow has less value for the price. Stomach sleepers can find other pillows that are specifically designed for this sleeping position at a lower cost. For more of our favorites for this sleeping position, see the best pillows for stomach sleepers.
| | | |
| --- | --- | --- |
| Score for Side Sleepers | Score for Stomach Sleepers | Score for Back Sleepers |
| 5/5 | 4/5 | 5/5 |
Pros/Cons
Pros
Customizable:

With an

adjustable loft

level, you can add or

remove fill

until you get the right height and feel for your needs.

Easy Care:

While we wish the

inner pillow

could be washed more regularly, the Eden is a pretty low-maintenance pillow. It's entirely

machine washable

and dryer friendly, and it doesn't require much fluffing.

Responsive:

The

microfiber

and

memory foam fill

has a fast rebound time, so I can move from one side of the pillow to the other and feel supported the whole time.

Cozy: Yes, we know that this is a subjective factor, but we couldn't leave out how soft, cozy, and squishable this pillow is!
Cons
Relatively Heavy and Dense:

This pillow isn't ideal for those who like to manipulate the shape of their pillow. It's also not a

great pillow

for travel since it's on the heavier side.

Sleeps Warm:

Even though

Coop Home Goods

recommends their Eden pillow to

hot sleepers

, we noticed some heat retention that could deter folks who live in warmer climates or generally run hot at night.

Expensive: While it's not the priciest pillow we've reviewed, the Eden starts at $96, making it more of a luxury purchase.
Sizing, Pricing, and Policies
| | | |
| --- | --- | --- |
| Size | Dimensions | Price |
| Queen size | 20" x 30" | $96 |
| King size | 20" x 36" | $108 |
*Note that Coop Home Goods no longer sells the Eden in Standard size; however, they offer a body pillow with the same soft Lulltra cover and down-like fill.
The Coop Eden pillow has a 100-night sleep trial, free returns, and full refunds before day 100 of the trial. It's also covered by a 5-year warranty. The trial period is standard for the online bedding industry, but the warranty is five times longer than average! Double check the return policy if you buy your Coop Eden pillow on Amazon.
Shipping is free in the 48 contiguous states, and delivery usually takes between five and seven business days.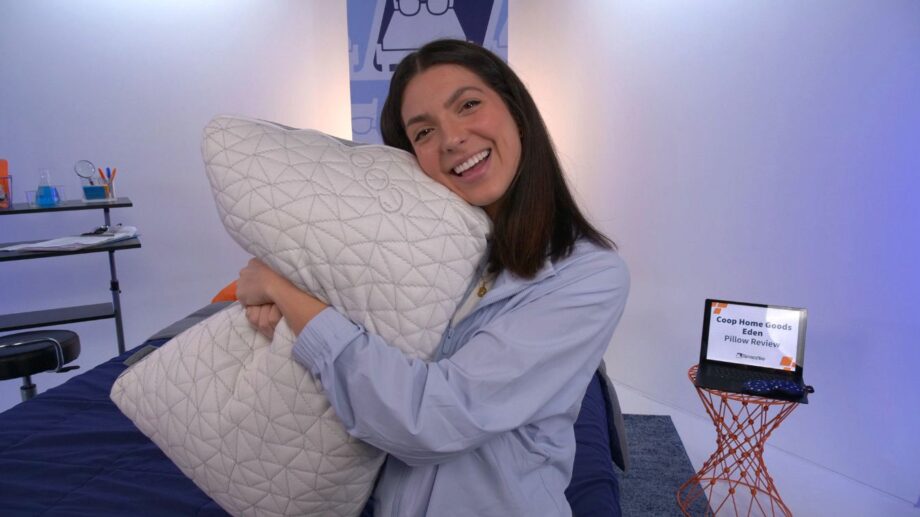 FAQs
How long will the Coop Eden pillow last?
The length of a productu2019s warranty tells you a lot about how long the company expects the product to last, since they''re backing it for that timeframe. Coop Home Goods backs the Eden pillow with a 5-year warranty, so we expect it to last at least that long.
Does the Coop Eden pillow have an off-gassing smell?
As a shredded memory foam pillow, the Eden may have a slight u201cnew pillowu201d odor fresh out of the box. This is non-toxic and should be gone after a day or two. To speed up this process, let your dryer fluff up the fill for 15u201330 minutes.
Whatu2019s the difference between the Coop Eden pillow and Coop Original pillow?
Coop Home Goods considers the Eden to be a soft pillow and the Original to be a medium-firm pillow. Both are adjustable and have a microfiber and memory foam fill, but the foam in the Eden is infused with cooling gel specks. Lastly, the Eden has gusseted edges.
The Nerd's Final Take
While there's no perfect pillow, the Coop Home Goods Eden pillow is an excellent choice for side sleepers, back sleepers, and stomach sleepers alike. Its responsive feel also works well for those who change positions at night.
Despite earning top marks for breathability, it's not one of the best pillows for hot sleepers. It's also not a budget buy; however, with a 5-year warranty, we think it's a worthwhile investment.
JUMP TO
Who It's Good For
Who It's Not Good For
Video Review
Look Inside
Mattress Nerd Pillow Scores
Pros/Cons
Sizing, Pricing, and Policies
FAQs
The Nerd's Final Take