Nest Easy Breather Pillow Review
•
Disclosure: By clicking on the product links in this article, Mattress Nerd may receive a commission fee at no cost to you, the reader. Read full disclosure statement.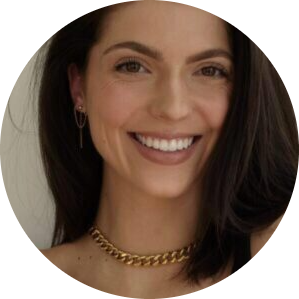 Methodology
Here at Mattress Nerd, we've tested hundreds of pillows to bring you unbiased, expert reviews of the top brands. Learn more.
In This Article
We'll share our experience testing the Nest Easy Breather pillow. We recently updated this article with our improved testing.
The Mattress Nerd's Take: The Nest Easy Breather pillow is a great option for most sleepers because it has a medium firmness, adjustable loft and breathable materials. It's much softer and more moldable than a traditional memory foam pillow, because the fill allows for more airflow and personalization.
Who Should Get the Nest Easy Breather Pillow?
Who It's Good For
Side sleepers

Hot sleepers

Anyone who wants an

adjustable pillow
Who It's Not Good For
Budget shoppers

Sleepers who like traditional

memory foam pillows

Buyers looking for an all-natural pillow
Watch our Video Review
Watch our video review for the Nest Easy Breather Pillow for a closer look at how this pillow looks and feels!
Look Inside
The cover of the Easy Breather pillow is made of a blend of Nest's proprietary cooling fabric, they call "Icecore", which is mainly made of TENCEL, along with polyester, and spandex which gives it some stretch and flexibility, and also looks luxurious. This material makes the pillow not only breathable, but also more sustainable and eco-friendly.
The filling of the Easy Breather pillow is shredded memory foam. The foam filling is a proprietary blend of specialty foam and smooth polyester fiber. All of the foam material in the pillow is CertiPUR-US certified, and according to Nest, has lower chemical off-gassing. This filling gives the pillow a really plush and "squishable" feeling, but allows it to maintain its shape and firmness.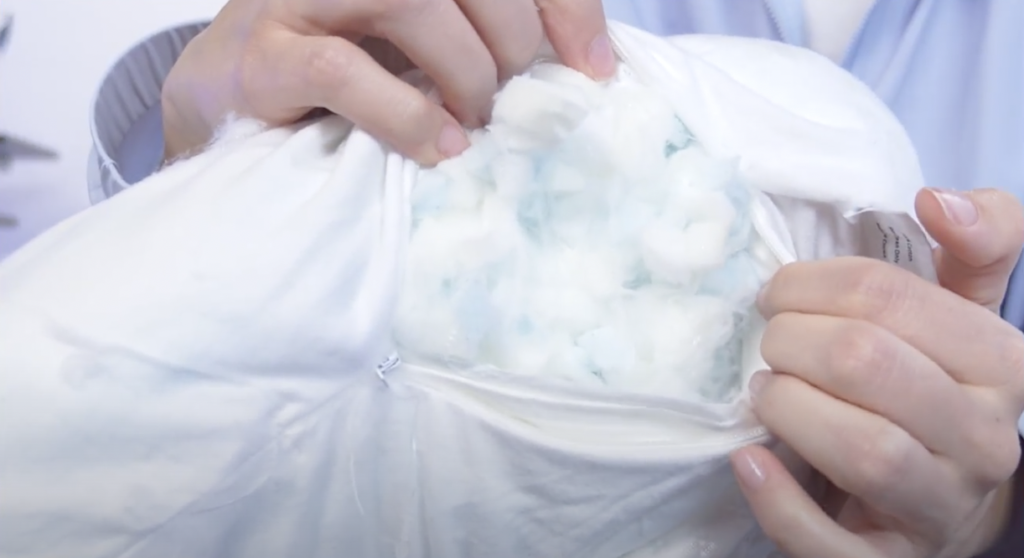 Mattress Nerd Pillow Scores
Whenever we bring a new pillow into our testing lab at Mattress Nerd, we take a close look at a few key factors. Our goal? To help you get a clear idea of whether or not it's the right pillow for you. We consider the pillow's temperature, how well it keeps your neck and spine aligned, whether or not it's customizable, the quality of materials used, the ease of care, and, of course, the customer experience. Scoring is measured on a scale from 1 to 5, with 5 being the best.
Cooling: 4.5/5
Both the cover and the adjustable fill design make this pillow a great option for hot sleepers. The cover is made of a blend of Nest's proprietary cooling fabric, they call "Icecore", which feels cool to the touch when you lie against it and it stays cool as you sleep on it throughout the night. The adjustable fill design helps with airflow so no body heat stays trapped within the materials too.
Alignment: 5/5
Since the fill of the Easy Breather pillow is adjustable, you can cater the loft to your sleeping position. This allows you to get essentially the "perfect loft", which is ideal for alignment. I'm primarily a back and side combo sleeper, and I only needed to remove half of a handful of filling to accommodate for my body and sleeping preferences. I felt aligned as I fell asleep and woke up with no aches or pains.
Adjustability: 5/5
This is an adjustable fill pillow, making it customizable to whatever feels best to you. Plus, it comes in different sizes as well giving you even more personalization with your purchase.
Quality of Materials: 4/5
Between the cover and the fill, the Easy Breather features a variety of quality fabrics and materials that make this pillow feel soft, cooling, and luxurious. Plus, the fact that the cover is machine washable, speaks to its durability in the washing machine, which some pillow cases cannot handle. Lastly, the inner fill is made of non-toxic shredded memory foam and polyester fiber, two materials that provide support and comfort while sleeping.
Care: 4/5
The cover is removable and machine washable. To clean, remove the cover and wash in cold water on a delicate cycle. Do not use fabric softener or bleach. Then, dry on a low heat setting. Do not dry on high heat, or the cover may warp and shrink.
You cannot clean the shredded memory foam insert.
Customer Service: 4/5
The Nest Easy Breather ships for free throughout the contiguous United States, comes with a 30-night sleep trial, and a 2-year warranty. While a 2-year warranty is above industry standard, we usually like to see the sleep trial be a bit longer, like 100 days, so that you can get a true feel for your pillow. Hence, why I knocked a point off from this category.
You can contact Nest's customer service by phone, through a chat feature on their site, or by visiting one of their store locations.
Total Score: 4.4/5
Side Sleeping
For side sleepers, the high loft of the pillow as it comes out of the box will work well to provide head and neck support, although some will probably need to adjust it based on your size and personal preference. Sleeping on my side on this pillow, I felt aligned and comfortable.
And Nest even offers a special Side Sleeper pillow, which is shaped to allow room for your neck and shoulders.
Back Sleeping
Back sleepers need a pillow with a medium loft and a material that will conform under their neck and head. As is out of the box, the Nest Easy Breather was a little tall for me sleeping on my back, but by removing the filling, the loft can be adjusted to a comfortable level. And the shredded memory foam is soft enough to allow your head to sink in, but still supportive.
Stomach Sleeping
For stomach sleepers, a low loft is best to avoid neck pain. The Easy Breather will be too tall as it comes out of the box, but by removing the fill and lowering the loft, stomach sleepers should be comfortable on this pillow. But if you would rather not have to remove so much fill, a flatter pillow might work better.
| | | |
| --- | --- | --- |
| Score for Side Sleepers | Score for Stomach Sleepers | Score for Back Sleepers |
| 4.5/5 | 3/5 | 4.5/5 |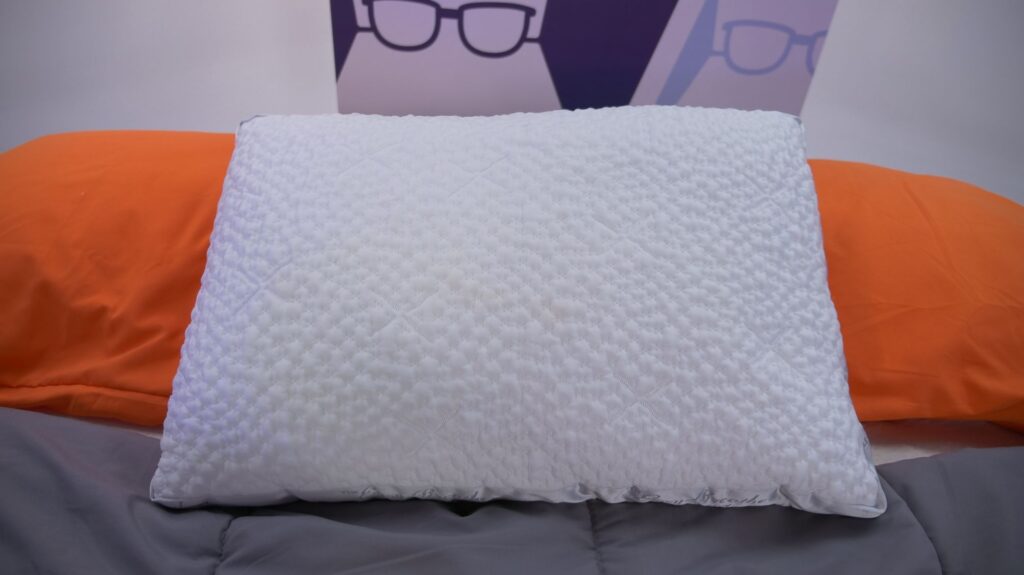 Pros/Cons
Pros
Easy upkeep:

Cover is removable and machine washable.

Adjustability:

While some people might prefer to have their pillow ready to use out of the box, I really like the

adjustability

of

the Easy Breather pillow

. Being able to remove the filling to your desired loft means you can truly customize your pillow to fit your exact needs. This also makes it work for a variety of

sleeping positions

.

Cooling:

This pillow doesn't have any wild, high-tech cooling capabilities— but the cool

TENCEL

cover and the breathability from the shredded foam keep the pillow from retaining heat. Which is good, because who wants to wake up with a sweaty face or hair?
Cons
Not the best option for stomach sleepers: Stomach sleepers

would have to remove a decent amount of fill to get to the best height for their position. They need a low loft and soft surface in order to maintain healthy spinal alignment.

Adjustable fill pillows can be messy:

Speaking from personal experience, be sure to be cautious when removing or adding fill, and have a broom/vacuum nearby. Spillage is real!

Price:

While I really like this pillow and it has a lot of great features, it is definitely at a higher price point, with the

Standard size

pillow going for $99. For a lot of people, it'll be worth the money, but budget shoppers might want to look elsewhere.
Sizing, Pricing, and Policies
| | | |
| --- | --- | --- |
| Size | Dimensions | Price |
| Standard Size | 24" x 16" | $107 |
| Side Sleeper | 29" x 17" | $119 |
| Queen Size | 28″ x 18″ | $119 |
| King Size | 34" x 18" | $131 |
Trial Period and Warranty
The Easy Breather pillow comes with free shipping and returns. It also comes with a 30-night sleep trial period where you can test out the Easy Breather and decide whether or not it's right for you. You will receive a full refund if you return the pillow within that time frame. If you like it and decide to keep it, you'll be covered under Nest's 2-year warranty.
Nest Easy Breather Pillow FAQs
How do I adjust the fill on my Nest Easy Breather Pillow?

You can adjust the inner shredded memory foam filling by first opening up the pillow cover and then the protective liner. Both come with their own zippers on the side of the pillow.  Then, you'll have access to the loose fill, which you can pull out or add into in order to adjust the loft to be thicker or thinner, whichever you prefer. This is great for different sleeping styles and allows you to customize the feel of your pillow.
Is the Nest Easy Breather Pillow good for combination sleepers?

Yes! An adjustable fill pillow in general is a great type of pillow for combination sleepers since it's customizable. Personally, I'm a back and side combination sleeper, and I was able to adjust this pillow to the perfect height for my body type and to accommodate the switch between both positions, while staying comfortable and keeping my spine aligned.
Is the Nest Easy Breather good for side sleepers?

The Nest Bedding Easy Breather pillow is a great choice for side sleepers. This pillow is even offered in an even more specialized "Side Sleeper" model, which is shaped thicker around the edge and thinner in the middle to help maintain spinal alignment and prevent neck pain. Both options allow you to adjust the inner fill to your liking. The side sleeper model is slightly more expensive than the standard model, so if you don't want to spend the extra money, or you're not a strict side sleeper, the standard model will still be able to perfectly accommodate you.
The Nerd's Final Take
If you're looking for a down alternative that's adjustable to your needs, the Nest Easy Breather is a top pick. It sleeps cool, is moldable and supportive, and is easy to adjust by just removing foam fill. It might take some time to get the fill level exactly right for you, but once you do, you'll have a custom pillow that's perfect for you. And while the sleep trial isn't the longest in the industry, the two-year warranty is a nice bonus.
If you're a stomach sleeper or want a pillow with a really low loft, the Easy Breather definitely can work for you, but it might not be worth buying if you end up having to remove most of the filling to get it to the right level.