Purple vs. Puffy Mattress Comparison
•
Disclosure: By clicking on the product links in this article, Mattress Nerd may receive a commission fee at no cost to you, the reader. Read full disclosure statement.
The Puffy and the Purple are two primarily foam mattresses designed to cater to a wide variety of sleep personalities. The Puffy features excellent motion isolation and a super-soft, cloud-like feel, making it a great choice for couples and seniors. The Purple is geared towards active individuals, as well as back and side sleepers, with its superior spine alignment and pressure relief.
Wondering which mattress is the best option for you? In this article, we'll be doing an in-depth comparison of the Puffy and Purple mattresses to help you pick out which one's better suited to your needs.
Curious to know how we test and review our mattresses? Read up on our testing methodology.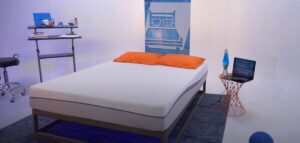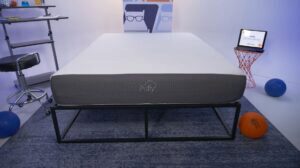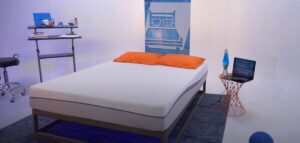 Firmness
Medium-firm: 6.5/10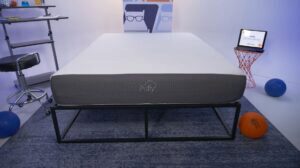 Product
Puffy Cloud Mattress
Firmness
Medium-firm: 6/10
Puffy vs. Purple Overview
The Puffy and Purple are both popular bed-in-a-box foam mattresses, each having different features to accommodate different types of sleepers. Here's a brief overview of each mattress's best points.
| | |
| --- | --- |
| Puffy is best for… | Purple is best for… |
| Couples | Combination sleepers |
| Side sleepers | Hot sleepers |
| Lightweight back sleepers | Side and back sleepers |
Who Should Choose the Puffy Mattress?
Couples: Those who sleep together will like the fact that the Puffy mattress helps cut down on motion transfer/
Side sleepers: The Puffy mattress is a good choice for those who sleep on their side or have joint pain because it's soft and cradling, providing adequate pressure relief on pressure points.
Lightweight back sleepers: Puffy does a great job at providing good support for the spine to maintain a neutral spine alignment.
Who Should Choose the Purple Mattress?
Combination sleepers: The Purple is also known for its responsiveness so those who change positions at night will probably sleep comfortably on it.
Hot sleepers: The Purple mattress has soft and breathable layers that promote airflow to keep you cool at night.
Side and back sleepers: Purple provides a unique, pressure-relieving feel that's beneficial to both side and back sleepers and helps prevent body pain.
Puffy vs. Purple Mattress Video Comparison
Still having trouble choosing between getting Puffy or Purple? Check out this in-depth Puffy vs Purple mattress comparison video where resident Nerds, Corey and Loren, put both mattresses to the ultimate test and see which one's the best option for you.
Puffy vs. Purple: Top Similarities
Good motion isolation: Both mattresses have great motion isolation, making them ideal for couples.
Suitable for side sleepers: Both mattresses will work for some side sleepers who seek cradling comfort.
Price point: There's not much of a difference in price between the Puffy and Purple.
Puffy vs. Purple: Top Differences
Firmness: The Puffy Mattress has a medium feel to it, making it great for side sleepers who need cushioning comfort, while the Purple Mattress is much firmer, even allowing some stomach sleepers to get proper support.
Materials: The Puffy Mattress uses traditional memory foam in its construction, and the Purple Mattress utilizes a proprietary, high-density polyfoam blend.
Thickness: The Purple mattress has a thinner profile, while the Puffy mattress is a bit thicker.
Puffy vs. Purple: Firmness & Feel Differences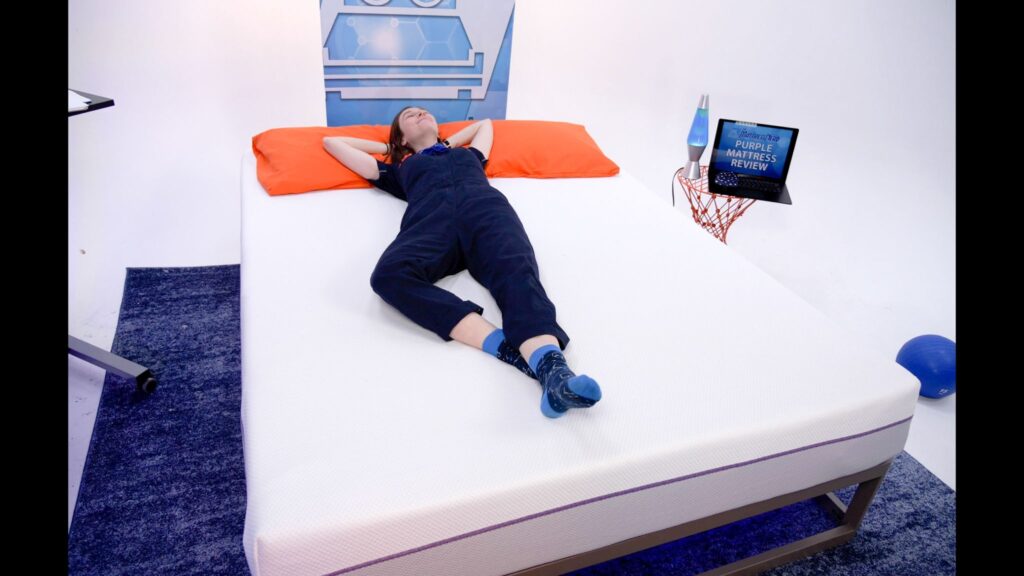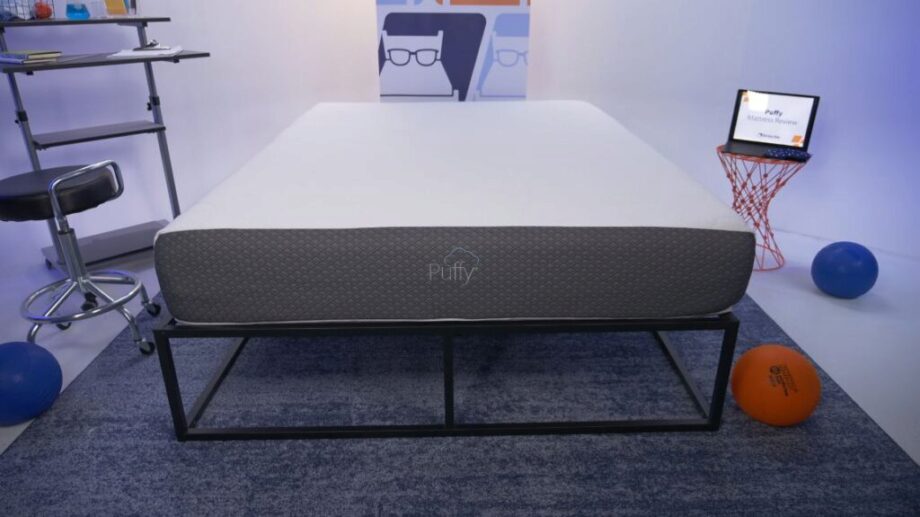 Here's how the Puffy and Purple mattresses measure up against each other when it comes to firmness and feel.
What's the Firmness Of the Puffy & Purple Mattresses?
Mattress firmness is rated on a scale of 1 to 10, with 1 being the softest and 10 being the most firm. Firmer mattresses are some of the best mattresses for stomach sleepers and back sleepers because they keep the spine aligned, while softer mattresses are good for side sleepers because they contour around the hips and shoulders.
We scored the Puffy around 5 or 6/10 which rates it as having a medium-firm feel. Meanwhile, the Purple is slightly firmer at 6.5/10.
What Do the Puffy & Purple Mattresses Feel Like?
We think the Puffy mattress has a balanced and responsive foam feel. And because of this, it's very easy to move around on and provides great body contouring, which makes it an ideal choice for side sleepers and combination sleepers.
Despite having a supportive coil layer, the Purple mattress doesn't have the springy coil bounce-back feel. Instead, it feels more like you're sleeping on an even and sturdy surface. This is probably thanks to the firm foam layers underneath that balance out the usual bouncy feel of coils. Its Purple Grid top layer helps you sleep cool and conforms nicely around your shoulders and hips.
What's It Like to Sleep On the Puffy & Purple Mattresses?
The Puffy is a combination of soft and responsive so the majority of side and back sleepers will probably sleep comfortably on it. The Puffy should also be comfortable for some stomach sleepers, but some may experience excess sinking in the hip area which could eventually lead to back and joint pain. If you're a combination sleeper, the Puffy mattress should provide you with enough support and cushion, but if you sleep on your stomach most of the time, there are better options out there.
The Purple has its Purple Grid layer that provides excellent support and body-conforming qualities for back and side sleepers. It also makes the mattress very responsive, which is good for most combination sleepers. However, heavier sleepers may experience some discomfort since they may experience excessive sinking which can lead to body pain.
The Puffy vs. Purple Mattresses By Body Type
Puffy Performance By Body Type & Sleeping Position:
| | | | |
| --- | --- | --- | --- |
| Body Type: | BACK SLEEPERS | STOMACH SLEEPERS | SIDE SLEEPERS |
| Lightweight (< 130 lbs): | 4 | 3 | 5 |
| Average-weight (130–230 lbs): | 3 | 3 | 4 |
| Heavyweight (> 230 lbs): | 2 | 2 | 3 |
Purple Performance By Body Type & Sleeping Position:
| | | | |
| --- | --- | --- | --- |
| Body Type: | BACK SLEEPERS | STOMACH SLEEPERS | SIDE SLEEPERS |
| Lightweight (< 130 lbs): | 5 | 3 | 4 |
| Average-weight (130–230 lbs): | 5 | 2 | 4 |
| Heavyweight (> 230 lbs): | 3 | 1 | 4 |
1 = Very poor, 2 = Not good, 3 = Fair, 4 = Good, 5 = Excellent
Average-Weight Sleepers (130–230 lbs)
Both mattresses are great choices for average weight back sleepers since they offer adequate support and cushion for your back.
Average weight side sleepers will also sleep comfortably on either mattress, but for better cushion, we recommend the softer Puffy mattress.
Both mattresses may be too soft to provide enough hip support for average weight stomach sleepers. Instead, we recommend firmer mattresses that can keep your hips elevated, like our picks in our best mattress for stomach sleepers list.
The Puffy and Purple mattresses can be great for average weight combination sleepers. However, if you sleep on your stomach more, we recommend more responsive mattresses that have a firmer feel, like our choices for the best mattresses for combination sleepers.
Heavyweight Sleepers (> 230 lbs)
Both mattresses lack the proper support to keep heavyweight back sleepers from sinking in too much, so we don't really recommend either.
Although side sleepers benefit from soft, cushioning mattresses, heavyweight side sleepers will probably experience too much sinking in both the Puffy and Purple.
Heavyweight stomach sleepers who experience lower back pain should steer clear from both mattresses, as both lack the proper support needed to keep their hips elevated and aligned with their spine.
We also won't recommend either mattress to heavyweight combination sleepers, especially to those who sleep a lot on their stomachs. Despite both being responsive mattresses, they tend to buckle under heavier pressure, making it hard for the sleeper to move around.
Lightweight Sleepers (< 130 lbs)
Lightweight back sleepers will have no trouble picking between the two since both mattresses offer ample lumbar support and comfort.
Both mattresses are also great for lightweight side sleepers, but we think the Puffy slightly excels over the Purple because of its softer feel and better pressure-relieving features.
Lightweight stomach sleepers will sleep more comfortably on the firmer Purple mattress. We think the Puffy won't be firm and supportive enough for most stomach sleepers, regardless of body type.
Both the Puffy and Purple mattresses are great options for lightweight combination sleepers. However, if your dominant sleeping position is on your stomach, we recommend you look for firmer options that can provide adequate hip support.
Differences In Mattress Construction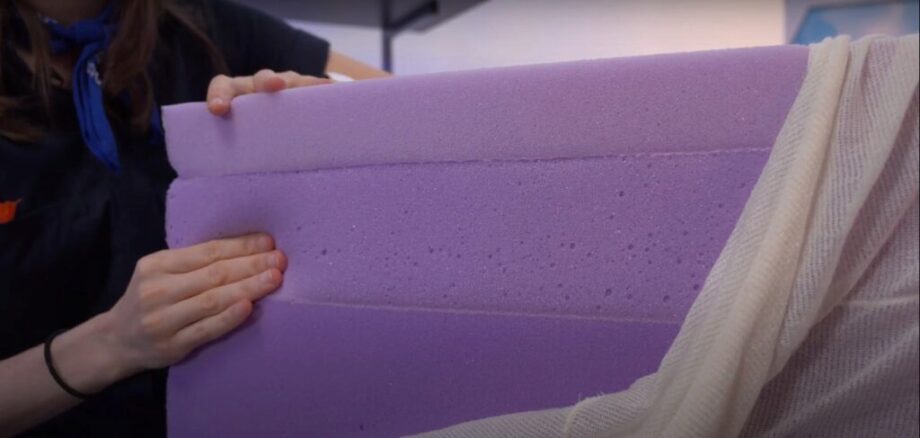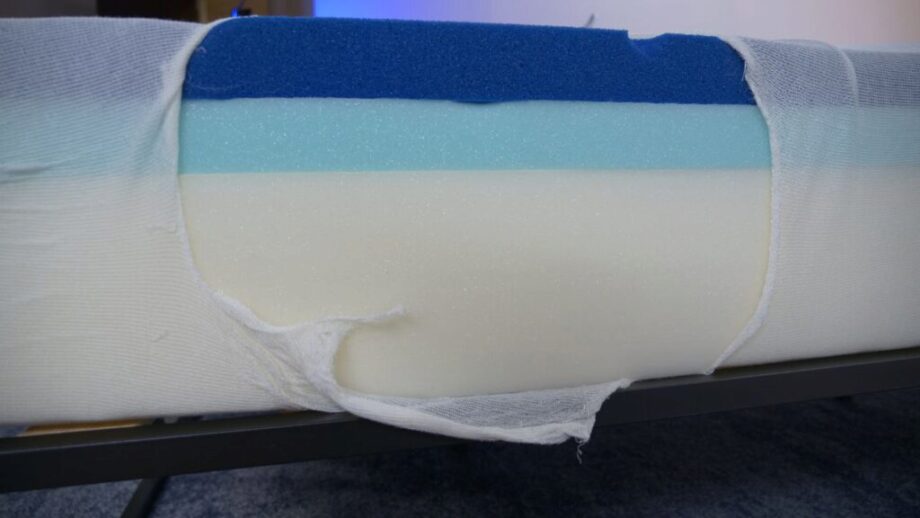 The Puffy is a 10" all-foam mattress that's made up of three distinct foam layers, while the Purple is a 9.5" hybrid mattress constructed from polyfoam layers and their proprietary Purple Grid layer. Here's a closer look at how each mattress is constructed.
Puffy Mattress Materials
Purple Mattress Materials
Polyester Cover
Viscose, Polyester, & Lycra Blend Cover
2" Cooling Cloud Foam
2" Purple Smart Grid
2" Climate-Adaptive Foam
3.5" Soft Polyfoam Transition Layer
6" Firm Core Foam Support
4" High-Density Polyfoam Base
+ Non-Slip Bottom Cover
Cover
The Puffy has a standard polyester cover that offers some slight flexibility and stretch but not much in terms of breathability. Purple has a cover that's made from a polyester, viscose, and Lycra blend that's soft, flexible, and has temperature-regulating properties.
Comfort Layers
The Puffy has a gel-infused Cooling Cloud foam layer that wicks away excess body heat and promotes great airflow. Purple's patented Smart Grid layer is made from a Hyper-Elastic polymer gel material that offers great pressure relief and support.
Support Layers
Both mattresses use thick foam support layers for stability, but the Puffy mattress has a thicker layer at 6″, which is 2″ thicker than Purple's.
Puffy vs. Purple Pricing
| | | |
| --- | --- | --- |
| Size | Puffy Prices | Purple Prices |
| Twin | $799.00 | $799.00 |
| Twin XL | $949.00 | $999.00 |
| Full | $1099.00 | $1199.00 |
| Queen | $1299.00 | $1399.00 |
| King | $1449.00 | $1799.00 |
| California King | $1449.00 | $1799.00 |
For exclusive discounts on both beds see our Puffy mattress coupons and Purple mattress coupons.
Puffy vs. Purple Mattress Performance Ratings & Differences
Temperature
There are many people who tend to overheat throughout the night, which is why they need a mattress with cooling technology. The Puffy mattress uses cooling gel-infused memory foam designed to keep you refreshed while you sleep, and the Purple Grid promotes airflow and breathability for maximum cooling. While the Puffy makes an admirable attempt at promoting cooling, we think the Purple ultimately wins out in this area.
Motion Transfer
Motion transfer is a key feature of the best mattresses for couples who share a bed. Why? A bed with good motion isolation reduces the chances of disturbing each other while tossing and turning or getting in and out of bed. Both mattresses have good motion isolation, but the Puffy mattress is the most "traditional" memory foam feel. The layers of memory foam in the Puffy mattress should keep couples content no matter how much their partner tosses and turns.
The Purple Grid material in the top layer of the Puffy mattress is slightly more responsive than memory foam, meaning that couples might feel a bit more movement from their sleep partner on the Purple compared to the Puffy. But ultimately, we think both beds do a great job at motion isolation: and that extra responsiveness in the Purple means it's a great mattress for sex.
Edge Support
Edge support, referring to the firmness and support around the borders of the mattress, is a necessity for sleepers who have trouble getting in and out of bed. It's also important for those who may suffer from back pain.
Unfortunately, both the Puffy and Purple mattresses receive less-than-stellar ratings on edge support. When we sat on the edge of each of these beds in our Mattress Nerd sleep lab, we noticed some definite sinking. Overall, the Purple offers slightly better edge support because of its firm construction. If you sleep on a smaller mattress like a Full or Queen size mattress, this is something worth considering.
Pressure Relief
Foam mattresses tend to contour around sensitive parts of your body, allowing for great pressure relief: That's why people love memory foam so much! Depending on your sleeping position, you will find both mattresses offer a decent amount of pressure relief on your shoulders, hips, back, and legs.
The Puffy offers better pressure relief for most side sleepers, as it's the softer option of the two. The Purple offers great pressure relief for average-weight and heavyweight side sleepers. After all, those who weigh over 130 lbs. will sink better into the mattress and activate the Purple Grid technology.
Pain Relief
A mattress's ability to relieve pain depends on the sleeper's body type and dominant sleeping position.
For us, the Puffy feels a lot like sleeping on a cloud since it gives a floating sensation when you're lying down on it. While it's soft and cushioning for side sleepers, if you're experiencing shoulder or hip pain, we don't recommend it. Similarly, if you're a back or stomach sleeper who's experiencing back pain, you probably won't get enough support for your back, which can exacerbate the pain even more.
For people with back pain (especially in the lower back region), the Purple is a great choice as it distributes your body weight to relieve pressure off heavier areas. But if you have shoulder pain, the Purple may lack enough cushion needed for pain relief.
Durability
Most people want a mattress that will last a long time, which is why durability is an important deciding factor when making a choice on a new bed. Both mattresses use thick foam layers that our team thinks will last for years to come. What's more, both brands offer robust warranty policies. Still, most mattress nerds know that foam layers don't tend to last quite as long as the steel coils used in hybrid mattresses.
Shipping, Returns, & Warranties
Puffy
Puffy offers free shipping in the contiguous U.S. You'll also get a 101-day sleep trial that comes with a free return and full refund after 14 nights. Puffy also gives you a Lifetime warranty which covers material and manufacturing defects.
Purple
Purple provides free shipping across the contiguous U.S. and paid shipping to Alaska, Hawaii, and Canada. You'll also get a 100-day sleep trial and a 10-year warranty that covers material and workmanship defects.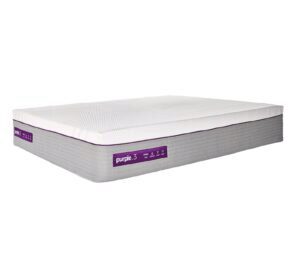 Purple Hybrid Premier Mattress
Multiple firmness options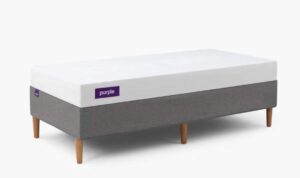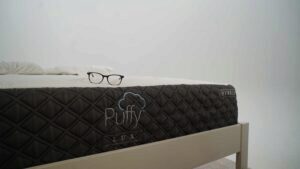 Puffy Lux Hybrid Mattress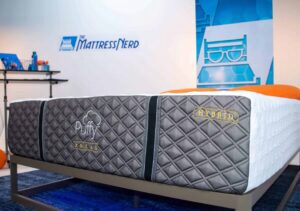 Puffy Royal Hybrid Mattress
Haven't made a decision yet? Check out these other comparisons:
The Puffy and the Purple are two highly rated mattresses that are durable, pressure-relieving, and cozy for different types of sleepers. If you're a side or back sleeper, the Puffy should give you the pressure relief you need to stay comfortable. If you're a naturally hot sleeper who wants to invest in revolutionary foam bedding technology, we recommend the Purple for you. Either way, both mattresses come with generous return policies and warranty periods.
Puffy & Purple FAQs
What Are The Cons of a Purple Mattress?
Some of the complaints we've seen and read about the Purple mattress are sagging and indentations over time and occasionally poor customer service. Some also say that it's very difficult to move and set up, especially since it's much heavier than most foam mattresses.
What is The Lifespan of a Puffy Mattress?
You can expect your Puffy mattress to last you around six to seven years before it shows signs of wear and tear. To prolong your mattress's lifespan and maintain its level of comfort, make sure to do proper mattress care and maintenance regularly.
Do You Flip a Puffy Mattress?
No, Puffy mattresses are specifically designed to only be slept on one side. If you flip it over, you will not get the intended comfort and support. You can, however, rotate it if you want.