Purple vs. Helix Mattress Comparison
•
Disclosure: By clicking on the product links in this article, Mattress Nerd may receive a commission fee at no cost to you, the reader. Read full disclosure statement.
The primary difference between Helix and Purple mattresses is that Helix creates hybrid mattresses consisting of both foam and coils, while Purple uses a unique, gel-like polymer grid on top of either support foam or coils.
In this mattress comparison, we'll primarily be focusing on the Helix Midnight mattress and the original Purple mattress. By the end of this, you'll be able to pick out the mattress that fits your needs the most.
Want to know more about how we test and review mattresses? Check out our testing methodology.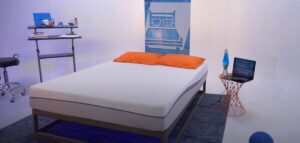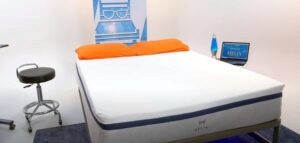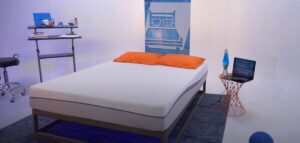 Firmness
Medium-firm: 6.5/10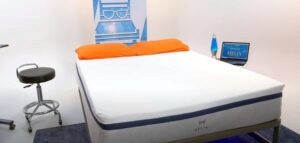 Product
Helix Midnight Mattress
Firmness
Medium-firm: 6/10
Helix vs. Purple Overview
Both the Helix Midnight and the original Purple are fantastic hybrid mattress options. However, they have individual strengths that make them more recommendable to certain types of sleepers.
| | |
| --- | --- |
| Helix is best for… | Purple is best for… |
| Side sleepers | Hot sleepers |
| Couples | Those with back pain |
| Memory foam lovers | Sleepers who enjoy a weightless "floating" feel |
Who Should Choose the Helix Mattress?
Side sleepers: Those who sleep on their sides should benefit from the pressure relief and spinal alignment offered by the Helix Midnight mattress.
Couples: Couples and those who co-sleep can sleep soundly knowing they're unlikely to be disrupted by motion transfer when their partner moves. This mattress is cooling and responsive enough for sex.
Memory foam lovers: If you love the traditional memory foam feel, you will appreciate the 2″ layer of memory foam on top of the Helix Midnight.
Who Should Choose the Purple Mattress?
Hot sleepers: If you find yourself sweating a lot through the night, you should appreciate the breathability and heat regulation of the Purple Grid top layer.
Those with back pain: The Purple offers great pain-relieving features for those with back pain.
Sleepers who enjoy a weightless "floating" feel: The original Purple offers a unique floating feel when you lie down on it, so if you're curious about that, try out the Purple.
Helix vs. Purple Mattress Video Comparison
Watch as our editors Loren and Adrianne duke it out over which mattress is better: the Helix Midnight or the Purple Original.
Helix vs. Purple: Top Similarities
Buyer experience: Both mattresses come with generous 100-night sleep trial periods and 10-year limited warranties.
Price: Both mattresses are relatively affordable and great for value shoppers. For similar options, see the best affordable mattresses.
Sleeping positions: Back sleepers and side sleepers, especially light- to average-weight back and side sleepers, can find comfort on either mattress.
Helix vs. Purple: Top Differences
Feel: While both beds have a medium-firm feel, the Purple is slightly firmer than the Helix Midnight.
Temperature: Both beds are temperature-regulating, but in different ways: the Purple Grid technology in the Purple mattress naturally absorbs body heat, and the coil base layer in the Helix improves airflow through the bulk of the mattress.
Construction: The Helix incorporates both foam and coils in its design, while the Purple is Hyper-Elastic Polymer and foam.
Helix vs. Purple: Firmness & Feel Differences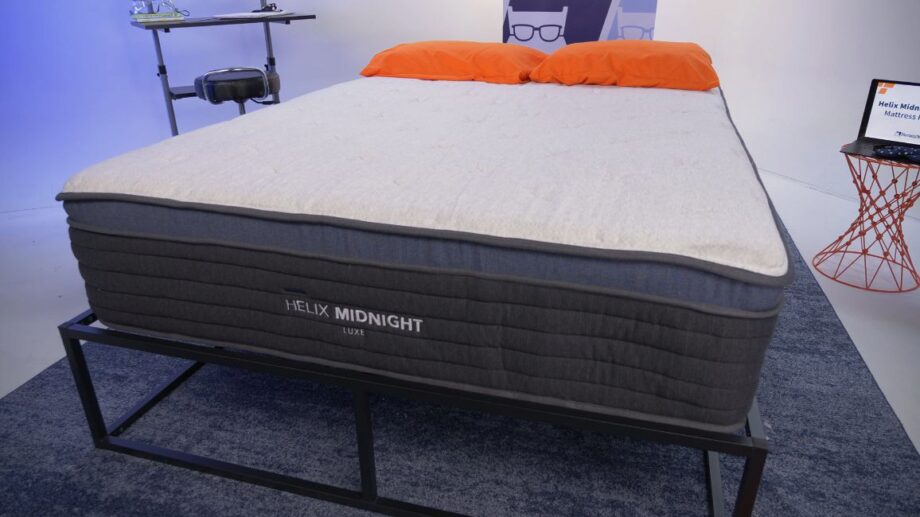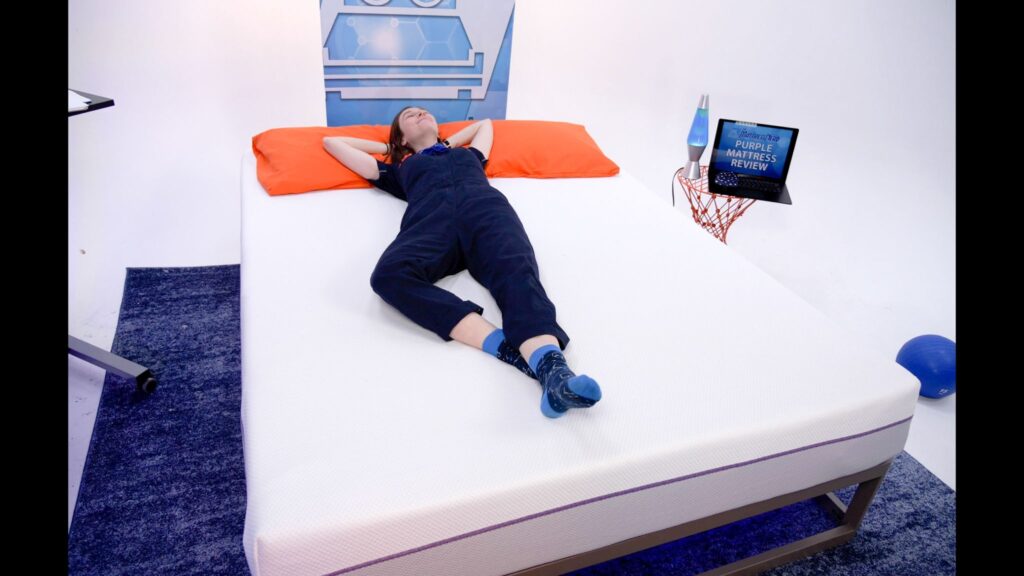 Here's how the Helix and Purple mattresses stack against each other regarding mattress firmness level and feel.
What's the Firmness Of the Helix & Purple Mattresses?
We rate mattresses on a firmness scale from 1–10, with 1 being the softest and 10 being the firmest. Typically, the best mattresses for side sleepers are softer, conform to the hips and shoulders, and allow for proper spinal alignment. In the contrast, the best mattresses for back sleepers and stomach sleepers are firmer and more supportive.
The Purple mattress is a 6.5/10 on our firmness scale. The Helix Midnight is a bit softer, at a 6/10.
What Do the Helix & Purple Mattresses Feel Like?
The Helix Midnight feels like a hotel bed that has a soft, cushioning top and a bouncy yet supportive coil base. Its top layer is made from memory foam, so expect some sinking when fully lying down on it. However, the pocketed coil layer keeps you lifted up and supported.
Lying down on the Purple's Smart Grid comfort system feels like you're "floating" on top of the mattress. Despite being a gel layer, it feels very stable and supportive, providing a nice conforming feel for your side and back. It also sleeps cool thanks to the grid-like structure of the Smart Grid, which promotes airflow.
What's It Like to Sleep On the Helix & Purple Mattresses?
Both mattresses offer a good balance of support and comfort, which make both a great choice for back and side sleepers. However, the Helix Midnight is a bit better at accommodating side sleepers and stomach sleepers because of its supportive coil system. On the other hand, the Purple may be a better option for back sleepers who want a supportive and conforming feel.
The Helix vs. Purple Mattresses By Body Type
Helix Performance By Body Type & Sleeping Position:
| | | | |
| --- | --- | --- | --- |
| Body Type: | BACK SLEEPERS | STOMACH SLEEPERS | SIDE SLEEPERS |
| Lightweight (< 130 lbs): | 4 | 4 | 5 |
| Average-weight (130–230 lbs): | 4 | 4 | 5 |
| Heavyweight (> 230 lbs): | 3 | 3 | 4 |
Purple Performance By Body Type & Sleeping Position:
| | | | |
| --- | --- | --- | --- |
| Body Type: | BACK SLEEPERS | STOMACH SLEEPERS | SIDE SLEEPERS |
| Lightweight (< 130 lbs): | 5 | 3 | 4 |
| Average-weight (130–230 lbs): | 5 | 2 | 4 |
| Heavyweight (> 230 lbs): | 3 | 1 | 4 |
1 = Very poor, 2 = Not good, 3 = Fair, 4 = Good, 5 = Excellent
Average-Weight Sleepers (130–230 lbs)
Average weight back sleepers will be happy with either mattress, but the Purple does a bit better than the Helix because of its supportive Smart Grid layer.
But for average weight side sleepers, the Helix Midnight is the better pick simply because of its softer and contouring foam. Some may find the Purple also comfy, while others may feel that it's a bit too firm.
Average weight stomach sleepers will require adequate support and cushion for their hips to keep them from blowing out of alignment with the spine. Luckily, the Helix Midnight's cushy comfort layer and supportive coil system do just this.
Combination sleepers of average weight will have an easier time moving around on the Purple mattress. Some may feel like the Helix hugs around the body too much.
Heavyweight Sleepers (> 230 lbs)
We think heavyweight back sleepers will be more comfortable on the Helix than the Purple. The Helix has a more supportive coil system and a thicker profile, both of which help keep the body from sinking too much.
Heavyweight side sleepers will be comfortable with either mattress, but we think the Helix slightly excels over the Purple because of its coil system.
Heavyweight stomach sleepers will require some heavy-duty support to keep their hips elevated, and the Helix Midnight does a great job at this. The Purple's comfort layer may be too thin to provide enough support, which can cause excessive sinking.
Heavyweight combination sleepers will want a firmer and more responsive bed that will allow them to toss and turn with ease. The original Purple may work for this, but we recommend better options, like the ones in our best mattresses for combination sleepers list.
Lightweight Sleepers (< 130 lbs)
Both Helix and Purple can accommodate lightweight back sleepers well, but the Helix slightly outperforms the Purple because of its supportive memory foam layers.
Lightweight side sleepers will probably sleep more comfortably on the Helix, but the Purple also does a great job supporting and cushioning the sides.
Most lightweight stomach sleepers will love the soft yet supportive foam layer of the Helix Midnight. Purple is also a great pick, but some may feel like it lacks enough hip support.
Lightweight combination sleepers will sleep better on the Purple because of its responsive gel top layer that accommodates movement changes and motion transfer well.
Differences In Mattress Construction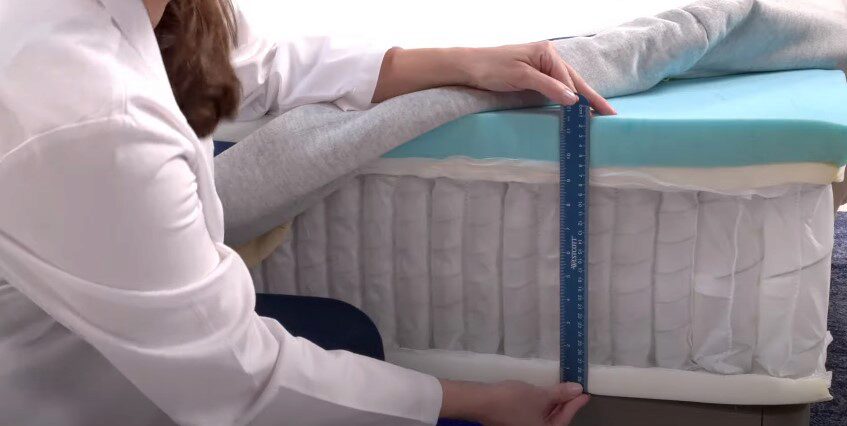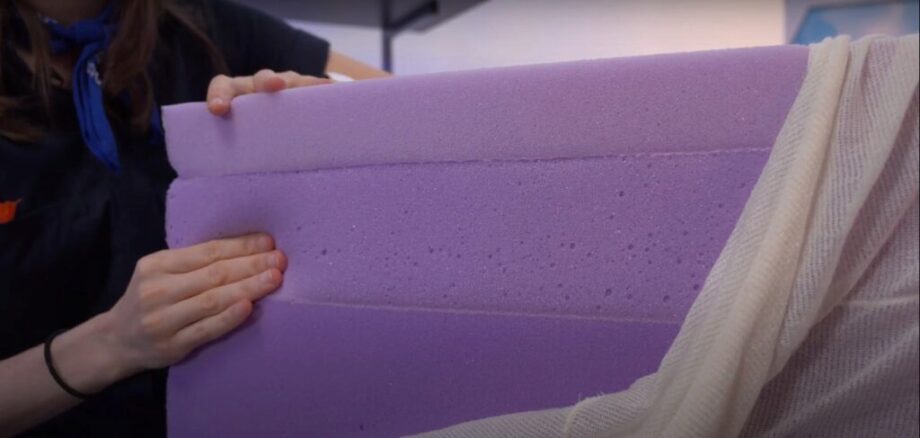 Both the Helix Midnight and original Purple are hybrid mattresses, but the former stands at 12" while the latter at 9.5". Here's an in-depth look at how they're built.
| | |
| --- | --- |
| Helix Mattress Materials | Purple Mattress Materials |
| "Soft Touch" Cover | Viscose, Polyester, & Lycra Blend Cover |
| 2" Memory Plus Foam | 2" Purple Smart Grid |
| 1" Polyfoam Transition Layer | 3.5" Soft Polyfoam Transition Layer |
| Pocketed Coils + 1" DuraDense Foam | 4" High-Density Polyfoam Base + Non-Slip Bottom Cover |
Cover
Helix's Soft Touch cover is soft, slightly stretchy, and helps keep you cool all night. Purple's comfort layer is made of polyester, viscose, and Lycra blend that boasts softness and flexibility, as well as temperature-regulating capabilities.
Comfort Layers
Both mattresses use proprietary comfort systems. Helix uses its Memory Plus Foam to relieve pressure on the joints, shoulders, and hips. Purple's Smart Grid is made from a Hyper-Elastic polymer gel designed for pressure relief and support.
Support Layers
The Helix's support layer consists of an individually pocketed coil system and a polyfoam base, while the original Purple has a polyfoam base with a non-slip bottom cover.
Helix vs. Purple Pricing
| | | |
| --- | --- | --- |
| Size | Helix Prices | Purple Prices |
| Twin | $936.30 | $799.00 |
| Twin XL | $899.00 | $999.00 |
| Full | $1049.00 | $1199.00 |
| Queen | $1199.00 | $1399.00 |
| King | $1549.00 | $1799.00 |
| California King | $1549.00 | $1799.00 |
For exclusive discounts on both beds see our Helix mattress coupons and Purple mattress coupons.
Helix vs. Purple Mattress Performance Ratings & Differences
Temperature
The Helix Midnight and Purple mattresses both incorporate various materials into their construction to keep sleepers temperature-neutral—if not cool—throughout the night. The Purple is the more cooling mattress because of the temperature-regulating Purple Grid on top of the mattress. The Midnight has the benefit of breathable coils, but the memory foam layer directly beneath the sleeper will likely retain some heat.
Motion Transfer
If you toss and turn while you sleep, or if you tend to get up frequently, you might want to invest in a mattress with low motion transfer, especially if you share your bed with someone else. Motion isolation keeps movement on your side of the bed so it's less likely that you'll disturb your partner.
The Helix Midnight features low motion transfer, making it one of the best mattresses for couples. The Purple Grid doesn't do as good of a job at isolating motion, but it still performs above average in this category.
Edge Support
Over time, the edges of your mattress may lose some firmness, making it more difficult to get in and out of bed. For the elderly or people with bad backs, having a mattress with edge support is a necessity.
The Helix Midnight's high-density, hybrid construction delivers great edge support, and you won't have to worry about the mattress losing its edge shape in the years to come. The Purple, while offering some edge support, may sink if you put a lot of weight on the edges of the bed.
Pressure Relief
A good mattress relieves pressure on your body so that you don't wake up with aches and pains every morning. In order to provide pressure relief, the Helix Midnight incorporates memory foam into its design, allowing the mattress to contour with your body and reduce pressure on your joints.
The Purple Grid on top of the Purple mattress is very flexible, enabling it to collapse under weight and alleviate pressure under high-impact areas like shoulders and hips.
Each of these mattresses has a slightly different feel. The memory foam layer on top of the Helix has a conforming "hug," while the Purple Grid has a weightless feel. Overall, the Helix does a slightly better job at relieving pressure than the Purple Grid.
Pain Relief
Ever woken up feeling sore? If you have, then there's a chance your mattress is responsible. For a mattress to relieve pain, it has to have great pressure-relieving abilities. The more built-up pressure, the higher chances of feeling aches and pain.
Both mattresses scored well when it came to pain relief. But overall, the Helix is better than Purple. Because of its thicker profile and coil system, the Helix does a better job of accommodating different sleeping positions and body types vs. the Purple.
If you're experiencing back pain, both mattresses will serve you well, with the Helix just slightly above the Purple. But if you have side or joint pain, then we recommend the Helix Midnight more.
Durability
You want a mattress that retains its shape and form for as long as possible. Helix and Purple have designed their products to last a long time, which is why each brand offers a 10-year warranty on their mattresses.
The Helix Midnight has a hybrid design with sturdy coils that help it should help retain its firmness and shape. The memory foam top layer is most at risk of deteriorating prematurely by forming body impressions. Purple has a less durable foam base, but the Purple Grid on top is one of the most durable materials on the mattress market.
Shipping, Returns, & Warranties
Helix
Helix offers free shipping within the contiguous U.S. and paid shipping to Canada, which costs around $250 + customs tax. Each mattress comes with a 100-day sleep trial and 10-year warranty.
Purple
Purple offers free shipping across the contiguous U.S., with extra fees for orders going to Alaska, Hawaii, and Canada. They also offer a 100-day sleep trial and a 10-year warranty for each mattress, which covers material and workmanship defects.
More Mattresses to Consider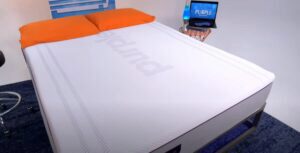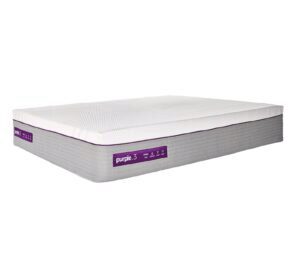 Purple Hybrid Premier Mattress
Multiple firmness options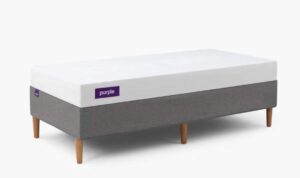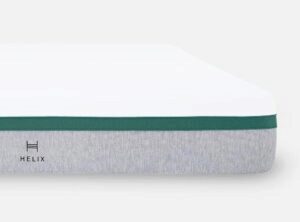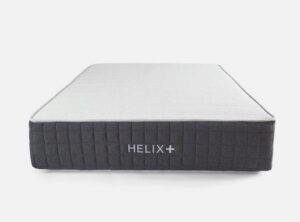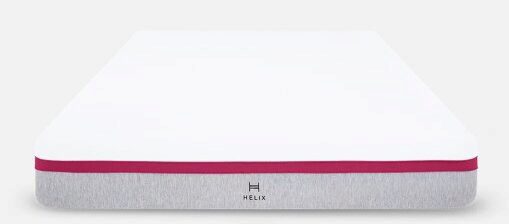 Haven't made a decision yet? Check out these other comparisons:
| | |
| --- | --- |
| Purple Comparisons and Reviews | Helix Comparisons and Reviews |
| | |
Our Final Take
The Purple and Helix Midnight are both great mattresses with their own set of pros and cons. If you're looking for a naturally cooling mattress with a unique weightless feel, the Purple could be a great fit for you. If you want a more traditional-feeling mattress with bounce and cushioning foam, the Helix Midnight is the better choice. Either way, you can't go wrong with the 100-night sleep trials and 10-year warranties offered by each mattress brand.
Helix & Purple FAQs
How Long do Helix Mattresses Last?
According to Helix, their mattresses are designed to last around seven to ten years, which is the common lifespan for most mattress brands. To get the most out of your Helix mattress, regularly clean it and practice proper maintenance.
How Much Does a Helix Bed Cost?
It depends on the mattress size. Their Twin size mattress goes for around $699, while their biggest California King mattress costs around $1,449.
Can I Put a Helix Mattress on a Box Spring?
Yes, the Helix Midnight mattress can be placed on any solid surface. However, some traditional box springs may not provide enough support for the mattress. Just to be sure, just go with a sturdy and durable foundation.