Purple vs. GhostBed Mattress Comparison
•
Disclosure: By clicking on the product links in this article, Mattress Nerd may receive a commission fee at no cost to you, the reader. Read full disclosure statement.
The Purple and GhostBed are leading online mattresses that both have a medium-firm feel. By utilizing different materials, these beds offer unique sleeping experiences that are better suited to different people.
If you're on the hunt for a new mattress, we're here to help! In this mattress comparison, we're going through everything you need to know about the Purple and GhostBed mattresses so you can choose the one that fits your needs the most.
We test and review all of the mattresses firsthand in our sleep lab. If you want to know more about how we do it, read up on our testing methodology.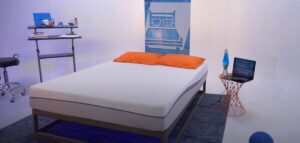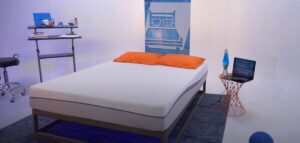 Firmness
Medium-firm: 6.5/10
Product
GhostBed Mattress
Firmness
Medium-firm: 6/10
Purple vs. GhostBed Overview
Both the Purple and GhostBed are hybrid mattresses, but they're different in a lot of ways. Here's a brief overview of each mattress's strong points and which type of sleepers we recommend them to.
| | |
| --- | --- |
| Purple is best for… | GhostBed is best for… |
| People with back pain | Sleepers who toss and turn |
| Hot sleepers | Hot sleepers |
| Combination sleepers | Stomach sleepers |
Who Should Choose the Purple Mattress?
People with back pain: The Purple Grid has an impressive ability to evenly distribute body weight, providing excellent spinal alignment for side and back sleepers. Healthy alignment is great for people with back pain. For similar options, see the best mattresses for back pain.
Hot sleepers: The Purple's top layer is a gel grid that facilitates generous airflow. It's one of the coolest mattresses without a layer of innerspring coils.
Combination sleepers: The Purple mattress delivers responsiveness because of the bounce in the Purple Grid.
Who Should Choose the GhostBed Mattress?
Sleepers who toss and turn: The top layer of latex foam in the GhostBed makes it easy to reposition, so combination sleepers won't feel stuck as you might on a mattress with a memory foam comfort layer.
Hot sleepers: The GhostBed's top layer is made from aerated latex foam. Latex is known to sleep cooler than other types of foam, and the holes throughout increase breathability. Combined with a transition layer of cooling gel memory foam, you have a bed that's cool enough for most hot sleepers.
Stomach sleepers: The GhostBed has a medium-firm firmness level that offers more mid-body support and elevation than the Purple—ideal for light and average-weight stomach sleepers.
Purple vs. GhostBed Mattress Video Comparison
Curious to know how similar or different the two popular hybrid mattress brands are to each other? Here are their top similarities and differences.
Purple vs. GhostBed: Top Similarities
Cooling properties: Both the GhostBed and Purple sleep cooler than most mattresses and are suitable for hot sleepers. This temperature neutrality is thanks to the Purple Grid's breathability and the GhostBed's aerated top layer and cooling gel memory foam.
Sleeping "on" the surface: Both mattresses have a feel that's more akin to sleeping "on" than "in" the mattress. However, the Purple Grid makes you feel like you're floating while the GhostBed's latex foam comfort layer provides a slight foam contouring feel. For mattresses that keep you on top of the surface, see the best latex mattresses.
Ease of movement: Both GhostBed's responsive latex top layer and Purple's Smart Comfort Grid make the mattress surface easy to move around on.
Purple vs. GhostBed: Top Differences
Sleep position suitability: Both are good mattresses for back sleepers, but the GhostBed is better for stomach sleepers and the Purple for back sleepers.
Support for bigger bodies: The GhostBed provides superior support for heavyweight people (>230 lbs). Its latex foam top layer balances support with cushion for people with larger body types. The Purple's support layer isn't as suitable for heavier folks.
Co-sleeping experience: The Purple's gridded top layer has more bounce than the GhostBed's latex layer, and so it transfers more movement from one side of the bed to the other. As such, couples are more likely to sleep peacefully on the GhostBed.
Purple vs. GhostBed: Firmness & Feel Differences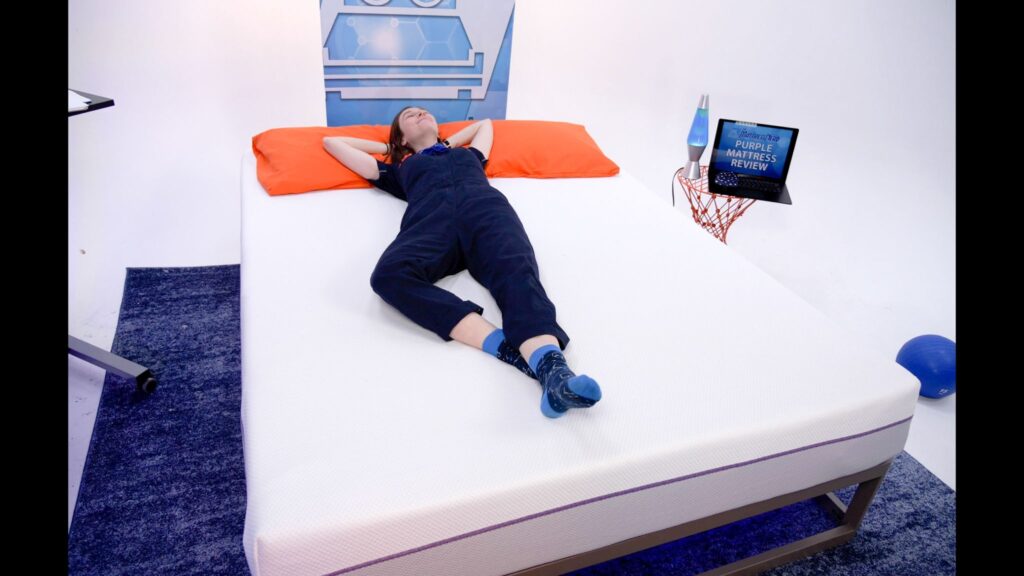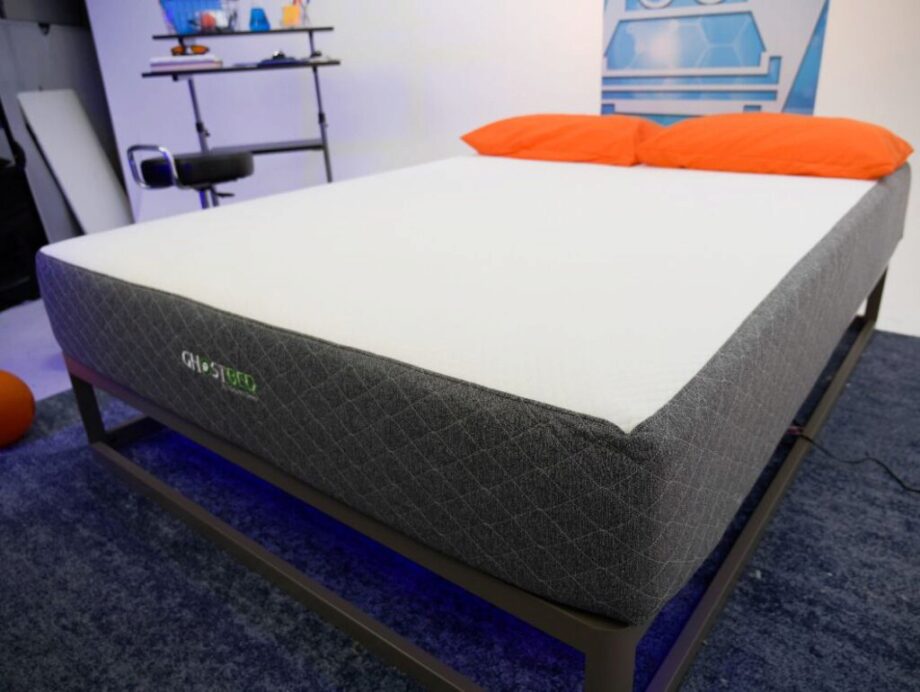 In this section, we take a look at how the Purple and GhostBed stack against each other when it comes to firmness and feel.
What's the Firmness Of the Purple & GhostBed Mattresses?
The firmness level of your mattress will greatly affect your entire sleeping experience. Different mattress firmness levels accommodate different sleeping positions and body types, so it's an important factor to consider when choosing a new mattress. In this section, we'll be rating both mattresses using the industry-standard firmness scale that goes from 1 to 10 with 1 being the softest to 10 being the firmest.
The flagship Purple and original GhostBed mattresses are 6.5/10 and 6/10, respectively, on the 1–10 firmness scale. Both of these firmness levels correspond to a medium-firm firmness level. They both offer a balanced feel that's more like sleeping "on" than "in" the mattress.
What Do the Purple & GhostBed Mattresses Feel Like?
The Purple leaves sleepers feeling like they're floating rather than being cradled by foam. The Smart Grid comfort layer gently supports lighter body parts while collapsing at heavier ones, creating a unique weightless feel. The benefit of this floating feel is that the spine remains aligned while back and side sleepers receive adequate cushioning.
The latex and memory foam comfort layers in the GhostBed have a high elasticity that enables them to gently conform around the sleeper's body. The GhostBed won't cradle quite as much as a memory foam bed because of the more supportive feel of the latex foam top layer. This supportive yet contouring surface is excellent for back and stomach sleepers.
What's It Like to Sleep On the Purple & GhostBed Mattresses?
Thanks to its thick memory foam layers, the GhostBed can give proper support and cushion for most back, stomach, and combination sleepers. However, since it falls more on the firmer side, some side sleepers may experience pressure build-up around the hip region. On the other hand, heavier sleepers may find themselves sinking too much which may cause difficulty moving around.
Like the GhostBed, the Purple can also accommodate different sleeping positions. We think that lightweight and average weight sleepers will sleep comfortably on the Purple thanks to its supportive and responsive Smart Grid gel top layer. However, it also has trouble dealing with heavier body types, since the Smart Grid collapses easily under heavier pressure.
The Purple vs. GhostBed Mattresses By Body Type
Purple Performance By Body Type & Sleeping Position:
| | | | |
| --- | --- | --- | --- |
| Body Type: | BACK SLEEPERS | STOMACH SLEEPERS | SIDE SLEEPERS |
| Lightweight (< 130 lbs): | 5 | 3 | 4 |
| Average-weight (130–230 lbs): | 5 | 2 | 3 |
| Heavyweight (> 230 lbs): | 3 | 1 | 3 |
GhostBed Performance By Body Type & Sleeping Position:
| | | | |
| --- | --- | --- | --- |
| Body Type: | BACK SLEEPERS | STOMACH SLEEPERS | SIDE SLEEPERS |
| Lightweight (< 130 lbs): | 4 | 4 | 2 |
| Average-weight (130–230 lbs): | 4 | 4 | 3 |
| Heavyweight (> 230 lbs): | 2 | 3 | 2 |
1 = Very poor, 2 = Not good, 3 = Fair, 4 = Good, 5 = Excellent
Average-Weight Sleepers (130–230 lbs)
Average weight back sleepers will sleep comfortably on both the Purple and GhostBed mattresses because they'll receive plenty enough back support and cushion.
Most average weight side sleepers will also be comfortable on either mattress, but some may opt for softer and more conforming mattresses, like our picks in our best mattresses for side sleepers list.
Despite having similar firmness levels, the GhostBed can better accommodate average weight stomach sleepers than the Purple. However, some stomach sleepers may be left wishing for just a bit more firmness.
Average weight combination sleepers will experience a good night's rest on either mattress because of their inherent responsiveness.
Heavyweight Sleepers (> 230 lbs)
Both the Purple and GhostBed mattresses have thin comfort layers, so heavyweight back sleepers probably won't be able to get enough spinal support from either.
We also don't recommend either mattress for heavyweight side sleepers because of their thin comfort systems. Side sleepers need proper cushion and support for their hips and shoulders to maintain a healthy spinal alignment.
Heavyweight stomach sleepers are better off with the firmer GhostBed mattress. Stomach sleepers may experience excessive sinkage, especially around the hip area which could develop into back pain.
Despite both being responsive mattresses, heavyweight combination sleepers are better off looking for thicker and more supportive mattresses. Based on our testing, heavier folks will sink too much in either mattress and have trouble moving around.
Lightweight Sleepers (< 130 lbs)
Both mattresses can provide ample back support for lightweight back sleepers, but the Purple slightly outperforms the GhostBed because of its firm yet supportive gel top layer.
Lightweight side sleepers will appreciate the Purple's responsive and conforming gel layer. This top layer does a great job of conforming to the body's natural curves and maintaining a neutral spinal alignment.
The GhostBed does a better job of accommodating lightweight stomach sleepers because of its thick memory foam layers. Purple can still accommodate stomach sleepers, but some may experience sinkage around the hip region.
Lightweight combination sleepers will have no trouble picking from either mattress because both have responsive top layers that allow for ease of movement, especially when switching sleeping positions.
Differences In Mattress Construction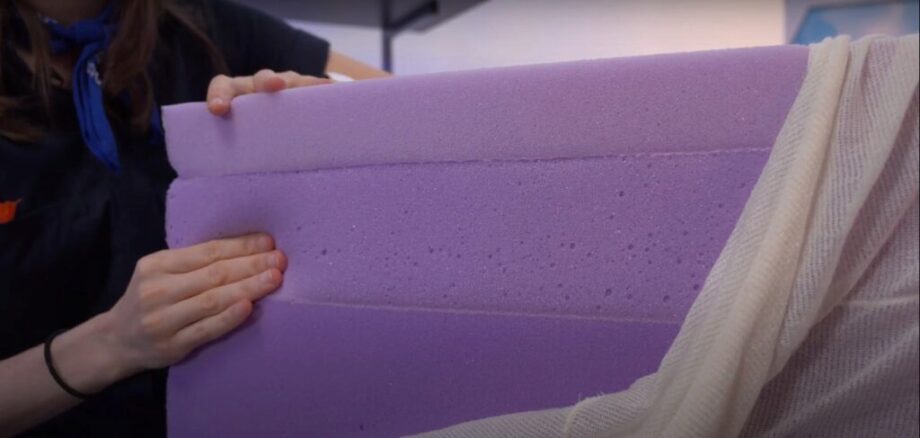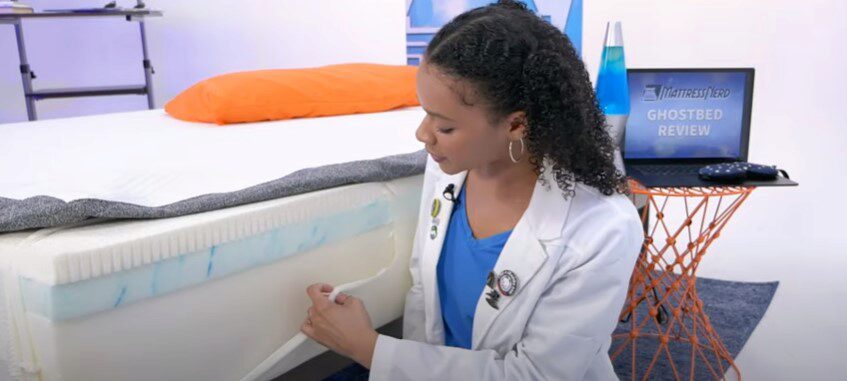 The original Purple is a 9.5" hybrid foam mattress, while the GhostBed is a slightly thicker 11" foam-and-latex hybrid mattress. Here's an in-depth look at each mattress's construction.
Purple Mattress Materials
GhostBed Mattress Materials
Viscose, Polyester, & Lycra Blend Cover
Polyester-Lycra Blend Cover
2" Purple Smart Grid
1.5" Aerated Latex Foam
3.5" Soft Polyfoam Transition Layer
2" Gel Memory Foam
4" High-Density Polyfoam Base
+ Non-Slip Bottom Cover
7.5" High-Density Polyfoam
Cover
Purple's cover is made from a blend of polyester, viscose, and Lycra that feels soft and has temperature-regulating capabilities. The GhostBed cover consists of a viscose-polyester blend that's also soft, breathable, and moisture-absorbent.
Comfort Layers
Purple's comfort layer is made from its patented Smart Grid, which is made of a Hyper-Elastic polymer gel material that has pressure relief and support features. GhostBed's comfort layer consists of aerated synthetic latex foam that does a great job of absorbing pressure.
Support Layers
Both mattresses have high-density polyfoam base layers, but the GhostBed is thicker by 3″ vs. the Purple.
Purple vs. GhostBed Pricing
| | | |
| --- | --- | --- |
| Size | Purple Prices | GhostBed Prices |
| Twin | $799.00 | $945.00 |
| Twin XL | $999.00 | $1095.00 |
| Full | $1199.00 | $1295.00 |
| Queen | $1399.00 | $1395.00 |
| King | $1799.00 | $1695.00 |
| California King | $1799.00 | $1720.00 |
For exclusive discounts on both beds see our Purple mattress coupons and GhostBed mattress coupons.
Purple vs. GhostBed Mattress Performance Ratings & Differences
Temperature
Both the GhostBed and Purple are good options for hot sleepers. Each has a top layer that's known to be breathable and cool. The Purple's gel-grid has over 1,800 air channels, and the GhostBed's top layer consists of naturally cool latex that's aerated for greater breathability. For more considerations, see our choices for the best mattress for hot sleepers.
Motion Transfer
When a mattress dampens motion instead of allowing it to reverberate across the surface, we call that motion isolation. This quality is one we look for when deciding on the best mattresses for couples and co-sleepers—especially those with light sleepers or midnight sleepwalkers. Typically, the greater the responsiveness, or bouncy feel of a mattress, the poorer the motion isolation.
The GhostBed mattress is slightly less responsive than the Purple thanks to the buoyant and bouncy materials in Purple's top layer. While this bodes well for switching positions, it also means that you're more likely to feel your partner's movements if you're on the Purple than on the GhostBed mattress. Neither is great if you or your partner are light sleepers.
Edge Support
Both the GhostBed and Purple mattresses have edges sturdy enough for couples to spread out without feeling like they're going to fall off of the bed. However, the Purple mattress isn't the most stable bed for people who like to sit along the edges or for those who rely on solid edges to help them get into bed.
The GhostBed has sturdier edges than the Purple mattress: a 3.75/5—above average. The top latex layer doesn't collapse heavily when you sit along it as the Purple Grid does. If you're someone who struggles to get into or out of bed, or if you like to sit on the edges to read or get dressed in the morning, the GhostBed may be a better pick. If you are looking to make the most of your mattress space, see the best mattresses for sex.
Pressure Relief
Pressure relief refers to how well a bed is able to disperse pressure at heavier areas like the hips, shoulders, and lower back. While all sleepers need some pressure relief to avoid aches and pains, adequate cushioning is most important for side sleepers.
The Purple's Comfort Grid does a nice job reducing pressure for lightweight (< 130 lbs) and average-weight (130–230 lbs) back sleepers. Heavyweight folks may sink through this comfort layer and experience excess pressure on heavier body parts. And while stomach sleepers receive ample pressure relief, the gel grid doesn't do a good job supporting healthy spine alignment in this position. It does not ease pressure well in the hips and shoulders of side sleepers.
The GhostBed also offers nice pressure relief, but only for back and stomach sleepers. The latex top layer is both soft and supportive—a combination that works well for these sleeping positions. However, lightweight sleepers, especially those who enjoy sleeping on their sides, may find that this latex layer adds pressure to the shoulders and hips. For softer mattresses that contour around the body, see our picks for the best mattress for side sleepers.
Pain Relief
Ever woken up with back pain before? If you said "yes", then there's a big chance your mattress is the culprit. If you're experiencing any back or joint pain, a mattress with good pain-relieving abilities can help alleviate and even prevent the pain.
The Purple is a great choice for those experiencing back pain. Its trademark Smart Grid layer helps evenly distribute your body weight so that there's less pressure build-up around heavier areas. However, if you have neck or shoulder pains, the Purple may feel a bit uncomfortable at times because it may not give enough support for those areas.
The GhostBed only got average scores for pressure relief, so it probably won't have enough support for those dealing with body pain, especially if you're a side sleeper. However, those with back pain may fare better because it does a good enough job of supporting the back.
Durability
Both the GhostBed and Purple have slightly above-average durability thanks to the top layers being more resistant to body indentations than polyfoam or memory foam. We expect both beds to last upwards of seven years, potentially remaining comfortable for over 10 years.
Shipping, Returns, & Warranties
Purple
Purple has free shipping across the contiguous U.S., with extra fees if you're ordering from Alaska, Hawaii, and Canada. They also offer a 100-day sleep trial and a 10-year warranty for each mattress, which covers material and workmanship defects.
GhostBed
GhostBed offers free shipping in the contiguous U.S. They also offer a 101-night sleep trial, where you can get a free return and full refund after 30 nights (but only if you directly ordered from GhostBed). They also provide a 20-year warranty, which is above industry standard. Here's our breakdown of the GhostBed mattress warranty.
More Purple Mattresses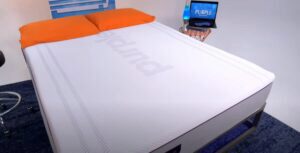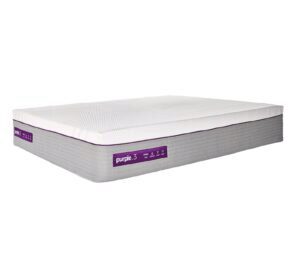 Purple Hybrid Premier Mattress
Multiple firmness options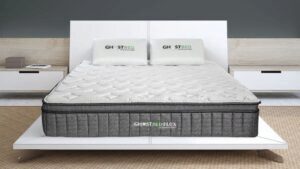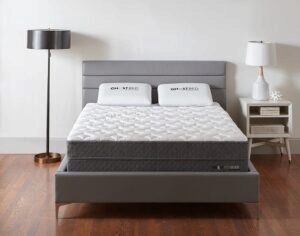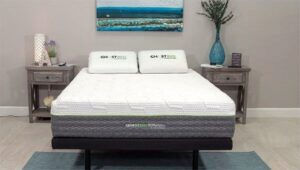 GhostBed 3D Matrix Mattress
Still Can't Decide? Here are some of our other comparisons:
| | |
| --- | --- |
| Purple Comparisons | GhostBed Comparisons |
| | |
The Purple mattress eases pressure and supports excellent body alignment for side and back sleepers who weigh less than 230 lbs. The floating, weightless experience is typically better than the GhostBed for side sleepers. The GhostBed's responsive and supportive latex and memory foam construction is better for stomach sleepers. Both mattresses sleep cool and come with a risk-free sleep trial.
Purple & GhostBed FAQs
Is GhostBed good for side sleepers?
The GhostBed mattress provides adequate support for the neck, hips, and shoulders, so it's a good option for most side sleepers. However, for sleepers who weigh above 230 lbs, you may want to look for a firmer and more supportive mattress.
What are the cons of a Purple mattress?
The original Purple is a popular mattress choice for many sleepers for many reasons. However, it doesn't go without any complaints. According to some complaints, they've experienced poor customer service and early sagging and indentations. Some also report that they found it hard to move around on the Purple, but that depends on the sleeper's body type.
How long are Purple mattresses supposed to last?
According to Purple, they've designed their mattress to last for 10 years. This is, of course, dependent on the daily wear and tear your mattress is subjected to. To maximize your mattress's lifespan, make sure to practice proper mattress maintenance and care.