Purple SoftStretch Sheets Review
•
Disclosure: By clicking on the product links in this article, Mattress Nerd may receive a commission fee at no cost to you, the reader. Read full disclosure statement.
The Nerd's Take: Say goodbye to scratchy, stiff sheets and hello to the Purple SoftStretch sheets. These uniquely flexible and buttery soft sheets are moisture-wicking and come with deep enough pockets that you won't have to worry about them slipping off your mattress. We think they're a great match for Purple mattress owners or anyone who loves the feel of smooth, jersey-like sheets.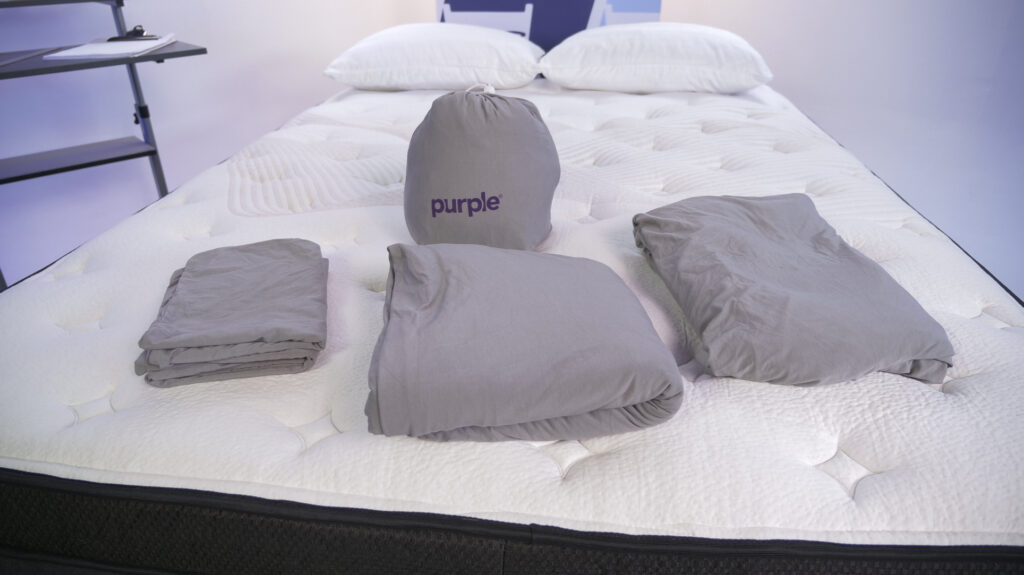 Who Are They Good For?
Hot Sleepers

Those who love soft/stretchy sheets

Purple mattress owners or those with a mattress up to 16" thick
Who Are They Not Good For?
Budget shoppers

Those who prefer cotton sheets
Video Review
Materials and Construction: What Are They Made Of?
The Purple SoftStretch sheets are made of a blend of rayon from bamboo viscose, polyester, and spandex. You may be wondering how bamboo went from landscaping to a regular sheet set, but the material is actually pretty common in bedding. Bamboo fiber textiles are known for their silky feel and eco-friendly sourcing. They're also naturally moisture-wicking and high in breathability, which is great for hot sleepers.
Spandex makes the sheets stretchy enough to flex with the hyper-elastic polymer grid on the Purple mattress. Unlike standard innerspring or memory foam mattresses, Purple mattresses require extra stretchy sheets that can flex four ways. This flexibility comes in handy on any mattress, and makes the fitted sheet especially easy to secure over tall mattresses or other Purple mattress models like the Purple Hybrid Premier and the Purple Hybrid Mattress.
See: Purple Mattress Comparison
Some other key features to include is the extra secure elastic band on the fitted sheet and the head and toe tags. The elastic band locks the sheet into place along the perimeter of the bed, while the head and toe tags help you distinguish the top of the sheet from the bottom.
What Do the Purple SoftStretch Sheets Feel Like?
Bamboo sheets are known for their silky, smooth feel, and the SoftStretch sheets fit that profile. When I tested these out, I immediately correlated the feel to that of jersey fabric— a bit thick and heavy, but also cozy and soft. Similar to the feel of your favorite broken-in t-shirt!
I noticed the top sheet gave me a bit of a hugging sensation. Since the sheets have some weight to them, they hugged my body and adapted to me as I moved from one position to another.
As for temperature, these aren't cool to the touch, but I would say they're still nice and breathable. I didn't notice any body heat retention, which would make sense considering bamboo is thermo-regulating.
It's also worth mentioning that Purple intentionally doesn't include the thread count of their sheets on their website. Despite the association of high thread count with comfort and high quality, Purple points out that higher thread count sheets are woven tighter, which makes them less breathable and pliable.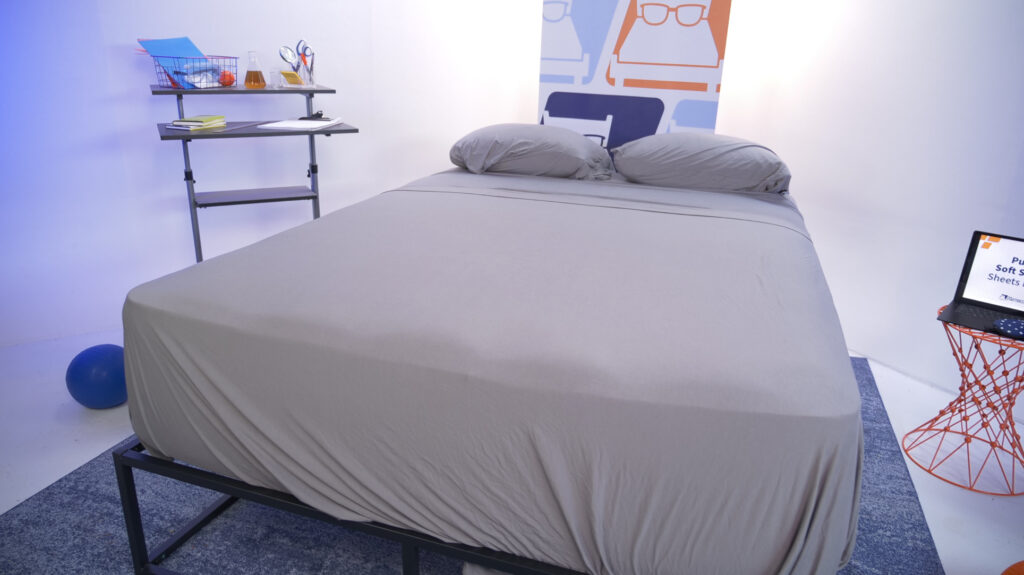 Mattress Nerd Sheets Scores
At Mattress Nerd, we rate products on a scale from 1 to 5, with 5 being the best. We review products over six performance categories to help you get a better idea as to whether or not they'll work for you.
Temperature Control: 4/5
This category is for you hot sleepers. These sheets aren't cool to the touch, but I would still say they're breathable and moisture-wicking. Bamboo is a thermo-regulating material, meaning you should never get too hot or too cold when sleeping. These aren't crisp and light like a percale cotton sheet would be, but, I didn't notice them to be "hot" or retain any body heat either.
Customizability: 5/5
I was very pleased with the selection of sizes and colors for the SoftStretch sheet set. You can choose from five colors and five sizes, which I've listed below. Many times sheets will only be offered in white, so I appreciate a color variety for more personalization.
Colors: True White, Stormy Grey, Soft Lilac, Natural Oat, Morning Mist, Deep Purple
Sizes: Twin/Twin XL, Full, Queen, King/Cal King, Split King.
Comfort: 5/5
Comfort is key when it comes to sheets. The Purple SoftStretch sheets are one of the most comfortable sets I've ever tested. They're soft, stretchy, and feel silky against the body. I prefer the "jersey" feel, like a broken in t-shirt, so a chance to sleep on these was a dream.
Quality of Materials: 5/5
These sheets are made from a blend of materials, but the main one is rayon from bamboo viscose. Bamboo is a high-quality, natural material that'll keep you comfortably cool and sweat-free. It's also hypoallergenic and soft against the skin. I have sensitive skin myself, so the feel of products is a huge indicator for me when I'm purchasing clothes or linens. I would definitely use these on my bed on a daily basis.
Care: 5/5
The SoftStretch sheets can be machine washed in cold water. You can hang them to dry or tumble dry them on low heat.
Customer Experience: 3.5/5
The Purple SoftStretch sheets come with a 30-night sleep trial and a 1-year warranty. I docked some points for this category because Purple falls short of the industry standard for trial periods, which is 60 nights. Plus, if you decide to return your sheets, you'll be responsible for return shipping costs.
To get in touch with Purple customer service, you can call their service line, use their chat feature on their website, or visit one of their storefront locations.
Total Score: 4.6/5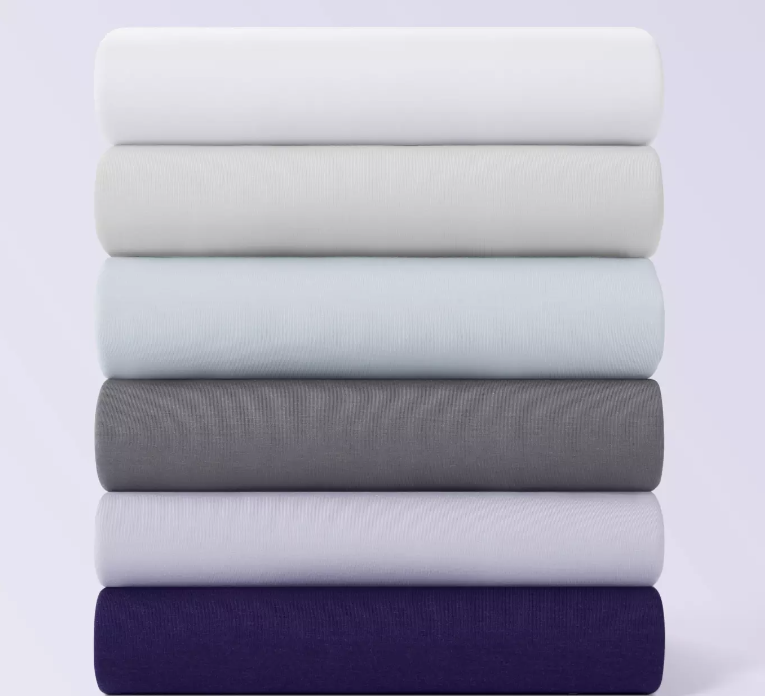 Pros/Cons
Pros
Elastic securing band: This feature helps combat an age old problem with fitted sheets— them slipping off! I thought the elastic band along the fitted sheet was more durable than other sheets I've tried, and they fit snug against my mattress with no problem.
Easy care: If you're like me, care instructions are an important aspect. Luckily, these sheets are easy to deal with. Just machine wash on cold, then hang dry or tumble dry low heat.
Comfortable and won't trap body heat: Overall, the SoftStretch sheets are soft, stretchy, and won't trap body heat, so if you're looking for all those factors, these will be a great option for you!
Cons
Could not be cooling enough or too heavy for some extremely hot sleepers: If you're someone who has tried everything for your hot sleeping with no relief, these sheets may not be the best for you. They're not cool to the touch and they may feel a bit too thick.
Colors not as advertised: I've noticed a few user reviews saying the colors come different than advertised. We have the "stormy grey" option, and I'd say they're true to color, so I didn't experience this. But it's something to note.
Pricey: these sheets are starting at over $100, which is not the most budget-friendly price point. That being said, be sure to check our links for the most up to date pricing and the best promotion running.
Purple SoftStretch Sheets Sizing, Pricing, and Policies
| | | |
| --- | --- | --- |
| Size | Set Includes: | Price |
| Twin/Twin XL | 1 Flat Sheet, 1 Fitted Sheet, 1 Pillowcase | $139 |
| Full | 1 Flat Sheet, 1 Fitted Sheet, 2 Standard Pillowcases | $169 |
| Queen | 1 Flat Sheet, 1 Fitted Sheet, 2 Standard Pillowcases | $189 |
| King/Cal King | 1 Flat Sheet, 1 Fitted Sheet, 2 King Pillowcases | $209 |
| Split King | 1 Flat Sheet (King), 2 Fitted Sheets (Twin XL), 2 King Pillowcases | $229 |
For the best price on all Purple products, see our Purple mattress coupons.
Shipping
Purple ships their sleep products for free in the contiguous United States, but there will be a small fee for deliveries to Alaska or Hawaii.
Sleep Trial and Warranty Coverage
When you purchase the SoftStretch sheets, you'll be eligible for a 30-night trial and 1-year warranty. This means you'll have 30 nights to try out your sheets and decide whether or not they're for you or your money back. To be eligible for a return, your product must be clean and undamaged. To initiate a return, you can call 888-848-2305 or email returns@purple.com. You will be responsible for return shipping fees. If you decide to keep them, you'll be covered under the company's 1-year warranty, which will cover any product defects.
Purple SoftStretch Sheets FAQs
How do I clean my Purple sheets?
The care instructions for Purple sheets are pretty simple: machine wash the sheets in cold water with similar colors and no bleach. Then, hang dry or tumble dry on low heat to avoid shrinkage. Purple recommends washing your sheets once a week. You shouldn't need to iron them, since they're wrinkle-resistant, and ironing them is strongly discouraged.
Does using a mattress protector change the way the Purple sheets feel?
Not if you use the Purple mattress protector, which is just as stretchy as the sheets. Purple highly recommends using their bedding together because doing so maximizes the benefits of the individual sleep products. The Purple sheets won't be able to stretch as well if they're fitted over a stiff mattress protector.
What makes the Purple SoftStretch sheets different from the Purple Complete Comfort Sheets?
The complete comfort sheet set is made from cotton instead of bamboo rayon. So they're going to give a more traditional, crisp, and cozy feel than the SoftStretch sheets.
The Nerd's Final Take
Purple sheets are made to accompany Purple mattresses, but they're a comfy choice for those who love the silky, breathable feel of jersey, and the stretchiness of Purple's four-way-flex design. If you want to try out bamboo sheets, these are a great set to start with. Although the price isn't the most budget friendly, it's still much more affordable than options from competitors.
Starting at $899
Purple PowerBase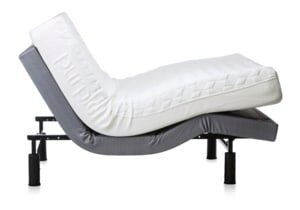 Starting at $109
Purple Pillow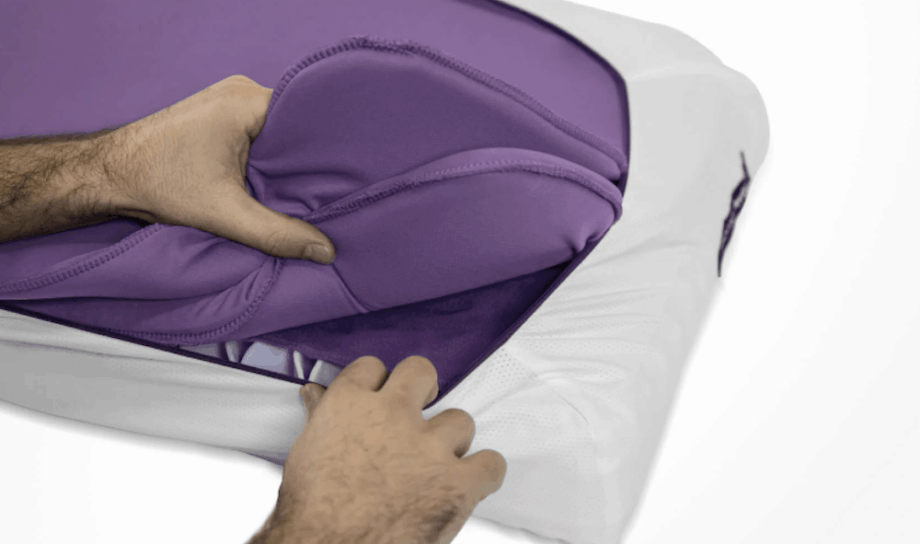 Starting at $139
Purple Platform Base