Leesa vs. Nectar Mattress Comparison
•
Disclosure: By clicking on the product links in this article, Mattress Nerd may receive a commission fee at no cost to you, the reader. Read full disclosure statement.
Both all-foam mattresses, the Leesa and Nectar each offer the contouring abilities of memory foam at different firmness levels, using different materials.
Deciding between two reputable bed-in-a-box mattresses requires an understanding of your sleep position. The goal of this mattress comparison: to help you pick the mattress that fits your needs the most.
We test all of the mattresses firsthand in our sleep lab. For a detailed walkthrough of how we do it, you can read up on our testing methodology.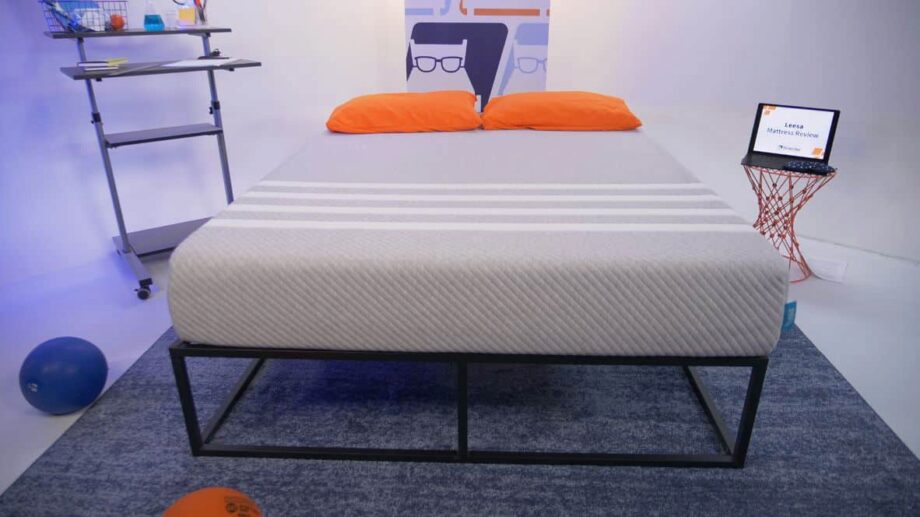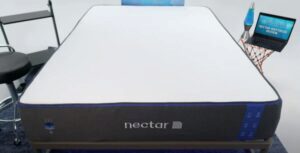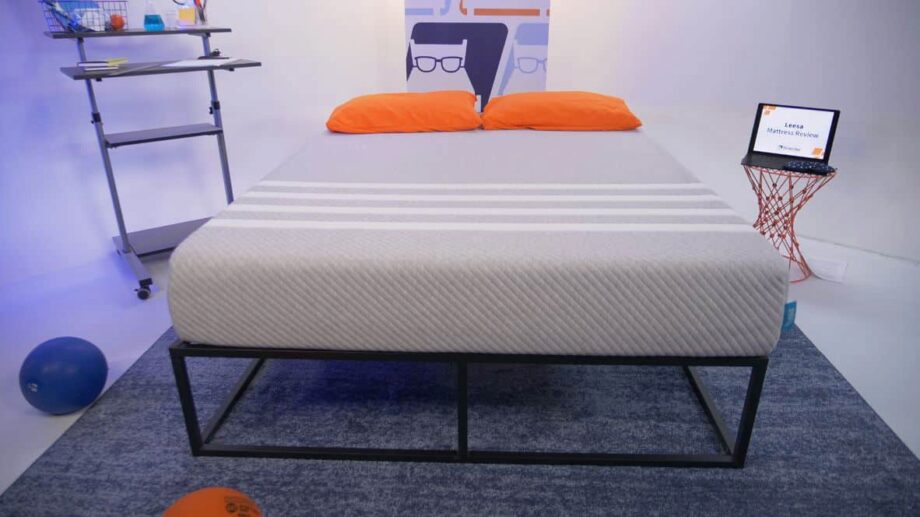 Product
Leesa Original Mattress
Firmness
Medium-soft: 5.5/10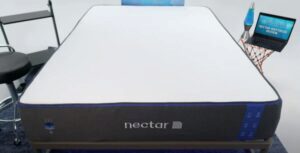 Firmness
Medium-firm: 6/10
Leesa vs. Nectar Overview
Deciding between two reputable bed-in-a-box mattresses requires an understanding of your sleep position, body type, budget, and preferences. Here's an overview of each mattress's strongest points.
| | |
| --- | --- |
| Leesa is best for… | Nectar is best for… |
| Combination sleepers | Side sleepers and back sleepers |
| Back sleepers | People who like to feel hugged |
| Budget shoppers | Couples |
Who Should Choose the Leesa Mattress?
Combination sleepers: The Leesa is great for those looking for a balanced surface that won't cause the hips to sink too much but is responsive enough to adapt to changing sleep positions.
Back sleepers: Back sleepers who want proper spinal alignment and the feeling of sleeping "on" top of the mattress will appreciate the Leesa.
Budget shoppers: If you're looking for a high-quality mattress on a budget, you can't go wrong with the Leesa. Check out the best affordable mattresses for similar options.
Who Should Choose the Nectar Mattress?
Side sleepers and back sleepers: If you like the sinking feel and pressure relief ability of gel memory foam, the Nectar mattress is a good match.  
People who like to feel hugged: Nectar provides you with the hugging sensation of traditional memory foam. 
Couples: The Nectar has excellent motion isolation features which is beneficial for couples who are also light sleepers. 
In this section, we'll take a look at the most decisive similarities and differences between the Leesa and Nectar mattresses.
Leesa vs. Nectar: Top Similarities
Materials: Starting with the obvious, both are memory foam mattresses, that should give you a bit of a sinking, cradling feel.
Sleeping positions: Both mattresses can provide comfort and support to most average-weight sleepers, especially back sleepers and side sleepers.
Price point: Luckily, price shouldn't be a huge consideration. With our coupons, the Leesa and the Nectar both fall under $1,000.
Leesa vs. Nectar: Top Differences
Cooling factor: The Nectar's gel memory foam layer and breezy quilted cover should help it sleep cooler than the Leesa.
Feel: Though both beds are similar firmness levels, the Leesa will feel softer than the Nectar because of its mix of polyfoam and memory foam layers. The Nectar's memory foam construction will cause sleepers to sink into the mattress, yet feel supported and elevated.
Policies: The Nectar offers a longer sleep trial and warranty compared to the Leesa.
Leesa vs. Nectar: Firmness & Feel Differences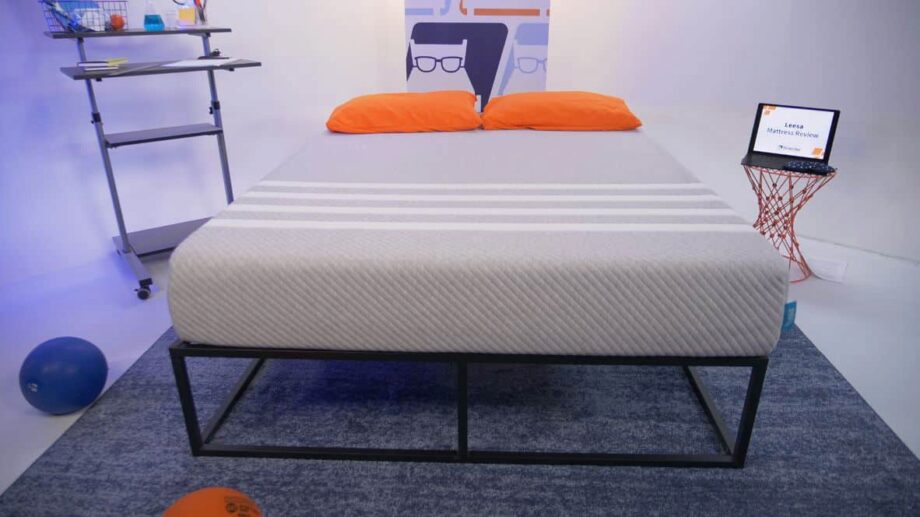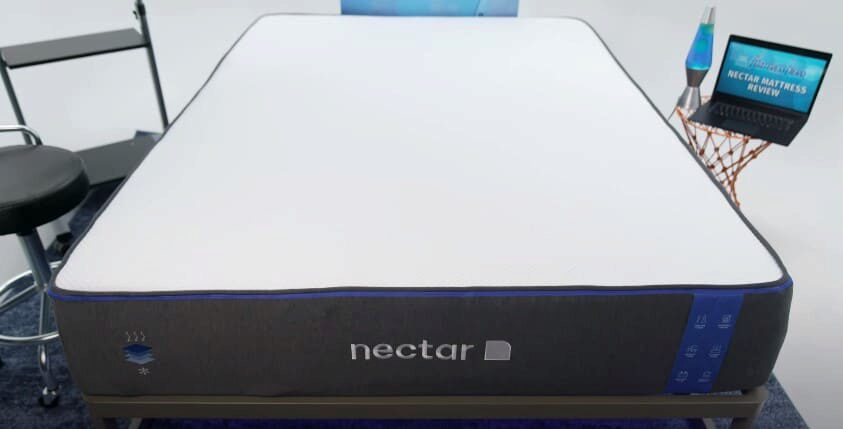 Here's all you need to know about the Leesa and Nectar when it comes to firmness and feel for different types of sleepers.
What's the Firmness Of the Leesa & Nectar Mattresses?
At Mattress Nerd, we rate mattress firmness on a scale of 1 to 10, with 1 being the softest and 10 being the most firm. A softer bed is ideal for side sleepers who need cradling along the pressure points like the hip and shoulders. On the other hand, a firmer mattress is better for stomach and back sleepers who need their spines aligned and their hips resting on top of the mattress.
The Leesa Original mattress is rated at a 5 out of 10 level of firmness. It's made with bouncier memory foam, making it the better mattress for combination sleepers. The Nectar memory foam mattress is also a 6/10 firmness level, but it will have the traditional memory foam feel.
What Do the Leesa & Nectar Mattresses Feel Like?
Sleeping on the Leesa feels like you're lying "in" it rather than on top of it, providing you with a slight hugging sensation that comes with most foam mattresses. Its responsive foam layers provide a good balance of conforming and springy, which makes it supportive and easy to move around on.
The Nectar also has the hugging feel of memory foam, but it balances it out with its thick profile, resulting in a soft yet supportive surface layer. There's more sink than bounce when it comes to the Nectar, but we found no issues when it came to switching positions. In fact, it's quite responsive than most foam mattresses.
What's It Like to Sleep On the Leesa & Nectar Mattresses?
The Leesa mattress is able to accommodate all types of sleepers, but overall, it caters best to back sleepers because of its supportive foam layers. Side sleepers will also appreciate its ability to conform and contour the natural curves, which helps in relieving pressure off areas of concern. The Leesa also works for stomach sleepers, but those on the heavier side will probably experience excess sinking.
Nectar's traditional doughy memory foam layers accommodate side sleepers the most, providing ample support and cushion for hips and shoulders. The Nectar should also fare well with back sleepers thanks to its sturdy foam layers. However, for heavier folks, Nectar struggles a bit in terms of support.
The Leesa vs. Nectar Mattresses By Body Type
Leesa Performance By Body Type & Sleeping Position:
| | | | |
| --- | --- | --- | --- |
| Body Type: | BACK SLEEPERS | STOMACH SLEEPERS | SIDE SLEEPERS |
| Lightweight (< 130 lbs): | 5 | 4 | 4 |
| Average-weight (130–230 lbs): | 5 | 2 | 3 |
| Heavyweight (> 230 lbs): | 2 | 1 | 2 |
Nectar Performance By Body Type & Sleeping Position:
| | | | |
| --- | --- | --- | --- |
| Body Type: | BACK SLEEPERS | STOMACH SLEEPERS | SIDE SLEEPERS |
| Lightweight (< 130 lbs): | 4 | 4 | 5 |
| Average-weight (130–230 lbs): | 5 | 3 | 5 |
| Heavyweight (> 230 lbs): | 3 | 2 | 3 |
1 = Very poor, 2 = Not good, 3 = Fair, 4 = Good, 5 = Excellent
Average-Weight Sleepers (130–230 lbs)
Average weight back sleepers will find a good night's sleep with both mattresses. But in terms of spinal support, the Leesa takes the cake.
Similarly, when it comes to average weight side sleepers, Nectar outperforms Leesa. Nectar provides the right amount of softness and support that most side sleepers will appreciate.
Most average weight stomach sleepers will experience sinking near the hip area in both mattresses. But in terms of performance, the Nectar fares a bit better because of its firmer nature.
Average weight combination sleepers will sleep well on either mattress, so the decision falls mostly on which mattress feel you prefer the most.
Heavyweight Sleepers (> 230 lbs)
Both mattresses may struggle a bit when it comes to accommodating heavyweight back sleepers, but the Nectar mattress may be better than the Leesa because of its firmer feel and thicker profile.
Heavyweight side sleepers will need a thicker comfort system so that they won't sink in too much. In this aspect, Nectar's gel-infused memory foam layer may provide better support.
Stomach sleepers on the heavier side will need a mattress that helps elevate their hips and keep them aligned with their spine. Considering this, the Leesa mattress is the better option.
Heavyweight combination sleepers may probably feel like they sink too much in both mattresses. Instead, we recommend firmer and more responsive options, like our picks in our best mattress for combination sleepers list.
Lightweight Sleepers (< 130 lbs)
Both mattresses are fantastic choices for lightweight back sleepers, so it's only a matter of choice based on preference. If you prefer sleeping "on" the mattress, go for the Leesa. If you want a more hugging feel, the Nectar's your pick.
Lightweight side sleepers will probably be more comfortable with the Nectar, but the Leesa provides enough support and cushion as well.
The Leesa and Nectar are also great for lightweight stomach sleepers, but the firmer Nectar will likely provide better hip elevation.
Similar to back sleepers, both mattresses will accommodate lightweight combination sleepers very well. It all boils down to feeling preferences.
Differences In Mattress Construction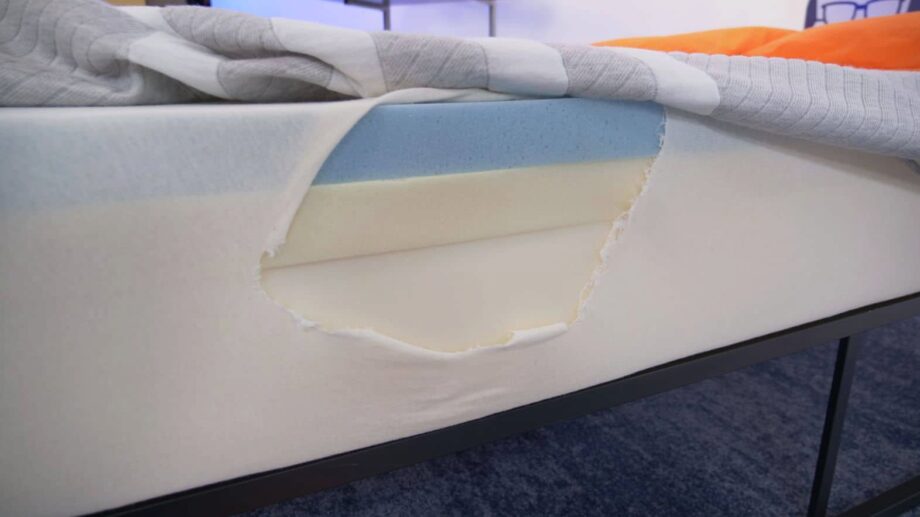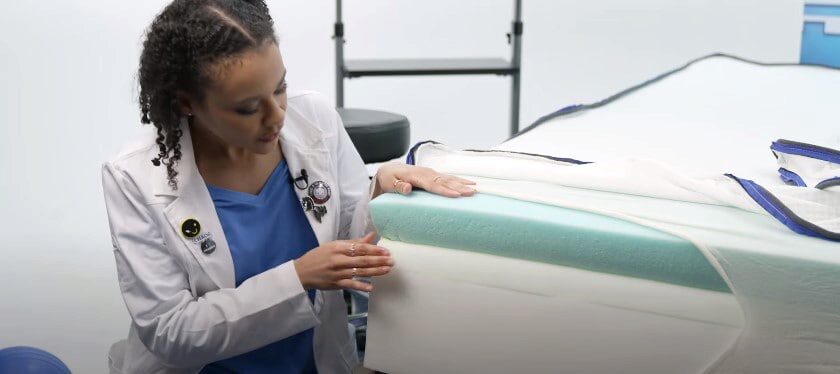 Both all-foam mattresses, the Leesa and Nectar each offer the contouring abilities of memory foam at different firmness levels, using different materials.
| | |
| --- | --- |
| Leesa Mattress Materials | Nectar Mattress Materials |
| Soft Twill Cover | Quilted Memory Foam Cover |
| 2" LSA200 Foam Layer | 3" Gel-infused Memory Foam |
| 2" Memory Foam Recovery Layer | 2" Adaptive Transition Foam |
| 6" High-Density Base Foam | 7" Base Layer Foam |
Cover
Leesa's cover is made from soft yet durable twill that provides a smooth feel. Nectar has a quilted memory foam cover that does a great job of sleeping cool and providing a soft feel.
Comfort Layers
Leesa uses its signature LSA200 foam which boasts a responsive foam feel and cooling features. Nectar has a cooling gel-infused memory foam layer that specializes in wicking away excess body heat.
Support Layers
Both the Leesa and Nectar mattresses have high-density foam layers, but the Nectar is slightly thicker than the Leesa by 1″.
Leesa vs. Nectar Pricing
| | | |
| --- | --- | --- |
| Size | Leesa Prices | Nectar Prices |
| Twin | $849.00 | $599.00 |
| Twin XL | $899.00 | $769.00 |
| Full | $1099.00 | $899.00 |
| Queen | $1199.00 | $999.00 |
| King | $1399.00 | $1299.00 |
| California King | $1399.00 | $1299.00 |
For exclusive discounts on both beds see our Leesa mattress coupons and Nectar mattress coupons.
Leesa vs. Nectar Mattress Performance Ratings & Differences
Temperature
For those who sleep hot, it is important to understand the construction of prospective mattresses. Memory foam can sometimes trap body heat in its dense layers, so it's important to look for foam beds that mitigate heat entrapment.
While the Leesa uses breathable polyfoam in its upper layer, the Nectar's integrated gel memory foam may help it sleep cooler. Check out our guide to the best cooling mattresses for more information.
Motion Transfer
Couples who share a bed will want to consider motion isolation, which is the mattress's ability to reduce the transfer of motion across the bed. When a bed cuts down on motion transfer, it means that couples are less likely to disturb each other throughout the night while shifting positions or getting in and out of bed.
The Nectar mattress offers great motion isolation—memory foam mattresses are well-known for dampening movement and thus isolating motion—because of its thicker memory foam. Leesa's responsive foam transfers some motion across the bed. For more options like Nectar, see the best mattresses for couples.
Edge Support
Edge support is the level of support around a bed's borders. Edge support is important for all sleepers but especially for those with back pain or people who have issues getting in and out of bed.
A high level of edge support means your mattress is less likely to sag over time, so you won't put as much strain on your back when sitting on the edge of your bed. Both mattresses provide relatively good edge support compared to other memory foam mattresses. Still, you might experience some sagging while sitting on the edges of these mattresses. Compared to hybrid mattresses, memory foam mattresses lack the structure of a coil system.
Pressure Relief
While shopping for a new mattress, you want one that will deliver relief for common pressure points, including your back, neck, hips, and shoulders.
For side sleepers, the Nectar's soft, contouring transition layer will cradle the shoulders and hips. While the Leesa may be the better mattress for stomach sleepers, it may be too bouncy and feel too firm for side sleepers to find pressure relief. Its memory foam recovery layer should relieve pressure in heavyweight sleepers.
Pain Relief
A mattress's ability to relieve pain is dependent on how well it disperses pressure. If you're experiencing a certain type of body pain, it's best to get a mattress that prioritizes pressure relief in the affected areas.
Leesa scores high when it comes to providing pain relief for back and stomach sleepers, thanks to its bouncy yet supportive foam layers. Heavier folks may also find some relief on Leesa's recovery memory foam layer, but it may not be able to deal with higher levels of back pain.
If you're experiencing pains in your hips and shoulders, you should go for Nectar's contouring and conforming foam layers.
Durability
Mattresses are manufactured to last for a long time, but some tend to lose their support and responsiveness quickly because of the materials used in their construction.
Both the Nectar mattress and the Leesa mattress are made solely of foam, a material that tends to break down faster than the steel coils used in hybrid and innerspring mattresses. But the thick foam layers should help each bed last between seven and 10 years, and both offer competitive warranty policies for extra peace of mind.
Shipping, Returns, & Warranties
Leesa
Leesa gives free shipping to 50 U.S. states, as well as optional white glove delivery for an extra fee of $150. They also provide a 100-day sleep trial where you can apply for a free return and full refund after 30 nights. A Leesa mattress comes with a 10-year warranty that covers full replacements for any defects not caused by daily wear and tear.
Nectar
Nectar provides free shipping across the contiguous U.S. and a 365-day sleep trial, one of the longest trial periods in the industry. Nectar also gives a Lifetime Warranty, covering any workmanship or material defects within the first 10 years, with prorated repair and replacement costs thereafter.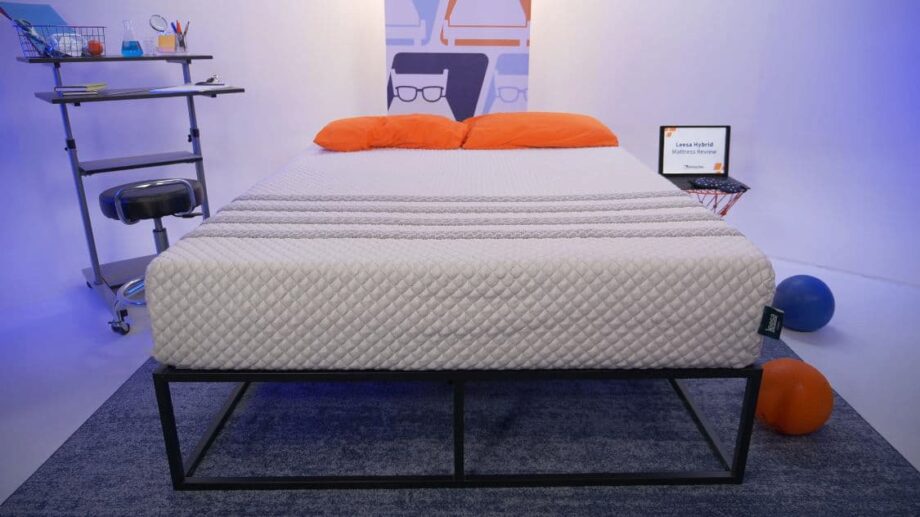 Leesa Sapira Hybrid Mattress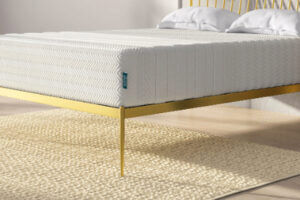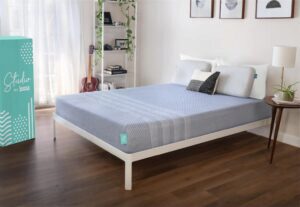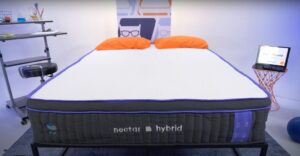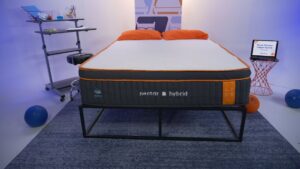 Nectar Premier Copper Hybrid
Deciding between two reputable bed-in-a-box mattresses requires an understanding of your sleep position. As memory foam mattresses, both the Leesa and the Nectar offer contouring foams. However, the varying firmness levels means the Nectar's plush layer of memory foam will feel differently than the Leesa, which is more able to support heavier sleepers. 
If you sleep on your back or stomach, the Leesa mattress could be a great choice to distribute your body weight evenly. Side sleepers are going to need a bit more pressure relief, which is where the Nectar comes in. Either way, you can't go wrong with the competitive sleep trials and warranties offered by these two great brands. If neither mattress seems right for you, check our more options on our list of the best online mattresses.
Leesa & Nectar FAQs
What are the cons of a Nectar mattress?
Overall, Nectar is a great mattress for foam bed lovers. Still, it doesn't go without complaints. According to Nectar mattress owners, they've experienced shipping delays and poor customer service. Some owners also felt that their Nectar mattresses couldn't provide enough support and pressure relief, especially for heavier folks.
How long does a Leesa mattress last?
Like most foam mattresses, Leesa will eventually degrade with time. However, that solely depends on the amount of daily wear and tear it goes through. Expect your Leesa mattress to last you around seven to ten years.
How firm is a Leesa mattress?
Based on our firmness scale (which goes from 1 to 1 with 1 being the softest and 10 being the firmest), we rated the Leesa Original mattress a 5 /10 firmness, giving it a "true medium" feel.