Best Apple Alarm Sounds to Wake Up To on iPhone
•
Disclosure: By clicking on the product links in this article, Mattress Nerd may receive a commission fee at no cost to you, the reader. Read full disclosure statement.
Long gone are the days of old-fashioned alarm clocks with physical bells and large analog clock faces. The majority of us have transitioned to their technologically advanced counterpart: the smartphone. Thankfully, this shift has freed us from the one-size-fits-all alarm clock sounds that haunted our adolescent years, jolting us from sleep like an incessant bully.
Selecting an alarm clock noise is an odd thing, if you think about it. Which noise would you like to assist you as you claw your way out of a dreamy state of unconsciousness into the reality that is Monday morning? To make things more complicated, the iPhone offers more than thirty sounds. This can make the selection more agonizing as you scroll through the options and deal with blaring noises like "Duck" and "Old Car Horn" until you just can't anymore. To help make things easier for you, we tried all the Apple alarm sounds and are sharing our favorites to wake up to along with why your alarm sound matters and a secret Bedtime tab with additional, more soothing sound options.
Disclosure: By clicking on the product links in this article, Mattress Nerd may receive a commission fee at no cost to you, the reader. Read full disclosure statement.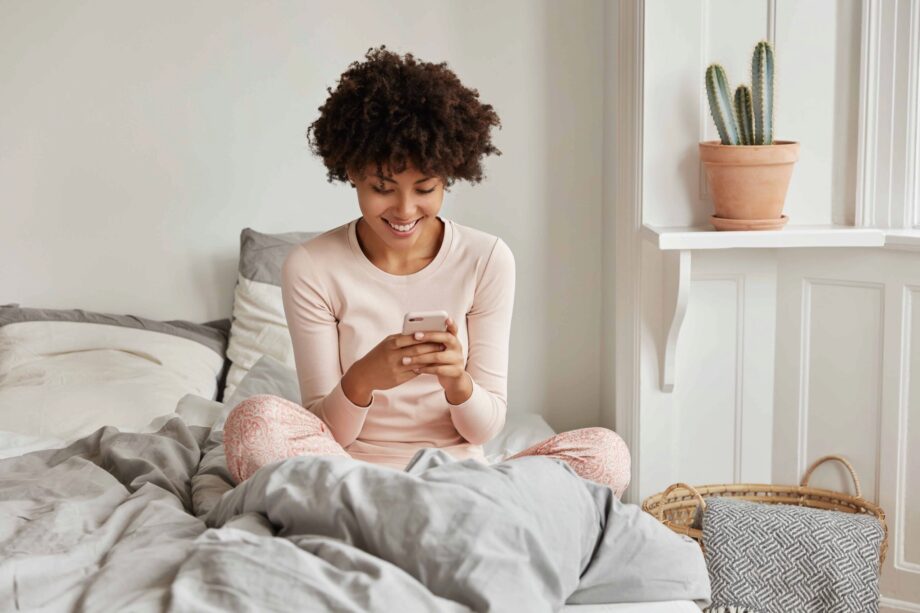 Why Your Alarm Sound Matters
Choosing an alarm sound can be stressful. Should you go for a calm, soothing sound? Or a jarring one that's guaranteed to jolt you awake? According to neurologists, the ideal alarm sound will elicit a gentle, gradual shift from deeper to lighter sleep. This makes sense, considering that sleep experts suggest that the best possible scenario for waking up doesn't use an alarm at all but leverages natural elements like morning light and noises (think birds, breezes, and the humming of cars) to signal to your body that it's time to ease out of sleep.
Because of this, we recommend waking up with a calming alarm sound rather than an aggressive one. Shocking yourself awake isn't a pleasant way to start the day, and it turns out it isn't effective either. Jarring, loud, siren-like alarms can activate the sympathetic nervous system, the body's "fight-or-flight" response, setting you up for a stressful day before you even put your feet on the floor or have a cup of coffee.
Bedtime Mode versus Alarm Clock on iPhone
Within the Apple clock app are two alarm-related tabs: Alarm and Bedtime. Most people have used Alarm, but few have heard of the Bedtime functionality. Bedtime allows you to set a bedtime and wake-up time. When it's bedtime, it gently reminds you that it's time to go to bed. Bedtime mutes notifications after your set bedtime, though this feature can be turned off if you prefer. The tab also records various data about your sleep quality, like average hours in bed, enabling you to view your sleep patterns by day, week, and month over time.
Not only does the push-alert bedtime reminder feel like your iPhone is looking out for you, but the alarms in the Bedtime tab are generally much gentler and softer than those found in the Alarm tab. Choose from wake up sounds like "Early Riser," a piano melody with chimes, or "Helios" which sounds like what you'd hear while experiencing a deep tissue massage at a luxury spa. Every sound in the Bedtime tab starts at the level of a whisper and gradually gets louder until you're awake.
Top 5 sounds I recommend within Bedtime:
Early Riser

: A slow and ascending piano with chimes. One of my personal favorites.

Springtide

: More upbeat but still soft. This is a fitting option for bright, sunny seasons.

Droplets

: A soothing combination of bells and chimes that mimic a soft, summer rain.

Birdsong

: Just what you'd expect, this is the peaceful sound of a variety of types of birds chirping.

Sunny

: This sounds like a sunrise with an upbeat combination of overlapping chimes.
Best Calming Sounds in the Alarm Tab
If you prefer the traditional Alarm tab within the Clock app, there are a few calming sound selections offered there too. The benefit of the Alarm tab is that you can have multiple alarms, which is a nice feature if you're a heavy sleeper who tends to accidentally press snooze. Do yourself a favor and avoid the jarring noises like radar (the default), beacon, car horn, presto, and cosmic.
Top 5 softer options in the Alarm tab I recommend:
Chimes

: This sounds like wind chimes in a soft breeze and is a universally-likable, no-frills option.

Silk

: Spa-like, this has Chinese sound and will wake you slowly and soothingly.

Slow Rise

: The overlapping chimes in this lullaby-like tune belong in a nursery or a child's room.

Harp

: Just like it sounds, it's simply a harp scale played over and over again.

Ripple

: This is easy and ascending, but it can be a little loud. Adjust the volume if it's too jarring for your taste.
While we can't promise these soft tunes will make you a morning person, we can almost guarantee that they'll provide a better start to your day. In summary, choose an alarm or bedtime sound you enjoy that's soothing, gentle, and slow. Any of the above options are excellent choices, allowing you to ease into the day in a much happier mood than you'd be able to obtain with an intense and noisy jingle, bark, or honk on full blast in your ears every morning.