Casper Hyperlite Sheets Review
•
Disclosure: By clicking on the product links in this article, Mattress Nerd may receive a commission fee at no cost to you, the reader. Read full disclosure statement.
Who It's Good For
Hot sleepers
Sleepers wanting breathable sheets
Eco-conscious shoppers
Who It's Not Good For
Budget shoppers
Sleepers wanting a high thread count
Sleepers who prefer cotton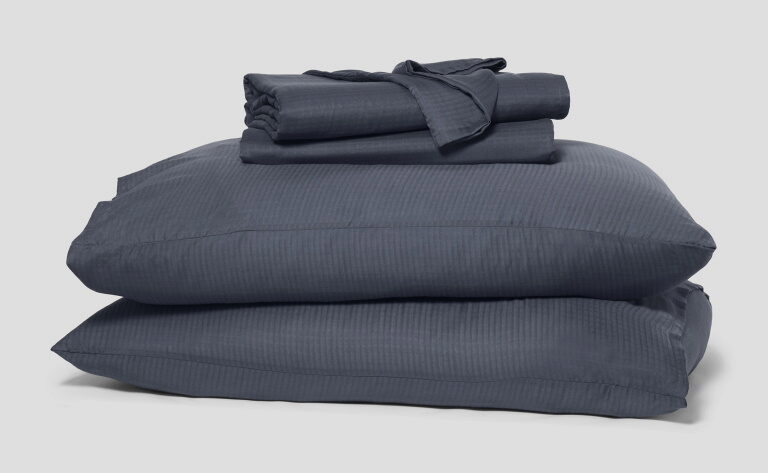 Feel
The Casper Hyperlite sheets definitely live up to their name. When trying these Casper sheets out, the first thing I noticed was how thin, light, and almost nonexistent they felt. For sleepers who often overheat at night, this is good news. The lyocell fabric of these sheets felt ultra-cool and softer to me than traditional all-cotton sheets—which are crisper and don't wick away as much moisture. That said, some colder sleepers may prefer more substantial or heavier sheets.
Materials and Construction: What's It Made of?
These sheets are made from lyocell and have a thread count of 200 which is on the lower end. Compared to other fabrics, lyocell feels breathable and cooling, and it keeps sweat and moisture from building up. Also, while other sheets may have a crisper feel, Casper's lyocell sheets are soft and airy.
The lower thread count of these sheets also improves their breathability. While many high-quality sheets have thread counts of 300 or more, the Casper Hyperlite's more loose threading allows for extra airflow through the sheets.
Mattress Nerd Sheets Scores
Let's take a closer look at the Casper Hyperlite sheets, specifically their quality, comfort, cooling capabilities, and company policies. At Mattress Nerd, we test and measure each of these sheets' scores on a scale of one to five, where one is the worst and five is the best.
Temperature Control: 5/5
If you're a hot sleeper, the Casper Hyperlite sheets are meant for you. When lying on these sheets, I felt cool and airy, like there were hardly even any sheets there. Thanks to Casper's lyocell material and lower thread count, these super thin sheets kept me from sweating or heating up at all.
Customizability: 5/5
The Casper Hyperlite sheets come with several different size and color options. You can choose between six sheet sizes (from Twin to California King), and you can choose from five different colors as well, including indigo, black, and white.
Comfort: 3/5
Although I could feel the coolness and softness of the Casper Hyperlite sheets, they also felt a bit too thin to add any comfort to the bed. And, while the Casper sheets' lyocell fabric is durable, their thinness almost felt like I could rip them just from stretching them across the bed. Overall, the Casper Hyperlite will feel most comfortable to hotter sleepers who have breathability and lightness as a top priority for their sheets.
Quality of Fabric: 4/5
These Casper sheets are made entirely from lyocell and have a relatively low thread count of 200. While some shoppers associate a higher thread count with a higher quality, the Casper Hyperlite still has a luxurious and cooling feel. Also, eco-friendly shoppers will appreciate that these Casper sheets are made from environmentally friendly lyocell fabric instead of traditional and less sustainable cotton.
Care: 4.5/5
The Casper Hyperlite sheets are easy to wash and to take care of, although they can't be bleached like cotton can. To wash your sheets, Casper recommends gently machine-washing them with cold water and then drying them on a low cycle or letting them-air dry.
Customer Experience: 4/5
Your Casper Hyperlite sheets come with free shipping to 48 of the United States and most places in Canada. After that, you will receive a 30-day trial with free returns and, after you've settled in with your Casper sheets, a 1-year limited warranty.
Total Score: 4.3/5
Pros/Cons
Pros
Cooling: One of the biggest upsides of the Casper Hyperlites is how well they cool. When I tried them, they felt super airy and thin, and I didn't feel hot or break a sweat at all. All in all, hot sleepers will appreciate how the Casper Hyperlites ventilate through its lyocell and lower thread count, wick moisture, and offer a much lighter feeling alternative to many traditional sheets out there.
Eco-friendly: Although these sheets aren't as organic as all-cotton or wool sheets, the Casper Hyperlites are more sustainable and cruelty-free in their construction. This is because lyocell is more environmentally-friendly to produce than cotton. So, eco-conscious shoppers can include the Casper Hyperlites in their search for sheets.
Cons
Price: The Casper Hyperlite sheets are made from a more expensive alternative to cotton. Although lyocell is high-quality and more breathable than other fabric alternatives, shoppers could also purchase luxury sheets with a much higher thread count than the Hyperlites—but at the same price point.
Thinness: While the Casper Hyperlite is a great option for sleepers who often overheat, its breathable but thin design doesn't add any additional comfort to the bed. When lying on these sheets, I didn't feel like there was anything underneath me. And, considering the price of these Casper sheets, some shoppers may want something more substantial for their money.
Policies
Shipping
Casper offers free shipping on their Hyperlite sheets to anywhere in the United States (excluding Alaska and Hawaii) and anywhere in Canada (excluding Yukon Territory, Northwest Territory, and Nunavut).
Trial Period and Warranty
Once your Casper sheets have arrived, you can enjoy a 30-day trial and free returns if you decide not to keep them. From there, you'll also get a 1-year limited warranty. However, shoppers should keep in mind that this warranty is only limited to covering manufacturer defects.
Sizing and Pricing
| | | |
| --- | --- | --- |
| Size | Dimensions | Price |
| Twin | 39" x 75" x 17" | $109 |
| Twin XL | 39" x 80" x 17" | $109 |
| Full | 54" x 75" x 17" | $139 |
| Queen | 60" x 80" x 17" | $139 |
| King | 76" x 80" x 17" | $169 |
| California King | 72" x 84" x 17" | $169 |
FAQs
Do Casper Hyperlite Sheets Work For Hot Flashes?
The Casper Hyperlite sheets are breathable, thin, and made from a moisture-wicking and cooling fabric called lyocell. For sleepers who have hot flashes, these Casper sheets will help reduce the bed's temperature and humidity, although the sheets won't fully stop sleepers from experiencing hot flashes.
Do Casper Hyperlites Have a Good Thread Count?
The Casper Hyperlite sheets have a thread count of 200. Although lower than many other luxury sheets (which can have thread counts of 500), Casper's thread count allows for more cooling and ventilation through the sheets. Because of this, hot sleepers are more likely to find the Hyperlites comfortable.
Do Casper Sheets Fit Other Mattresses?
Yes. You don't have to put your Casper Hyperlite sheets on a Casper mattress for them to fit. Since all sizes of the Hyperlites have a height of 17", you can put these sheets on any other mattress that also has a height of 17".
Are the Casper Hyperlite Sheets Worth It?
The Casper Hyperlite sheets are a great fit for luxury sheets shoppers who sleep hot or are looking for an extra soft bed. The sheets' high-quality lyocell fabric will stop most sleepers from sweating or overheating during the night. That said, sleepers wanting thicker or warmer sheets may be disappointed with how thin and light the Hyperlites are at their higher price point. Lastly, sleepers wanting a traditional cotton feel for their sheets should check out the Brooklyn Luxe Core sheets. And, colder sleepers should check out the Chateau Home Collection sheets for a higher thread count option.
Nerd Score Wrap Up
| | |
| --- | --- |
| Performance Factor | Out of 5 |
| Temperature Control | 5 |
| Customizability | 5 |
| Comfort | 3 |
| Quality of Materials | 4 |
| Care | 4.5 |
| Customer Experience | 4 |
| Total Nerd Score | 4.3 |
More From Casper