DreamFoam Mattress Topper Review
•
Disclosure: By clicking on the product links in this article, Mattress Nerd may receive a commission fee at no cost to you, the reader. Read full disclosure statement.
The Mattress Nerd's Take: DreamFoam by Brooklyn Bedding was designed with your sleep needs at heart. The collection features gel memory foam and high-end latex mattresses to accommodate a wide range of sleepers. No matter what type of sleeper you are, what size mattress you sleep on, and what type of bedding you prefer, we think this high-quality gel memory foam mattress topper could be a great option. For those in search of a softer mattress, without the price tag of a new one, the DreamFoam 2″ Gel Swirl Memory Foam Topper could be the solution for you. 
If you are searching for the quality of Brooklyn Bedding without the price tag, DreamFoam was created for "sweeter dreams at a sweeter price." As one of the biggest bed-in-a-box brand names, Brooklyn Bedding offers one memory foam and five hybrid mattresses. DreamFoam provides memory foam, latex and latex-alternative mattresses. (Check out our full DreamFoam Essential Memory Foam Mattress Review to learn more.)
In this review, we will focus on the DreamFoam 2″ Gel Swirl Memory Foam Topper, designed to breathe new life into your aging mattress by enhancing its plushness, comfort and overall quality. Read on to see why this soft, visco-elastic memory foam topper is one of the best mattress toppers available.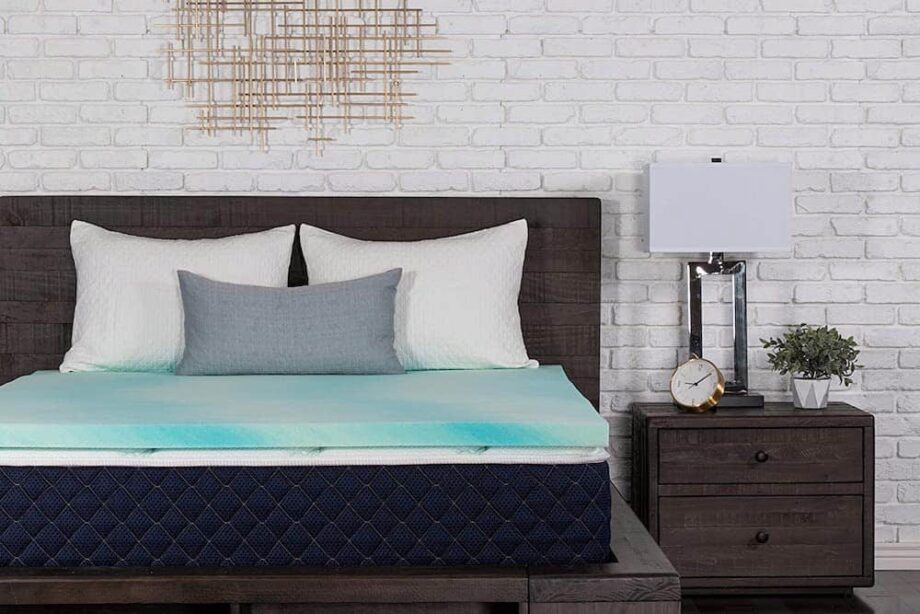 What Makes the DreamFoam Mattress Topper Stand Out
Pros
The

DreamFoam

2″ Gel Swirl Memory Foam Topper is protected by a 3-year warranty and comes with a 30-night trial to ensure it's right for you.

The

mattress pad

's 2″

gel swirl

memory foam adds a layer of

comfy

plushness to your previously

firm mattress

.

The

open-cell

gel memory foam topper

helps keep you cool throughout

the night

by promoting healthy

air circulation

, wicking away

body heat

, and reducing heat retention. Say goodbye to

overheating

!

Responsibly made in the

USA

, the

DreamFoam mattress

topper is

CertiPUR

-US certified, meaning that it's made without

heavy metals

, lead, formaldehyde,

flame retardants

or any other harmful substances such as

PBDES

,

TCEP

,

TDCPP

,

phthalates

and other

ozone-depleters

.
Cons
While the topper suits back sleepers and side sleepers, it may make the mattress too soft to support stomach sleepers
For stomach sleepers and heavier sleepers, the soft memory foam topper can cause the hips to dip too much and sink too far into the mattress. It may also make it more difficult to move around on the mattress.
What is the DreamFoam Mattress Topper Made Of ?
Visco-Elastic Memory Foam
The DreamFoam mattress topper is made of 2 inches of soft, gel swirl visco-elastic memory foam. The breathable cooling gel promotes air circulation so that you don't have to worry about overheating in the middle of the night, unlike most traditional memory foam mattresses and bed toppers. The visco-elastic memory foam is soft and cushioning, so that it contours with the unique shape of your body and provides back pain and pressure-point relief. Adding this memory foam pad to your bedding can make a previously firm mattress much softer and more plush, allowing you to sleep comfy in any position, especially if you are a side sleeper.
What Does the DreamFoam Mattress Topper Feel Like?
Made of open-cell memory foam, the DreamFoam mattress topper compresses when touched and should prevent the sleeper from overheating. Its soft layers conform around the body to protect pressure points and add additional plushness not found in firmer mattresses. Lightweight sleepers will benefit the most from the memory foam topper's pressure-point relief, and back sleepers should sink into the mattress enough without sacrificing their spinal support. Ultimately, this mattress topper is slow to respond and best for sleepers who remain in one position throughout the night.
DreamFoam Mattress Topper Pricing and Specs
Mattress size

Dimensions

Pricing

Twin Size

74 x 38 x 2

$56

Twin XL

Size

79 x 38 x 2

$56

Full Size

74 x 54 x 2

$63

Full XL Size

79 x 54 x 2

$70

Short Queen Size

74 x 60 x 2

$70

Queen Size

79 x 60 x 2

$68

King Size

79 x 76 x 2

$90

California King

Size

83 x 72 x 2

$90
DreamFoam Company Policies
Shipping
Once you place your order for the DreamFoam topper, it takes one to two business days to process, and then orders ship via FedEx Ground, which takes from three to five business days. It will come in a box for ease of transport from your front door to your bedroom.
Warranty
The DreamFoam mattress topper has a three-year warranty, as well as many of the same policies known to Brooklyn Bedding. The warranty covers defects or deterioration in the cell structure of the foam, along with defects that cause splitting or cracking of the material. However, any liquid spills or misuse of the topper will void the warranty.
Trial Period & Returns
The DreamFoam mattress topper also comes with a 30-night sleep trial. You can return the topper for a full refund within 30 days of receipt. The company will even provide a free return shipping label, and there are no restocking or shipping fees. However, if you live in Alaska or Hawaii, you will be responsible for a portion of the shipping fee.
DreamFoam Mattress Topper FAQs
Will the DreamFoam topper have a smell? Should I air it out?
Since the DreamFoam mattress topper is CertiPUR-US certified—meaning it doesn't contain any toxic materials—you should not have to air it out. However, at Mattress Nerd, we find that sometimes there can be a natural "new mattress" smell upon opening. So, plan to open windows or employ a fan, should the smell become an issue. It typically dissipates within 24 hours.
How much does the DreamFoam topper weigh?
The topper weighs 2.5 lbs. and comes in two thickness options: 2 inch and 3 inch.
Can the DreamFoam topper make my mattress firmer?
No. Toppers are designed to make a mattress softer, not firmer. Additionally, they are not built to "fix" a mattress that already has sagging and body indentations. A topper will follow the shape of the mattress, so it's not a solution for every issue.
See dreamfoambedding.com for more FAQs.
The Nerd's Final Take
For those back and side sleepers regretting a firm mattress purchase, the DreamFoam mattress topper can provide the right level of plushness without the cost of a new mattress. The 2″ open-cell, foam construction is breathable without compromising the cradling feel of memory foam. If you want to sink into a mattress topper and feel more pressure-point relief, the DreamFoam mattress topper could be the right choice for your next bedroom addition.